This is AI generated summarization, which may have errors. For context, always refer to the full article.
Opposition lawmaker Edcel Lagman asks about the NHCP's efforts to fight historical distortion during House budget deliberations held on the eve of the commemoration of the 51st year of the declaration of Martial Law
MANILA, Philippines – The government agency primary responsible for preserving Philippine history is at risk of losing a quarter of its budget for 2024.
Based on the National Expenditure Program for 2024, the administration of President Ferdinand Marcos Jr. is asking Congress to give the National Historical Commission of the Philippines a P250-million budget for 2024 – P85 million less than its P335-million budget for the current year.
Republic Act No. 10086 mandates the NHCP to conduct all kinds of research and develop educational materials relating to Philippine history, and protect the country's historical sites and landmarks, among others.
The House plenary on Wednesday, September 20, tackled the proposed NHCP budget with one opposition lawmaker underscoring the importance of fighting historical distortion, particularly on Martial Law.
The Philippines was under Martial Law from 1972 to 1981 under the regime of late dictator Ferdinand Marcos Sr., who was ousted in the 1986 EDSA People Power Revolution. Their family has successfully returned to power since, with son Ferdinand Jr. elected president in 2022.
"May we know whether the commission is aware of distortion and revisionism of true facts on the Martial Law regime?" Albay 1st District Representative Lagman asked the NHCP through its budget sponsor, Pangasinan 4th District Representative Christopher de Venecia.
"The agency is very much aware of disinformation that is being peddled online, and it's ramping up efforts to produce research materials which admittedly would need even more augmentation on the part of Congress in terms of budgetary allocations," De Venecia replied.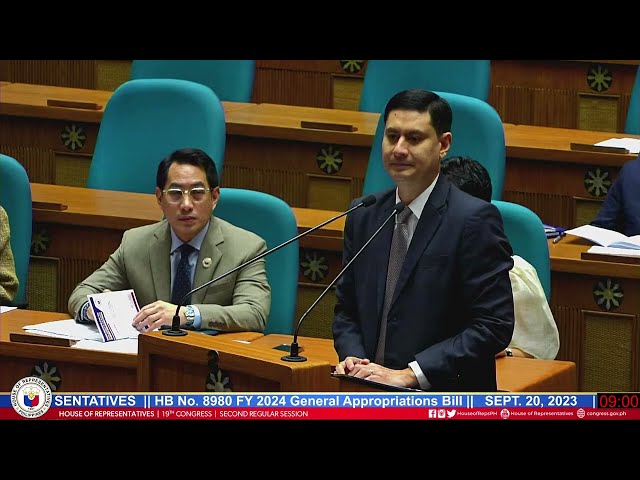 The timing of the question was not lost on Lagman, as the country will commemorate the 51st year of the declaration of Martial Law on Thursday, September 21.
"We cannot move forward together without looking back. The ignominy of the past will forever hound the present if we attempt to consign to oblivion the inordinate transgressions and fragrant misrule of the Martial Law regime," Lagman said.
Under Marcos' martial rule, 70,000 people were detained, 34,000 were tortured, and 3,240 were killed, based on numbers from Amnesty International.
Critics attributed Marcos' landslide victory in the 2022 presidential election to networked propaganda, disinformation, and historical distortion.
Camarines Sur 3rd District Representative Gabriel Bordado also backed calls to increase the agency's budget, as De Venecia confirmed that the proposed P99.6 million for the maintenance of national shrines, museums, and landmarks would not be enough.
"They are in fact also requesting augmentation worth P45 million so they can provide more significant, substantial funding to the said museums," De Venecia said.
"I am supporting the move to increase the budget of the National Historical Commission considering its responsibilities and functions," Bordado added. – Rappler.com