Rifareal also urges everyone to avoid making 'judgmental' statements to anyone experiencing mental health issues
As the coronavirus pandemic continues to affect our mental health, one of the country's top psychiatrists stressed the importance of talking to someone and finding a stress outlet during these difficult times.
"Please remember to reach out. It is very important this time to stay connected. Reach out and call. Do video calls with your family members," Dr Joan Rifarael of the Philippine Psychiatric Association said in a Rappler Talk interview on Saturday, October 24.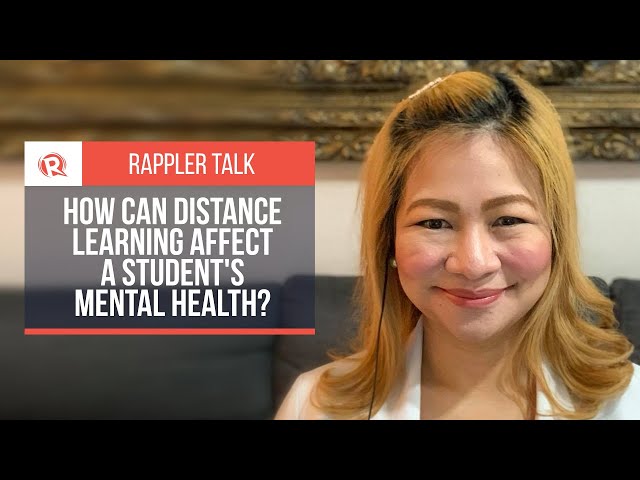 Rifareal also advised anyone experiencing mental health issues to find a stress outlet. "Keep yourself healthy by doing physical activities as well, which can boost happy hormones," she added.
"When we say health, it also involves the social well-being. Let's picture health as a triangle: physical, mental, and then social well-being. It is very much needed to take care of our social well-being by maintaining social connections, social connectedness, during this time of physical distancing," Rifareal said.
Rifareal also urged everyone to avoid making "judgmental" statements to anyone experiencing mental health issues.
"Always make sure that we keep that active listening. Active meaning, we really look into the meaning of what is being said, and the emotions, and let's do our best to empathize, feel whatever the individual is feeling at that point," she said.
Rise in mental health consultations among students, teachers
While there is still no available data to compare the number of students and teachers experiencing mental health issues, Rifareal said that she observed a rise in the number of students consulting her about anxiety and stress as the country shifted to distance learning.
"Personally, what I can say from my own observation, from my own practice, I get more referrals now. Not just with students, but also from teachers who are also going through this adjustment phase, as well as parents who are going through a lot of adjustments especially if they also have other roles," she said.
Rifareal shared that among the concerns she received from them were about the amount of workload during distance learning and the lack of resources needed for the digital shift.
"They find it stressful especially if there's a discussion which would entail them to recite. Some concerns about lack of space where they can really sit, because in classrooms you really have your own desk, your own chair, and you know that is your own area," she said.
Rifareal advised parents to always have an open mind and be an active listener whenever they share problems about the new education system.
"Let us remember to be non-judgmental in our statement. Kung may sinasabi sa atin ang ating mga anak (If our children are telling us something), let's not dismiss their concerns. The emotions that they are going through are all very valid. Let's avoid statements such as 'arte-arte lang 'yan' (that's just a drama). 'Ayaw lang pumasok sa school kaya arte-arte mo 'yan' (That's just your excuse because you don't want to go to school) or 'Snap out of it! It's all in your head,'" Rifareal said.
Rifareal also said that the mental health issues students experience during distance learning are due to an "interplay" of factors, adding that such issues cannot be solely attributed to the difficulties of the distance learning system.
This issue was brought to light after the Department of Education released a statement on October 20 appealing to the public to "stop directly connecting" the deaths of its teachers and students to the distance learning system. – Rappler.com
Juliet Seva is a Rappler intern. She is a Broadcasting student at the Polytechnic University of the Philippines.