Pharmally director Linconn Ong, who is still detained in the Senate, asks to be excused from the hearings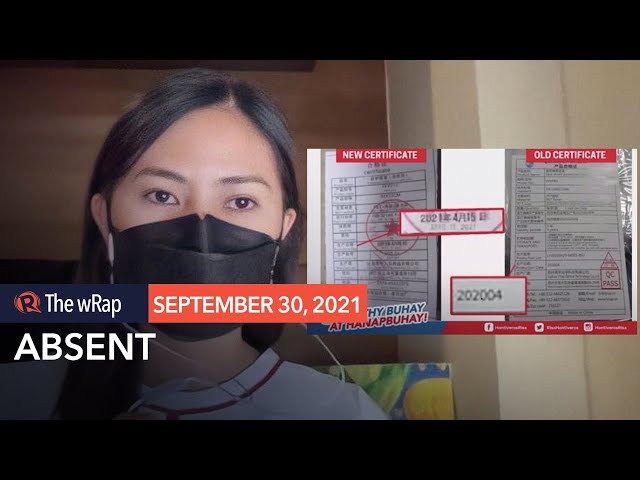 A week after she made a startling admission that their company tampered with the expiry date on the face shields they supplied to the government, Pharmally Pharmaceutical's corporate representative Krizle Grace Mago was absent at the Senate hearing on the government's pandemic deals on Thursday, September 30.
All other executives of Pharmally, including the chairman, Huang Tzu Yen, and the detained director Linconn Ong, were in the Zoom meeting when the hearing started at nearly 3 pm on Thursday.
"She's not present…. Neither has she emailed us," said Rodolfo Quimbo, director general of the Senate's Blue Ribbon Oversight Office Management.
Panel chairman Senator Richard Gordon said he has also not confirmed a press statement which was sent to Senate reporters on September 28, purportedly from Mago, saying that she is not in danger, nor was she threatened by her bosses at Pharmally.
During the hearing last week, Gordon asked Mago if she thought Pharmally, by tampering with expiry date of face shields, had swindled the government. She responded, "I believe that is the case."
Gordon has reiterated his order to the Senate sergeant-at-arms to locate Mago. The National Bureau of Investigation (NBI) was also tasked to help find Mago.
Mohit Dargani, treasurer of Pharmally whom Mago said ordered the tampering, said he last talked to Mago on Saturday morning, September 25. "I do not know where Krizle is," Dargani said on Thursday.
"If she's not present, it's very concerning, and we're reiterating the protective custody that the Senate is prepared to extend to her," said Senator Risa Hontiveros.
After the explosive September 24 hearing, Ong has enlisted the help of lawyer Ferdinand Topacio. Over the weekend, Ong sent written notices to the Senate that hew was neither agreeing to an executive session nor was he willing to participate in further public hearings.
The Senate has subpoena powers, as well as contempt powers, which is why it was able to arrest and keep Ong in its custody.
Ong was still in the Zoom on Thursday, as he is in the custody of the Senate.
Topacio also held a press conference to accuse opposition Senator Risa Hontiveros of bribing Pharmally warehouse staff.
It was Hontiveros' unidentified witness, a warehouse staff, who first spilled the beans on the tampering. Mago confirmed this.
Hontiveros denied Topacio's accusations and said she has receipts. "I have no track record of witness tampering and witness bribery," the senator said.
Pharmally Pharmaceutical is a small company owned by a Singaporean wanted in Taiwan. Though it only had P625,000 in capital, it obtained the most government pandemic contracts, totaling P10 billion so far, courtesy of the Procurement Service-Department of Budget and Management (PS-DBM).
The Senate hearings have revealed that to cope with their contracts, Pharmally would be financed and guaranteed to their Chinese suppliers by Michael Yang, former economic adviser to President Rodrigo Duterte. – Rappler.com