Krizle Mago says they only 'repacked' face shields, but their expiration dates were still changed in the process
Despite the retraction of the damaging statements of former employee Krizle Mago, Pharmally still changed the expiration dates of face shields delivered to the Duterte government.
During her testimony at the House good government and public accountability hearing on Monday, October 4, Mago denied instructing Pharmally warehouse employees to change the manufacture dates of face shields.
She said she only instructed the warehouse staffers to "repack" them.
However, the changing of manufacture dates – whether deliberately or not – was done by Pharmally when they repacked the face shields.
The Department of Health (DOH) said it has received over 500,000 face shields from Pharmally as of October 1, 2021 – it received 2,000 in 2020, and a contract for 2 million face shields was signed in June 2021.
How repacking worked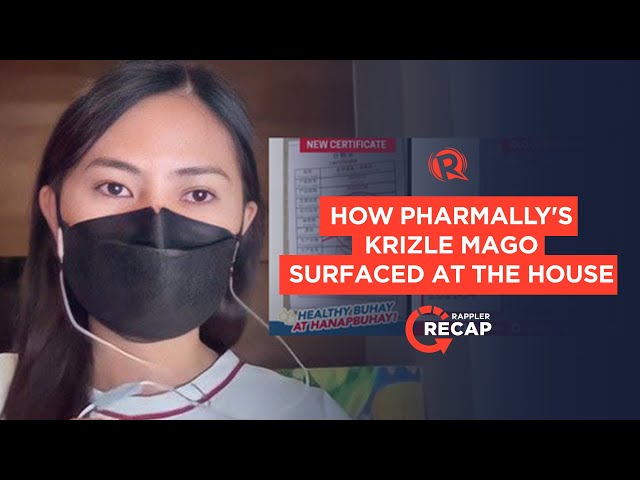 According to Mago, face shields came either individually or in packs of 6 to 10. Mago said some of the face shields were "dented, folded, torn or broken, and discolored."
Individually packed face shields that were damaged were apparently disposed of easily under their quality control procedures. The case for the grouped packs was more complicated.
Instead of disposing of sets, she said she was instructed to keep what was not damaged and to repack the undamaged ones into new sets.
"It was then decided to repack the stocks uniformly in groups of 10 face shields per pack for an easier and more efficient inventory management and accounting," Mago said.
This was confirmed in the House hearing by Pharmally treasurer Mohit Dargani, saying "except for the repacking of the inconsistently numbered face shields…that was the only instructions given."
How manufacture dates were changed
The problem was that each set had its own certificate of production that indicated its production date. Warehouse employees had to "discard" extra certificates.
"In the conduct of the repacking, different packs with broken quantities were merged to produce uniform packs of 10 face shields. And as a result of the merging, some certificates got mixed up while others were subsequently discarded as the staff only needed to choose one product certificate to include in the pack," Mago said.
This was the case with the video shown at the Senate blue ribbon probe by Senator Risa Hontiveros, Mago said. Despite changing the manufacture date from 2020 to 2021, Mago said they still were not expired.
Effectively, however, the manufacture dates – and therefore the expiration dates – were still changed.
It is not clear if the DOH was aware of this practice of Pharmally. Rappler sent a text message to Health Secretary Francisco Duque III. He has yet to reply as of posting. – Rappler.com