This is AI generated summarization, which may have errors. For context, always refer to the full article.
Reporters Without Borders found that journalism 'is completely or partially blocked' in 132 of 180 countries – a worrisome development amid the coronavirus pandemic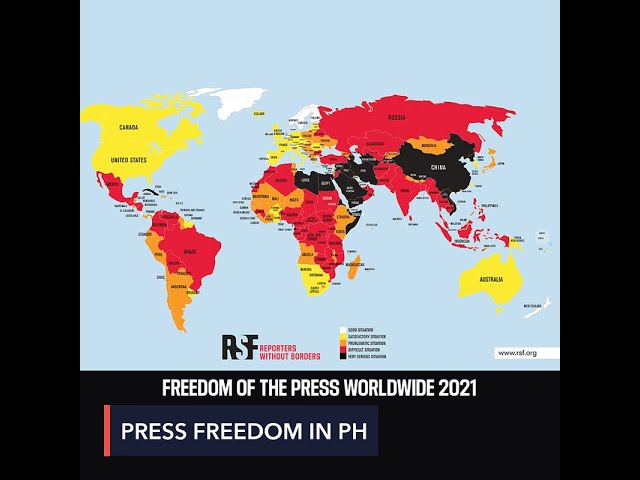 The Philippines slipped two more places, now ranking 138th out of 180 nations, in the Reporters Without Borders' (RSF) World Press Freedom Index for 2021.
This is the fourth consecutive year that the Philippines dropped in the index, which ranks 180 countries according to the level of freedom given to journalists in a particular locale.
RSF cited the continued attacks of President Rodrigo Duterte and his administration on the media, including "the grotesque judicial harassment campaign" against Rappler and its CEO Maria Ressa, and the government-backed shutdown of the country's largest broadcaster ABS-CBN.
On top of this, RSF also cited the online harassment and red-tagging – the labeling as communists or terrorists – of journalists and perceived enemies of the Duterte administration.
"The persecution of the media has been accompanied by online harassment campaigns orchestrated by pro-Duterte troll armies, which also launched cyber-attacks on alternative news websites and the site of the National Union of Journalists of the Philippines, in order to block them. "Red-tagging" also returned in force in 2020," RSF said.
Globally, RSF reported that journalism "is completely or partially blocked" in 132 countries – a worrisome development amid the coronavirus pandemic.
"Now, more than ever, people need to be able to trust in journalism and have access to accurate information, which acts like a vaccine. It inoculates citizens against the viral disinformation of falsehoods and conspiracy theories, and, in doing so, it strengthens the immune systems of democratic societies, making them more stable and resilient," said Anna Nelson, executive director of RSF USA.
Regional situation
Meanwhile, in the Asia Pacific region, RSF found that at least 10 countries have used the pandemic to stifle dissent and spread disinformation.
RSF said China (177th) is "the world's undisputed specialist" when it comes to censorship and has "taken advantage" of the pandemic to further enhance its control over online information.
Other countries included Thailand (137th), Philippines, Indonesia (113th), and Cambodia (144th), which all implemented laws that criminalize any criticism of the government and the publication of supposed false information. (READ: As PH, Cambodia struggle for press freedom, China amps up influence)
Malaysia dropped 18 places to 119th – the biggest fall of any country in the index – owing to its adoption of an anti-fake news decree that enables authorities to impose their own version of the truth. This is similar to that of Singapore (160th), which earlier passed a law allowing the government to "correct" any information it deems to be false and to prosecute those responsible.
In Myanmar (140th), RSF said the civilian government of deposed leader Aung San Suu Kyi used the fight against COVID-19 disinformation to block 221 websites, including news sites, in April 2020. The situation has dramatically worsened since the military coup in February 2021.
In Pakistan (145th), the military also controls journalists, with the powerful Inter-Services Intelligence (ISI) continuing to harass, intimidate, abduct, and torture critics living in the country and abroad.
In India (142nd), as pro-government media spread propaganda, journalists who criticize the government are tagged as "anti-state," "anti-national," and even "pro-terrorist" – similar to the Philippines.
RSF said independent journalism is also intensely suppressed in Bangladesh (152nd), Sri Lanka (127th), and Nepal (106th), while a moderate increase in repression has been recorded in Papua New Guinea (47th), Fiji (55th), and Tonga (46th).
In Australia (25th), RSF said it was Facebook that "introduced the censorship virus" after the tech company decided to ban Australian media from publishing content on their Facebook pages due to a disagreement over a law that requires tech companies to pay news companies.
Meanwhile, RSF reported that New Zealand (8th), Australia (25th), South Korea (42nd), and Taiwan (43rd) – the regional press freedom models – have generally allowed journalists to do their jobs freely. (READ: What the world can learn from the 'Taiwan model' vs disinformation) – Rappler.com