Immunocompromised individuals are also cleared to receive third doses to be considered fully-vaccinated
The Philippine government launched its coronavirus booster campaign for senior citizens aged 60 years old and above on Monday, November 22, clearing the way for millions of elderly individuals to receive an additional COVID-19 shot.
Health authorities have also authorized the administration of third doses for immunocompromised individuals as they emphasized that a third shot would be needed for them to be considered fully-vaccinated. (READ: Third dose vs booster shot: What's the difference?)
In a press briefing on Monday, Health Undersecretary Maria Rosario Vergeire said that health officials moved forward with the COVID-19 booster campaign after considering the best available evidence and advice from expert panels, which had deliberated for several weeks on data pertaining to vaccines.
So far, the Food and Drug Administration has allowed COVID-19 vaccines developed by Pfizer, Moderna, AstraZeneca, and the Gamaleya Research Institute to be used as an additional dose or booster shot.
Health officials said eligible recipients will be allowed to choose their booster shots. Walk-ins across vaccination sites will likewise be allowed. The recommended dose schedule and combination are as follows: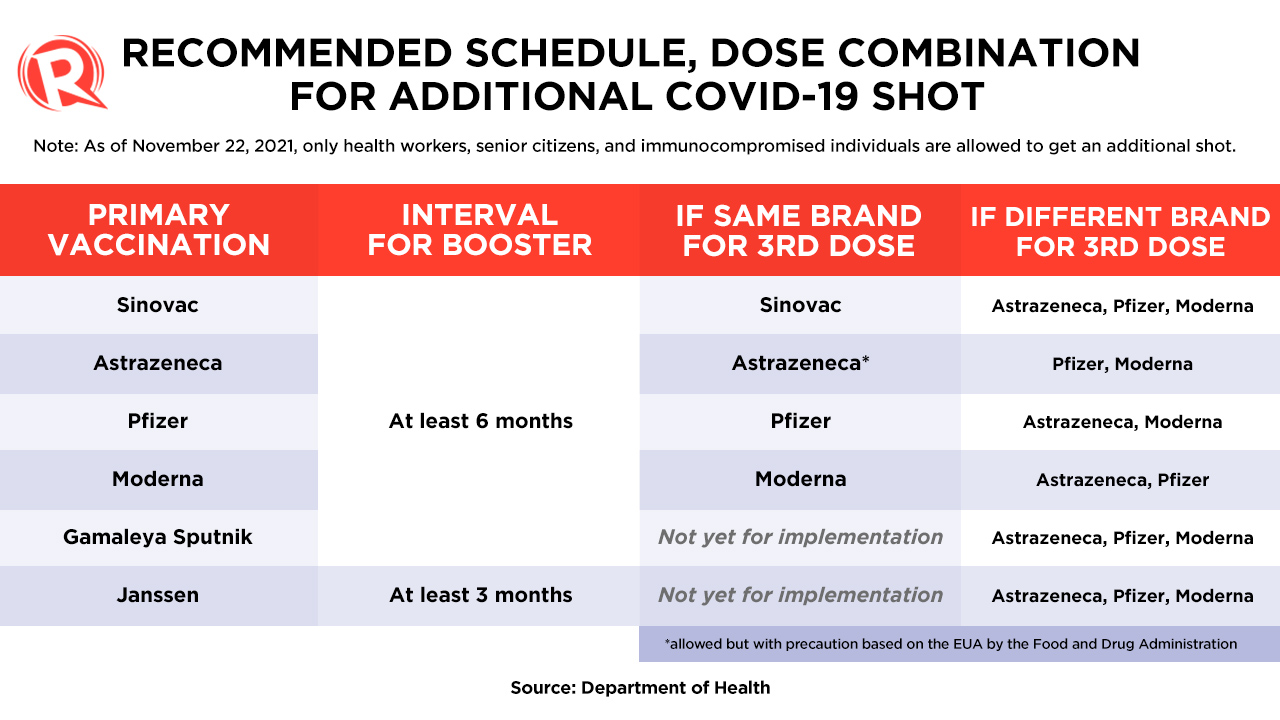 The following immunocompromised individuals were also cleared to get a third dose:
Immunodeficiency state
People living with HIV
Active cancer or malignancy
Transplant patients
Patients under immunosuppressive treatments
The administration of boosters for seniors comes the week after health workers – who comprise the first priority group of the government's COVID-19 vaccine drive – were cleared to get an extra COVID-19 shot.
Health workers and the elderly were prioritized for the booster rollout after experts from the Health Technology Assessment Council (HTAC) considered "the need to preserve the health system and evidence on waning immunity."
The two groups are expected to have the highest risks of hospitalization and death due to exposure to COVID-19, while millions in the group were also among those first vaccinated in the country's inoculation drive which began on March 1 this year.
The two groups are among those part of the government's first phase in the booster rollout, while the administration of boosters on other individuals with comorbidities is expected to take place later in 2022.
Reaching the unvaccinated
With boosters now available to millions of individuals, the Philippine vaccine rollout is effectively operating on two parallel tracks.
The first consists of rolling out first and second doses – what's known as the primary series of vaccination – to eligible populations that are still unvaccinated. The second involves giving an additional dose to eligible groups.
Health experts stressed that although boosters have been cleared for certain individuals, it is necessary for the national government and local officials to continue trying to reach unvaccinated individuals.
Nearly nine months since the government launched its COVID-19 vaccine campaign, about 30% of the Philippine population have been fully vaccinated, while some 38% have received the first of two vaccine doses.
The Philippines is targeting to vaccinate at least 50% of its 110 million population by the end of 2021, and 90% by 2022. – Rappler.com