Senator Risa Hontiveros interrogates COA Chairman Gamaliel Cordoba over his role in ABS-CBN's shutdown. SAGIP Representative Rodante Marcoleta comes to Cordoba's defense, resulting in a heated exchange between the two lawmakers.
MANILA, Philippines – Commission on Audit (COA) Chairman Gamaliel Cordoba faced the powerful Commission on Appointments (CA) on Wednesday, November 23, with the inevitable: he having to answer for his role in the shutdown of broadcast giant ABS-CBN in May 2020.
Senator Risa Hontiveros, member of the minority, grilled the former National Telecommunications Commission (NTC) commissioner over the agency's non-issuance of a temporary permit to operate to ABS-CBN after its franchise expired, even though he made the commitment to House lawmakers in March 2020.
Hontiveros' line of questioning did not sit well with SAGIP Representative Rodante Marcoleta, who came to Cordoba's defense. Marcoleta was among the main advocates of ABS-CBN's shutdown in the House in the 18th Congress.
This resulted in a heated exchange between the two lawmakers on the issue of press freedom.
Clash
Cordoba said that when he made the promise to the House months before ABS-CBN's shutdown, it was upon the legal advice of the Department of Justice. He added that after the hearing, his agency made a careful study and decided to follow Supreme Court jurisprudence instead.
Hontiveros was not satisfied with Cordoba's incapability to "push the envelope" at the time, saying that the NTC appeared to cave in to then-solicitor general Jose Calida's threat to go after NTC commissioners should they grant reprieve to ABS-CBN.
She also pointed out that there were companies in the past who were allowed to operate even after their franchise expired.
This was when Marcoleta butted in, saying Hontiveros was "belaboring" the issue.
"No network can operate without a franchise, period. The chairman cannot do anything, he will be remiss of his duty. He will violate the law. This is moot and academic," Marcoleta said. "It's not about press freedom, it's about franchise."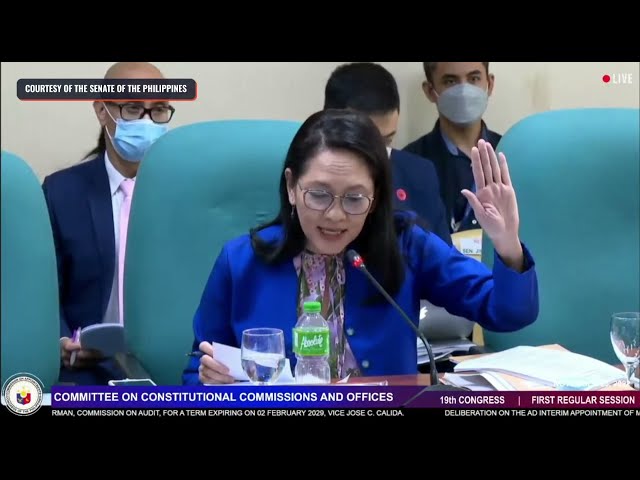 Hontiveros took offense at Marcoleta's remark, saying that the CA is a deliberative body that should debate on unresolved issues.
"How can we say it's not about press freedom, it's about franchise? In this issue, those two are tied. Of course, it's about press freedom because the one seeking a renewal of franchise is a broadcast company!" Hontiveros said.
"This is hardly belaboring," she added. "It is not moot and academic, but a continuing injustice."
Shutdown and Cordoba
The NTC, under the leadership of Cordoba, issued a cease-and-desist order to ABS-CBN in May 2020, forcing the broadcast giant off-air and resulting in the retrenchment of thousands of the company's employees.
Months later, a House panel also voted to deny ABS-CBN a fresh franchise over alleged tax avoidance, accusations of unjust labor conditions, and supposed foreign ownership.
Critics in the Philippines and abroad widely viewed the shutdown as an assault on press freedom. Before then-president Rodrigo Duterte stepped down in June 2022, he admitted he used his powers to target ABS-CBN.
After Cordoba's stint in the NTC under the Duterte administration, President Ferdinand Marcos Jr. appointed him to COA in October.
Before the ABS-CBN shutdown issue was raised on Wednesday, Cordoba assured the CA panel he is "ready to serve" as chief of COA, a body that ensures taxpayers' hard-earned money is spent properly, and flags government agencies in the event of spending irregularities.
"COA's role is crucial due to the crisis brought about by the pandemic. Resources must be spent by the government economically, efficiently, and expeditiously," he said. "I vow for COA to be partners in rebuilding our country."
The CA suspended deliberations on Cordoba's appointment after a committee hearing that lasted nearly an hour. – Rappler.com