This is AI generated summarization, which may have errors. For context, always refer to the full article.
The Supreme Court's Committee on Human Rights is chaired by Associate Justice Marvic Leonen
The Supreme Court has revived its human rights committee to address escalating incidents of killings and other human rights abuses.
The Court's Committee on Human Rights is chaired by Associate Justice Marvic Leonen, Supreme Court spokesperson Brian Keith Hosaka said.
The committee will first tackle the reports collated from a month-long submission of incidents of lawyers' killings as well as acts of intimidation against them over the past 10 years.
"The reports submitted by the Philippine National Police and civil society relative to the March 23, 2021 statement of the Supreme Court were recently referred to the Committee on Human Rights chaired by Justice Leonen to consolidate, analyze, and make a report and recommendations to the Court en banc as to actions it can take," said Hosaka.
The Supreme Court had earler committed to review its rules and see if institutional changes can be made to address lawyers' killings, which now stand at an unprecedented number of 63 during the watch of President Rodrigo Duterte.
Revived
The Supreme Court under then-chief justice Maria Lourdes Sereno created a technical working group (TWG) on human rights in March 2016, which was headed by Sandiganbayan Presiding Justice Amparo Cabotaje-Tang.
Amid the rising killings in the war on drugs in 2017, Sereno said the TWG would assess how the judiciary, a passive institution, can address the problem.
Nothing was heard of from that TWG since then, and Sereno was ousted in 2018. In June 2020, then-chief justice Diosdado Peralta said they had yet to review whether there was a need to reorganize the committee.
Activists had sent a letter to the Court in May, appealing for "urgent, immediate, simple, concrete, and practical reliefs" to address red-tagging and killing of activists. This letter has been referred to Leonen's committee as well.
"We welcome the referral [to the human rights committee]. Some of the issues raised have been addressed through the new rules on the issuance and service of search and arrest warrants," said Bayan Secretary General Renato Reyes.
Reyes was referring to the rule requiring cops to wear body cameras during the execution of warrants. The PNP had said that they don't have enough body cameras, as of now, but top cop General Guillermo Eleazar had assured the public that their commanders "will find ways to comply" with the Court's rules.
The Supreme Court has also scrapped the disputed power of Manila and Quezon City judges to issue search warrants outside of their territorial jurisdictions. Some of these remote warrants have resulted in deaths of activists and indigenous peoples.
On this point, Reyes said, "Other issues such as red-tagging and the filing of trumped-up charges in remote towns still need to be substantially addressed.'
Chief Justice Alexander Gesmundo earlier said that the Court will also look at strengthening the rules on extraordinary writs – protective remedies usually availed of by activists and human rights workers but there are observations that these remedies have been weakened over time.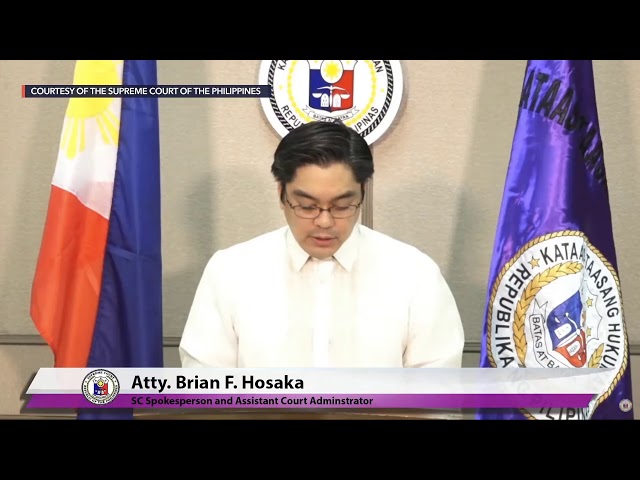 – Rappler.com