(1st UPDATE) Acorda, the PNP's 29th chief, will serve for only less than eight months because he is set to retire on December 3, 2023
BAGUIO CITY, Philippines – Less than one year into Ferdinand Marcos Jr.'s presidency, he has already appointed two Philippine National Police (PNP) chiefs.
The retirement of former PNP chief Rodolfo Azurin Jr. paved the way for the designation of Police General Benjamin Acorda Jr. as the new head of the 228,000-strong national police. Fifty-five-year-old Acorda is the 29th PNP chief since the reorganization of the police in 1991.
He will serve for only less than eight months because he will reach the mandatory retirement age on December 3.
Another Ilocano PNP chief
Just like his predecessor, Acorda has Ilocano ties too – the new PNP chief traces his roots from La Union. Acorda's maternal grandfather, Captain Felipe Casuga from La Union, was a soldier and received the Distinguished Service Cross award after he died fighting Japanese colonizers in 1944.
The award is one of the highest distinctions that can be awarded to a member of the military who performed acts of extraordinary heroism.
Meanwhile, his father, lawyer Benjamin Acorda Sr., was also from La Union. An enlisted Air Force personnel, Acorda's father also served as counsel under the then-Citizen's Legal Assistance Office (now Public Attorney's Office) in La Union.
Purificacion Casuga Acorda, Acorda's mother, worked as a government nurse in La Union. The PNP said in a release that Acorda "fondly recalls that it was his parents who instilled in him the virtues of patriotism and genuine public service at a very young age."
The new PNP chief completed his basic education in another Ilocos region province – Ilocos Norte – Marcos' home province. Acorda went to Gabaldon Elementary School's Special Education Center in Laoag City for his primary education, and then Bacarra National Comprehensive High School for his secondary education both in Ilocos Norte.
Acorda later graduated from the Philippine Military Academy as part of the Sambisig Class of 1991. Among Acorda's classmates is former PNP officer-in-charge Police Lieutenant General Vicente Danao.
The new PNP chief is married to Oliva Balasi Afaga, whom he met in high school. They have four children.
From Ilocos to national headquarters
Acorda has extensive experience in the police, serving from various capacities in local and regional offices, up to the national headquarters in Camp Crame in Quezon City.
As chief of police, Acorda headed the municipal police stations of Balungao, Sison, Bolinao, and Sual in Pangasinan – also within the Ilocos region. He was later transferred to the Palawan provincial police and served there from 2014 to 2016.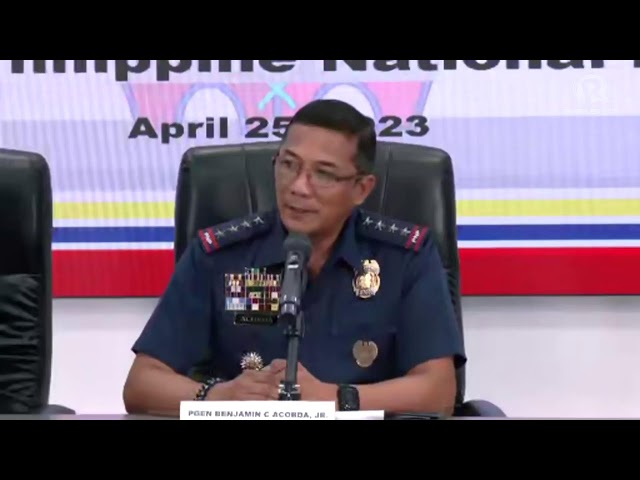 As head of the Palawan police, Acorda "turned the local police force to No. 1 in operational accomplishments from being No. 5 in the entire Mimaropa region," the PNP said. As an investigator, Acorda once headed the Camanava Criminal Investigation and Detection Team under the PNP Criminal Investigation and Detection Group (CIDG).
Acorda was also the former chief of CIDG Mimaropa and the CIDG's Anti-Fraud and Commercial Crimes Division. In 2010, he also served as CIDG's Deputy Chief of Operations.
The new PNP chief also returned to his home region and served as Chief of the Operations and Plans' Branch, an intelligence officer, and Assistant Provincial Director for Operations of Ilocos Norte provincial police in 2008. He also worked as head of the Ilocos Norte police intelligence branch, and then later as head of the production branch of the Ilocos Region police intelligence division.
Acorda also worked under the National Capital Region Police Office (NCRPO) as Deputy Director for Operations and later Deputy Director for Administration. He once headed the NCRPO Regional Intelligence Division.
The new PNP chief also served in various capacities in the Mindanao police force. He worked as an intelligence and operations officer in Basilan at the Bangsamoro Autonomous Region in Muslim Mindanao. Acorda later served as director of Northern Mindanao regional police.
In the national headquarters, Acorda headed the PNP Civil Security Group and the Integrity Monitoring and Enforcement Group. The new PNP chief was also among the pioneer officers of the PNP Anti-Cybercrime Group.
"As an officer of the unit, he was among those recognized by China and Taiwan for launching a major anti-cybercrime operation in the country which led to the arrest of hundreds of Chinese and Taiwanese nationals involved in cyber-crimes," the PNP said.
Before heading the PNP Directorate for Intelligence (PNP DI), he first oversaw the directorate's Counter-Intelligence and Security Division. He earned his one-star rank or general status during his stint at the PNP DI.
Acorda holds a master's degree in management from the Philippine Christian University. He is also a recipient of the Bronze Cross Model, a prestigious distinction given to law enforcement agents for "heroism involving risk of life."
He has also undergone specialized trainings that include police intelligence officer advance course, logistics management course, and training course on drug law enforcement for the Philippines. Acorda is also a member of United Nations Blue Helmets or "police who have been deployed twice as members of the Philippine contingent in the UN peacekeeping operations in Haiti."
The new PNP chief occupied directorial position in the said UN mission and supervised law enforcement agents from Jordan, China, Canada, Russia, Columbia, Nepal, Ghana, and the United States.
With Acorda's appointment, Marcos also continued the trend of appointing PNP chiefs who have Ilocos ties: those who are Ilocano, had worked in the region, or both. This bears similarity to former president Rodrigo Duterte's "Davao boys" – police chiefs from his hometown Davao City.
Why his appointment matters
Acorda's appointment comes amid challenging times in the PNP.
Drug-related issue involving cops. Before Acorda's appointment, Interior Secretary Benhur Abalos revealed that at least 10 high ranking police officers – including two police generals – were suspected of being part of the P6.7 billion shabu (methamphetamine) mess. The interior chief, who oversees the PNP, said there was a "massive attempt" to cover up the arrest of Police Master Sergeant Rodolfo Mayo Jr., who was arrested in relation to a drug den discovered to have a ton of shabu.

Azurin has already retired so Acorda will inherit the issue because the case has yet to be settled as of writing.
Internal cleansing. During Azurin's time, the PNP and the Department of the Interior and Local Government sought to get rid of cops allegedly involved in the illegal drug trade. Abalos asked all colonels up to generals to tender courtesy resignations, and the resignations of those who will be found to have drug ties will be accepted. 

Former PNP No. 3 man, police lieutenant general Benjamin Santos Jr., was among those who heeded the interior chief's call and submitted his courtesy resignation. Later, it was alleged that he was also among those involved in the shabu mess. 

In addition, the five-man committee created to review the records of 953 senior police officers had already finished its evaluation on April 20. The report has yet to be publicized, and Acorda is one of the officers who will decide on the fate of the cops. 
Transparency? In his message to the new PNP chief, Marcos told Acorda to be open to public scrutiny and exercise maximum tolerance toward critics. Acorda said his administration will be transparent and that he welcomes critics "as an independent source of check and balance."

As an institution, the PNP has not always been transparent. The PNP Human Rights Affairs Office is mandated to "undertake information campaigns to project government findings and measures implemented in relation to human rights violations of PNP personnel."

But as of 2020, the PNP unit has not been publishing data and information regarding alleged violations of human rights committed by cops, among others. 
Drug war and continued killings. As the new PNP chief, Acorda also inherits the drug war started by former president Rodrigo Duterte. The PNP remains as one of the centers of the International Criminal Court's probe because the national police is among the agencies that led the drug war. 

At least 6,252 individuals died during police anti-illegal drug operations, based on government data, as of May 2022. But human rights groups estimate that between 27,000 and 30,000 were already killed if vigilante-style killings are included. 

Marcos said his administration would have a "slightly different" war on drugs, but drug-related killings have continued in the country. Dahas, a project of the University of the Philippines-Diliman Third World Studies Center, has counted at least 263 reported drug-related killings from July 2022 to April 22, 2023. – Rappler.com