WHAT YOU NEED TO KNOW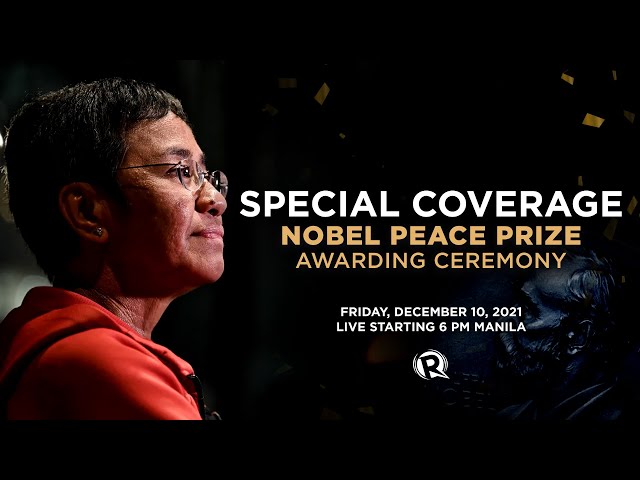 Veteran journalist and Rappler CEO Maria Ressa is set to receive the Nobel Peace Prize along with Russian journalist Dmitry Muratov in Oslo, Norway, at 8 pm (Manila time) on Friday, December 10.
They won the world's most prestigious political accolade for safeguarding freedom of the press at a time when authoritarian forces are out to stifle dissent.
Ressa is the first Filipino to win the award and the only woman in this year's roster of laureates.
She has become an international icon for press freedom and democracy following Philippine President Rodrigo Duterte's relentless attacks on Rappler. She has long been sounding the alarm against the use of social media platforms as a means to spread lies and hate.
Muratov is editor in chief of the Novaya Gazeta, a Russian newspaper that publishes stories critical of the Kremlin.
Ressa and Muratov's historic Nobel victory is an unprecedented recognition of journalism's role in today's world.
Bookmark and refresh this page for updates – in text, video, and social media posts – as Maria Ressa and Dmitry Muratov receive the Nobel Peace Prize in Oslo.
LATEST UPDATES
Visayas campus journalists say Ressa's win makes it possible to 'hold ground' 


Journalism students in the Visayas reacted to Maria Ressa's Nobel Peace Prize speech, saying it "inspired them" to hold their ground.
"Nobel's prestigious recognition for Maria Ressa for safeguarding freedom of expression tells me that it is possible to hold our ground and stand up for what we believe in, even under circumstances when we're intimidated to duck and cower," University of San Carlos student Stephen Esic told Rappler. He is also the president of the Cebu Federation of Communication and Journalism Students. 
Shee Jay Axyne Borinaga, a student journalist from St. Mary's College in Catbalogan, Samar, said Ressa's bravery inspired her campus publication The Horizon to report with integrity.
"The Horizon is one with her in promoting press freedom to feed each one of us with facts and not with fallacies. Her bravery is strongly admired, and our team will forever look up to how unstoppable she can be in promoting transparent and honest media, in service to people," Borinaga said. 
Marvin Malificiar, the chairperson of the West Visayas State University-College of Communication Student Council, said that Ressa won because of her fight for upholding the truth, which he added was more crucial at this time.
"As a communication student who stands by the truth and accuracy, fighting for what is just and right is my accountability. On the surface, I believe fearlessly upholding the truth enables Maria Ressa to win the Nobel Peace Prize. In this time where press freedom is under attack, fighting for the truth has never been this crucial. It is hope amidst the dying democracy and freedom of the press that I see after her win," said Malificiar.
After Ressa's Nobel Prize win, CEGP vows to continue fight for press freedom
Inspired by Rappler CEO Maria Ressa's Nobel Prize win, the College Editors Guild of the Philippines (CEGP) vowed to "further push forward in efforts for truth, justice, and press freedom as we want to fight for the rights of the public and public interest."
"We, The College Editors Guild of the Philippines and The National Guilder, endeavor to follow the actions of Maria Ressa's belief in press freedom and freedom of expression…. We will continue the effort of delivering the truth of discrimination, injustices, and upholding the rights of the marginalized sectors. We are inspired and ignited by the efforts of our Nobel laureate and we will continue to express the corruption, anomalies, and injustices committed by abusing the powers of the government," the group said.
CEGP also commended Ressa's efforts to "use her voice despite the backlash and harassment of social media trolls and a warrant of arrest given by the government to her."
"Her bravery continues to ignite the hearts of journalists and the media industry alike," it said.
Cebuana writer Bambi Beltran: Maria Ressa's Nobel Prize win a 'warning' to 'would-be despots'
Cebuana writer Bambi Beltran said Maria Ressa's Nobel Peace Prize win should be a "warning" to would-be despots. 
"Since Duterte took office in 2016, the Philippine media, especially Rappler, has been attacked and the law weaponized against them. The Nobel Peace Prize award to Maria Ressa is a bright ray of light that shines on Philippine journalism and should give would-be despots warning that the whole world is watching," Beltran said.
Beltran herself was arrested in 2020 over a satirical Facebook post that then-Cebu City mayor Edgar Labella called "fake news." The prominent film writer and poet was named a Deutsche Welle Freedom of Speech Laureate for later suing the local government and Cebu City police over her arrest. 
Gov't 'dishonored itself by what it tried to do to Maria' – First Quarter Storm activist
Ray Dean Salvosa, First Quarter Storm activist and former president of the University of Cordilleras, said Rappler CEO Maria Ressa's work despite the challenges brought about by the government made the Nobel Peace Prize rightly earned.
"Her body of work and the threats and efforts by the government – our own government at that – certainly earned her that honor. But that same government dishonored itself by what it tried to do to her," Salvosa said.
Solicitor General Jose Calida had tried to block Ressa's travel to Oslo before the Court of Appeals ultimately allowed her to go.
"That Maria persisted and persevered in spite of all the threats and actual efforts to arrest and silence her, sacrificing her life and welfare at the altar of truth, is what inspires us in these critical time in our nation – when the truth and the effort to tell it is constantly under attack by historical revisionism and government's efforts to suppress it," he added.
The First Quarter Storm in January to March 1970 was a period marked by mostly student-led demonstrations against regime of the late dictator Ferdinand Marcos. It was one of the events that led to the declaration of Martial Law in the country.
Leni Robredo: Maria Ressa reflects 'courage in service of others'
Here is the full statement of Vice President Leni Robredo on the Nobel Prize of Maria Ressa:
I join the world in honoring Maria Ressa, and I join the rest of the nation in pride as we celebrate the first Filipina Nobel Laureate.
Maria was honored not only for telling the truth; she won the Nobel for carrying that truth forward in the face of harassment and abuse and an entire ecosystem built to strip it of its power. In this, she reflects the highest ideals not only of journalism, not only of our people, but of all humanity: Courage in service of others.
May she serve as an example in standing up for the truth in the face of relentless efforts to undermine it. Congratulations, Maria, and thank you for bringing pride to our people.
Read more.