In a process separate from 1Sambayan, progressive leader Walden Bello waits to get 300,000 signatures before deciding if he will run for president
The progressive coalition Laban ng Masa (LNM) launched Monday, June 21, a campaign to gather 300,000 signatures by September 15 to push national chairman Walden Bello to run for president in the 2022 elections.
"To prove that there is a critical mass of Filipinos that support his candidacy and convince him to run for the presidency, Laban ng Masa is launching a signature campaign," said LNM in a statement Monday.
It is a process different from the self-acclaimed opposition coalition 1Sambayan which recently released its nominees for president and vice president – a list that included Vice President Leni Robredo.
"I am quite reluctant to run, however the Laban ng Masa is unanimously pushing me to run, so the compromise for me is if they can get 300,000 signatures [then I will decide if I will run]," Bello told Rappler via a phone interview Monday.
Bello was a two-termer representative of the Akbayan party-list, but he resigned from the House of Representatives in 2015 as a protest to the Aquino administration, the "last straw," he said in this essay, was when former president Benigno "Noynoy" Aquino III "heaped all the blame for Mamasapano on the ground commander, Colonel Getulio Napenas."
Bello and LNM campaign manager Leomar Doctolero both told Rappler they weren't approached by 1Sambayan, a group that was grounded on the premise that the opposition should be united to have a fighting chance to beat President Rodrigo Duterte's bet in 2022.
"Laban ng Masa was not approached by 1Sambayan. They have their own process and ours is different. Ours is active consultation of the people, and this is why we are launching a massive signature campaign," said Doctolero.
1Sambayan was promised to be an inclusive coalition, from progressive Bayan Muna on the left and the Magdalo party of retired military personnel on the right, with leaders on the so-called center – the powerhouse troika of former supreme court justice Antonio Carpio, former ombudsman Conchita Carpio Morales, and former foreign secretary Albert del Rosario.
Bello said that "we would also prefer to support one candidate from the opposition," but added that 1Sambayan's process may not be the best.
Bello said he would prefer to follow the American model of having primaries among the two parties, the Democrats and the Republicans, where their members choose who to field as candidate. The best way to imitate that would be a mass consultation like a signature campaign, Bello said.
"We believe it should be a process of mass consultation, the candidate emerges at the end of the process. A process of consulting people by offering programs. [The nominations] should not be at the beginning but at the end of that process, to short circuit that would not healthy," said Bello.
"I respect their decision making process, but I don't think it's the best in a democracy," Bello added.
And if by the end of consultations, the masses indicate a choice who is not him, would he give way? "Yes, definitely," Bello said.
Asked if he was also looking at other positions like the vice president or the Senate, Bello said "well, no," saying that current Laban ng Masa discussions is mainly about the presidential seat.
Would this potentially split the so-called anti-Duterte votes?
"It is simplistic to assert that there is an "anti-Duterte" vote. There is probably a pro-minimum wage increase vote. An anti-contractualization vote," Doctolero told Rappler in a text message Monday.
"Duterte's election represents, among other things, a sense of disaffection for the current political system. If the 'opposition' is not able to organize behind a coherent platform, it is doomed to fail," Doctolero added.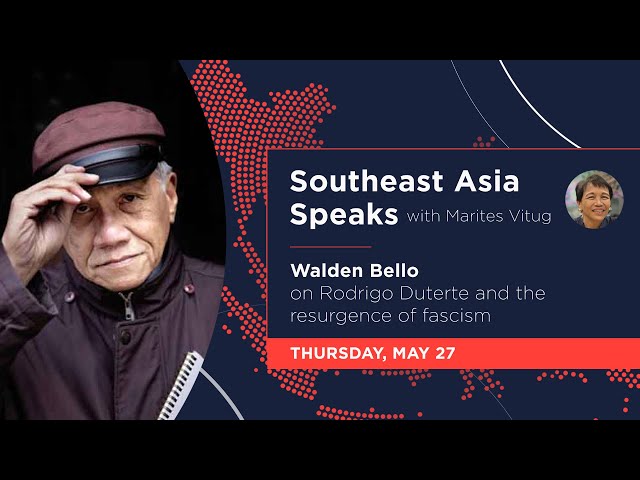 Bello and Laban ng Masa
LNM has a 30-person steering committee composed of, among others, progressive labor leader Leody De Guzman of Bukluran ng Manggagawang Pilipino, Sonny Melencio of Partido Lakas ng Masa.
They have a 25-point agenda for the 2022 elections, the top item is to "disband the useless Inter-Agency Task Force on Covid 19 (IATF) and form a new cohesive body that is led by proven medical professionals."
For their labor agenda, the LNM said they would want to "decree a minimum wage of P1500 a day, adjustable for inflation in succeeding years" and of course the often-promised "ban contractualization and regularize all workers and employees."
In resigning in 2015, Bello also revealed internal differences within Akbayan, writing that a series of controversies in the Aquino administration including the Disbursement Acceleration Program (DAP), brought his relationship with the Akbayan leadership to its "lowest point" saying that his concerns at the time "got nowhere" with the party leadership which supported Aquino.
"We are continuing our process of uniting the democratic forces and come up with one candidate for president Vice President and 12 senators. We respect the initiatives of other groups and hope that we all can still work together and unite for the greater good of the country," said 1Sambayan convenor Howard Calleja. – Rappler.com