Severe Tropical Storm Jolina (Conson) could make another landfall in Marinduque. Typhoon Kiko (Chanthu) is 1,300 kilometers east of Central Luzon on Tuesday evening, September 7, not yet affecting the Philippines.
Severe Tropical Storm Jolina (Conson) continued to move toward the Marinduque-Banton Island area late Tuesday evening, September 7, while Kiko (Chanthu) intensified from a severe tropical storm into a typhoon.
Jolina
The Philippine Atmospheric, Geophysical, and Astronomical Services Administration (PAGASA) said Jolina was located 50 kilometers north northeast of Romblon, Romblon, moving northwest at the same speed of 15 kilometers per hour (km/h).
It maintained its strength, with maximum sustained winds of 100 km/h and gustiness of up to 125 km/h.
Rainfall warnings remain in effect due to Jolina. PAGASA warned that scattered to widespread floods and landslides could occur in the affected areas on Wednesday, September 8.
Heavy to intense rain, with at times torrential rain
Masbate
Romblon
Marinduque
Quezon
Batangas
Laguna
Moderate to heavy rain, with at times intense rain
rest of Bicol
Metro Manila
Aurora
Bulacan
Cavite
Rizal
Oriental Mindoro
Occidental Mindoro
northern part of Palawan
Western Visayas
Here are the areas under tropical cyclone wind signals as of 11 pm on Tuesday:
Signal No. 2 (damaging gale-force to storm-force winds)
Romblon
northwestern part of Masbate (Aroroy) including Burias Island
Marinduque
western part of Camarines Sur (Del Gallego, Lupi, Ragay, Libmanan, Sipocot, Cabusao, Pasacao, Pamplona, Gainza, Camaligan, Canaman, Magarao, Bombon, Naga City, Pili, Iriga City, Milaor, San Fernando, Minalabac, Bula, Nabua, Baao, Balatan, Bato, Ocampo)
northern and central parts of Oriental Mindoro (Bansud, Gloria, Pinamalayan, Pola, Socorro, Victoria, Puerto Galera, San Teodoro, Baco, Calapan City, Naujan)
northern part of Occidental Mindoro (Abra de Ilog, Paluan) including Lubang Islands
Quezon including Polillo Islands
Batangas
Cavite
Laguna
Rizal
Metro Manila
Bulacan
Pampanga
Bataan
southern part of Zambales (San Marcelino, San Antonio, Castillejos, Subic, Olongapo City)
Signal No. 1 (strong winds with occasional gusts)
La Union
southern part of Benguet (Sablan, Tublay, Bokod, La Trinidad, Baguio City, Itogon, Tuba, Kapangan, Atok)
southern part of Nueva Vizcaya (Alfonso Castañeda, Dupax del Norte, Dupax del Sur, Aritao, Santa Fe, Kayapa)
southern part of Quirino (Nagtipunan)
southern part of Aurora (Dipaculao, Baler, Maria Aurora, San Luis, Dingalan)
Pangasinan
Tarlac
Nueva Ecija
rest of Zambales
Camarines Norte
rest of Camarines Sur
Albay
Sorsogon
southwestern and central parts of Masbate (Mandaon, Baleno, Cawayan, Milagros, Dimasalang, Uson, Balud, Masbate City, Mobo) including Ticao Island
rest of Oriental Mindoro
rest of Occidental Mindoro
northwestern part of Antique (Caluya)
Aklan
Capiz
northeastern part of Iloilo (San Dionisio, Batad, Estancia, Carles, Balasan, Sara)
PAGASA no longer warned of storm surges from Jolina, but it said that coastal areas of places under Signal Nos. 1 and 2 may see coastal flooding "due to hazardous surf conditions."
Sea travel also remains dangerous in areas feeling the impact of the severe tropical storm.
Rough to very rough seas (waves 2.5 to 5 meters high)
Travel risky for all vessels, inexperienced mariners should seek safe harbor
seaboards of areas under Signal No. 2
Moderate to rough seas (waves 1.2 to 2.8 meters high)
Small vessels must take precautionary measures, inexperienced mariners should avoid navigation
seaboards of areas under Signal No. 1
remaining seaboards of Visayas
PAGASA said Jolina could make landfall in or pass very close to Marinduque on Wednesday morning – what would be its seventh landfall. Then it could move over Tayabas Bay and make another landfall in the southwestern part of Quezon or the eastern part of Batangas by noon on Wednesday.
But the state weather bureau noted that if Jolina's track further shifts southwest, it may make landfall in the northern part of Oriental Mindoro.
Jolina had made landfall six times as a typhoon:
Monday, September 6
Hernani, Eastern Samar – 10 pm
Tuesday, September 7
Daram, Samar – 2 am
Santo Niño, Samar – 3:40 am
Almagro, Samar – 6:30 am
Tagapul-an, Samar – 7:50 am
Dimasalang, Masbate – 10 am
Between Wednesday noon and evening, Jolina could cross the Batangas-Cavite area. Afterwards, it may emerge over Manila Bay and make another landfall in Bataan.
Jolina may also weaken into a tropical storm as an effect of its interaction with land.
Finally, Jolina could emerge over the West Philippine Sea on Thursday morning, September 9. It may regain strength beginning Thursday afternoon as it heads for the southern China-northern Vietnam area.
It is likely to leave the Philippine Area of Responsibility (PAR) on Friday morning, September 10. (READ: FAST FACTS: Tropical cyclones, rainfall advisories)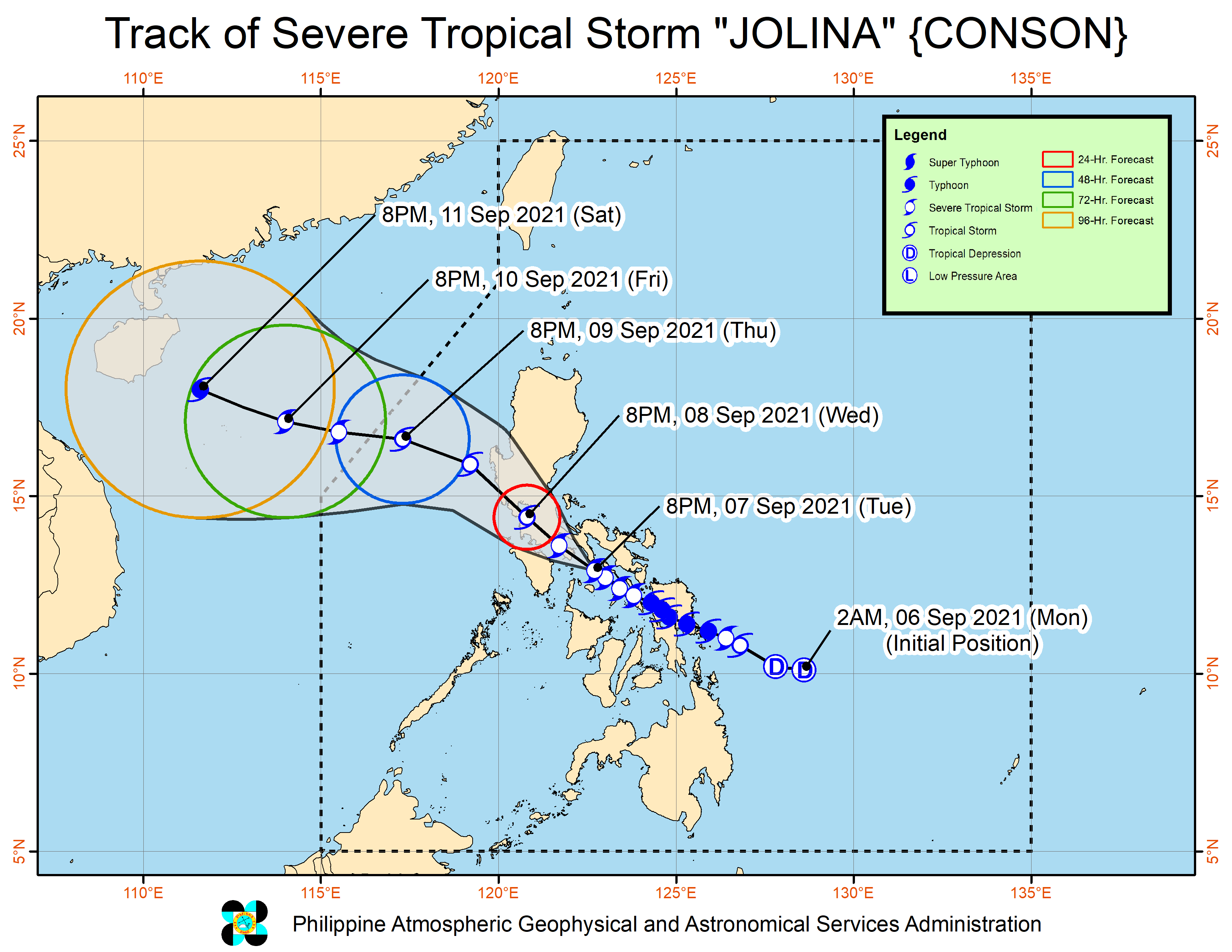 Kiko
Kiko, meanwhile, was located 1,300 kilometers east of Central Luzon late Tuesday evening.
The typhoon is moving west northwest at 20 km/h, heading for the Luzon Strait and the vicinity of extreme Northern Luzon.
At the moment, Kiko has maximum sustained winds of 120 km/h and gustiness of up to 150 km/h. It is expected to continuously strengthen until Friday, when it may reach its peak intensity of 165 to 185 km/h while moving over extreme Northern Luzon.
PAGASA said heavy rain from Kiko may begin affecting extreme Northern Luzon on Friday.
There is also a "moderate to high likelihood" of tropical cyclone wind signals being raised for several provinces in Northern Luzon due to Kiko, beginning Wednesday evening or Thursday morning. Signal No. 3 would be the highest possible tropical cyclone wind signal.
PAGASA added that Kiko may trigger rough conditions in the northern and eastern seaboards of Luzon beginning Thursday as it nears extreme Northern Luzon.
"Due to the strength of this tropical cyclone, sea condition over the waters in the northern provinces of the country will likely be risky for all types of seacraft in the coming days," the state weather bureau said.
On Saturday, September 11, Kiko could pass close to the southern coast of Taiwan, which is still within PAR. Weakening is possible beginning late Saturday as the typhoon interacts with Taiwan's rugged terrain.
Kiko is also seen to leave PAR on Saturday.
By Sunday evening, September 12, or Monday morning, September 13, Kiko might make landfall in the southeastern part of China.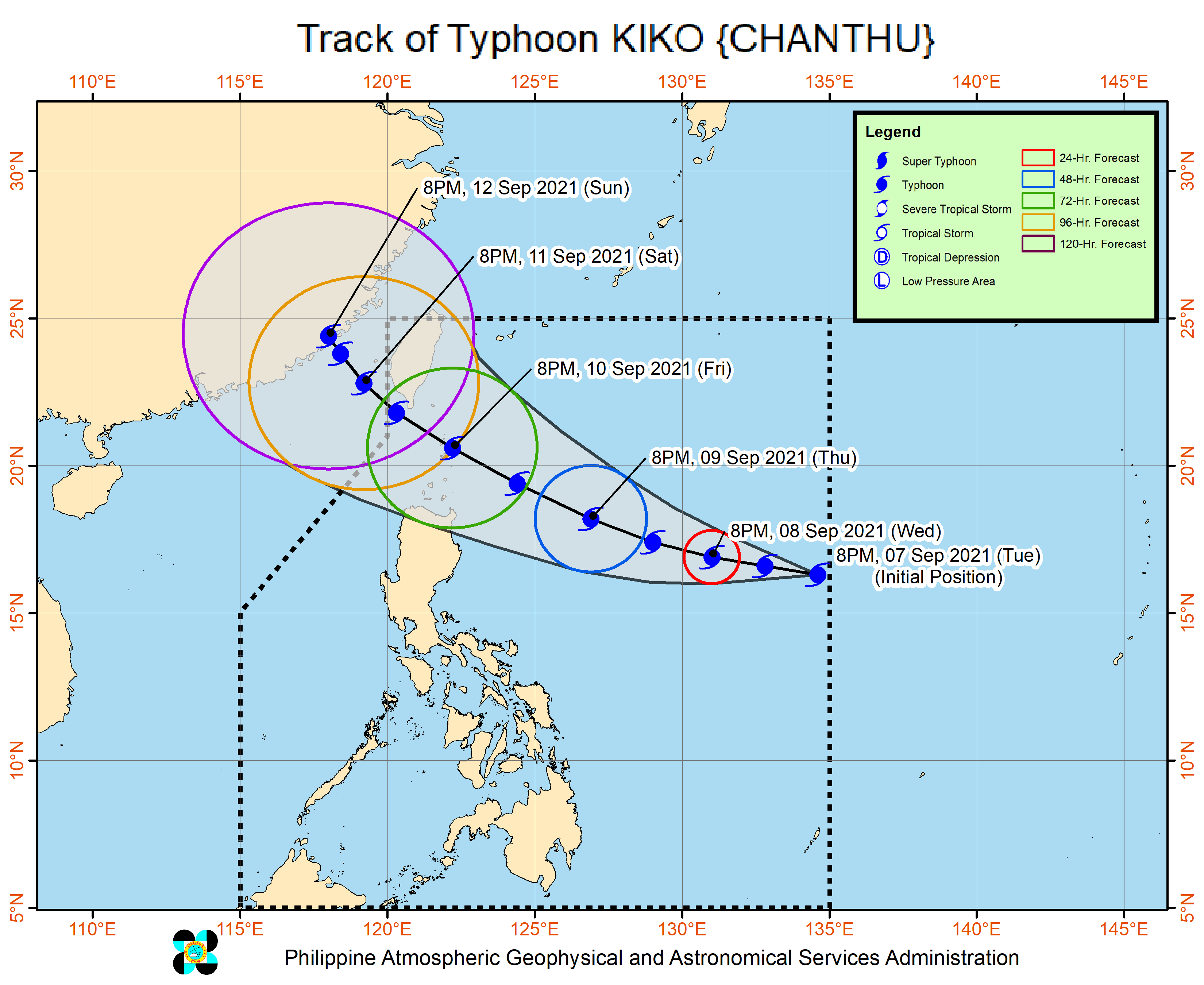 Jolina and Kiko are the Philippines' 10th and 11th tropical cyclones for 2021.
An average of 20 tropical cyclones form within or enter PAR each year. (READ: LIST: PAGASA's names for tropical cyclones in 2021)
For the next six months, these are PAGASA's estimates for the number of tropical cyclones inside PAR:
2021
September – 2 or 3
October – 2 or 3
November – 2 or 3
December – 1 or 2
2022
January – 0 or 1
February – 0 or 1
– Rappler.com