Tropical Depression Maring and the second tropical depression, which would be named Nando when it enters the Philippine Area of Responsibility, could merge
More areas were told to expect rain from the trough or extension of Maring, as the tropical depression strengthened a bit on Friday morning, October 8.
Meanwhile, the low pressure area outside the Philippine Area of Responsibility (PAR) has intensified into a tropical depression.
One scenario shows the two tropical cyclones may merge.
Maring
Maring now has maximum sustained winds of 55 kilometers per hour from the previous 45 km/h and gustiness of up to 70 km/h from the previous 55 km/h.
The tropical depression was last spotted 495 kilometers east of Catarman, Northern Samar, or 400 kilometers east of Borongan City, Eastern Samar.
It is now moving southwest at 15 km/h, but its movement over the Philippine Sea continues to be erratic, said the Philippine Atmospheric, Geophysical, and Astronomical Services Administration (PAGASA) in a press briefing past 11 am on Friday.
While Maring remains over the Philippine Sea, its trough may bring light to heavy rain to the following areas on Friday:
Bicol
Eastern Visayas
Cebu
Bohol
Caraga
Light to heavy rain could also begin to affect these areas on Saturday, October 9, due to the southwesterlies or winds from the southwest enhanced by Maring:
rest of Visayas
Occidental Mindoro
Palawan
Areas affected by rain must watch out for isolated floods and landslides.
Meanwhile, tropical cyclone wind signals might be raised in several provinces in Northern Luzon by early or mid-Saturday.
The highest possible tropical cyclone wind signal due to Maring remains Signal No. 2.
"However, due to the uncertainty in the track and intensity forecast, there is a possibility that areas outside Northern Luzon may also be placed under [tropical cyclone wind signals] and that a higher wind signal may still be hoisted within the forecast period," PAGASA reiterated.
Moderate to rough waters are also expected in the seaboards of Luzon and in the eastern and western seaboards of the Visayas and Mindanao on Friday. Travel is risky for small vessels.
Maring is projected to maintain its erratic movement in the next 12 to 24 hours, or by Saturday morning at the latest. Then it may shift north northwest on Saturday morning, and northwest on Saturday evening.
From that point, it may maintain a west northwest direction until Monday, October 11, then move toward the west by Tuesday, October 12.
PAGASA said Maring is likely to pass over or near the Batanes-Babuyan Islands area between Monday afternoon and early Tuesday morning.
In terms of intensity, Maring could gradually strengthen starting Saturday. It could be upgraded to a tropical storm by Saturday morning and to a severe tropical storm by Monday morning. PAGASA now expects Maring's peak intensity to reach 95 km/h, from the earlier forecast of 85 km/h.
The latest forecast means Maring could already be a severe tropical storm even before it nears the Batanes-Babuyan Islands area. (READ: FAST FACTS: Tropical cyclones, rainfall advisories)
The weather bureau again emphasized, however, that forecasts for Maring's track and intensity can still change.
Maring may leave PAR on Tuesday morning.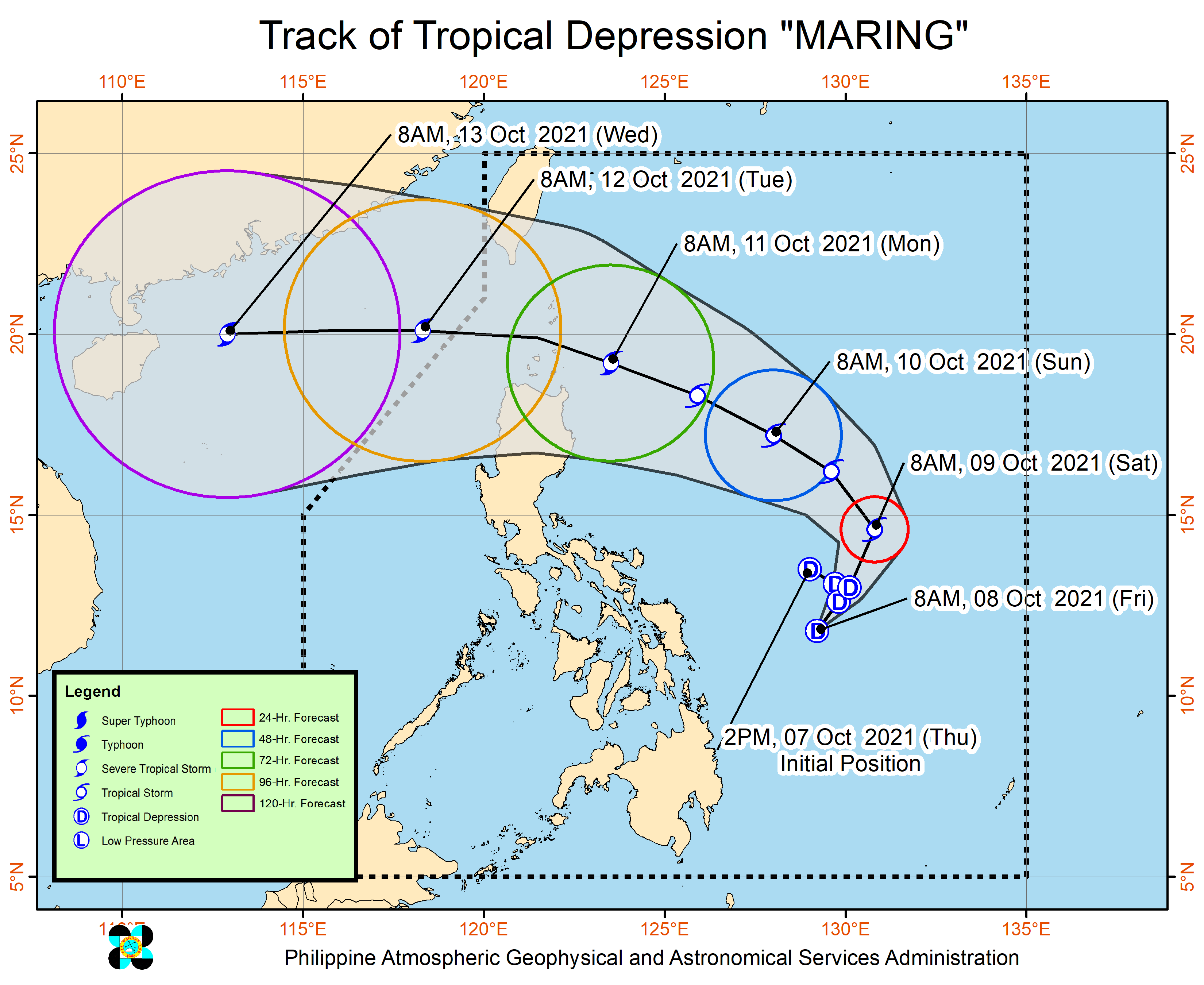 Meanwhile, the tropical depression outside PAR was located 1,805 kilometers east of Central Luzon on Friday morning, moving north at 10 km/h.
It has maximum sustained winds of 45 km/h and gustiness of up to 55 km/h.
This tropical depression could enter PAR on Saturday morning, and would be given the local name Nando.
Maring and the potential Nando might interact and merge, according to PAGASA Weather Specialist Raymond Ordinario.
Ordinario explained in the press briefing that Maring could become the dominant system, but this forecast may still change since the tropical depression outside PAR might gain more strength over water.
Maring is the Philippines' 13th tropical cyclone for 2021 and the second for October.
An average of 20 tropical cyclones form within or enter PAR each year. (READ: LIST: PAGASA's names for tropical cyclones in 2021)
These are PAGASA's latest estimates for the next six months:
2021
October – 2 or 3
November – 2 or 3
December – 1 or 2
2022
January – 0 or 1
February – 0 or 1
March – 0 or 1
The weather bureau is also monitoring the possible emergence of La Niña in the fourth quarter of 2021. – Rappler.com