So far, no new potential tropical cyclone is being monitored after Typhoon Ulysses (Vamco)
After briefly weakening into a severe tropical storm, Ulysses (Vamco) reintensified back to typhoon category at 8 am on Friday, November 13.
This was followed by its exit from the Philippine Area of Responsibility (PAR) at 9:30 am, leaving deaths and massive flooding in its wake.
The Philippine Atmospheric, Geophysical, and Astronomical Services Administration (PAGASA) said in its 11 am bulletin that Ulysses is now 500 kilometers west of Iba, Zambales, moving west northwest at a slower 10 kilometers per hour (km/h) from the previous 20 km/h.
The typhoon is heading for the central part of Vietnam, according to PAGASA.
As it left PAR, it had maximum sustained winds of 120 km/h and gustiness of up to 150 km/h. When Ulysses first made landfall late Wednesday evening, November 11, it had maximum sustained winds of 150 km/h. (READ: FAST FACTS: Tropical cyclones, rainfall advisories)
PAGASA said Ulysses is likely to maintain its strength in the next 12 hours, but it could gradually weaken again due to conditions caused by the surge of the northeast monsoon or hanging amihan – cold, dry air. Tropical cyclones are fueled by warm, moist air.
While Ulysses is already outside PAR, the typhoon and the surge of the northeast monsoon will continue bringing gusty conditions to these areas:
Batanes
Babuyan Islands
Cordillera Administrative Region
Ilocos Region
Zambales
Bataan
Ulysses and the surge of the northeast monsoon also continue to affect coastal waters.
Rough to very rough seas (waves 2.5 to 5.5 meters high)
seaboards of Batanes, Babuyan Islands, Ilocos Norte, Ilocos Sur, La Union, Pangasinan, and Zambales
northern seaboard of mainland Cagayan
western seaboards of Bataan, Batangas, Occidental Mindoro (including Lubang Island), and Palawan (including Calamian and Kalayaan Islands)
Meanwhile, PAGASA said small vessels should take precautionary measures in the eastern seaboards of Luzon, due to moderate to rough seas. Waves are 2 to 3.5 meters high.
The tail-end of a cold front is also affecting Northern Luzon, bringing rain that may cause more floods and landslides. PAGASA advised residents to remain on alert on Friday.
Moderate to heavy rain
Light to moderate rain, with at times heavy rain
rest of Cagayan Valley
Cordillera Administrative Region
Ilocos Norte
Aurora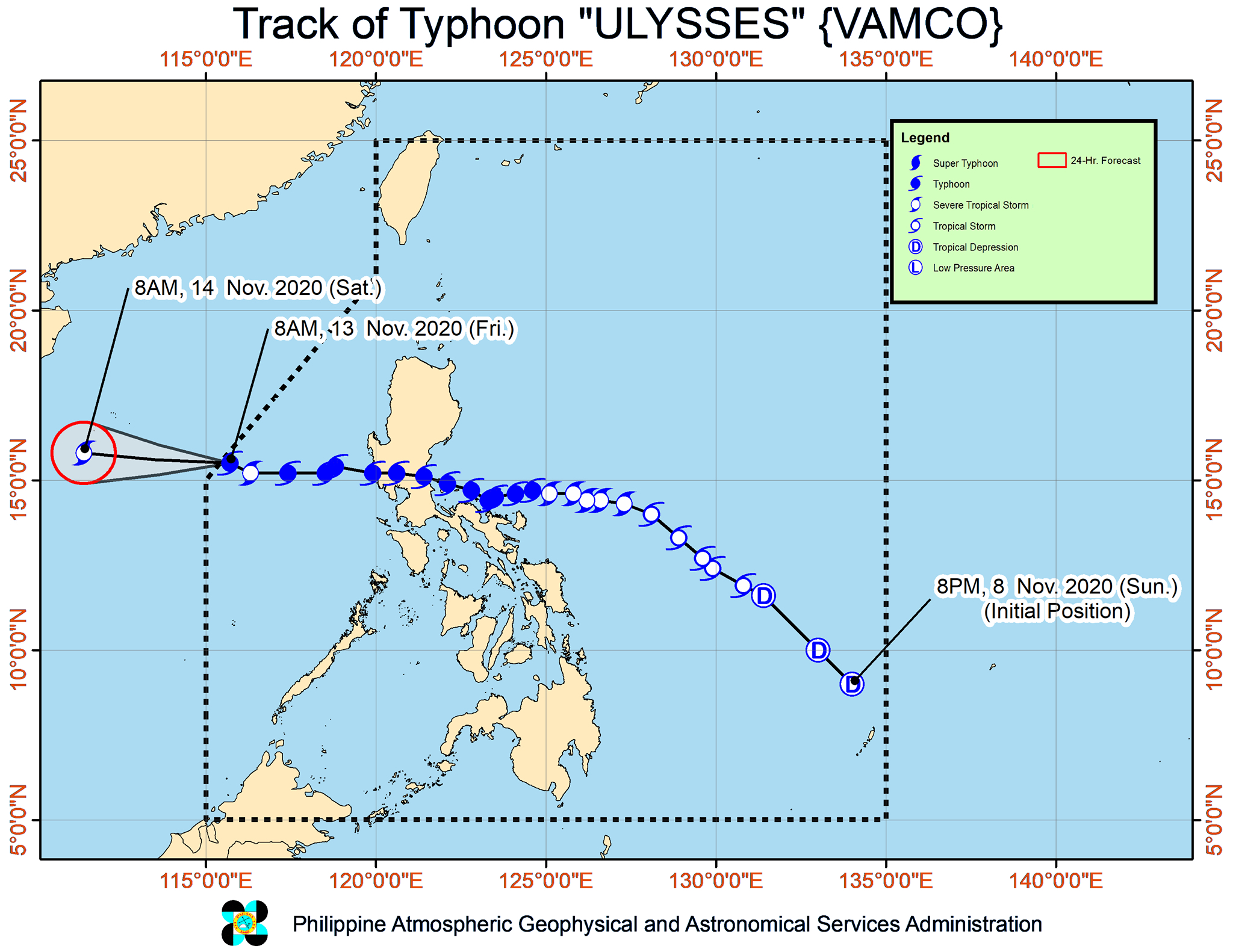 The National Disaster Risk Reduction and Management Council's official death toll from Ulysses as of Friday morning was 14.
But the Armed Forces of the Philippines said government teams recovered at least 39 bodies in typhoon-hit regions.
Marikina City, which saw its worst flooding since Tropical Storm Ondoy (Ketsana) in September 2009, has been placed under a state of calamity. (READ: [ANALYSIS] Filipinos aren't so much resilient as Duterte is incompetent, abusive)
Ulysses first passed very close to Bicol on Wednesday, then made landfall thrice in Quezon province:
Patnanungan – 10:30 pm on Wednesday, November 11
Burdeos – 11:20 pm on Wednesday, November 11
General Nakar – 1:40 am on Thursday, November 12
After hitting Quezon, Ulysses crossed Central Luzon. Nearby regions Metro Manila and Calabarzon also felt the wrath of the typhoon. (READ: #ReliefPH: Help communities recover from Typhoon Ulysses)
Ulysses was the Philippines' 21st tropical cyclone for 2020, already above the yearly average of 20.
It was also the 3rd for November, meeting the upper end of the forecast for the month. Note though that with over two weeks still left in November, the possibility of another tropical cyclone during the month is not ruled out.
So far, no new potential tropical cyclone is being monitored after Ulysses. (READ: LIST: PAGASA's names for tropical cyclones in 2020)
For the next 5 months, these are PAGASA's estimates for tropical cyclones inside PAR:
December 2020 – 2 or 3
January 2021 – 0 or 1
February 2021 – 0 or 1
March 2021 – 0 or 1
April 2021 – 0 or 1
Since October, La Niña has been underway, which means there is more rain than usual.
Then in November, the northeast monsoon began, signaling "surges of cold temperatures."
PAGASA warned that La Niña may enhance the northeast monsoon, which could trigger floods and landslides. – Rappler.com