Several suspicious details in the safekeeping receipt lead to the conclusion that it was fabricated
At a glance
Claim: There is a safekeeping receipt from the People's Bank of China for 1,715,000 metric tons of gold allegedly owned by the late president Ferdinand Marcos.
Rating: FALSE
The facts: There are at least two false details in the document: the existence of 1,715,000 metric tons of gold and the existence of a certain Father Jose Antonio Diaz. The rest of the details are also suspicious.
Why we fact-checked this: Several Facebook posts have been spreading the photo of the receipt.
Complete details
Several Facebook posts have been spreading an alleged document from the People's Bank of China, a purported safekeeping receipt dated August 11, 1952, for 1,715,000 metric tons of gold deposited in the bank. The signatories in the document are:
This is a photo of the alleged document: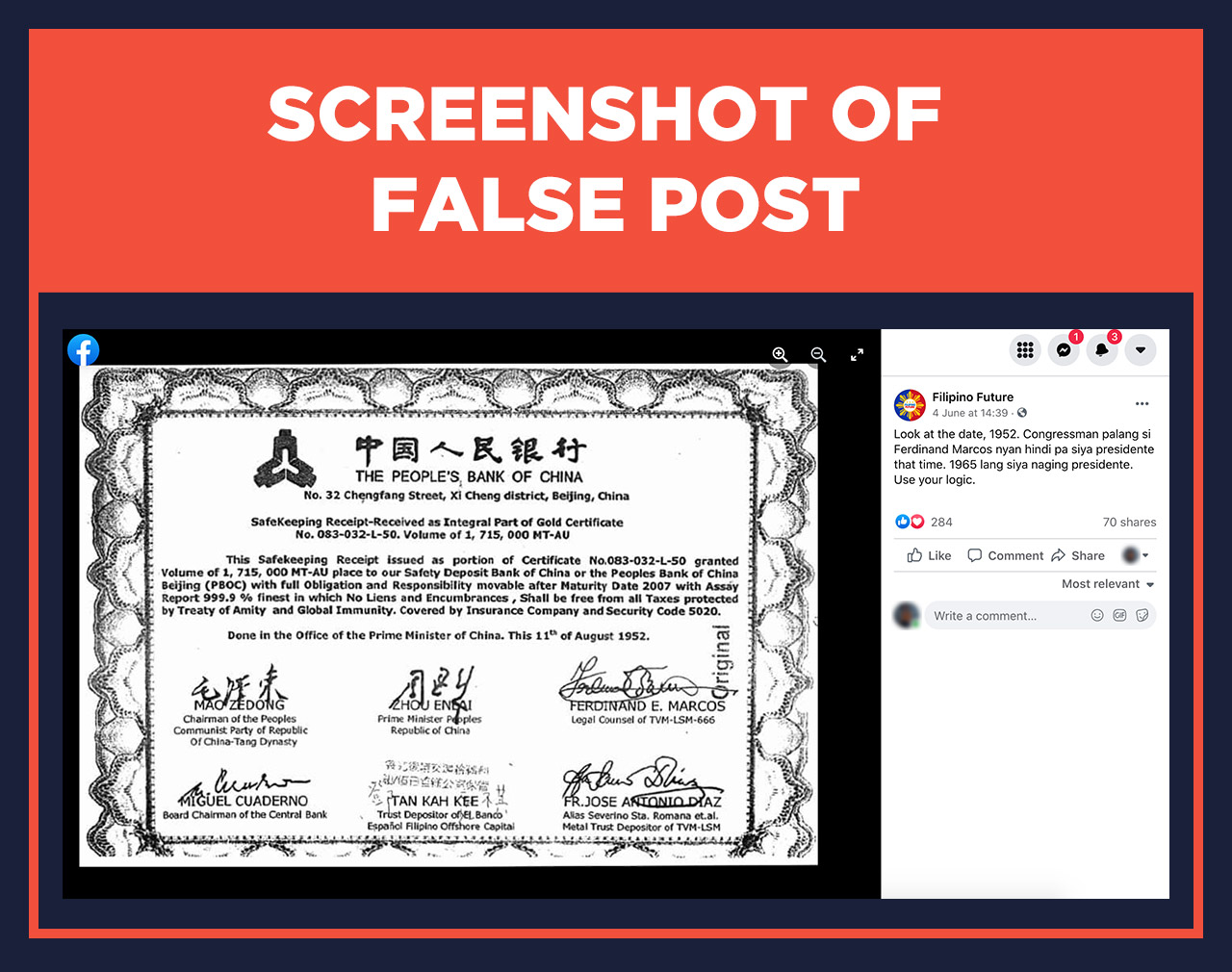 As seen from a CrowdTangle search, the photo was being shared in posts in several Facebook pages and groups. One such post with the photo can be found in the Facebook page "Filipino Future." It was posted on June 4, 2021, and has about 1,300 reactions, 136 comments, and 1,200 shares, as of writing.
The post from "Filipino Future" begins with this: "Malaki ang pagkakautang ng China sa bansang Pilipinas. Nagbabayad sila ng mga interes o profits na kinita ng mga ginto na iningatan ni Marcos na ipinahiram sa People's Bank of China, ang central bank ng China. Kaya yong mga projects na ginagawa nila sa Pilipinas, bayad lang yan nila sa atin dahil nag matured na noong 2007 ang investments ni Marcos sa kanilang mga bangko."
(China is hugely indebted to the Philippines. They paid interest or profits earned from gold kept by Marcos and lent to the People's Bank of China, the central bank of China. So the projects that they are doing in the Philippines, they're just payments to us because Marcos' investments in their banks already matured in 2007.)
There are false details in the photo.
The World Gold Council's estimated total amount of gold mined throughout all of history is just 190,040 metric tons as of 2017 and 197,576 metric tons as of 2019. The United States Geological Survey's estimate is 244,000 metric tons. These figures are nowhere close to the 1,715,000 metric tons indicated in the alleged document. (READ: FALSE: Marcos family owns a 'million tons of gold')
Also, the supposed existence of a certain Fr. Jose Antonio Diaz is unsupported by facts. (READ: FALSE: Ferdinand Marcos, Jose Rizal established World Bank)
There are also details that make the photo suspicious.
The Tang Dynasty, shown below Mao Zedong's name, lasted from 618 to 907 CE, so it ended more than 1,000 years before Mao Zedong's rule as chairman of the People's Republic of China began in 1949.
Also, according to gold.org, the maximum percentage of gold in a gold sample is 100% and can be found in 24-carat gold, though because of slight impurities, even 24-carat gold's level of fineness is customarily stated as 999.9 parts per thousand, which is the same as 99.99%. The 999.9 does not have a percent sign after it. (There were also reported levels of fineness of 999.99, which is the same as 99.999%, and 999.999, which is the same as 99.9999%.) The 999.9% mentioned in the document, which is greater than 100%, is spurious.
The accumulation of false and suspicious details lead to the conclusion that the so-called safekeeping receipt was fabricated.
Rappler has fact-checked "Filipino Future" many times before. – Percival Bueser/Rappler.com
Percival Bueser is a graduate of Rappler's fact-checking mentorship program. This fact check was reviewed by a member of Rappler's research team and a senior editor. Learn more about Rappler's fact-checking mentorship program here.
Keep us aware of suspicious Facebook pages, groups, accounts, websites, articles, or photos in your network by contacting us at factcheck@rappler.com. Let us battle disinformation one Fact Check at a time.