The ongoing pandemic has led to a reduction in traffic in the nation's capital
At a glance
Claim: Manila traffic has improved as a result of President Rodrigo Duterte's infrastructure spending.
Rating: MISSING CONTEXT
The facts: While Duterte's claim that traffic in Manila has improved in recent months does hold merit, the reduction in traffic is related to the various lockdowns Manila has entered due to the COVID-19 pandemic.
Why we fact-checked this: Duterte made this claim in an interview with Pastor Apollo Quiboloy on June 8.
Complete details
On June 8, President Rodrigo Duterte said that his administration had successfully alleviated Manila's traffic situation by investing in new infrastructure. In an interview with Pastor Apollo Quiboloy, Duterte said: "Ito ngayon sa 'taas kita mo, ito na lang ang binuhos ko 'yung mga grant-grant doon ko binuhos 'yung pera. Ngayon, maluwag na 'yung traffic ng Maynila. Talagang if you go to Cubao, airport, it's about 15 minutes."
(So, now, you can see this is where I poured all the money. Now the traffic in Manila is smooth. If you go from Cubao to the airport, it's about 15 minutes.)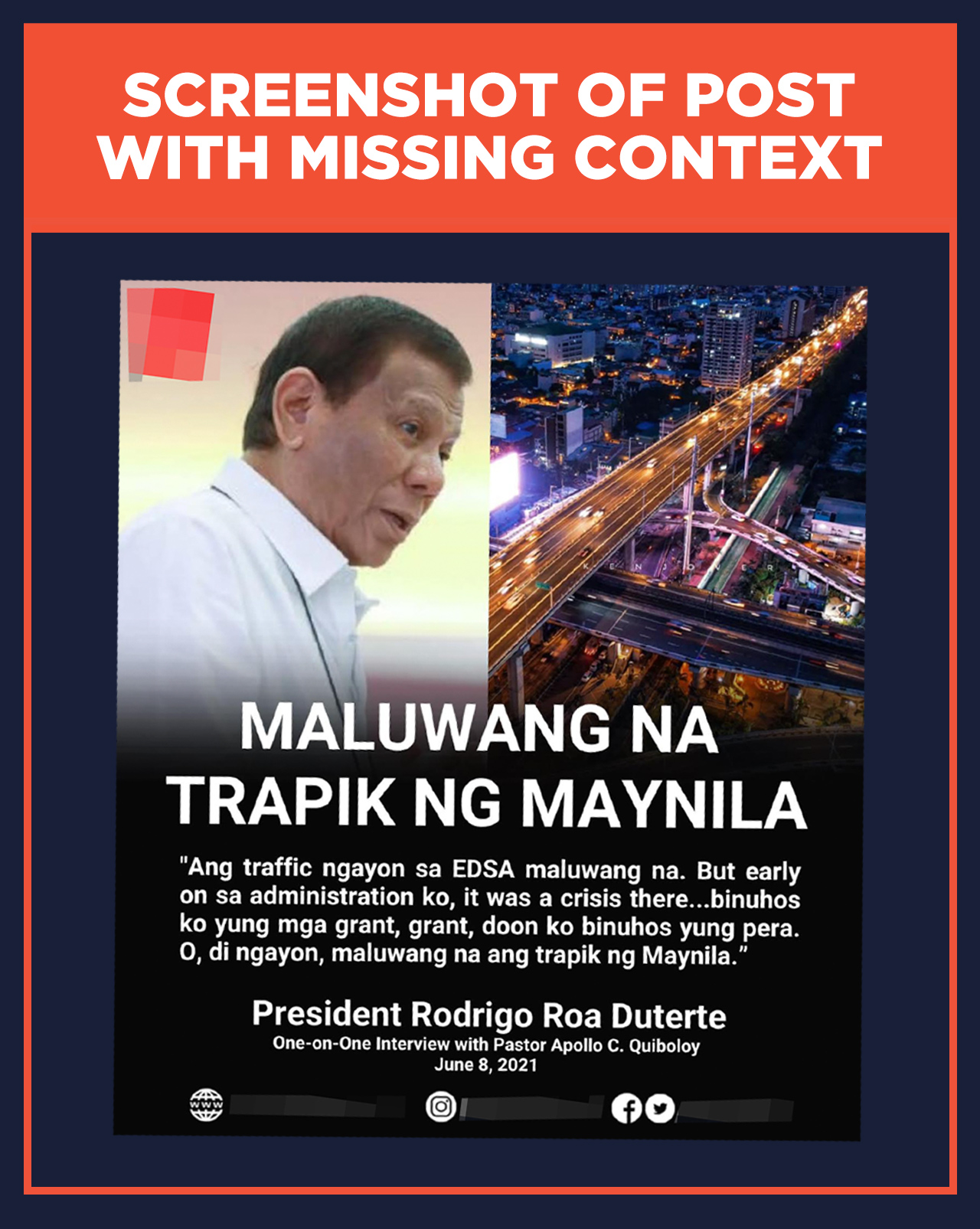 Duterte's claim was shared on at least 23 Facebook groups.
This claim is missing context.
While Duterte's claim that traffic in Manila has improved in recent months does hold merit, the reduction in traffic is related to the various lockdowns Manila has entered due to the COVID-19 pandemic.
TomTom's 2020 Traffic Index shows that Metro Manila had a 53% congestion level in 2020, an improvement from 71% in 2019. A 53% congestion level means that a trip would take 53% more time than it would without traffic.
Based in the Netherlands, TomTom's Traffic Index covers 416 cities across 57 countries on 6 continents. According to their website, they "calculate the baseline per city by analyzing free-flow travel times of all vehicles on the entire road network – recorded 24/7, 365 days a year."
In February 2020, Metro Manila had a 68% congestion level. In May 2020, while Metro Manila was either in enhanced community quarantine (ECQ) or modified ECQ, traffic congestion dropped to 12%. As the government eased travel restrictions, traffic congestion began to increase once more, reaching 60% by December 2020.
Transport specialist Rene Santiago said in a BusinessWorld interview in January that "school trips alone accounted for about six million trips disappearing in Metro Manila with no students going to schools. That is 25% of the total daily demand."
Specialists also say that current infrastructure spending with a focus on new roadways and bridges, such as in Duterte's "Build, Build, Build" initiative, has not helped reduce traffic because of a phenomenon known as "induced demand."
In an interview with Rappler, Robert Siy of the #MoveAsOne coalition explained that, when a new road or bridge is created, traffic will be temporarily reduced. Relatively light traffic, however, "attracts more people to use that very road or bridge. Very soon, [cars] fill up that space and you get back to the same congestion."
In the BusinessWorld interview, Santiago noted that, although Skyway 3 would reduce traffic on EDSA and C5 by 20-30% in the "short-term," what the government had offered were ultimately "artificial solutions."
Siy explained that this was because building more roads would lead to more private vehicles, ultimately making it "counterproductive."
This is reflected in a June 20 report, wherein the Metropolitan Manila Development Authority (MMDA) admitted that they were "expecting the worst" for traffic on EDSA as the number of cars using the major thoroughfare was approaching pre-pandemic figures.
Siy said that, although public transportation projects under Build, Build, Build such as the MRT-3 extension had "great potential," a variety of factors hindered their effectiveness. Rail transportation, which receives most of public transportation funding, is extremely expensive and slow to build.
Further, Siy explained that commuters would now be more hesitant to use public transport in fear of catching COVID-19, thus would be more likely to use private vehicles instead.
While Build, Build, Build projects have been under construction, the MMDA reported in 2019 that these worsened traffic because they created chokepoints in the construction areas. – Jose Atienza/Rappler.com
Jose Atienza is a Rappler intern. This fact check was reviewed by a member of Rappler's research team and a senior editor. Learn more about Rappler's internship program here.
Keep us aware of suspicious Facebook pages, groups, accounts, websites, articles, or photos in your network by contacting us at factcheck@rappler.com. Let us battle disinformation one fact check at a time.
Rappler has previously written about Manila's traffic woes in the past.