There is no such record in the Guinness World Records database
At a glance:
Claim: Former President Ferdinand Marcos is "the best president of all time," according to the Guinness World Records.
Rating: FALSE
The facts: Guinness World Records did not accord such a title to Marcos. Marcos indeed has a Guinness World Record title, but for the "greatest robbery of a government."
Why we fact-checked this: The claim was made in a post by Facebook user Lincoln Santos on February 9. As of writing, the post has 918 reactions, 58 comments, and 164 shares.
Complete details:
On February 9, Facebook user Lincoln Santos posted a photo, stating that former president Ferdinand Marcos is a Guinness World Records title holder for being "THE BEST PRESIDENT OF ALL TIME."
The post also stated: "Wala nang tatalo pa sa record na yan! Pinakadabest na pangulo mula noon hanggang ngayon!" ("No one will be able to beat that record! The best president from the past until the present!")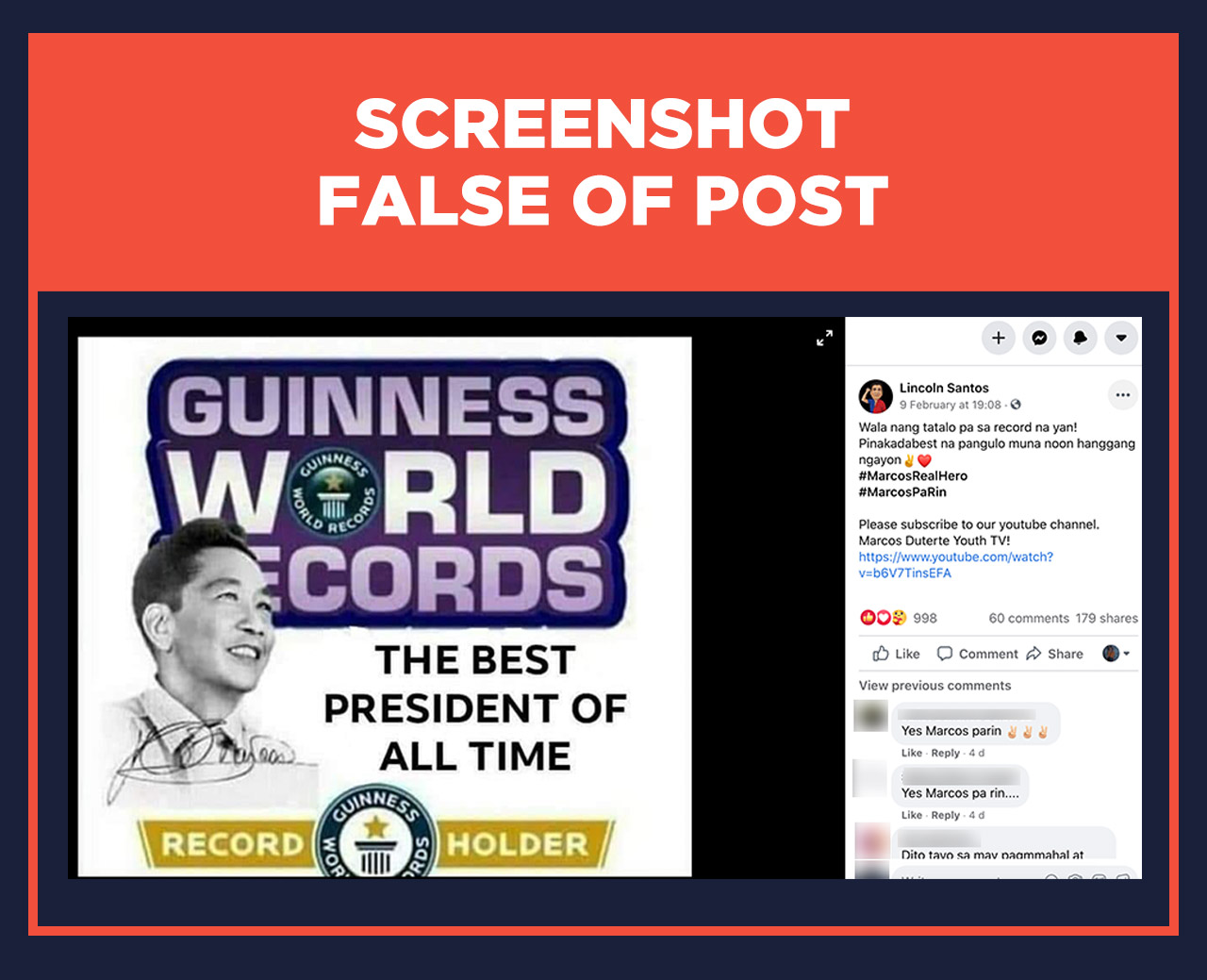 As of writing, the post has 918 reactions, 58 comments, and 164 shares.
The claim is false.
On the Guinness World Records website, using the record application search feature, which searches the full list of their record titles, shows that there is no official record for Marcos being the "best president of all time." The regular search feature also shows the same.
Marcos indeed has an official Guinness World Record, but it is for the "greatest robbery of a government." The Guinness entry states that the amount lost from the national coffers was believed to be $5 billion to $10 billion. The entry was recorded on April 23, 1986, and also mentioned the involvement of former First Lady Imelda Marcos.
Vera Files and AFP, both signatories of the International Fact-Checking Network (IFCN), have fact-checked a similar claim before: that there is a Guinness World Record for Marcos being "the world's most brilliant president in history." Rappler also discussed this claim in a September 19, 2019, article about the extent of corruption during the Marcos presidency.
A reverse image search shows that the photo in Santos' post used the same background as the photo used in the previous claim. – Percival Bueser/Rappler.com
This article was written by a volunteer of Rappler's fact-checking mentorship program, a 5-week exclusive and hands-on training on detecting, investigating, and verifying online misinformation and disinformation.
Keep us aware of suspicious Facebook pages, groups, accounts, websites, articles, or photos in your network by contacting us at factcheck@rappler.com. Let us battle disinformation one fact check at a time.