The Rome Statute that established the ICC entered into force only on July 1, 2002
At a glance
Claim: There is an International Criminal Court (ICC) ruling made in 1976 about gold allegedly owned by former president Ferdinand Marcos.
Rating: FALSE
The facts: The ICC couldn't have made any ruling in 1976 because the Rome Statute that established the ICC entered into force only on July 1, 2002.
Why we fact-checked this: The claim can be found in some Facebook posts, such as those from the pages "Bagong Bansang Maharlika," "Tayo Ang Bukas Spyder friends," "Filipino Fighting For Freedom of Information 4FoI," and "Pres. Ferdinand Emmanuel E. Marcos."
Complete details
Some Facebook pages claim that the International Criminal Court (ICC) had a 1976 ruling about gold allegedly owned by former president Ferdinand Marcos. Some of the Facebook pages and the dates of their posts are:
"Bagong Bansang Maharlika" on June 22, 2021
"Tayo Ang Bukas Spyder friends" on June 7, 2016
"Filipino Fighting For Freedom of Information 4FoI" on March 21, 2016
"Pres. Ferdinand Emmanuel E. Marcos" on May 11, 2015, June 9, 2014, and April 2, 2014
The posts said, "Marcos could not announce possession of the gold plundered by the Germans and the Japanese during World War Two until some time after 1986 because of the ruling of the International Criminal Court in 1976."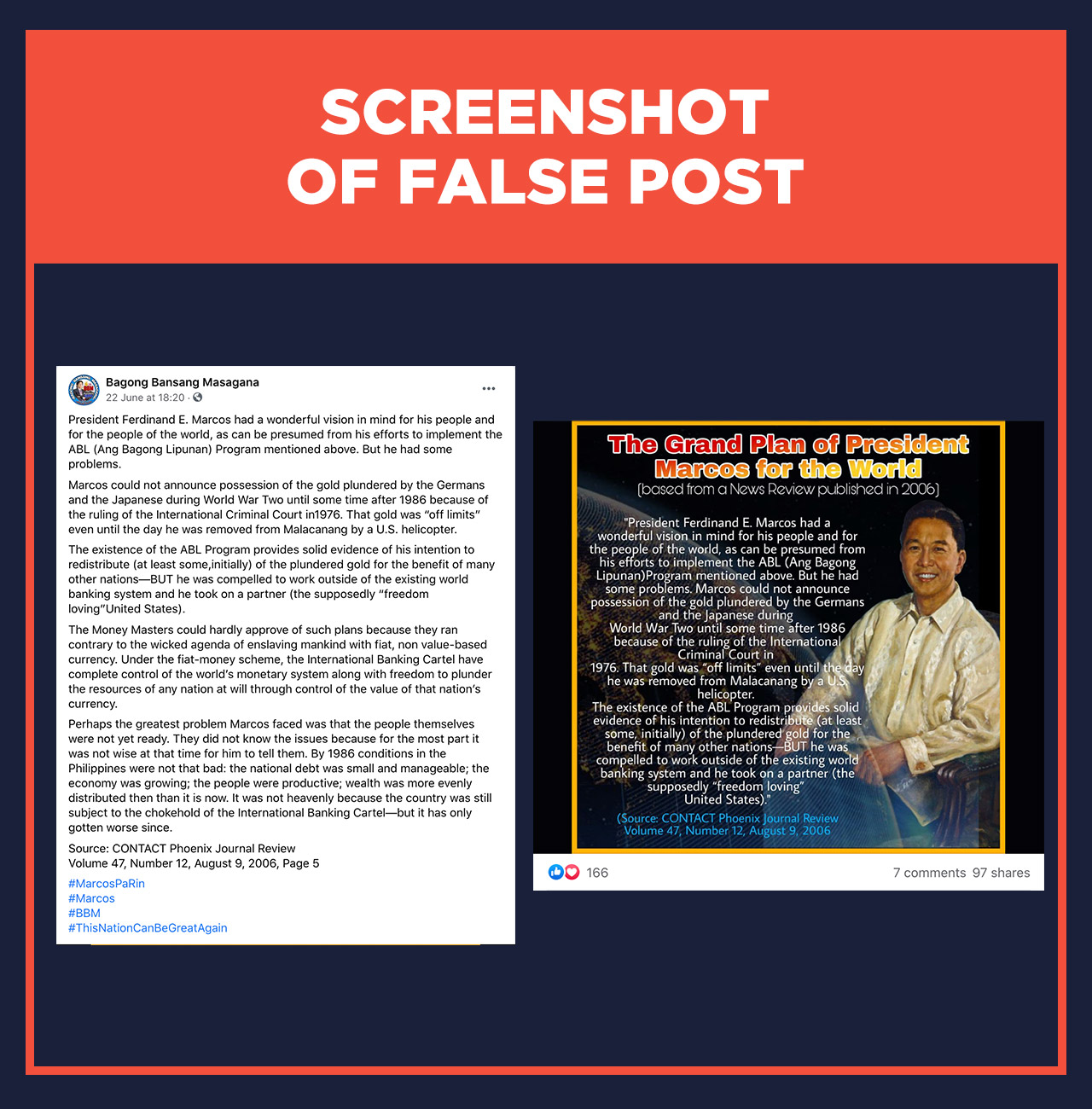 The claim is false.
The ICC could not have made any ruling in 1976 because the Rome Statute of the International Criminal Court (also called the Rome Statute), the treaty that established the ICC, entered into force only on July 1, 2002. This means that the ICC has jurisdiction over crimes committed only after that date.
According to "Understanding the International Criminal Court," their factsheet, "States decided to accept the jurisdiction of a permanent international criminal court for the prosecution of the perpetrators of the most serious crimes committed in their territories or by their nationals after the entry into force of the Rome Statute on 1 July 2002."
Moreover, the first ICC verdict was given on March 14, 2012.
The ICC was recently in the spotlight after Fatou Bensouda sought permission from the pre-trial chamber to investigate alleged crimes against humanity in the conduct of the drug war under the administration of President Rodrigo Duterte. Bensouda was replaced by Karim Khan on June 16. (READ: FULL TEXT: ICC prosecutor's request to open investigation into Duterte drug war)
Rappler has fact-checked several claims about the so-called "Marcos gold" before. Read more below:
– Percival Bueser/Rappler.com
Percival Bueser is a graduate of Rappler's fact-checking mentorship program. This fact check was reviewed by a member of Rappler's research team and a senior editor. Learn more about Rappler's fact-checking mentorship program here.
Keep us aware of suspicious Facebook pages, groups, accounts, websites, articles, or photos in your network by contacting us at factcheck@rappler.com. Let us battle disinformation one Fact Check at a time.