Other countries were ahead of the Philippines in terms of military capabilities during the term of Marcos
At a glance:
Claim: Former president Ferdinand Marcos transformed the Armed Forces of the Philippines (AFP) into the most advanced military forces in Asia.
Rating: FALSE
The facts: Other countries such as Thailand and Cambodia were ahead of the Philippines in terms of military capabilities during the term of Marcos.
Why we fact-checked this: The video containing this claim has been viewed 359,818 times on YouTube.
Complete details:
YouTube channel "KAPATID AVINIDZ" posted a video on January 9 that claimed former president Ferdinand Marcos developed the Philippine military into the most modern and advanced in Asia.
The video was titled, "PILIPINAS | Pinaka makapangyarihang Bansa sa panahun ni PRES. MARCOS (Philippines, the most powerful country during the time of President Marcos)." It says the Armed Forces of the Philippines (AFP) had multiple fighter jets, ships, and vessels in its arsenal.
At the 1:05 mark, it says, "Ang ating bansa ang may pinakamodernong kagamitang pang-giyera sa Asya noon, na 'di mo ma-imagine sa panahon ngayon. (Our country had the most modern war artillery in Asia before, which you wouldn't be able to imagine today.)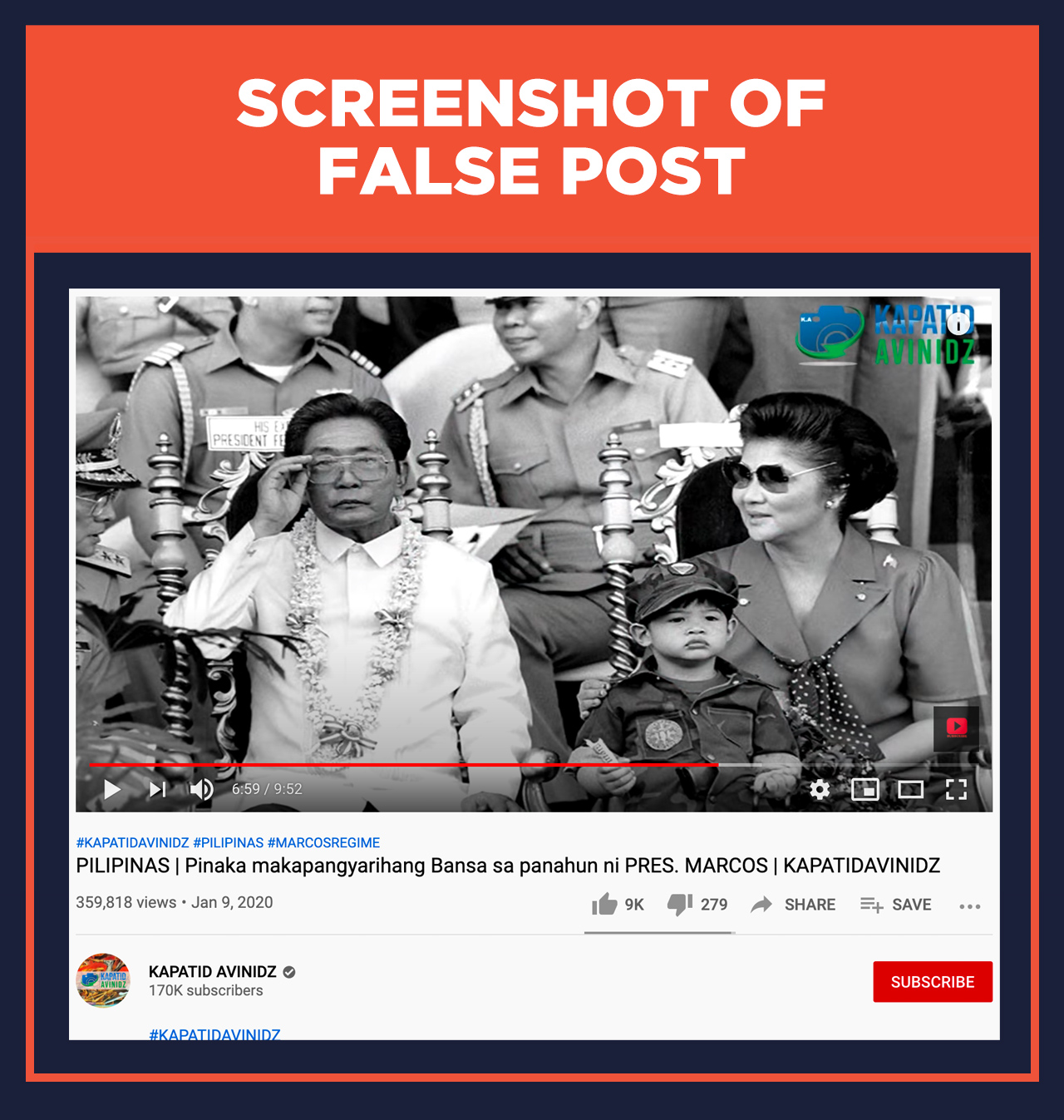 This claim is false. While Marcos did invest a lot in the military during his term, other countries in Asia such as Thailand and Cambodia were ahead of the Philippines in terms of military capabilities at that time. The Philippines also depended greatly on the United States for its own external defense then.
A 2004 study that compared the military capabilities of Southeast Asian states in 1974 said that the "ASEAN states of Singapore, Malaysia, Indonesia, and the Philippines could be described as militarily weak, with small numbers of major weapon systems." The study used data from the London-based International Institute for Strategic Studies' (IISS) annual assessment of national military capabilities, as shown below:
Scroll left and right to view the full chart.
In a joint 1973 study conducted by the Defense Intelligence Agency (DIA) and the Central Intelligence Agency (CIA), America's security establishment also said that the "Philippines has little capability to provide materiel for its armed forces…. All other military materiel is imported primarily through the US Military Assistance Program."
The joint DIA-CIA study noted as well that the Philippine military has been "plagued continuously by serious deficiencies in their supply and maintenance system, including an ineffective accounting system, haphazard distribution, inadequate storage facilities, and poor maintenance."
A 2017 article published by the Philippine Star also said US military presence, particularly in Clark and Subic, and the assistance resulting from that presence represented the "biggest weapons in Marcos' arsenal."
As of writing, the video had 359,818 views on YouTube. It was spotted via social media monitoring tool CrowdTangle.
Previously, Rappler debunked a related claim that said the Philippines, during the Marcos dictatorship, developed a missile system before China did. (READ: FALSE: PH under Marcos was ahead of China in missile development) – with reports from Owen Cinco, Pauline Macaraeg/Rappler.com
This article was written by a volunteer of Rappler's fact-checking mentorship program, a 5-week exclusive and hands-on training on detecting, investigating, and verifying online misinformation and disinformation.
Keep us aware of suspicious Facebook pages, groups, accounts, websites, articles, or photos in your network by contacting us at factcheck@rappler.com. Let us battle disinformation one Fact Check at a time.