PNP chief Police General Guillermo Eleazar only warned politicians not to give in to the NPA's extortion demands, and that violators may face charges under the Anti-Terrorism Act of 2020
At a glance
Claim: Philippine National Police (PNP) chief Police General Guillermo Eleazar dismissed candidates supporting members of the New People's Army (NPA).
Rating: FALSE
The facts: Eleazar only warned politicians not to give in to the armed group's extortion demands, and that violators may face charges under the Anti-Terrorism Act of 2020.
Why we fact-checked this: The video containing this claim has gained 20,324 views, 416 likes, and 150 comments on YouTube, as of writing. It is also posted on a Facebook page and has gained 896 views, 59 likes, and 6 comments, as of writing.
Complete details
YouTube channel "PH BREAKING NEWS" uploaded a video on June 22, 2021, falsely claiming that Philippine National Police (PNP) chief Police General Guillermo Eleazar dismissed candidates said to be supporting communist rebels, specifically those from the New People's Army (NPA), for the 2022 elections. 
The video is titled, "KAKAPASOK LANG: PANGULONG DUTERTE AARESTOHIN MGA KANDIDATO NI ELEAAZAR (sic) NA SUPORTADO ANG REBELDE (Just in: President Duterte to arrest Eleazar's candidates who support rebels)," while the headline in the video reads, "ELEAZAR SINIBAK MGA KANDIDATO (Eleazar removes candidates)!"
Photos of four politicians – namely former senator Bongbong Marcos, Senator Grace Poe, Manila Mayor Isko Moreno, and Senator Manny Pacquiao – are included in the thumbnail along with a picture of Eleazar pointing having a speech bubble, saying, "WAG NYO KO SUBUKAN!" (Do not test me!)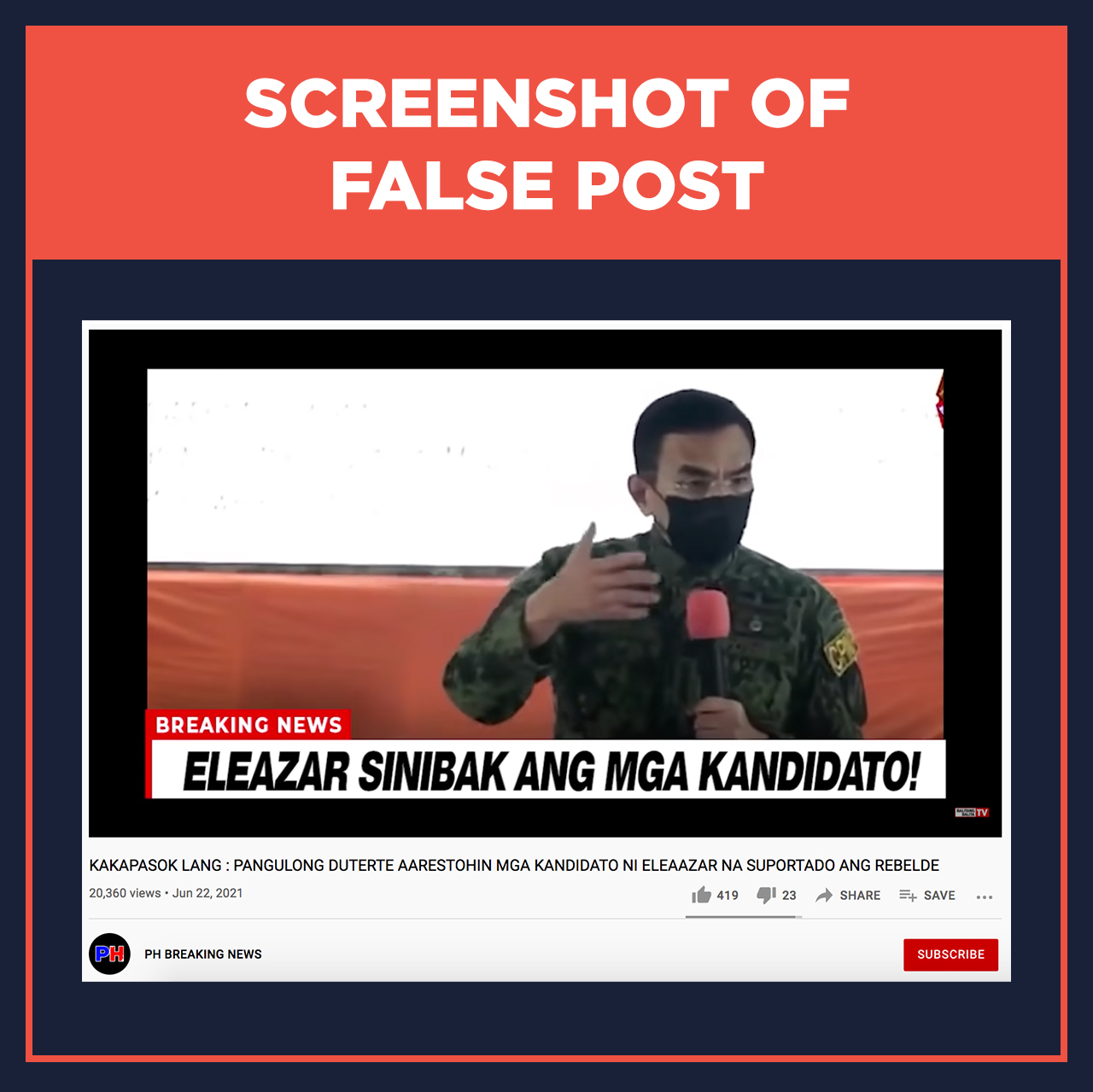 The video has so far gained 20,324 views, 416 likes, and 150 comments. This was also posted on a Facebook page, "PH Zone Update," gaining 896 views, 59 likes, and 6 comments, as of writing.
This claim is false.
Eleazar only reminded and warned political candidates to stay away from the extortion activities of the Communist Party of the Philippines (CPP) and the NPA, its armed wing, specifically through the "permit-to-campaign fee."
"I want to remind persons planning to run in the elections that giving in to this demand for money by the CPP/NPA would mean giving the communist rebels financial support and would make them liable for violation of several special laws including the Anti-Terrorism Act of 2020," Eleazar said in a PNP press release on June 21.
In the video, a photo of the "permit-to-campaign fee" released by the PNP, as well as Duterte's message to the nation last June 21, were used as the basis of the claim. However, the photo and the video do not prove the claim.
In Duterte's speech, he threatened to arrest people who refused to get the COVID-19 vaccine. "Kung ayaw mong magpabakuna, ipaaresto kita, at ang bakuna itusok ko sa p'wet mo," he said. (If you do not want to get vaccinated, then I will arrest you, and I will inject the vaccine into your butt.)
Candidates may face charges for financially supporting terrorist groups and organizations under Section 3 of Republic Act 10168 or the Terrorism and Financing Prevention and Suppression Act of 2012 in Proclamation no. 374, according to an article published by the Philippine News Agency entitled, "PNP braces for NPA's extortion activities as elections near," as well as from a press release by the PNP.
Moreover, no news reports prove that Eleazar dismissed any candidates for the 2022 elections. The PNP chief doesn't have that power or authority.
The Commission on Elections (Comelec) is the primary government agency that enforces and administeres laws and regulations concerning elections, including disqualification of candidates.
Section 4.2 of Resolution No. 10481 says that the PNP and Armed Forces of the Philippines (AFP) may file a request with the Committee on the Ban on Firearms and Security Personnel (CBFSP) for Comelec control.
Comelec control allows the poll body to have immediate and direct control and supervision over national and local officials and employees, as well as full control over all national and local law enforcement agencies as defined under Section 2 of Resolution No. 10481.
Meanwhile, Section 2, Rule 25, of Comelec Rules of Procedure says that "any citizen of voting age, or duly registered political party, organization, or coalition of political parties may file with the Law Department of the Commission a petition to disqualify a candidate on grounds provided by law."
Lastly, politicians or nominees can only become official candidates when the campaign period starts. Therefore, until the filing of certificates of candidacy in October, no politician is considered a candidate.
"For this purpose, the Commission shall set the deadline for the filing of certificate of candidacy/petition of registration/manifestation to participate in the election. Any person who files his certificate of candidacy within this period shall only be considered as a candidate at the start of the campaign period for which he filed his certificate of candidacy," states Section 13 of Republic Act No. 9369, or the amended automated election law. – Alshana Ann Almeda/Rappler.com
Alshana Ann Almeda is a Rappler intern. This fact check was reviewed by a member of Rappler's research team and a senior editor. Learn more about Rappler's internship program here.
Keep us aware of suspicious Facebook pages, groups, accounts, websites, articles, or photos in your network by contacting us at factcheck@rappler.com. Let us battle disinformation one Fact Check at a time.