The chief justice retires at a tumultuous time for the judiciary, with observers saying he could have done more
Retiring Chief Justice Diosdado Peralta will leave the Supreme Court with a bunch of new rules and procedures for the courts, but none that has addressed grievances from those with urgent needs – the activists and lawyers under attack as killings in the Philippines escalate.
"Kayo ay hindi pinabayaan ng Korte Suprema (the Supreme Court did not abandon you)," Peralta said in a farewell speech on Monday, March 22, which was held at the Supreme Court grounds despite a restored prohibition on mass gatherings in Metro Manila.
The third chief justice to be named by President Rodrigo Duterte, Peralta finally made it to the top post in October 2019 after 3 tries. He first joined the High Tribunal as an associate justice in 2009, plucked from the Sandiganbayan anti-graft court by then-President Gloria Macapagal Arroyo.
By his 3rd month as chief justice in January 2020, the World Health Organization had confirmed the spread of the COVID-19 virus. By the end of 2020, he announced he was cutting short his term and retiring a year ahead of his mandatory scheduled retirement in March 2022.
Peralta had to steer the judiciary in a pandemic, overseeing the closure of courts, the bumpy transition to virtual hearings, and the compounded problem of jail congestion. All this while dealing with an undercurrent of grievances from lower court judges and employees.
On top of this, the extrajudicial killings spilled over to the judiciary in various ways. Many more lawyers were killed while many more activists were harassed and shot dead following police implementation of warrants issued by judges.
Lawyers have been asking the Court to act on these issues with more urgency.
Peralta retires on Saturday, March 27, which gives him 4 more days starting Tuesday, March 23, to consider these requests.
Last-minute plea
On Monday, more than 100 lawyers sent a letter to the Court reiterating a request to review the rules on search warrants due to the killings that have occurred while cops were implementing warrants.
Peralta has distanced himself from these calls, saying last week that the Supreme Court is "careful" to exercise its unique rule-making power. He also said it was "too late" for him to step in "because I have only one week."
Peralta did not address another pressing issue – the killing of lawyers, judges, and prosecutors, which has reached an extraordinary surge in the time of Duterte.
Peralta instead highlighted the promulgation of new and amended rules for the courts. "Under my helm, the Supreme Court has formulated and approved 18 procedural rules and guidelines meant to improve the administration of justice and address the problem of clogged court dockets," said Peralta.
"What he has advocated zealously is really the speeding up of processes and that reflects his management style. He's like that, he's basically a trial judge, and so if you ask him, he'd probably say his legacy is the continuous trial guidelines or maybe small claims, that's his style," former Supreme Court spokesperson Ted Te told Rappler Talk.
Indeed, that's what the outgoing chief justice said, with his speech on Monday mostly about "our steadfast commitment to judicial reforms."
It's good, many agree, except that there are unprecedented challenges to the judiciary as human rights violations escalate.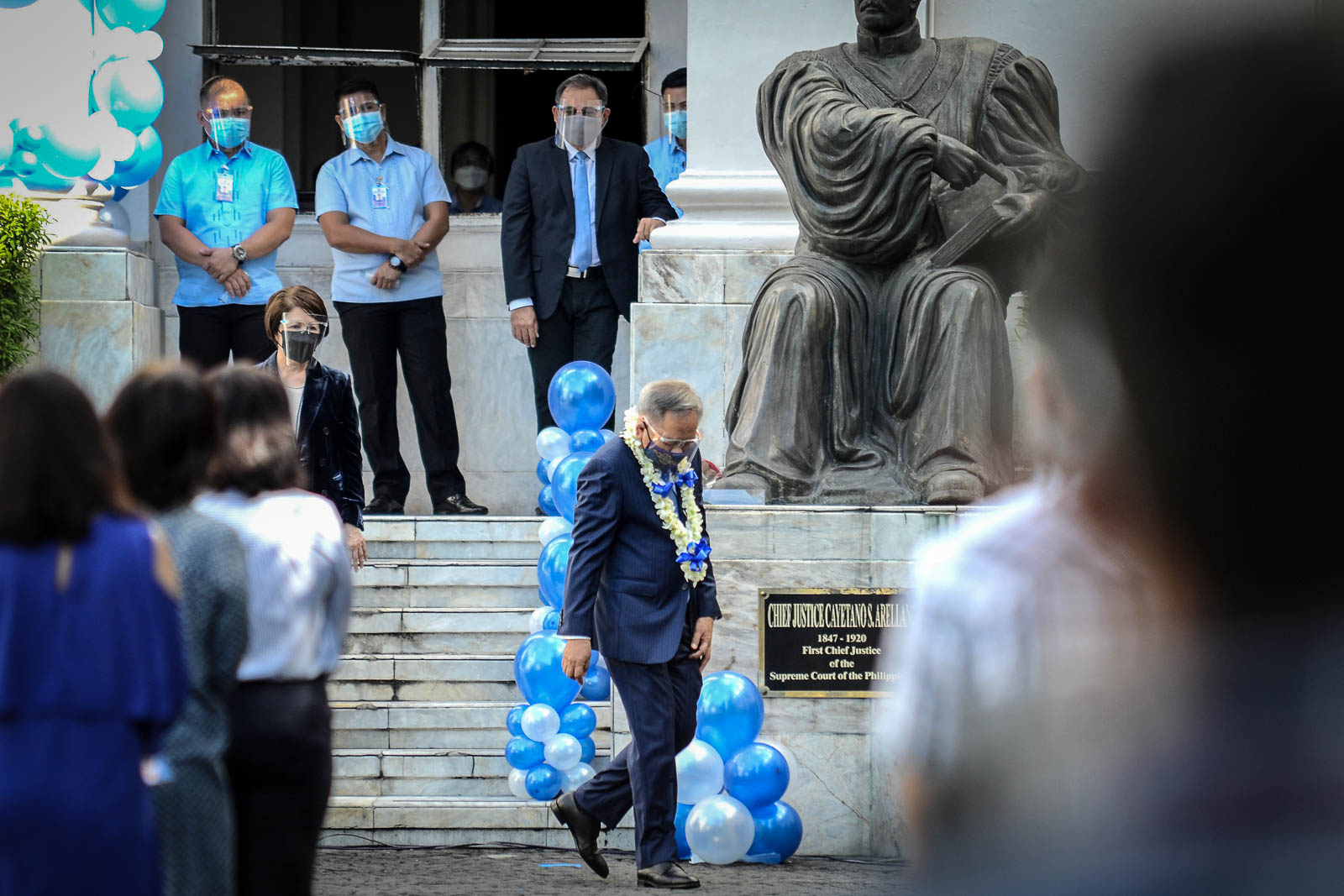 More urgency needed
While Peralta is only one vote in a Bench of 15, as chief justice he could instigate the creation of special committees.
In 2016, former chief justice Maria Lourdes Sereno, and former senior justices Antonio Carpio and Presbitero Velasco Jr created a technical working group (TWG) that would assess whether existing human rights mechanisms were still effective.
Former chief justice Reynato Puno led the promulgation of rules on the extraordinary writs of amparo and habeas data.
The newest letter from lawyers on Monday proposed that the current rules on search warrants be revised, so that one can only apply for search warrants within one's judicial region.
A 2004 Supreme Court circular authorizes the executive judges of Manila and Quezon City, and – in their absence – their vice executive judges, to issue search warrants outside their judicial jurisdictions. This is meant to avoid tipping off subjects of the warrants that they are about to be searched.
The next proposal is to prohibit the wholesale application of warrants. The Bloody Sunday killings of 9 activists in Calabarzon was a result of 63 applications in one day, 42 of which were granted.
Peralta said there is an ongoing review of the entire Rules of Court, and that the rules committee will take these proposals into consideration when they get to that segment.
But lawyers and activists are calling for a little more urgency.
"The number of deaths resulting from the execution of search warrants has grown to an alarming level. We ask the Court to initiate reforms to help ensure that judicial processes are not abused to violate the constitutional rights to life, liberty, security, and property of all Filipinos and particularly, based on recent events, activists and dissenters," said the letter sent on Monday in hopes that it could become part of the Tuesday en banc agenda.
Said Renato Reyes of the progressive group Bayan: "Let his legacy be that of stopping the tide of extrajudicial killings, trumped-up charges, red-tagging, terrorist-labeling and other abuses being committed by state forces."
The virus and the courts
On the pandemic, Peralta said that the virtual hearing program of the Supreme Court had a success rate of 88%, with 192,444 video conferences from May 4, 2020 to Feb. 5, 2021, as per latest data.
Some lawyers on the ground had a different experience. "Rules on videoconferencing barely make a dent on daily traffic. There's just too many cases in the dockets, and too many people in jail," said Krissy Conti of the Public Interest Law Center (PILC), who also handled cases of quarantine-related arrests which created a huge bottleneck in the dockets.
Still, Peralta is proud of this.
"Ito ay patunay lamang na sa gitna ng pagsubok na idinulot ng pandemyang ating hinaharap, ang inyong kaligtasan at kapakanan ang nasa aming isip. Kayo ay hindi pinabayaan ng Korte Suprema," he said. (This is proof that that in the middle of tough challenges brought on by the pandemic, your safety and welfare were our priorities. You were not abandoned by the Supreme Court.)
This, even though it took Peralta 7 months in lockdown to order a review of why there were long delays in freeing the so-called quarantine violators even though they were just minor infractions.
By the end of 2020, there was also a call for Peralta to lead the Supreme Court in addressing the dire conditions of prisons, following the death of 3-month-old infant River, daughter of jailed activist Reina Mae Nasino.
A writ of Kalayaan was proposed for consideration by the Tribunal, but Peralta passed this on to his would-be named successor, saying, "Probably the one who will replace me na lang so that for the last week of my term matulog naman ako nang mahimbing (so I can sleep soundly)."
Valedictory act
Peralta rose through the ranks in the judiciary, having served government for 34 years, starting as a prosecutor then a lower court judge, a presiding justice of the anti-graft court Sandiganbayan, and chief justice.
In the Sandiganbayan, a decision he penned allowed Marcos crony Eduardo "Danding" Cojuangco Jr to retain his 20% share in San Miguel Corporation (SMC), instead of awarding it to the farmers. Retired chief justice Lucas Bersamin later upheld Peralta's ruling in the High Court.
In the Supreme Court, Peralta's most controversial written decision is the hero's burial of the late dictator Ferdinand Marcos. Peralta, like Marcos, is from Ilocos Norte.
He also triggered controversy with a decision that set a rule for dismissing drug cases which were poorly investigated by policemen. This decision, People vs Romy Lim, set a domino effect that gave other justices basis for dismissing drug cases due to alleged sloppy police work.
However, when there was a surge of dismissed cases, Peralta backpedaled and said weak cases can just be refiled to give policemen the chance to clarify or cure their documentary missteps, instead of having the suspects acquitted automatically.
Peralta has never voted against President Duterte in cases that directly impacted his administration – such as the ones related to martial law in Mindanao and the quo warranto ouster of Maria Lourdes Sereno as chief justice.
Peralta concurred in the unanimous dismissal of Bongbong Marcos' electoral protest against Vice President Leni Robredo, although the Supreme Court is still to publish the full decision, which would show how the chief justice voted – did he concur fully, or only partially?
If nothing happens during the Tuesday en banc, March 23, Peralta would leave the Supreme Court without a vote on the contentious anti-terror law, pending before them since July last year.
In Supreme Court traditions, retiring justices are sometimes allowed courtesy valedictory acts, so they could leave the Court on a victorious note.
Te urged Peralta to initiate one that could address the lawyer killings.
"Maraming maaaring gawin in one week. Baka gusto ni CJ Peralta na kasama sa valedictory n'ya na let's protect our lawyers (There's a lot that can be done in one week, maybe CJ Peralta would want this to be part of his valedictory)," Te said. – Rappler.com