This is AI generated summarization, which may have errors. For context, always refer to the full article.
The number of activists and human rights defenders killed is increasing since 2016. Groups say the anti-terror law brings in new danger.
At a Glance
The Commission on Human Rights in its July report said President Rodrigo Duterte created "a dangerous fiction" against activists and defenders
Groups reported an increasing number of incidents of red-tagging and harassment since June 2020
Karapatan said that since 2016, at least 318 individuals have been killed "in the course of the Philippine government's implementation of its counterinsurgency program"
Activists and human rights defenders fear for their safety, especially with the anti-terror law, but vow to continue their work
The Philippines has transformed into a place where dissent is often dealt with either the full force of the law or the same violence that fueled the anti-illegal drug campaign launched in 2016. 
On Monday, August 17, several human rights workers in Mindanao pushed back, ready to face severe repercussions of their actions. Wearing face shields and masks due to the pandemic, they tore down posters that tagged them as killers and human rights violators.
Karapatan Southern Mindanao Region secretary-general Jay Apiag said they are actually the ones who protect communities from dangerous elements.
"Itong pagbabaklas namin ng posters, ito ay isang paraan para i-clear out ang pangalan namin, dahil hindi isang krimen ang pagtatanggol ng karapatan ng mga mamamayan," he told Rappler in a phone interview on Tuesday, August 18.
(Our tearing down of these posters is a way for us to clear our names, because it's not a crime to protect and defend human rights.)
On the morning of August 13, volunteer paralegals informed Apiag that his face was on a poster just outside Sta Ana Church in Davao City, a place that sees heavy foot traffic. At least 4 more sightings were reported to him by the end of the day.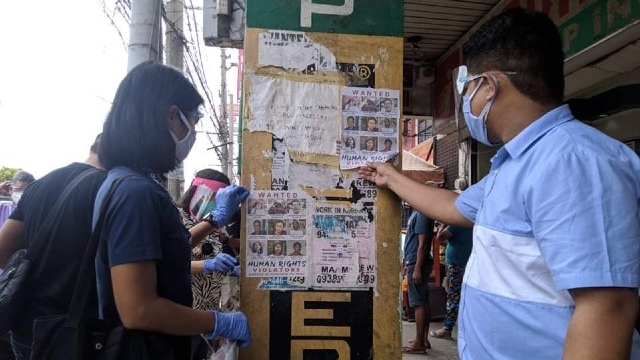 Not executioners
While red-tagging and a smear campaign is not new to Apiag, previous attempts only went as far as besmirching the reputation of organizations and not specific individuals.
This time, there was clear intent to associate their names, faces, and organizations with violence, including rampant killings in the region. Yet the subject of these posters – Lumad advocates, community workers, and even a doctor – are anything but "berdugo (executioners)."
Apiag sees this as an attempt to drive a wedge between them and communities. As human rights defenders, they often helped residents who had complaints related to police brutality and even labor disputes.
"Tinatanggal iyong credibility namin as human rights workers to assist victims," he said. "Given na nahaharap tayo sa isang pandemic and we've seen how abuses have been rampant under lockdown, delikado ito."
(They take away our credibility as human rights workers to assist victims. This is dangerous given that we're facing a pandemic and have seen rampant abuses under lockdown.)
Apiag and his colleagues already reported to the police and filed a complaint with the Commission on Human Rights. The recent wave of posters is the second incident of a smear campaign they have recorded less than a month since the anti-terror law took effect.
"Very alarming because it is actually gradually creating a detrimental atmosphere for us," he said. "Worst thing is this could lead to assassination."
Apiag's fear is not unfounded. It is rooted in the consistent rhetoric and actions of the Duterte administration which targets not just activists and human rights defenders, but almost anyone who dares criticize the government.
In July, the CHR said in a report that Duterte "created a dangerous fiction that it is legitimate to hunt down and commit atrocities against [them] because they are enemies of the State."
The United Nations in 2018 listed the Philippines as one of 38 countries where governments subject human rights defenders and activists to "an alarming and shameful level of harsh reprisals and intimidation."
The threats became all too real. Just a few hours after Abiag filed a complaint and tore down some posters, his colleague from Karapatan was mercilessly gunned down in Bacolod City.
Zara Alvarez, a long-time human rights worker, was killed on August 17, after constantly receiving threats. She was previously tagged as a terrorist in similar posters in the region and even by the Department of Justice in 2018.
Alvarez is the latest in a long list of activist and human rights defenders killed under Duterte. She is the 13th from Karapatan alone.
Data from Karapatan shows that at least 318 individuals have been killed "in the course of the Philippine government's implementation of its counterinsurgency program" since 2016. These include activists and people involved in grassroots work.
The CHR report, meanwhile, said that 134 human rights defenders have been killed since 2016.
On August 10, Anakpawis leader Randall "Randy" Echanis was brutally murdered inside his rented home in Quezon City. In April, Bayan Muna Iloilo coordinator Jory Porquia was also killed inside his home. (READ: They shot my Tatay 9 times)
"Inaamin ko na natatakot ako sa personal na security ko at lalong-lalo na sa pamilya ko," Apiag said. "Pero hindi ito iyong panahon para manahimik eh, so we will continue to really tear down posters because it's maligning our human rights work."
(I admit that I fear for my personal security but most especially for my family. But this is not the time to stay silent, so we will continue to really tear down posters because it's maligning our human rights work.)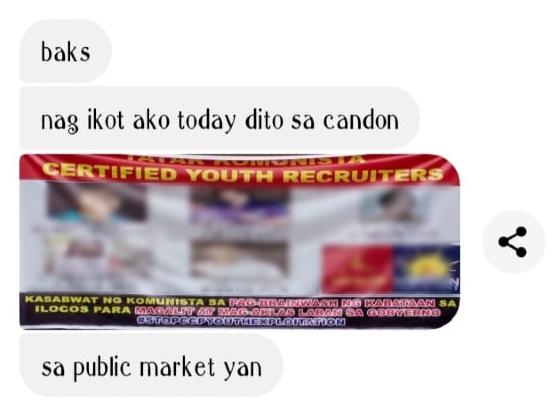 Paranoid by the day
The incidents in the Visayas and Mindanao are not isolated. Many activists and human rights workers across the Philippines have shared experiences about being red-tagged and threatened.
Ybeth Mariano is the secretary-general of Anakbayan in the Ilocos region. She is just 24 years old, younger than most people in the field, yet is no stranger to threats and being red-tagged. (READ: 'Mas dapat magalit': Filipino youth face dangerous future with anti-terror bill)
Friends and colleagues often reached out with links to Facebook posts attacking and smearing her reputation. By June 2020, the attacks took a different form offline.
Tarpaulins bearing Mariano's face, branding her a communist and terrorist, were placed in at least 7 areas in the region. Some were near state universities and colleges, chapter offices of Anakbayan, and one in her own hometown.
They branded her and 4 other youth leaders "tatak komunista (communist), certified youth recruiter."
The tarpaulins carried the same message: "Kasabwat ng komunista sa pag-brainwash ng kabataan sa Ilocos para magalit at mag-aklas laban sa gobyerno (Communist accomplice in brainwashing the Ilocos youth to make them angry and revolt against the government).
These incidents took a toll on her, making her hyperaware of her surroundings yet anxious about what is yet to come.
"Noong sunod-sunod na iyong atake, nagiging praning na ako," she told Rappler in a phone interview. "Feeling ko kahit saan ako pumunta, may sumusunod sa akin at kumukuha ng litrato ko, tapos may mga napapansin ako sa paligid kaya hindi na ako makalabas na mag-isa."
(When the attacks intensified, I started to be paranoid. I feel like I'm being followed everywhere I go, and that someone is taking my photos. I notice things around me, that's why I don't go out alone anymore.)
Mariano loves spending time with family and friends. Just for a few hours, they'd place all their worries at the back of their heads and stay in the moment to catch up.
But since the attacks intensified, she gradually ceased publicly interacting with loved ones. It doesn't help that her village has been reportedly surrounded by state forces since June 2020, and that her parents' workplace is allegedly under surveillance, too.
Staying away from them is one of the worst things she has had to grapple with, she told Rappler.
"Hirap na hirap na ako makipagkita sa mga kapamilya ko at mga kaibigan ko," Mariano said. "Dapat hindi ganito kasi wala naman kaming ginagawang masama."
(I already have a hard time trying to be with my family and friends. This shouldn't be the case because we're not doing anything wrong.)
All the threats and harassment have led her to vacillate between fear and courage. She's aware of the risks, but pushing forward appears to be the main option because defending human rights is something she vowed to do.
"Pinalaki ako sa loob ng simbahan, guided by the Bible," she said. "Iyon ang kinalakihan kong gawain, ang tumulong sa komunidad at magturo sa mga bata, kaya gagawin ko ito hanggang sa makakaya ko."
(I grew up in the church guided by the Bible. I grew up helping the community and teaching children, so I'll do that as long as I can.)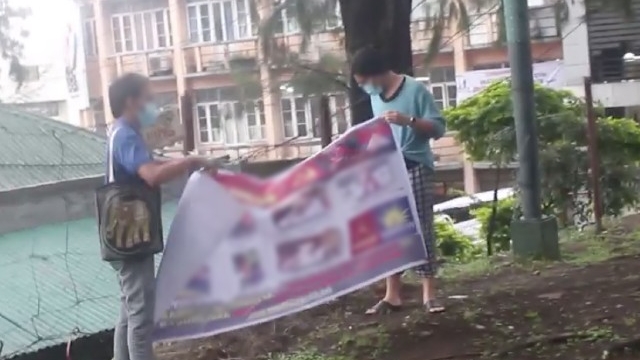 Whole new context
Christian Ruz woke up one cold and misty July morning in Baguio City with one important thing on his to-do list: take down one of the many tarpaulins tagging Cordillera youth leaders as communists.
It was the culmination of a long process, which saw him filing complaints at different police stations in the region, negotiating with local officials, and navigating the bureaucratic maze. There were protocols he had to follow, and arrogance from the other side he had to deal with.
Doing these was exhausting, the Kabataan Partylist regional coordinator admitted to Rappler, but at least on July 15, they were able to take one down. They recorded this moment on video.
Staring right into the camera, wearing a shirt with the Kabataan logo on his left chest, Ruz directly addressed those responsible, believed to be elements of the state.
"Nasa gitna tayo ng krisis kung saan ang sambayanan ay patuloy na namamatay at nagkakasakit ngunit ganito ang ginagawa nila," he said. "Ang tarp na ito ay patunay na patuloy na panggigipit… ngunit hindi kailanman matatahimik ang kabataan sa nangyayari."
(We're in the middle of a crisis where people are dying and getting sick and yet this is what the state is doing. This tarp is proof of the continuing repression, but the youth will never be silenced.)
With the help of a colleague, Ruz folded the tarp that resembled those found in the Ilocos region. It even had the same messaging, calling youth leaders communist recruiters.
What baffled Ruz and other youth leaders was the strategic placement of the tars. The method is far from the usual spray-painted threats on bare walls. Printing tarpaulins also isn't cheap.
"Hindi ganoon kadaling mag-post sa mga public space lalo na mahigpit ang lockdown sa Baguio City," he told Rappler in a phone interview. "Itong mga gumagawa na ito, mukhang alam na alam ang paligid at pasikot-sikot kasi ang mga lugar na pinaglalagyan nila, iyong mga walang CCTV."
(It's not that easy to post in public spaces, especially since Baguio City has a strict lockdown in place. Those who did these things, it seems they know well every nook and cranny of the city, since the places where they put the posters don't have CCTV.)
One of the first posters was put up a few days after the anti-terror bill was passed by Congress, then a few others were reported when it was signed into law by Duterte.
Threats have since became rampant. Whenever he's tagged as a terrorist or communist, Ruz always made sure to let his family know.
The recent attacks, after all, are taken in a whole new different way with the existence of the anti-terror law.
"You have this feeling now that they can use [the law] against you anytime, and in the eyes of the law, that's justified," he said.
There is still no end in sight, especially in a country where human rights workers are tagged by no less than the President as an obstacle to a crime-free Philippines.
Until then, human rights defenders and activists have vowed to tear down every poster and tarpaulin, even social media posts, against them. It's the least they can do in the face of a real and potent danger. – Rappler.com