A father of three worries about the prospect of eviction from their 'temporary' shelter that has served as their home for the last five years, while a mother of 14 constantly grapples with hunger. When will life be better for them?
MANILA, Philippines – Parame Umbra, now a mother of 14, evacuated from "ground zero" of Marawi City in southern Philippines after it was seized by pro-ISIS militants on May 23, 2017. She thought her family would be able to return home in three days.
But it's been nearly six years.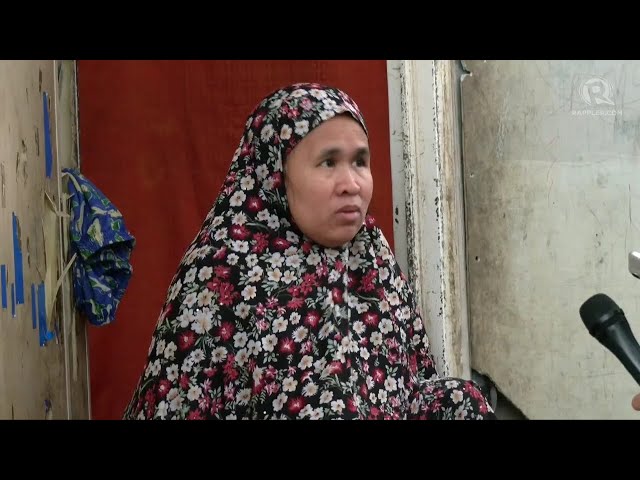 Today, she and her husband try to fit over a dozen warm bodies inside a decrepit shelter that rests in Sagonsongan village, which is a few kilometers from Marawi's old and abandoned city proper.
The day we visited her, during one cloudy afternoon in March, she was battling tears, not only because the subject of our conversation was the memory of a war she would never escape from, but also because she talked about their present conditions.
She said her husband only earns P200 ($3.60) a day from selling refreshments. The P73,000 ($1335) in government aid they received in 2019 already dried up.
"We eat only once a day," she said in Filipino, her voice cracking in the middle of the interview. "We can't deal with this life."
Parame liked their old home – she said it had cemented walls. It's unlike their current shelter for the last five years: one-half made of wood, where the family dines and sleeps, and another half made of corroded metal, which serves as their bathroom. Only a thin curtain separates these two areas.
Such a shelter is supposed to be "temporary," a modifier used by government officials to describe houses where the city's internally displaced persons seek refuge, but it's also an adjective whose meaning is diluted when war survivors go year after year enduring poor living conditions.
"These shelters have almost become permanent," Mayor Majul Gandamra even said during our visit.
Fear of displacement
The 22-year-old Yassin Ibrahim worries about his family's shelter.
We chanced upon the father of three – with another one on the way – when he was selling lanzones (fruit) on the side of the road under the scorching heat of the sun. Each bag costs P100 ($1.83).
Since 2018, his family relocated from Barangay Datu sa Dansalan – one of the 24 villages classified as the siege's most affected areas – to Barangay Boganga, a village that had to be divided after war-driven resettlements resulted in the community's overpopulation.
In Yassin's own words, life is "fine" for now. He earns a P200 profit from the daily grind, which he said is enough to buy food for the family.
"I will take on any kind of work," he said in Filipino.
Despite his resilience, Yassin's family is at risk of displacement yet again. He said his five-year contract will end sometime in April after Ramadan.
"I don't know where we'll go, it would depend on the government," he said. "Having no place to transfer to, especially for us with families, is difficult."
The potential eviction of thousands of Marawi families is due to lease agreements hurriedly signed by the government with landowners during the emergency beginning 2017 having begun to expire.
The National Housing Authority has been negotiating with landowners for an extension.
When we asked what would happen to people like Yassin, Mayor Gandamra promised that the national and local governments are addressing the matter.
"There will be no repeat of a massive displacement," he asserted.
Trauma
40-year-old Jamaliah Badi Radi just wants to go back. The mother of five yearns for a time when the war did not rip away the life she knew.
We met her after she cast her ballot in a plebiscite that eventually resulted in the split of that Barangay Sagonsongan, where she is registered as a voter. Just like Barangay Boganga, Sagonsongan became overpopulated due to the resettlements.
When the ISIS-linked Maute group attacked the city, Jamaliah's family fled a day later to the nearby province of Lanao del Norte. They stayed for one year there, before they returned to Marawi and resettled in their current village.
"Life was better at 'ground zero,'" she said in Filipino. "My neighbors were my relatives. Now, my neighbors are from everywhere."
To get back on track, she said her family used the P73,000 in government aid they received to buy a photocopying machine to create a source of income.
But words could not describe the extent of the loss that slapped them in the face after the siege, she lamented.
"It's hard for people to understand when you lose your properties and everything that is important to you," Jamaliah said.
Waiting for aid
59-year-old Mamarinta Adia wants compensation from the government.
Unlike most original "ground zero" inhabitants who have yet to return, Mamarinta is lucky. A tiny few who have secured building permits and other documentation like him have been given the go-signal to rebuild their homes at "ground zero."
A father of four who once fled to Tacloban after the siege, Mamarinta has opened a steel fabrication shop on the first floor of his property in the old city proper. His family, for the past year, sleeps on the second floor of the worn-out building.
Unlike others who have struggled to get back on their feet years after the siege, he is proud to share that life has been kind to him.
"When I returned here, I had zero balance. But I know how to earn money, I know how to repair small things," he said in Maranao. "We are still here because of Allah."
"Right now, we are still waiting for assistance that would come from the compensation law," he added.
He is referring to the Marawi Siege Victims Compensation Act, a law signed by former president Rodrigo Duterte before he stepped down in 2022.
The law was four years in the making, and even after its passage, it took his successor, President Ferdinand Marcos Jr., over seven months to name members of the Marawi Compensation Board (MCB), a body that would review applications.
In an interview with the Philippine Center for Investigative Journalism in February, MCB chair Maisara Latiph said the national government had yet to release P1 billion in initial funding to the board, preventing them from hiring staff members.
Latiph hopes to start formally accepting applications before May, although the laborious tasks of determining how much survivors would receive, and how complex property disputes would be addressed, hang in the air without finalized implementing rules and regulations of the law.
Mayor Gandamra guaranteed that the MCB won't start from scratch since the local government already validated the list of affected constituents, as well as their documents.
"I presume this year we need to distribute compensation funds because funds have been earmarked already," Gandamra said.
In Marawi, life has found some semblance of normalcy, years after an urban conflict put the city to a standstill. There are police and military forces everywhere, but public vehicles are back on the street, commercial establishments are open, and new buildings stand tall, though empty.
But other parts of the city – sometimes referred to as the "summer capital of the south" due to its cool climate – are filled with residents stuck in the uncertainty of a painful life.
And when they wake up every day to worn-out shelters which they have called their temporary home for years, it serves as a reminder of how people in power fail them.
"My children are miserable. I hope the President could help us," said Parame, the mother of 14.
– Rappler.com