The Supreme Court has long ruled that requiring drug offenders to undergo drug testing is unconstitutional, but law enforcers apparently continue to do it to mostly poor drug suspects
MANILA, Philippines – Juanito Jose Remulla III, the eldest son of Department of Justice (DOJ) Secretary Jesus Crispin "Boying" Remulla, was arrested on October 11 for alleged importation of 893.91 grams of high-grade marijuana, with an estimated street value of P1.25 million, and for violating customs law.
As of October 19, he has been charged with illegal possession of dangerous drugs, filed by Las Piñas prosecutors' office. Separate complaints of importation of illegal drugs and violation of customs law have been forwarded to the Pasay prosecutor's office for preliminary investigation.
Philippine Drug Enforcement Agency (PDEA) spokesperson Derrick Carreon told Rappler that Juanito Jose refused to undergo drug testing on the advice of his counsel. Carreon earlier told Inquirer.net that the test was not material to the case: "A drug test will likewise not be material to [the other drug charges he is facing]."
In declining to undergo drug testing, Juanito Jose invoked his right against self-incrimination. If he tested positive for illegal drugs, he could face an additional complaint for using illegal drugs under Section 15 of Republic 9165 or the Comprehensive Dangerous Drugs Act of 2002. Under the law, a person found guilty of using illegal drugs on first offense could face a penalty of at least six months of rehabilitation in a government-run center.
Existing jurisprudence is clear that it was well within his rights to refuse the drug test, but some human rights advocates railed at how these same rights were denied poor drug suspects before him.
What the law and Supreme Court rulings say
Section 36 (f) of the Dangerous Drugs Act states that, "persons charged before the prosecutor's office with a criminal offense having an imposable penalty of imprisonment of not less than six (6) years and one (1) day shall have to undergo a mandatory drug test."
Juanito Jose should have fallen under this category because the corresponding penalties for the charge he is facing are life imprisonment and a fine ranging from P500,000 to P10 million.
However, the Supreme Court (SC) had ruled in Social Justice Society vs. Dangerous Drugs Board and PDEA (SJS vs. DDB and PDEA) in 2008 that this mandatory drug testing on drug offenders was unconstitutional.
In the same case, which also tackled Commission on Elections Resolution No. 6486, the SC also declared unconstitutional Section 36 (g), which required "all candidates for public office, whether appointed or elected both in the national or local government" to "undergo a mandatory drug test."
The decision, penned by then-associate justice Presbitero Velasco, enjoined all agencies from enforcing those portions of the law.
A decade later, in 2018, another SC ruling came in People vs. Sullano, which stated that, "A drug test can be made upon persons who are apprehended or arrested for, among others, the 'importation,' 'sale, trading, administration, dispensation, delivery, distribution and transportation,' 'manufacture' and 'possession' of dangerous drugs and/or controlled precursors and essential chemicals."
However, the Sullano ruling covered another portion of the Dangerous Drugs Act – Section 36 (e) – specific to "officers and members of the military, police and other law enforcement agencies." This ruling did not supersede the 2008 decision declaring unconstitutional the mandatory drug tests on drug offenders, according to former SC spokesperson Theodore Te.
"Section 36(f) has been declared unconstitutional, so there is no basis for a mandatory drug test for those charged with offenses under RA 9165 (SJS ruling). The Sullano case does not involve sSection 36(f), it involves section 36(e), which is specific to PNP members," Te explained to Rappler. 
What law enforcers do
Yet, law enforcement agents, particularly the police, continue to include drug testing in the medical examination of arrested drug suspects, according to Kristina Conti of the Public Interest Law Center, who has served as legal counsel to some families of drug war victims.
Police Colonel Jean Fajardo, spokesperson of the Philippine National Police (PNP), told Rappler that the police's basis for who will undergo a drug test is based on Section 11 (possession) and Section 15 (use) of the Dangerous Drugs Act.
"It's automatic that you will be made to undergo drug testing if you are arrested particularly for violating Section 11 of Republic Act No. 9165, and that includes if you are caught in the act of using illegal drugs, you were caught conducting a pot session," Fajardo said in a mix of English and Filipino.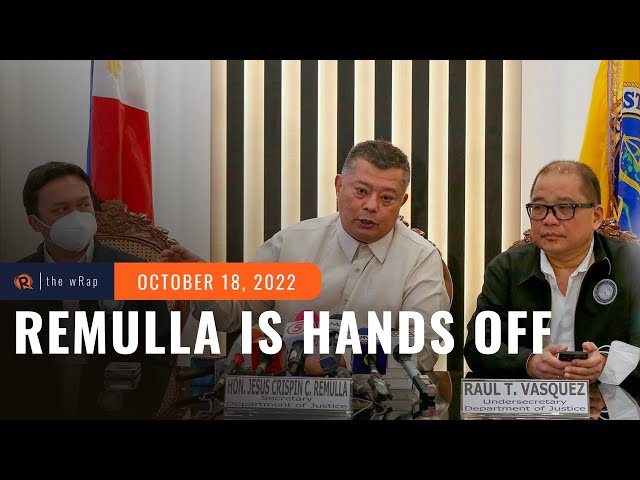 Fajardo added: "Dahil ang offense ninyo po ay violation ng Section 11, automatic po 'yan. Once kayo po ay mahuli, isa-subject po kayo sa drug test (Because your offense is violation of section 11, that's automatic. Once you were caught, you will be subjected to drug test)."
While the PNP spokesperson said drug testing was "automatic" for those caught in the act of possessing dangerous drugs, he also acknowledged that enforcers on the ground exercised discretion on whom they would subject to the procedure.
"It depends on the nature and facts and circumstances of the case. It depends on the operating unit's appreciation of certain individuals they arrest," Fajardo said.
In Conti's view, the arresting unit should have subjected Juanito Jose to a drug test. She said it would have been valid since the drug test was "confirmatory for trigger offenses." Trigger offenses are offenses which the arresting officers have reason to suspect could be related to drug use.
"In several cases, the Supreme Court has said that taking urine samples does not violate the right against self-incrimination because it is a mechanical act, and not testimonial," Conti said.
What other drug suspects have experienced
In contrast, alleged drug offenders from poor communities have not been able to invoke their rights to decline drug testing.
Bobby* told Rappler that his brother Leonardo* had been jailed at least five times due to drug offenses in the last 10 years. In four of those five instances Leonardo was arrested, he was subjected to drug testing, Bobby said.
"Pinapaihi siya (He was ordered to urinate)," Bobby said, adding that his brother had undergone drug testing through urine sample.
He said Leonardo complied because arresting authorities pressured him. The last time Leonardo was jailed for a drug offense and underwent a drug test was in 2020. He was released in 2022.
Erwin*, a member of Rise Up, an alliance by rights advocate formed at the height of then-president Rodrigo Duterte's drug war and killings, said he was also subjected to a drug test when he was arrested for an alleged drug offense. His case was later dismissed.
The law and Supreme Court ruling aside, for rights groups the issue remains to be that of the police according Remulla's son due process while ordinary folks accused of drug offenses couldn't invoke their rights the same way.
PDEA observing the law in the case of Remulla's son, and "their use of the law against ordinary people who were arrested on the same charges, certainly reeks of double standard," said Cristina Palabay, secretary-general of the group Karapatan. – Rappler.com
*Rappler withheld the names of some of the interviewees due to safety concerns.