Urban legends about the Marcos family's wealth do not violate YouTube's community guidelines, legitimizing their alleged ill-gotten wealth, changing public perception, and allowing them to return to power
At a glance:
Lies about the wealth of the family of the late dictator and president Ferdinand Marcos continue to spread on YouTube without labels or warnings. This happens even though the claims have been previously fact-checked and historians denounce them as fallacy.
YouTube's Community Guidelines do not explicitly prohibit spreading false information, and their efforts to raise authoritative voices and reduce borderline content is not consistent across countries.
It is imperative that YouTube introduces policies on labeling false information on their platform as this could affect the Philippines' presidential elections in 2022.
Is it true that the family of the late president and dictator Ferdinand Marcos owns a million tons of gold, enough to save the world?
The claim is absurd, not only to historians and fact checkers in the Philippines, but even to those abroad. It was, after all, a finalist for "Most Bizarre Fact Check" at the International Fact-Checking Network's Global Fact Awards in 2019. A Google search on the amount of mined and unmined gold in the world will show anyone that it is impossible for any one person to own a million metric tons.
Still, the urban legend persists on YouTube, sanitizing the Marcos family's name and changing public perception. Under this narrative, the Marcos patriarch becomes a misunderstood hero, not a dictator who plundered his country. His children are seen as honest and trustworthy, enough to be elected into public office, as they are not perceived as recipients of ill-gotten wealth. (READ: Networked propaganda: How the Marcoses are using social media to reclaim Malacañang)
The impossible one million tons of gold explain away and justify why the Marcoses' total known assets far exceeded their income during Marcos' time in Malacañang and his wife Imelda Marcos' term as governor of Metro Manila. How the Marcos patriarch came to own the gold is often explained through equally ridiculous claims. In one iteration of the tale, the gold was given to Marcos by the descendants of a Filipino pre-colonial royal family – which is not true.
"Before, no sane or decent person will write or proclaim this in public for fear of being laughed off or ridiculed, except by the true-blue, dyed-in-the-wool Marcos supporters," said Luisa de Leon Bolinao, a professor at the University of the Philippines (UP) history department, in an email to Rappler in December 2020. Bolinao was also the department's former chair. She was talking about the 20 years between the ouster of Marcos in 1986 and the beginning of social media platforms like Facebook and YouTube in 2004 and 2005, respectively.
When asked if the stories caused harm, she said: "Of course, they are harmful. These criminals are still in positions of power in all branches of government, the military, and in the private sector and can pay or intimidate people to continue spreading their lies."
The Marcos gold myth, however, is just one of the many kinds of propaganda and false videos circulating on YouTube.
Despite the platform's avowed commitment to fighting misinformation and disinformation, it allows these kinds of videos to rack up thousands of views, run ads, and not be labeled as potentially misleading – eventually leading viewers down a rabbit hole of propaganda, historical revisionism, or science denialism.
'Less than 1%'
While YouTube said only less than 1% of its platform's contents is harmful, this still poses a serious threat.
When "Marcos" is typed into YouTube's search bar while on an incognito browser, "Marcos gold" and "Marcos gold bars history" are among the recommended search terms.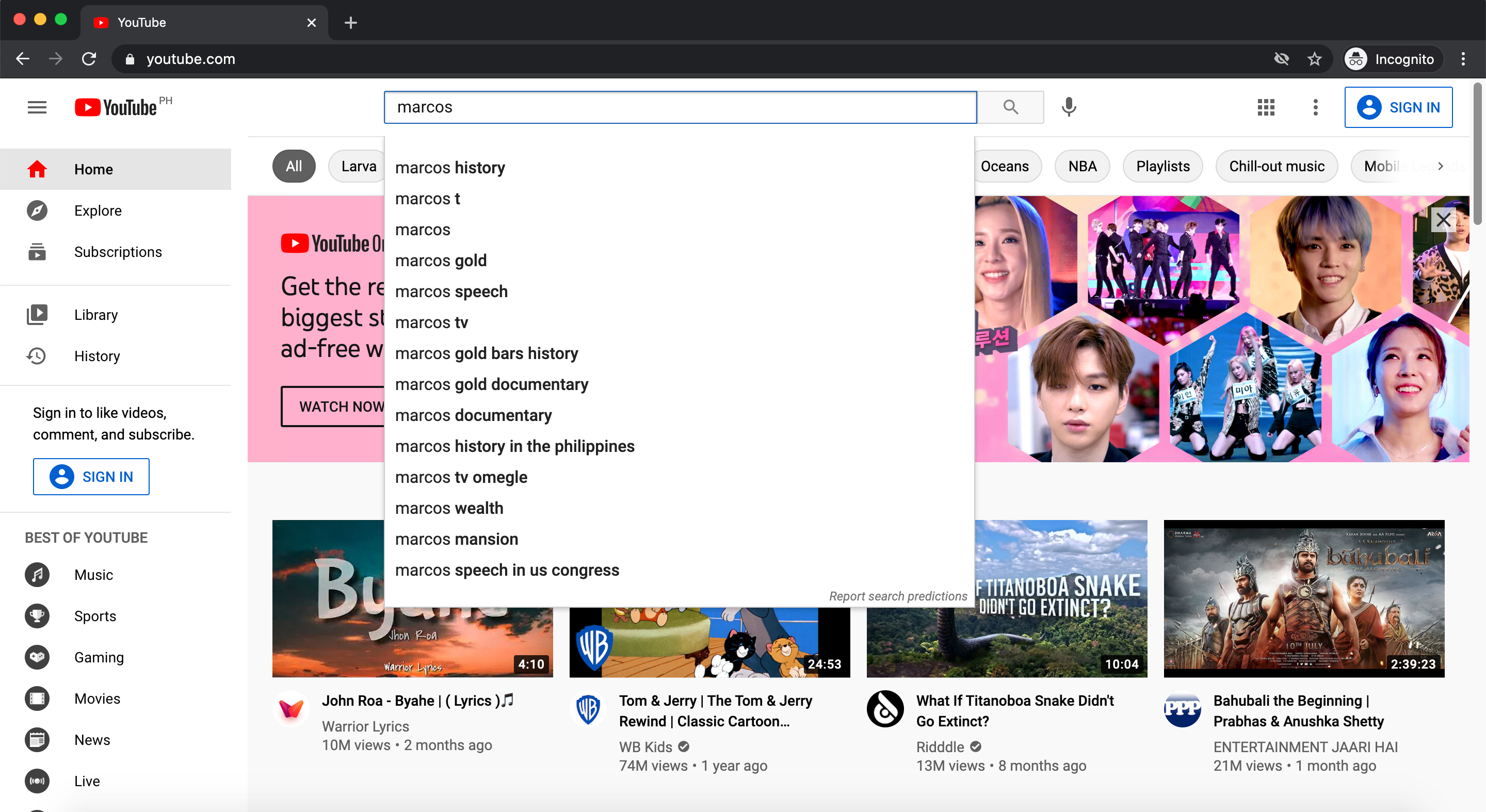 The search terms pull up a handful of legitimate news reports and documentaries about the Marcoses, but most of the video results falsely claim that the Philippines is the richest country in the world because of the Marcoses' gold. YouTube does not show how many videos are found for a specific search term, but googling "site:youtube.com 'marcos gold'" returns 293 results, as of January 24.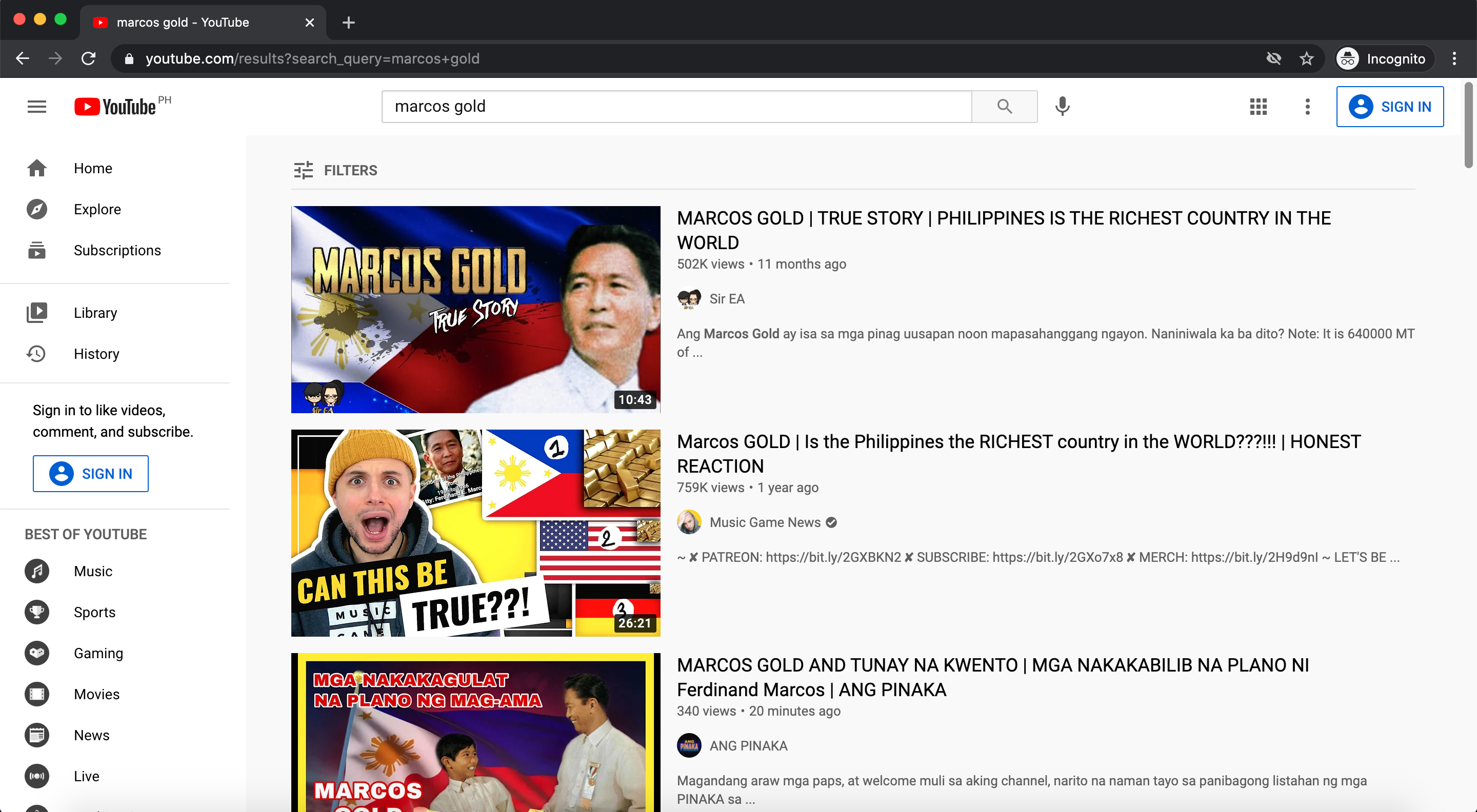 One video that claims "Marcos gold can save the world" has received 21,000 likes as of February 22, far greater than the 1,000 dislikes it's received. In its 5,950 comments, people express belief and support. The first comment attacks Senator Bongbong Marcos' political opponent during the 2016 vice presidential elections, current Vice President Leni Robredo. The second comment, with 1,300 likes, glorifies the Marcos patriarch.
This video was originally published on August 31, 2017, and fact-checked by Rappler on February 19, 2019. When Rappler published a fact check about it, the video had 1,036,773 views. One year later, the video's views have grown by about 83%, adding up to around 1.9 million.
Before social media platforms existed, the Marcos gold was mere rumor and gossip. Public discernment of what was true at the time was based on the standards of the media and education, through newspapers, textbooks, magazines, TV, and radio.
Today, the internet makes it harder for historians and educators to stop what Bolinao called an "ocean of disinformation" from reaching their students and the public at large. The risk is amplified further by the fact that Filipinos spend the most time on the internet globally relative to any other population. Since the COVID-19 pandemic started, this trend has accelerated even further – from 9 hours and 45 minutes in January 2020 to 10 hours and 56 minutes in January 2021.
How do Filipinos spend their time on the internet? YouTube was the second most frequented social media platform in the country in 2020.
Also during the pandemic in October 2020, a total of 24,723,533 elementary and high school students in both public and private schools began attending distance learning classes, a mix of modular learning, online learning, and TV and radio broadcasts.
Roy Mendoza, a lecturer at Ateneo de Manila University's history department, told Rappler in a phone call in December 2020 that it was difficult to teach about the Martial Law period to those born after the 1980s and 1990s because their memories of that time were not as fresh. Mendoza is also project head of the Ateneo Martial Law Museum,
"That's one [reason]. Number two, the quality of our textbooks and the quality of our teachers are not fully equipped to handle this kind of assault on our collective memory," said Mendoza in a mix of English and Filipino.
The sheer amount of propaganda, as he called it, and the bite-sized information available on social media, make it a challenge for educators to encourage students to think critically.
What is YouTube doing?
YouTube's community guidelines list 3 policies against misinformation and disinformation: deceptive practices, impersonation, and hate speech. They also have policies against election- and COVID-19-related misinformation.
However, these don't cover all the possible situations or incidences where misinformation and disinformation could occur. For example, the Marcos gold myth does not necessarily violate any of the policies.
For the deceptive practices category, YouTube's policy does not include outright false information outside of election-related claims, such as voter suppression, suppression of census participation, candidate eligibility, or US presidential election integrity.
Responding to an email from Rappler on January 20, YouTube did not confirm whether a video containing the Marcos gold claim violated their community guidelines or not.
Mendoza, who has tried to report a historically inaccurate video before, also observed that the topic of the video did not fall into any of the categories of YouTube's community guidelines. The option to report something as misleading is tied to "spam."
"It's more than that," he told Rappler. "It's propaganda, dapat may ganoong button o parang space na talagang this is really fallacy. (It's propaganda, there should be a button or space that says this is really fallacy.)
According to Mendoza, YouTube did not give him an update on whether they took action on his feedback.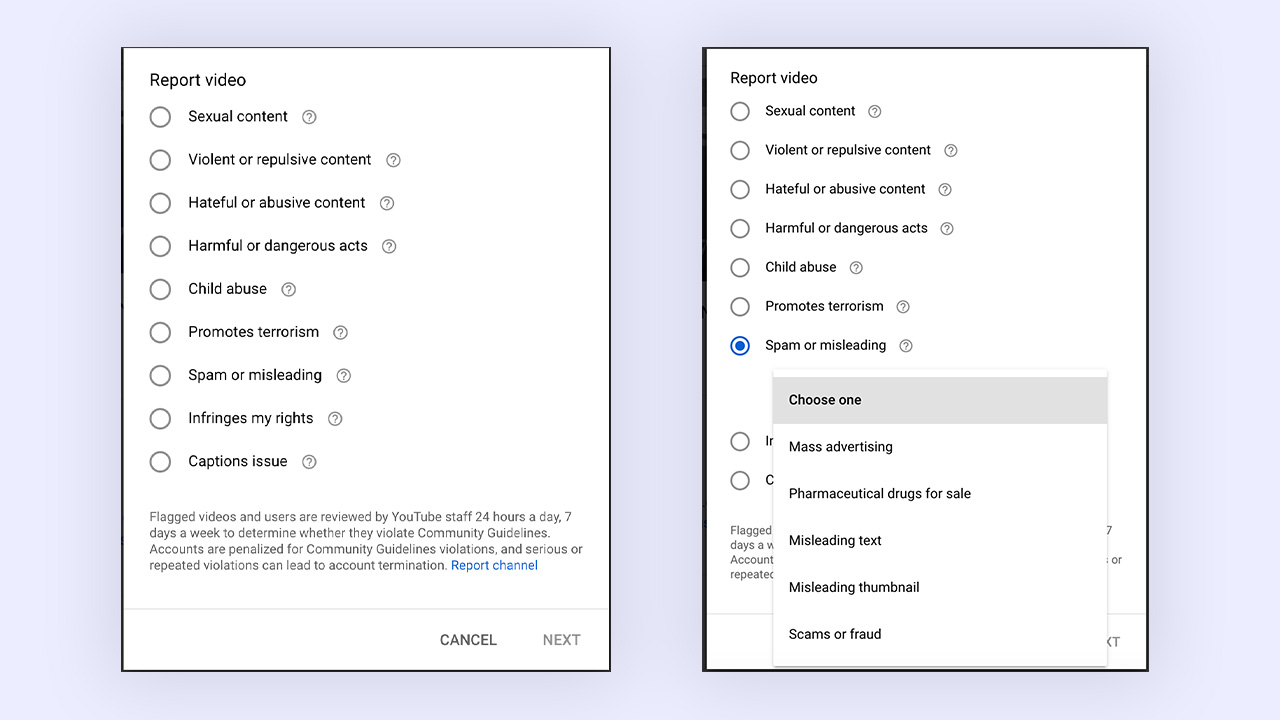 It's possible that YouTube considers the Marcos gold videos as "borderline content," but they did not confirm this with Rappler in their response. Borderline content is described as "content that comes close to – but doesn't quite cross the line of – violating our Community Guidelines." This kind of content is the reason why, before January 2019, conspiracy theories about a flat Earth, false claims about historic events like 9/11, and fake miracle cures for serious illnesses spread on the platform.
In January 2019, YouTube announced that they began reducing recommendations for those kinds of content. At the time, they said that the change would be gradual and would only affect a small set of videos in the US. By the end of the year, they said that they had expanded to English-speaking countries like the UK, Ireland, and South Africa, as well as Brazil, France, Germany, Mexico, and Spain.
In their email, YouTube said they had since expanded to Australia, New Zealand, and Japan, and continued to cover more countries in the Asia Pacific. They, however, did not specify the roll out date for the Philippines.
Aside from reducing recommendations, YouTube also introduced in 2018 information panels that provide links to third-party information in videos that discuss topics that are subject to misinformation and disinformation. There are no information panels on videos about the Marcoses' supposed gold, but there are panels for COVID-19 mis- and disinformation. (See image below.)
On their Help Center, YouTube says these panels are not available in all countries and languages, but that they are working to bring these to more countries.

YouTube also launched fact check information panels in Brazil and India in 2019, and then in the US in April 2020. These panels highlight relevant 3rd-party fact-checked articles above search results. Third-party fact-checkers – who are either verified signatories of the code of principles of the International Fact-Checking Network (IFCN) or are an authoritative publisher – use ClaimReview, a system that tags fact check articles on search engines.
In their announcement about the roll-out of this feature in the US, YouTube said they would roll out the feature in other countries as well, and it was subsequently launched in the UK and Germany in September 2020. There have been no announcements on expansion to other countries since then.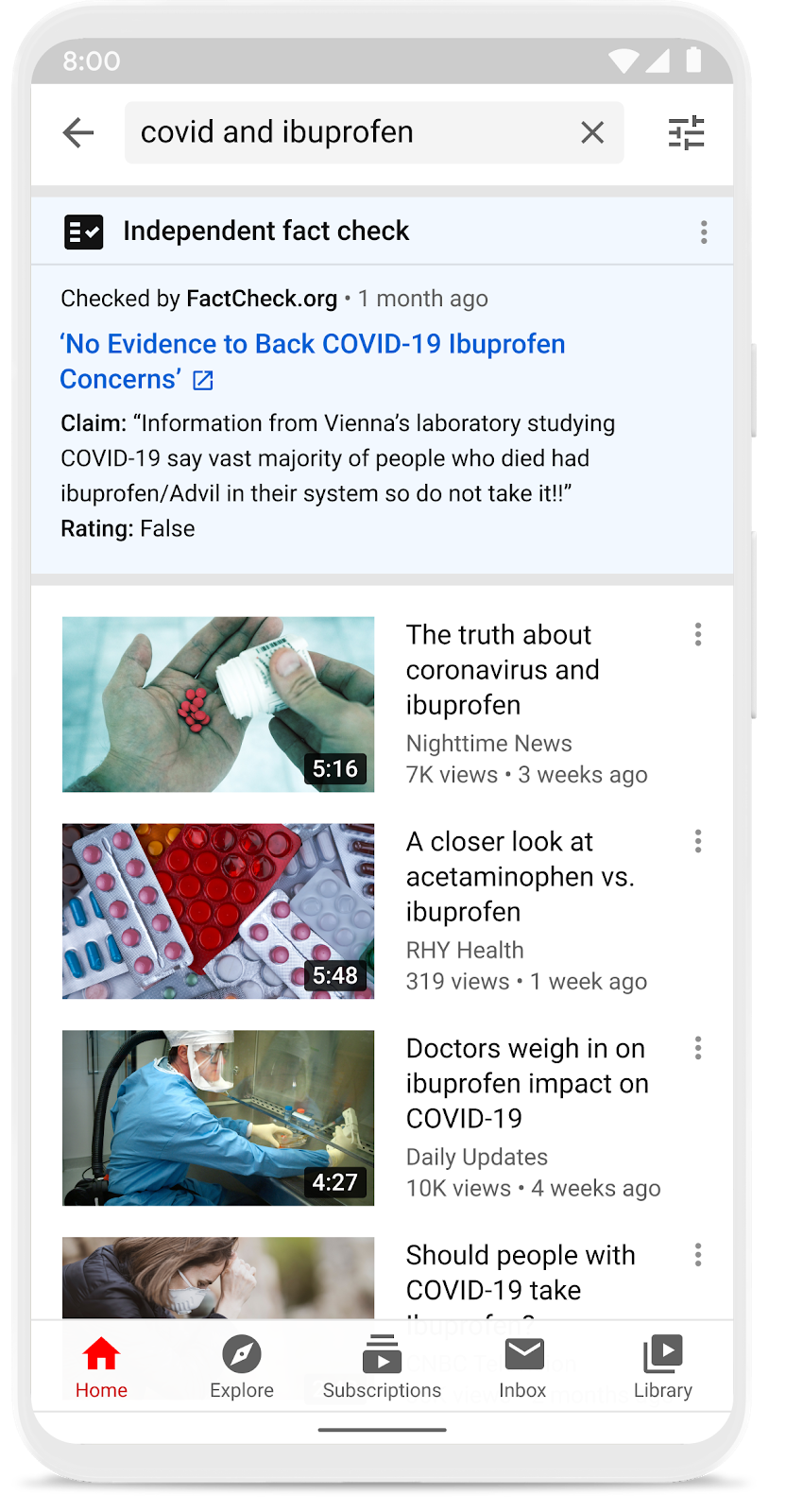 With the COVID-19 pandemic and elections happening around the world, however, YouTube's existing policies and the actions it has taken aren't enough.
YouTube's Response: Too little, too slowly
For David Schraven, founder of the German investigative newsroom Correctiv, YouTube's mis- and disinformation response is moving too slowly. "[What they've done is] better than nothing. So they see the problem. But the answer to the problem is not good enough," he told Rappler over a video call in December 2020.
Correctiv has its own fact check initiative and is a member of the IFCN at Poynter. They also conducted their own study on 1,800 COVID-19-related claims submitted to them by readers from March to May 2020. They found that nearly half of the claims, or 46%, were links to YouTube.
If YouTube doesn't act more quickly, Schraven is concerned that not enough people will get vaccinated against COVID-19 due to disinformation campaigns on the platform. This, he said, would harm the election process, the economy, and society as a whole. 2021 is an election year for Germany; federal elections are expected to be held on September 26.
"The problem is the algorithms of YouTube brings you – when you aren't looking at this bullshit – far deeper into bullshit territories, you know," Schraven said. YouTube's algorithm, he said, could lead people who are watching harmless things – like videos of fireworks, for example, or reliable information on COVID-19 – to videos that are misleading or could lead to real-world harm.
People are also less likely to read the articles that YouTube links to in their information panels, because it's a video platform, said Schraven. He is pushing for proper labeling of false information within videos, in the same way that ads play before, during, or after a piece of content on YouTube is watched.
Bolinao and Mendoza also suggested proper labeling of inaccurate or contested videos, with Bolinao even urging the suspension or banning of repeat offenders.
"The YouTube administrators and site moderators should assign people to monitor, flag, and remove these disinformation videos, as reported by regular citizens," said Bolinao. "Facebook and Twitter are already doing this; I don't see a reason why YouTube can't mobilize their people to clean and restore credibility to their website the same way."
When asked if there is a team assigned to review harmful misinformation, disinformation, and conspiracy theories in the Philippines specifically, YouTube just said it has teams based all over the world, with 10,000 people across Google focused on these issues. According to YouTube, their teams follow a 24-hour coverage across different time zones, cover local languages, and have different areas of expertise.
However, Schraven also praised Facebook's method of labeling misleading information on their platform, saying that YouTube should do the same. Correctiv is a 3rd party fact-checking partner of Facebook.
"Instead, YouTube is hiding in the shadows. You know, Facebook gets the bad PR. So we (YouTube) are hiding here, and Facebook is taking all the blame. But at least Facebook is addressing the problem," he said.
Whether it's through better labeling or harsher sanctions, it's urgent that YouTube establishes clearer mis- and disinformation policies on its platform. Germany is not the only country with an election coming up. The Philippines' presidential election in 2022 is fast approaching, and false information, conspiracy theories, and historically inaccurate claims could affect the outcome. – Rappler.com