This is AI generated summarization, which may have errors. For context, always refer to the full article.
Data show that diplomatic immunity has protected many abusive diplomats from prosecution. The complicity of their sending countries has also helped them get away with impunity.
Second of 4 parts
Part 1: For many abused migrant workers, the only way out is to flee
Reporting for this project was supported by JournalismFund Europe's Modern Slavery Unveiled Grant Programme and the Pulitzer Center.
MANILA, Philippines – "Napakasaklap po para sa amin. Ang sarap-sarap ng upo niya sa opisina niya, ang lamig-lamig doon, tapos kami nagpapakahirap pa rin." (We feel so devastated. He's there sitting comfortably in his air-conditioned office while we are still suffering.)
This is what Lucy Ann Cayamba, a former overseas Filipino worker (OFW) in Syria, said after she and 24 other OFWs filed a complaint with the Office of the Ombudsman on May 26 against former Philippine charge d'affaires to Syria Alex LaMadrid and other embassy officials over alleged neglect and harassment.
After being trafficked to Syria and experiencing abusive working conditions with their employers, the women sought help at the Philippine embassy in Damascus. Instead, they said their phones were confiscated and there were attempts to sell them back to the abusive employers they had escaped from. They also claimed verbal sexual harassment.
LaMadrid denied the allegation and the case is ongoing. LaMadrid currently serves as a senior special assistant at the Office of the Undersecretary for Multilateral Affairs and International Economic Relations at the Department of Foreign Affairs (DFA).
In response to Rappler's request for comment on the matter, as well as other cases of Filipino diplomats who have been tagged in allegations of exploitation, the DFA acknowledged that the issue was "covered by relevant laws in relation to the provision of information to the public." It said on August 7, it would give a more complete response but has yet to do so.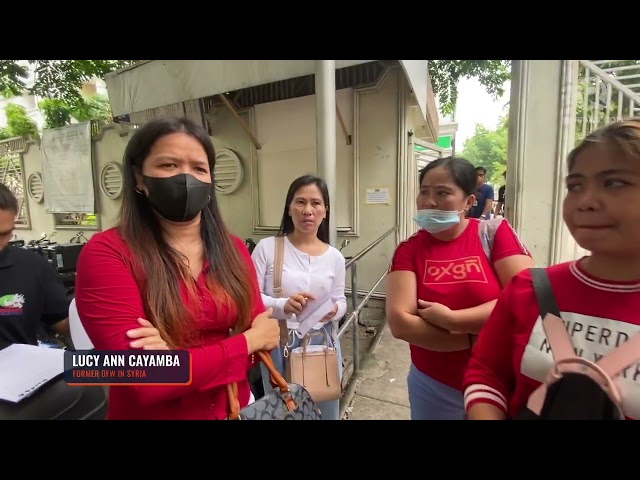 Cases of diplomats who have enjoyed reappointments despite tainted track records are seen in the Philippines and elsewhere around the world.
A Rappler investigation found that erring diplomats and employees of international organizations have gotten away with exploiting domestic workers for years.
Patterns of abuse
Records showed that 208 migrant domestic workers in at least 18 countries have filed hundreds of complaints and cases against 160 diplomats and employees of various international organizations who have mistreated them while the officials served their terms in their host states.
Many of the implicated diplomats have evaded punishment and, worse, some are still holding key positions in embassies or international organizations – owing to the privilege of diplomatic immunity and the complicity of their sending countries.
To see the extent of the exploitation of migrant domestic workers employed by diplomats, Rappler built a database of reports about these cases of alleged maltreatment and abuse.
The database consists of incidents recorded from 1988 to 2021, gathered from public records, open-data sources, court records, news reports, legal journals that have studied and chronicled diplomatic abuse, case files from nongovernment organizations, and exclusive interviews with survivors, as well as lawyers and labor rights activists. The Arab Reporters for Investigative Journalism (ARIJ) also provided additional resource materials and assisted with translations from Arabic to English.
For these foreign domestic workers who have their visas tied to their employers, seeking redress means losing their jobs and risking deportation. Based on Rappler's tally, the cases that granted monetary awards to the workers (33 cases) totaled nearly $11 million in damages – with the highest amount for a single case amounting to $3.3 million (P183.7 million).
Diplomatic immunity plays an important role in the fate of the cases filed against foreign diplomats. The Vienna Convention on Diplomatic Relations grants different levels of diplomatic immunity to ambassadors, staff of international organizations, and members of their immediate family while in their receiving country – effectively protecting them from civil and criminal suits while performing their official responsibilities in the states where they are assigned.
For many others, this protection has saved many diplomats from being held liable in the cases and complaints filed against them, leaving the abused domestic workers helpless.
In our database of alleged maltreatment reports, there were 208 domestic workers, majority of them women (see below).
The countries of origin of the domestic workers in the database were all in the Global South – with the Philippines, India, and Indonesia in the lead.
Wage theft: where exploitation starts
Legally, migrant domestic staff should be paid wages in accordance with the laws of the country they work in. However, 147 of 208 workers (71%) alleged wage theft, or being paid an excessively low amount or not being paid at all.
In 2010, Shanti Gurung, an Indian domestic worker, alleged that her employer Neena Malhotra, an Indian diplomat assigned to the consulate general of India in the US had promised to pay her $9.50 (P529) per hour. This was well above the US federal minimum wage, which ranged from $3.80 (P212) to $7.25 (P404) per hour from 1990 to 2009.
Gurung was told that her earnings were deposited into a bank account, but she never saw nor received any salary.
The wage she was promised may have been compliant with US laws, but it was way higher than India's minimum wage, which stood at Rs 100 (around P67) per day in 2009.
This may be one reason why some diplomats refuse to pay their domestic workers proper wages. As a senior Indian official, Shakti Sinha was quoted as saying in a 2013 article by the Times of India: "Which Indian would pay a help Rs 6500 (P4,370) a day?"
Sinha was a former principal secretary in the Indian government who had also spent time overseas, including assignments at the World Bank and several UN organizations.
Martina Vandenberg, president of the nonprofit Human Trafficking Legal Center in Washington, DC, told Rappler: "Wage theft is the entry drug. It's the port into full-scale human trafficking. Wage theft is where it starts. Full-scale forced labor, sexual servitude, and involuntary servitude – that's where it ends."
Reports with details of wage theft showed that some diplomats circumvented regulations to pay domestic employees through direct bank deposits by opening joint bank accounts in their name and the name of the domestic worker, or by confiscating ATM cards.
Many domestic workers claimed their diplomat employer made withdrawals without their consent and sent paltry amounts to their families in their countries of origin. In other instances, domestic workers were asked to give back a portion of their wages to their employer in cash as payment for arbitrary expenses such as board and lodging and internet use.
In the US, where over half of the reports in the Rappler database were filed, some workers quoted their diplomat bosses as telling them the sponsorship of their work permit was payment enough and that workers "should be grateful" they were brought to the US.
Some workers like Gurung reported not being paid at all. In 2009, she was able to escape with the help of a Nepali domestic worker who referred her to the migrant rights NGO Adhikaar.
The court eventually awarded Gurung $1.5 million (P83.5 million) through a default judgment – which happens when a diplomat loses a case due to failure to defend, or due to departure from the host state, subsequently losing immunity.
But just like Gurung's wages, this remained unpaid. When the judgment came out, the diplomat was already posted as ambassador to Italy, shielded by diplomatic immunity.
Of the 160 incidents recorded, 122 were filed as either cases or complaints against diplomats. Of these, 33 were granted monetary awards either via default judgments or settlements.
Thirty-three cases were settled with the defendants, with nine having workers who filed petitions of voluntary dismissal after the settlement.
However, NGOs and lawyers working on domestic worker rights are cautious about tagging cases that were decided in favor of the domestic worker as wins for "justice."
"It has never happened that the worker is paid the entire amount that is owed. Most of the time, only a portion of the denied wages is recovered with either the diplomat or the embassy paying," said Lea Rakovsky, project coordinator of Ban Ying, a Berlin-based NGO that specializes in cases involving domestic workers abused by diplomats.
According to lawyers, default judgments are more of a paper victory. These judgments, Vandenberg said, "can be almost impossible to enforce against a diplomat because the diplomats go home or they go to another posting."
Judgments can also take time, compounding the years of exploitation and abuse – tantamount to slavery conditions – domestic workers were made to endure.
The case with the highest monetary award involved American diplomat Linda Howard and her husband, Russell Howard. In 2012, the US court ordered the Howards to pay $3.3 million (P183.7 million) in damages to an unnamed Ethiopian female victim who suffered physical, emotional, and sexual abuse at the hands of Russell while Linda was assigned in Yemen.
The victim had to flee to file a report. Russell died shortly after the decision was released. Linda moved to Australia after she was removed from her post. Judges from both the US and Australia, however, ordered her to pay the victim, but according to a 2017 Australian news report, the matter was settled confidentially – five years after the initial court order.
"It's very hard to recover from the trauma. It's almost impossible to recover from the trauma if you have no money. The money is an important piece (of justice) because once you've dealt with the fundamental needs of housing and safety, then you can deal with the higher level trauma," said Vandenberg.
Layers of abuse with no way to escape
Majority of the victims did not just report one form of abuse. They also suffered other forms of maltreatment on top of wage theft – including forced labor, psychological/verbal/emotional abuse, trafficking, physical abuse, denial of access to basic needs such as food, and sexual abuse.
Ashik Ahmed, a Bangladeshi domestic worker to diplomat Sadiqul Hoque and wife Sabiha Hoque in their residence in the US, alleged forced labor of up to 18 hours a day. He reported physical abuse and threats of deportation if he tried to leave – even if his employers had already confiscated his passport.
In 2000, Ahmed fled following an altercation with Sabiha, which left his hand seriously injured. Ahmed was assisted by two passersby until he fainted. When Ahmed was brought to the hospital, his employers tried to contact him but social workers intervened.
The court dismissed Ahmed's case, saying that the employers are immune from suit.
Of the 122 cases and complaints filed against diplomats, 16 (13%) were dismissed. Separately, eight were not brought to court by the workers mainly due to fear that any case filed would be dismissed anyway due to the diplomat's immunity. One complainant dropped a case entirely due to the employer's intimidation.
Many of the abused workers, like Ahmed, reported that escape or rescue was the only way they could seek help.
When immunity turns into impunity
India – despite being one of the top countries where the victims came from – has another prominent case that illustrates the complicity of sending nations in absolving diplomats.
The 2012 controversial case of Devyani Khobragade, deputy consul general at the consulate of India in the US, involved false statements being made by her to obtain a visa for her domestic worker, failure to pay the worker the US minimum wage, and forcing the worker to sign a second, illegal employment contract.
The issue became so big that it made headlines both in India and the US. The Indian government's response was to wrongly insist that Khobragade had diplomatic immunity as a consular officer. She was then transferred to the Indian Mission to the United Nations, which was approved in 2014 – effectively granting her diplomatic immunity. She then left the US shortly after.
It was earlier dismissed because of the diplomatic immunity Khobragade belatedly received, but an indictment was reissued after she left the US. Khobragade is currently serving as ambassador of India to Cambodia but has an open indictment in the US.
The India foreign ministry did not respond to requests for comment.
Diplomatic immunity turning into impunity becomes apparent when erring diplomats are not just simply absolved of any liability but are even reassigned to other diplomatic posts where they can repeat a cycle of abuse. At least 13 diplomats received complaints from multiple employees, according to our database.
Rappler examined embassy organizational lists, social media, and LinkedIn pages, and found that at least 29 of the diplomats implicated in domestic servitude are still holding key positions in embassies or international organizations.
One such case involves Anne Margareth Bakilana and her husband Raymond Rwehumbiza. Bakilana, an economist at the World Bank at the time of the incident, hired fellow Tanzanian Sophia Kiwanuka as a domestic employee at the couple's residence in the US first in 2004 and then in 2009.
However, Kiwanuka alleged that on both occasions, the couple confiscated her passport, forbade her from going out, and threatened her with deportation to coerce her into working long hours daily, with no day off. Kiwanuka also claimed verbal and psychological abuse. She escaped with the help of the FBI.
In 2010, Bakilana pled guilty to two counts of making false statements to federal authorities and paid Kiwanuka compensation amounting to $41,626.80 (P2.3 million). Currently, Bakilana is the World Bank program leader for Human Development for Kenya, Rwanda, Somalia, and Uganda.
Bakilana did not respond to Rappler's numerous emails sent on August 7, 16, and 17 regarding her guilty plea.
Based on the database, the World Bank is the top international organization that employed the most number of diplomats who had cases filed against them, with a total of 12 reported incidents.
In response, a World Bank official said that since a 1999 news report that implicated diplomats and bank officials in domestic servitude, the organization took immediate action to implement strong controls and practices to safeguard domestic care employees, but declined to comment on individual cases.
Diplomatic action to a diplomatic problem
Despite its scope, diplomatic immunity is not completely inviolable. Diplomatic immunity can be waived by a diplomat's sending country – but this is extremely rare.
In 2007, the US requested Kuwait to waive diplomatic immunity for its state envoy accused of domestic abuse. Kuwait refused and the diplomat was reportedly deported and barred from entering the country.
On occasion, countries have also suspended the issuance of visas to domestic workers who are to be employed by diplomatic missions implicated in disputes with migrant domestic workers.
At the interstate level, the international community is taking action to institute better safeguards for domestic workers employed by diplomats and employees of international organizations.
The Organization for Security and Co-operation in Europe (OSCE), the world's largest regional security organization, with over 50 states, convened workshops across Europe between 2012 to 2014 "specifically dedicated to looking into ways to prevent human trafficking for domestic servitude in diplomatic households and protect private domestic workers," said Marianne Angvik, OSCE executive program officer under the organization's anti-trafficking office.
A set of measures for the prevention and monitoring of abuse, mediation, and the sanctioning of abusive employers was recommended to member states as a result.
The US State Department, positioned as the world's anti-trafficking warden through its annual Trafficking in Persons Report and global center of diplomacy, has stepped up its efforts to prosecute diplomats and international organizations who violate US laws by trafficking and exploiting domestic workers.
The US, the country where most of the reports in the Rappler database were filed, currently has more than 2,000 foreign missions that employ nearly 70,000 staff, of which close to 90% are entitled to some degree of diplomatic immunity.
The US State Department implemented a set of measures – direct bank deposits, a centralized database of alleged exploitation, screening a diplomatic official's employer record prior to granting a visa for a domestic worker eyed for hiring – to address issues pertaining to envoys. Further, the State secretary should assist in collecting payment on court judgments through ex-gratia payments – compensation paid to the victim without acknowledging any legal obligation to provide the support.
"Now the US government helps us settle cases where there's an outstanding judgment. This means that the diplomat has refused to pay so the US will hold the [diplomat's] government accountable and press that government to make an ex-gratia payment," Vandenberg explained.
In an email, a US State Department official confirmed that a mandatory welfare check-in program initially piloted in Washington, DC will be expanded nationwide as a means to encourage workers to report violations.
Welfare check-in programs require domestic workers to make regular in-person visits to state authorities to monitor contract compliance and working conditions.
"These in-person check-ins are perhaps the greatest prevention mechanism that we have because the diplomats know that the US government is watching and that someone is paying attention to the treatment of domestic workers by diplomats," said Vandenberg. (To be continued) – with reports from Gerald John Guillermo/Rappler.com
US$1 = P55.67
Rs 1 = P0.67
NEXT: When diplomats are traffickers, migrant domestic workers are enslaved