(1st UPDATE) EXCLUSIVE: While a police intelligence report, which President Duterte has discredited, links them to illegal drug operations, the former presidential adviser and his associates have set up legitimate businesses in the country
(Done in partnership with the Organized Crime and Corruption Reporting Project)
At a glance
Ex-economic adviser Michael Yang's businesses expanded rapidly during Duterte's presidency
Yang and his associates started several new companies – including a POGO firm – during the Duterte administration
Yang and at least one business associate have been tagged in a police intelligence report as being involved in the illegal drug trade, although Yang denies this.
Business has been looking good for Chinese businessman Michael Yang, President Rodrigo Duterte's former economic adviser.
During Duterte's administration, Yang and his associates started several new companies, including a Philippine Offshore Gaming Operations (POGO) firm and others that are into ​​real estate, construction, and medical supplies.
One company is finishing up a massive real estate development in the Clark Freeport Zone (CFZ), while another clinched a deal with the Bases Conversion and Development Authority (BCDA) for the construction of an industrial park. CFZ, located in Pampanga, used to be an American air force facility then known as Clark Air Base.
In late August, Rappler reported Yang's links to Pharmally Pharmaceutical Corporation, a small local firm that bagged the biggest pandemic supply contracts from the Philippine government – worth a total of P8.68 billion.
Rappler looked into seven companies that appear to be Yang's or those of his associates. All of them, except for one, were registered as corporations in the Philippines during the Duterte presidency.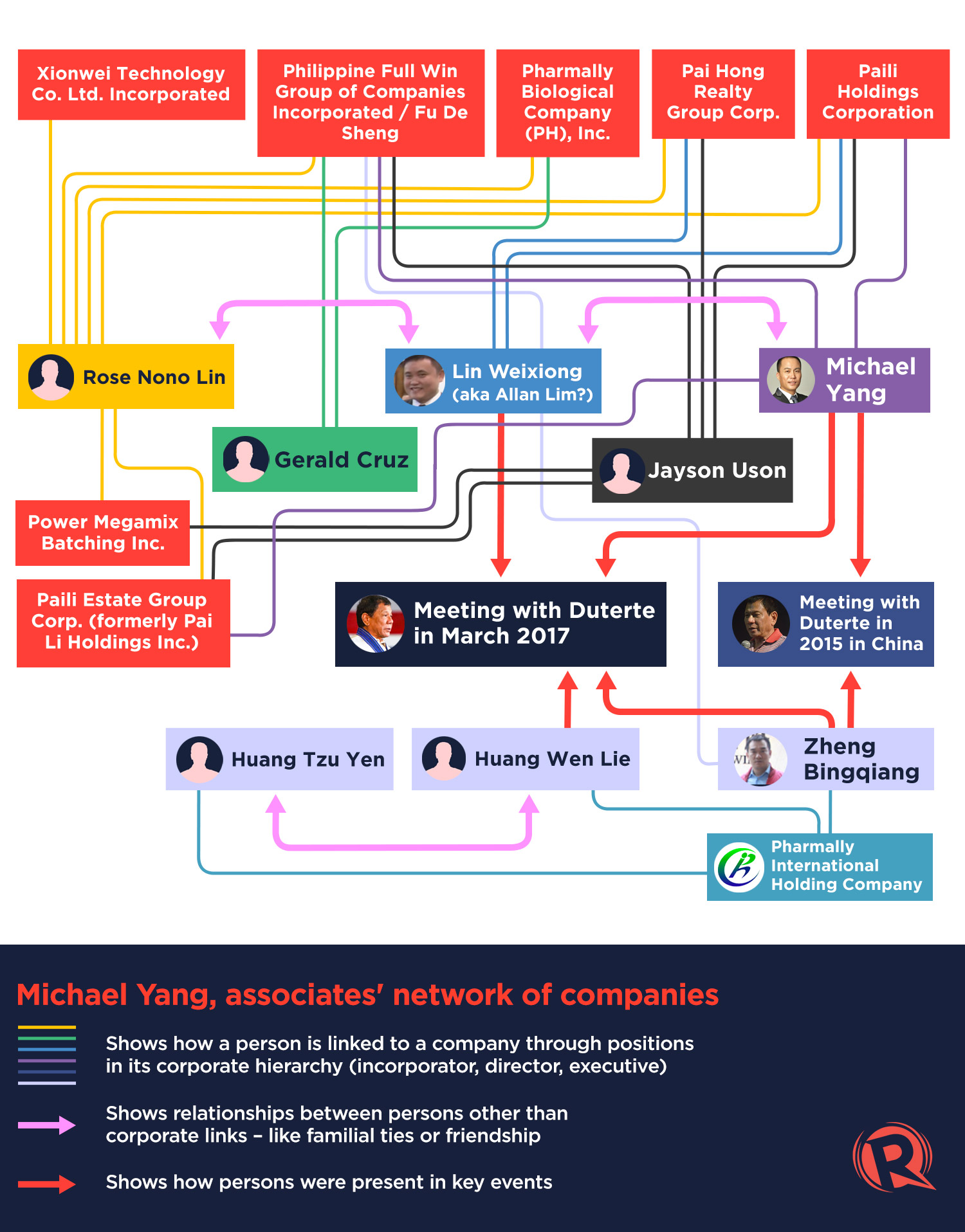 Project in Pampanga
It's Yang's newest firm, Paili Holdings Corporation, that seems the busiest these days.
It is constructing a massive mixed-use real estate development called Clark Majestic World along Prince Balagtas Avenue in the Clark Freeport Zone.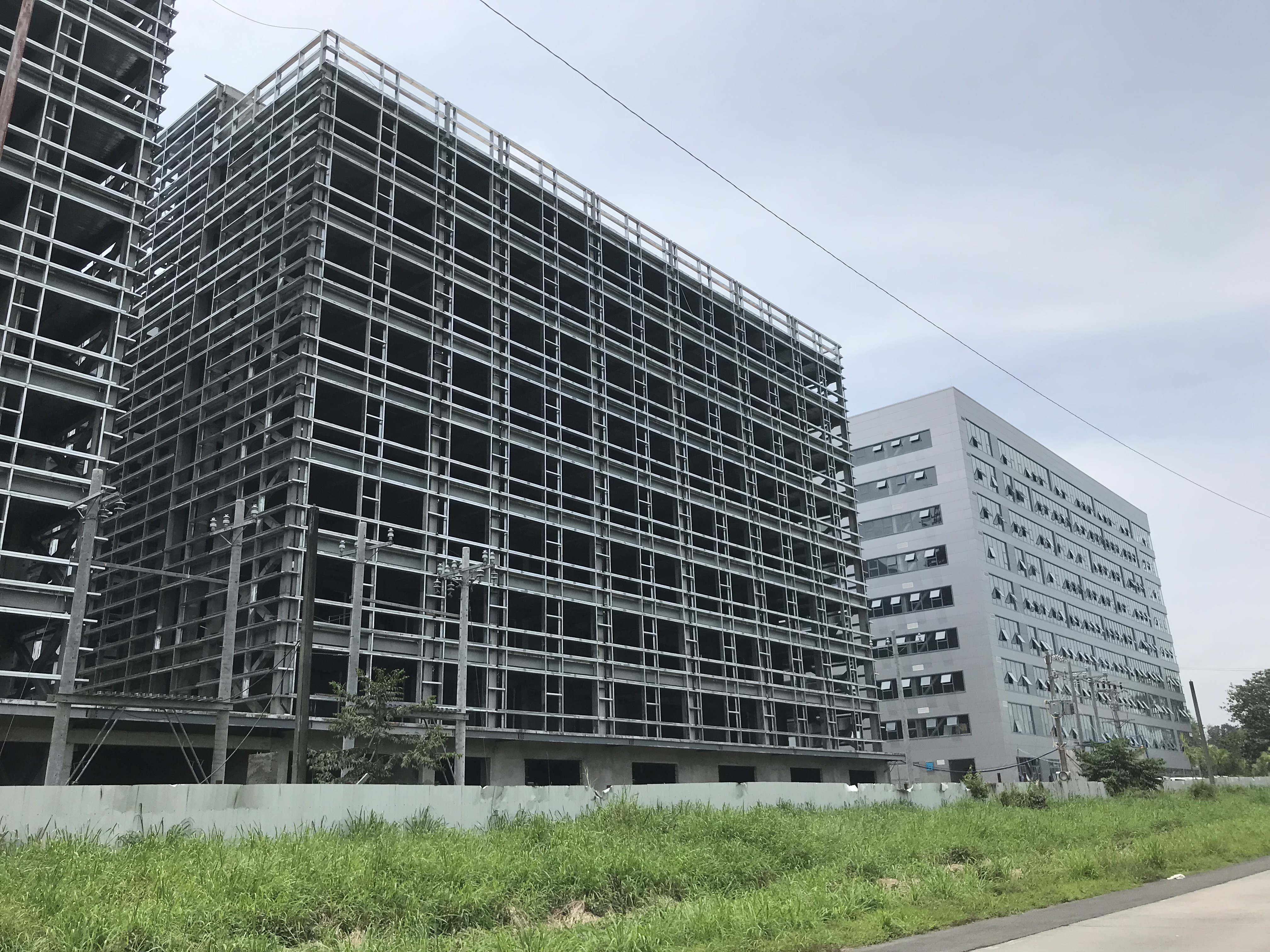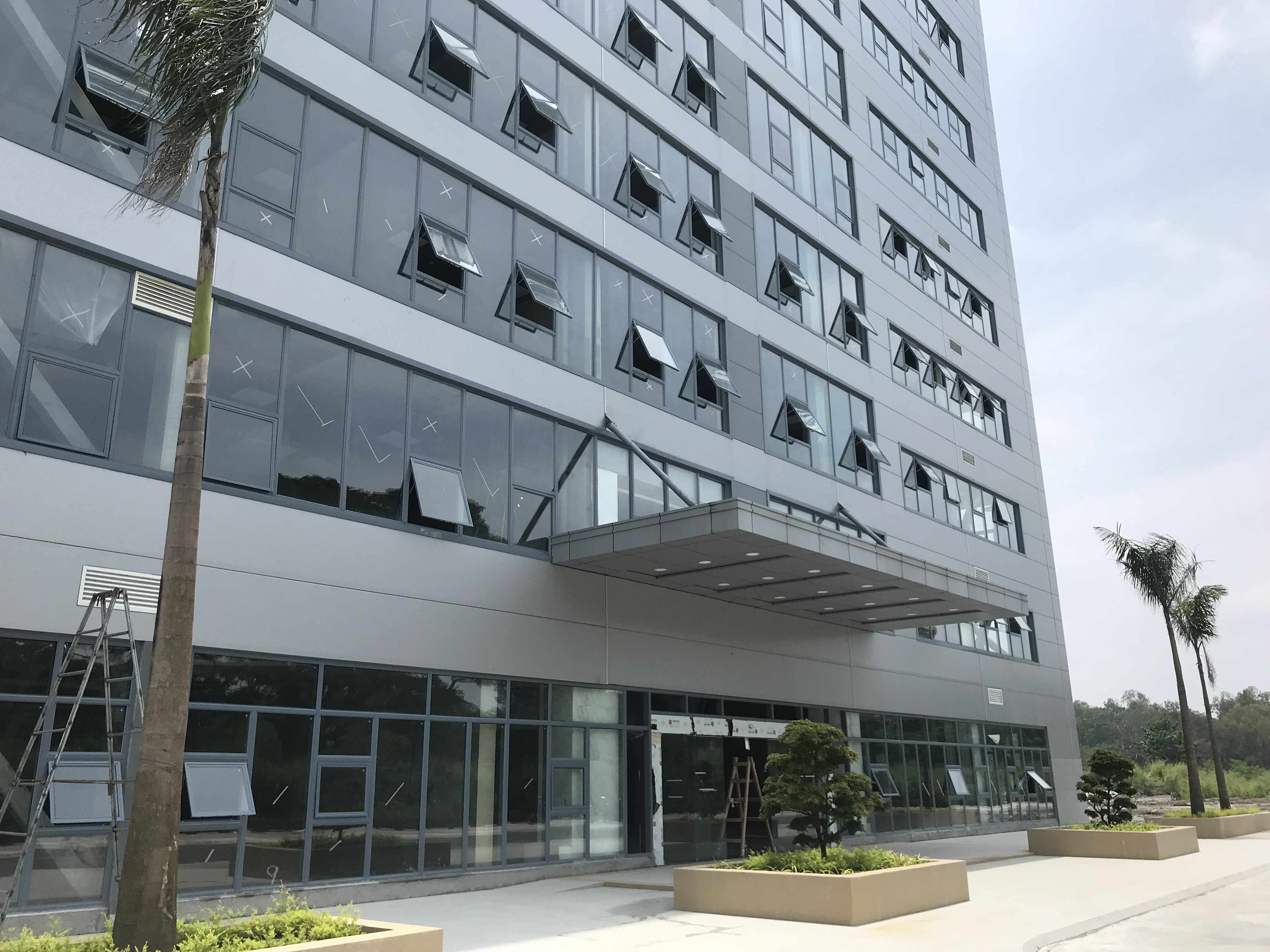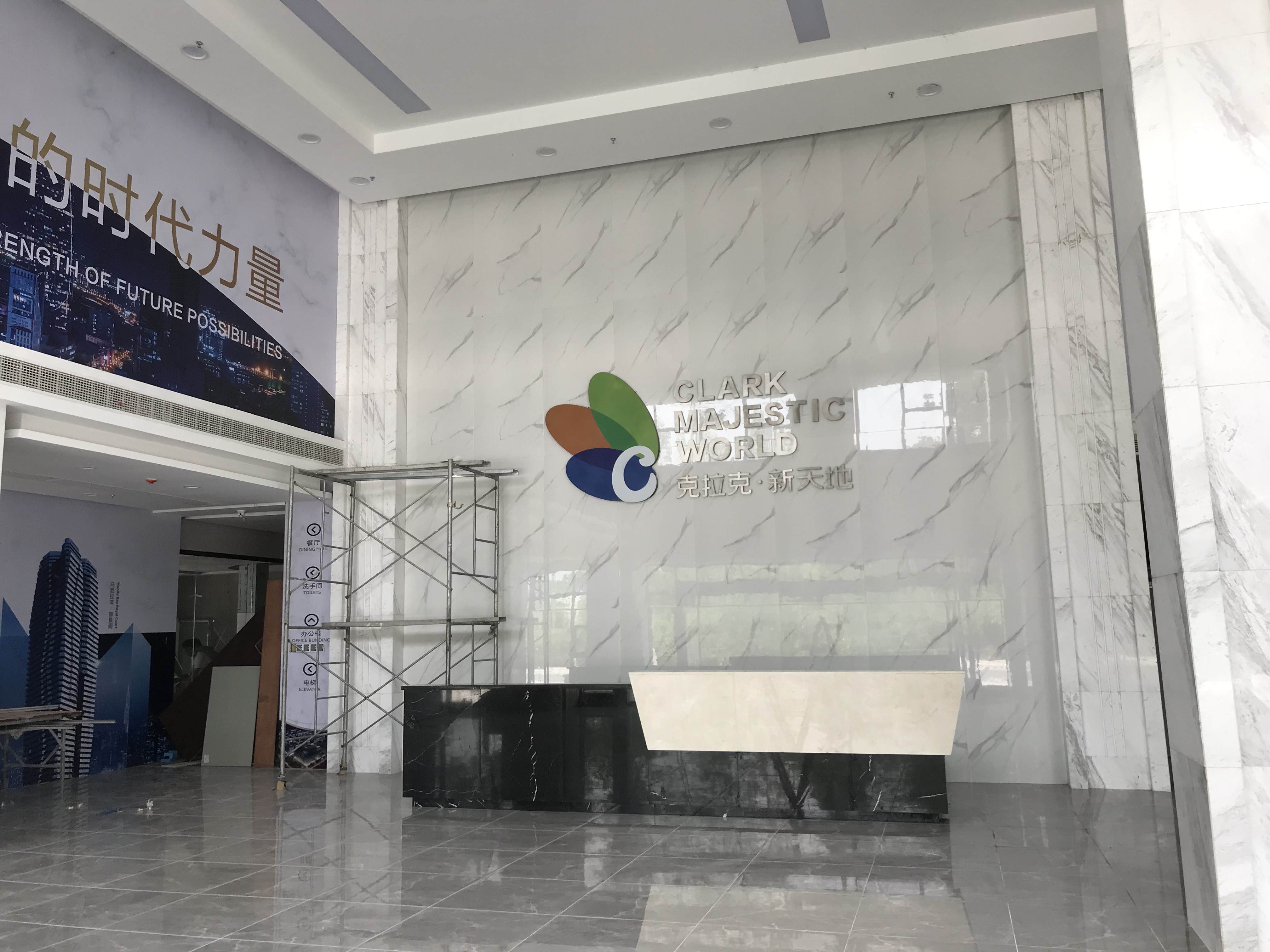 The firm's Facebook page was already pre-selling condo units, including "8-bedspace" dormitory-type rooms, reminiscent of residential units used by POGO employees.
On Facebook, the firm reported 92% overall completion of its office buildings, as of May 2021.
Paili Holdings promised its mega development would be all-in-one.
"You do not need to go anywhere as everything in Clark Majestic World is within your reach. From convenience stores, malls, salons, restaurants, etc. Clark Majestic World will not only be a progressive economic hub but will also be a commercial center perfect for our foodies, brand enthusiasts, and everyone who enjoys the beauty of convenience," reads the company's July Facebook post.
The company's Facebook page, however, has since been taken down.
Three years ago, in 2018, another company called Pai Li Holdings managed to get itself a government project.
According to a list of contracts posted on the BCDA website, Pai Li Holdings signed a memorandum of agreement with BCDA and Chinese state-run engineering services firm China Heavy Machinery Corporation on August 22, 2018.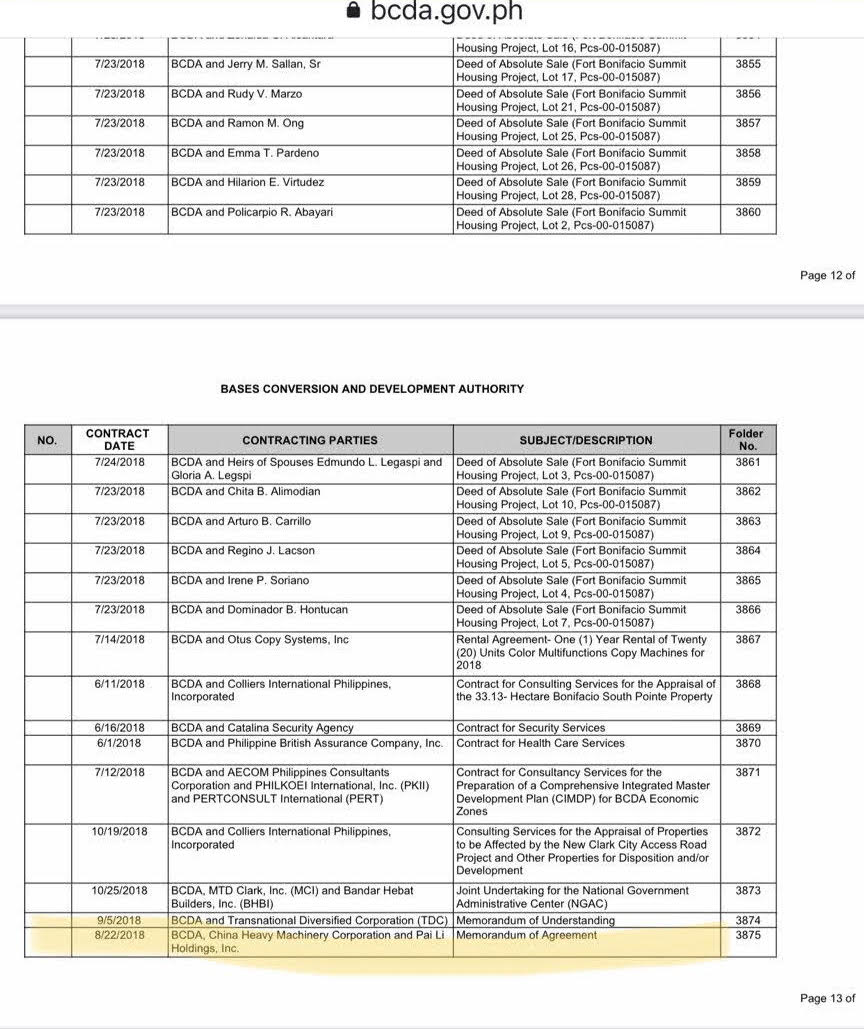 The BCDA and Subic Bay Metropolitan Authority, in a statement sent to Rappler on September 9, said two Memoranda of Understanding were signed with CNHMC and Pai Li Holdings, but the two expired in 2019 and 2020, respectively.
No financial transactions were involved in both deals.
"These non-binding, non-exclusive MOUs were initially intended to develop feasibility studies and proposals for a techno-industrial park inside the Clark Special Economic Zone in Capas, Tarlac, and Subic Special Economic Zone in Bataan," they said.
According to Pai Li's SEC documents, it was renamed Paili Estate Group Corporation just in February 2021 during a board of directors meeting. The firm then applied for an amendment to their articles of incorporation to reflect its new name in March.
But the company is definitely Yang's. Yang Hongming – Yang's Chinese name – is listed as one of the incorporators, along with Filipinos Jackson B. Lao, Jesse T. Cruz, Julie Ann Cruz, and Chinese citizen Yang Hongjiang, believed to be Yang's brother, based on Chinese news write-ups.
The BCDA list did not indicate what type of project the deal was for. But government projects that China Heavy Machinery Corp. (CHMC) is involved in may provide some clue.
Four months before the MOA between Paili Estate and BCDA was signed, CHMC formally expressed intent, in the presence of no less than Duterte, to develop a "China-Philippine International Techno-Industrial Zone."
The President was then in Hainan, China, to attend the Boao Forum for Asia and meet with Chinese President Xi Jinping. CHMC, a state firm, was one of the companies represented in that gathering with Duterte for the signing of investment deals.
The government and firm followed through. On August 17, 2018, the Bataan local government and Subic Bay Metropolitan Authority (SBMA) signed a memorandum of agreement for a techno-industrial zone park to be built by CHMC. Those present at the signing included Mayor Jopet Inton of Hermosa, Bataan; SBMA chairman and administrator Wilma Eisma; CHMC chairman and president Xiao Ping, and vice president Zhang Fei.
Paili Holdings was registered with the Securities and Exchange Commission (SEC) only in December 2020. Pai Li Holdings, meanwhile, is an older firm registered in 2012 but renamed during the Duterte presidency.
Paili Holdings' articles of incorporation obtained by Rappler show Yang Hongming (Michael Yang's Chinese name) as one of the incorporators and corporation directors.
Three Filipinos and only one other Chinese citizen, Lin Weixiong, are listed as both incorporators and directors.
Apart from these individuals, Yang's other businesses – DCLA Plaza Co. Inc., Yangtze (Group) Trade Co. Ltd., and XRL Holdings Corporation – are listed as subscribers to Paili's capital stock.
Yang, Lin, and Yang's firms have, by far, the largest number of shares. In fact, the Filipino directors subscribed only P100 each for their share, proving that the firm is virtually that of Yang and Lin.
Paili Holdings has clear links to Yang's older company, Philippine Full Win Group of Companies Inc., which got its SEC registration in 2017, or also during the Duterte presidency.
The Paili website itself says Paili Holdings is a "restructured" version of the Full Win Group, which "reorganized" its 58 subsidiaries. The site even says that some of these subsidiaries are into mining and finance.
Yang, through his lawyer Raymond Fortun, said he never used his connections with Duterte to win government contracts.
"Never. President Duterte would never have allowed it if I even attempted to approach him about getting government contracts," Yang told Rappler in an email.
On Tuesday, September 7, the Senate cited Yang in contempt for twice ignoring two subpoenas to appear at Senate hearings. On the same day, the Senate blue ribbon committee issued a warrant for his arrest signed by no less than Senate President Vicente Sotto III.
Pagcor-registered POGO company
Yang's business associates, Lin Weixiong and Rose Nono Lin, started a POGO company during the Duterte administration.
Xionwei Technology Company was accredited as a POGO company by the Philippine Amusement and Gaming Corporation (PAGCOR), based on a list of such firms released by PAGCOR POGO manager Victor Padilla Jr. in 2019.
Xionwei Technology's SEC papers, obtained by Rappler, also state that its purpose is to "engage in the business of online casino gaming as a Pagcor licensed offshore gaming operator." It was registered as a Philippine corporation only in August 2016, or about two months after Duterte was sworn in as president.
The same documents identify Rose Lin as president of the POGO company, of which she owns 47%.
Rose is also identified as the person who "ultimately owns or controls the corporation," based on the company's Beneficial Ownership Declaration submitted to the SEC.
Rappler sought Rose's response by sending a letter to her residential address on Friday, September 3. The letter was received, but she has yet to send us a reply. We will update this story once she does.
Lin Weixiong appears to be Rose's husband, based on her social media posts and their common last names. A March 2020 Chinese news write-up identified him as "president of Xionwei Technology Company." He and his POGO firm were mentioned in the news article because of a donation they – along with Yang – were making to the Philippine government.
"Among these supplies, Yang Hongming, chairman of the Philippine Fu De Sheng Group (Full Win Group), donated 1 million masks, 1,000 forehead thermometers, and 15,000 sets of new coronavirus test kits, and Lin Weixiong, president of Xiongwei Technology Corporation, donated P50 million in cash," reads a translation of the news article.
But perhaps even more telling is that Xionwei Technology, in Chinese, is written as Xiongwei Technology. The Chinese characters used are the same characters used to spell out Lin Weixiong.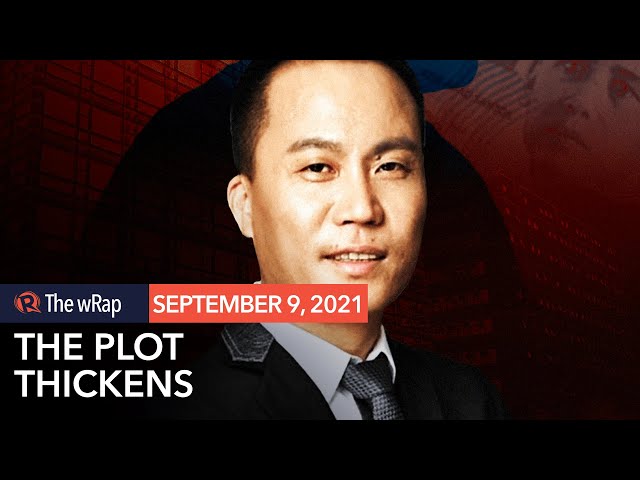 The mystery of Lin Weixiong
Of all Yang's associates, Lin Weixiong is perhaps the most interesting because he is believed to be the same person as the drug suspect named in the now controversial intelligence report by veteran anti-drug operator Eduardo Acierto.
Acierto gave Rappler a copy of the report, which Duterte publicly spoke about in October 2018.
While Acierto is a known intelligence officer who had worked closely with the United States Drug Enforcement Agency in key operations in the Philippines, he was also linked to various scandals, which President Duterte and former Philippine National Police (PNP) superiors cited as reasons to doubt his credibility.
Acierto was first ordered dismissed from the police service in 2015 by the Office of the Ombudsman after being implicated in the police's P100-million dubious deal with the courier company Werfast in 2011. This was when Acierto was serving as the chief of firearms and licensing in the PNP Firearms and Explosives Office. He was reinstated briefly but got dismissed again in August 2018 by the Ombudsman after he was found to have taken part in selling 1,000 AK-47 rifles to communist rebels between 2011 and 2013.
To get Lin Weixiong's side, Rappler tried to send a letter on September 3 to his residential address listed in SEC documents. The guard of the building, however, said no one with that name lives there.
We then emailed real estate firm Pai Hong Realty Group Corporation (Pai Hong) on the same day to reach Lin, but have yet to receive a response. He had been identified as Pai Hong's general manager.
Lin Weixiong bears some resemblance to Allan Lim, a drug personality whom the intelligence report alleged worked with Yang to bring shabu into the Philippines.
The report even said Allan Lim's likely real Chinese name is Lin Weixiong, though he also went by the name Wen Li Chen. The name Lin Weixiong appears in at least one company of Michael Yang, based on SEC documents.
"Initial verification conducted against Lin Wei Xiong formerly known as Wen Li Chen @Allan Lim confirms that again he is highly likely into illegal drugs business," said an information report dated May 15, 2017, filed by Police Inspector Lito Pirote, obtained by Rappler from Acierto.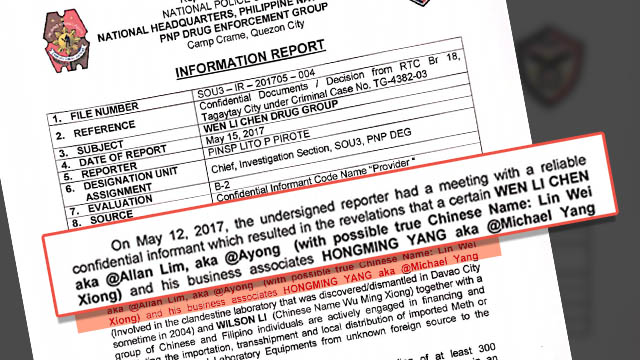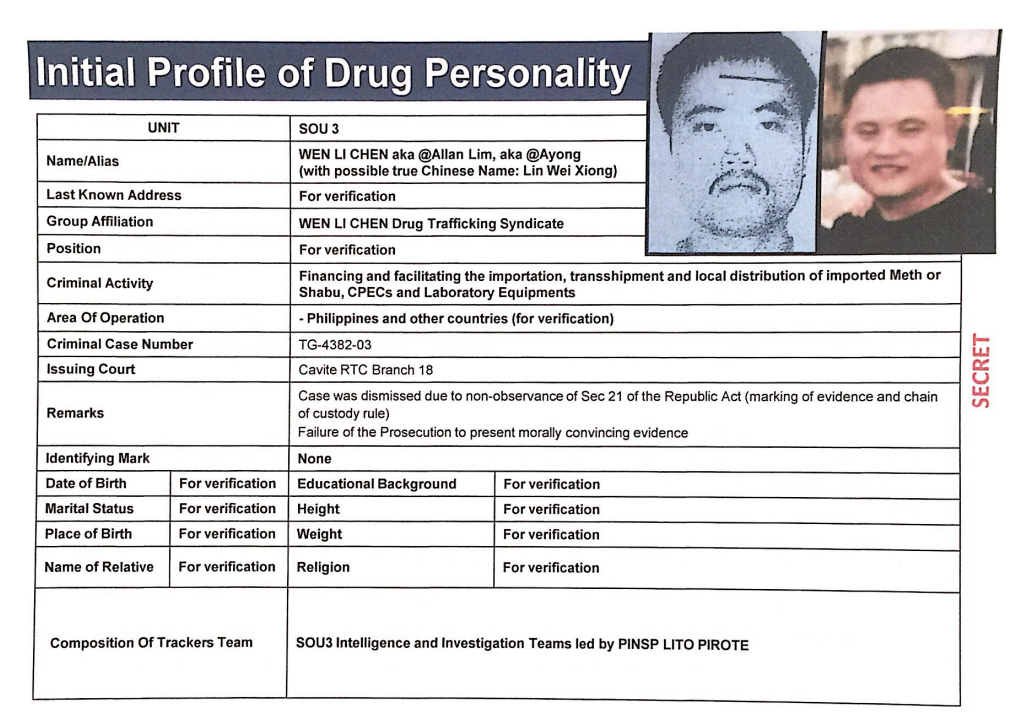 Since his exposé on Yang, Acierto has been on the run, fearing for his life.
In April 2019, or around a year after Duterte slammed Acierto's report in public, Pirote was abducted by heavily-armed men in broad daylight in Bacolod City. He has been missing ever since.
Pirote's report was among the documents submitted by Acierto to higher-ups in the PNP, but these were ignored by police officials and dismissed outright by Duterte himself.
The report included photos of Allan Lim (or Lin Weixiong). In one photo, he is seen posing with Duterte and Yang, in front of the seal of the Philippine president.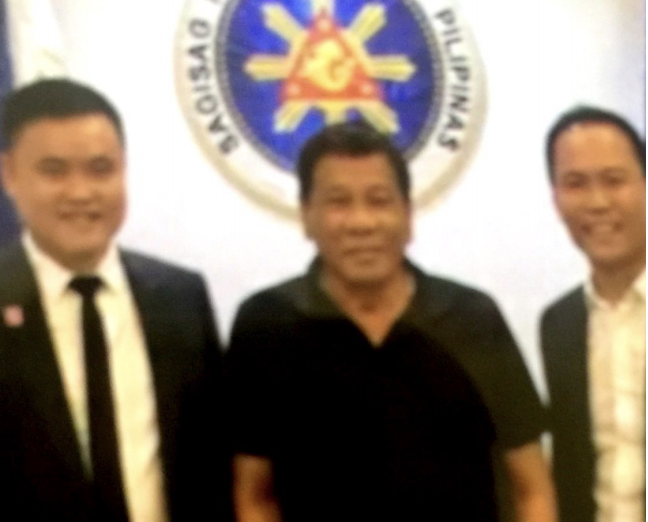 In another photo, Lim and Yang pose for a group photo with Duterte aide and now-Senator Bong Go and now-Taguig-Pateros Representative Alan Peter Cayetano, who was Duterte's 2016 running mate. The group appeared to be enjoying a beach trip.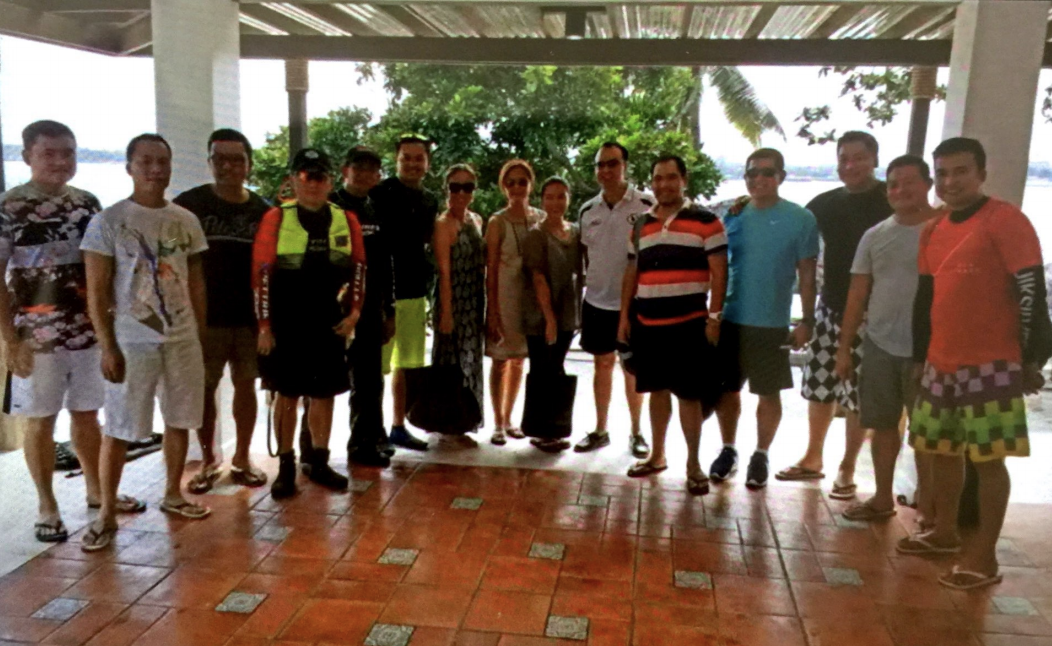 Pirote wrote that Yang and Lim were "involved in the clandestine laboratory operations that was (sic) discovered/dismantled in Davao City sometime in 2004."
Yang and Lim's partnership, in those days, was getting shabu into the country, claimed the report. The two supposedly charged P50,000 for every kilogram of shabu that got past the Bureau of Customs.
Yang's role was to arrange shipping and customs requirements for the contraband "as he has numerous contacts/networks with the Bureau of Customs," according to the report.
Allan Lim even faced a criminal case linked to a drug offense. The report said Lim was among Chinese nationals arrested during a 2003 raid of a shabu laboratory in Cavite. The criminal case, "People of the Philippines vs. Leandro Go y Lim" is docketed in Cavite Regional Trial Court Branch 18 and has been mentioned in Supreme Court decisions. A man named Wen Li Chen, Lim's other name, is among the accused. The accused, however, were eventually released on bail.
Yang told Rappler he is "not aware" if Lin Weixiong was ever known as Allan Lim. He also said he doesn't know if Lin Weixiong had once faced any criminal case in relation to the illegal drug trade. Yang denied he himself was ever into the illicit business.
"He (Acierto) is seriously misinformed. I am not involved in the illegal drug business," said Yang.
Hobnobbing with Duterte officials
Allan Lim in the Acierto report photos looks a lot like Lin Weixiong in photos on Chinese news websites.
The same man even appears in the March 2017 meeting between Duterte, Yang, and Pharmally International Holding executives.
In 2017, Lin Weixiong (or Allan Lim) and Yang hosted a banquet for Duterte and Cabinet members in Hong Kong before the President attended the Belt and Road Summit in Beijing, according to publicly available photos.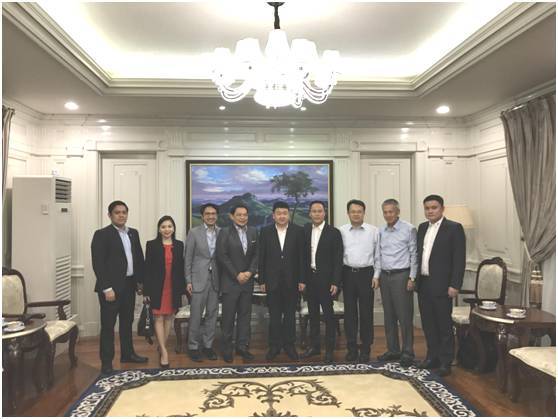 Lin was present when Yang hosted Fujian Provincial Party secretary-general Liang Jianyong in his Makati office in 2017, along with BCDA chief Vince Dizon, Foreign Undersecretary Manuel Antonio Teehankee, and another Chinese businessman with ties to Duterte, Xu Mingliang (a.k.a. Jose Kho).
Besides appearing with Yang in several corporate events, Lin holds positions in Yang's company. He is identified in a Paili Holdings Corporation press release as the "vice chairman" of Yang's Fu De Sheng Group, on top of being manager of Pai Hong.
In March 2019, Pai Hong launched a giant condominium project in Manila, with then-Manila mayor Joseph Estrada as guest of honor.
Photos of the event identified Lin as the firm's general manager and also showed Rose Nono Lin posing with Estrada. Their 76-floor condo project, Aquarius Residences, is along Quirino Avenue.
But, above all, what appears to tie Lin Weixiong to Yang's network of companies more solidly is how Rose Nono Lin is listed as incorporator, officer, or director in all of Yang's companies scrutinized by Rappler. In fact, out of the seven companies Rappler looked into, Rose is president in three.
Thus, her position as incorporator and corporate secretary of Pai Hong strongly suggests the firm is also within Yang's network. Yang's brother, Yang Hongjiang, was also present at the firm's condo project launch.
Similar to the other Yang companies, Pai Hong was registered, too, as a company during the Duterte presidency, in February 2018.
If Acierto's report is to be believed, Duterte and Bong Go were socializing with personalities smuggling and manufacturing illegal drugs. If Lin Weixiong is indeed Allan Lim, these same drug personalities are making it big in what appear to be legitimate businesses during Duterte's presidency.
In recent days, Duterte had described Yang as a "pagador" or paymaster of Chinese businessmen and "middleman" of foreign firms who "laid the ground" for Chinese deals.
Throughout his administration, Duterte has branded himself as the enemy of all drug traffickers, even publicizing diagrams and supposed intelligence findings linking cops and political enemies to the illegal trade.
But it was under Duterte's consistent and ardent protection that Yang, despite figuring in similar findings, has prospered. – Rappler.com