This is AI generated summarization, which may have errors. For context, always refer to the full article.
Fact-checked content from social media often stem from Duterte's statements and vice versa
Reporting by
Pauline Macaraeg, Vernise Tantuco, Loreben Tuquero
Social media played a huge part in President Rodrigo Duterte's 2016 campaign, and it has continued to serve him well five years into his presidency. 
The President's words – sometimes true, oftentimes not – are echoed on social media platforms like Facebook and YouTube. This influences public opinion on his political enemies and allies, his government's flagship projects, and even his government's response to national issues.
There are also times when Duterte repeats false claims that netizens have made, giving these more credibility and allowing them to spread further.
Below, we compare fact-checked claims on social media to things Duterte has said over the course of his five years in office.
Marcos is a hero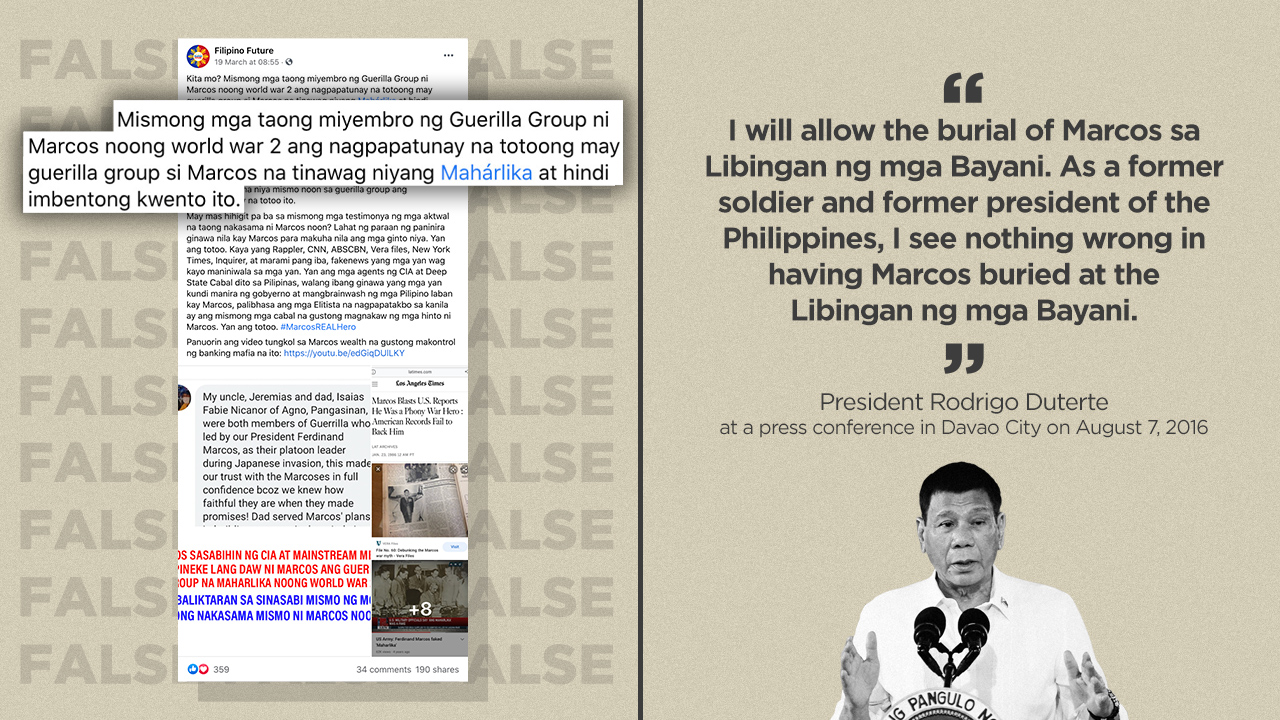 On November 18, 2016, the Marcos family buried dictator and former president Ferdinand Marcos in the Libingan ng mga Bayani (Heroes' Cemetery), one of Duterte's campaign promises. This was done despite the objection of the National Historical Commission of the Philippines (NCHP) through a July 12, 2016, report, wherein they said, "Mr. Marcos's military record is fraught with myths, factual inconsistencies, and lies."
Online, myths about Marcos' supposed military achievements continue to spread, including the claim that he was the leader of a guerrilla group called "Maharlika."
ABS-CBN's franchise renewal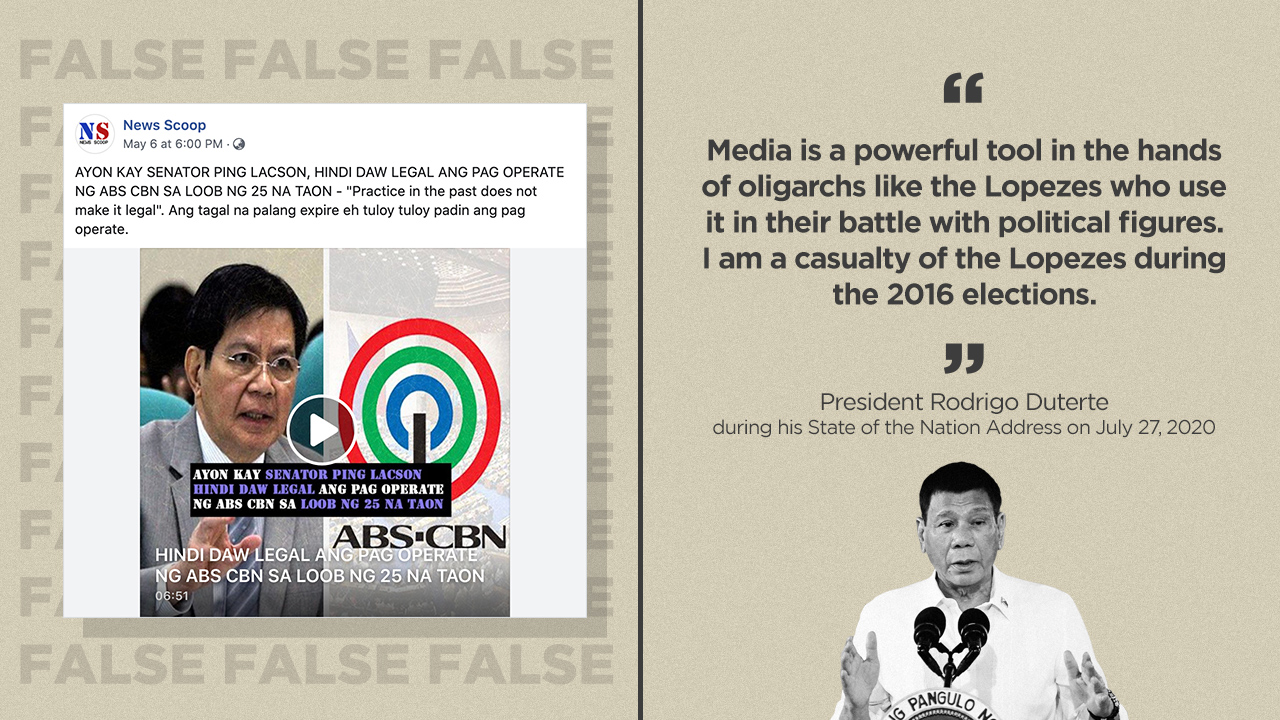 Media giant ABS-CBN shut down its television and radio operations on May 5, 2020, when its franchise expired – bills filed in the 16th, 17th, and 18th Congress, under the Aquino and Duterte administrations, didn't progress. As early as 2017, Duterte had been vocal about the network's supposed unfair reporting on him and accused them of swindling him on political advertisements during the campaign. (TIMELINE: Duterte against ABS-CBN's franchise renewal)
Throughout ABS-CBN's fight to renew their franchise, false information about the network circulated, including claims on the legality of ABS-CBN's operations, their effective tax rate, and their supporters flouting COVID-19 quarantine rules.
Drug war numbers, EJKs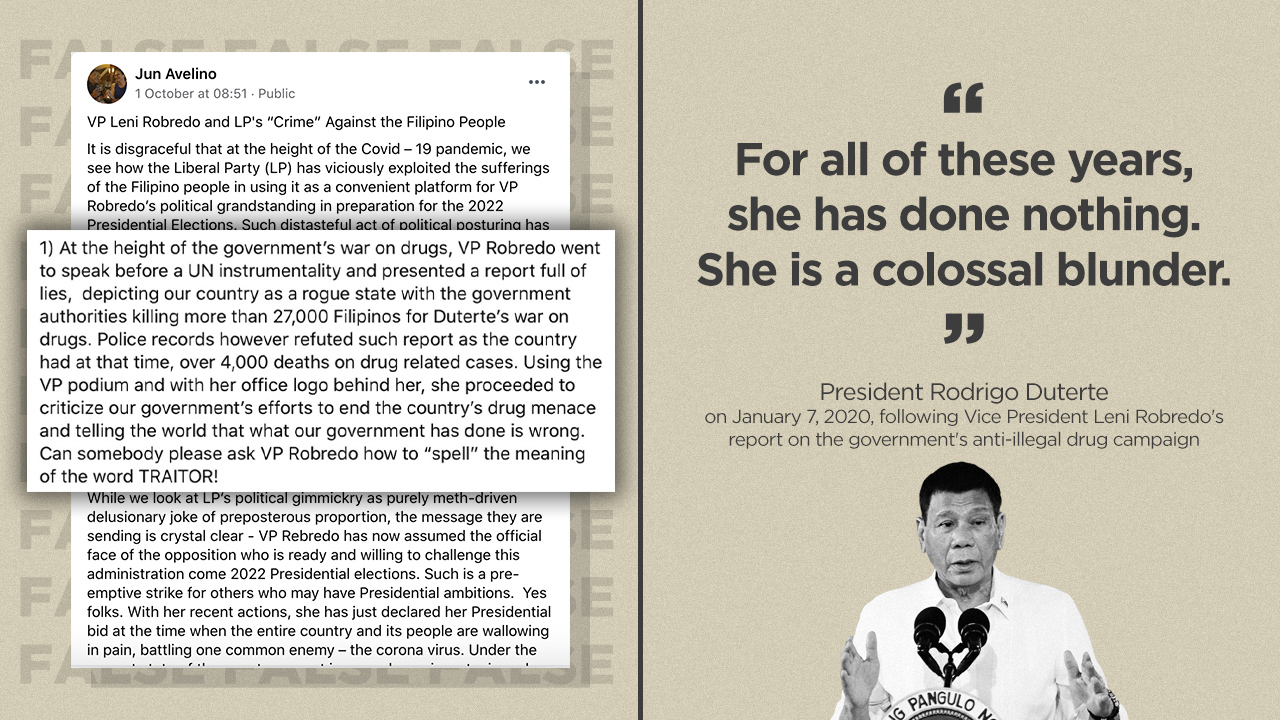 Duterte called Vice President Leni Robredo a "colossal blunder" following her report on the government's anti-illegal drug campaign, which was publicized after her stint as co-chair of the Inter-Agency Committee on Anti-Illegal Drugs (ICAD). Robredo's assessment of the drug war called it a "failure" because authorities were only able to seize 1% of the total supply of illegal drugs in the country.
Online, a false claim that Robredo cited the wrong drug war numbers at a meeting with the United Nations (UN) circulated. Other social media posts also alleged that the extrajudicial killings were made up by the opposition and that the UN actually supports Duterte's drug war.
Junk Smartmatic machines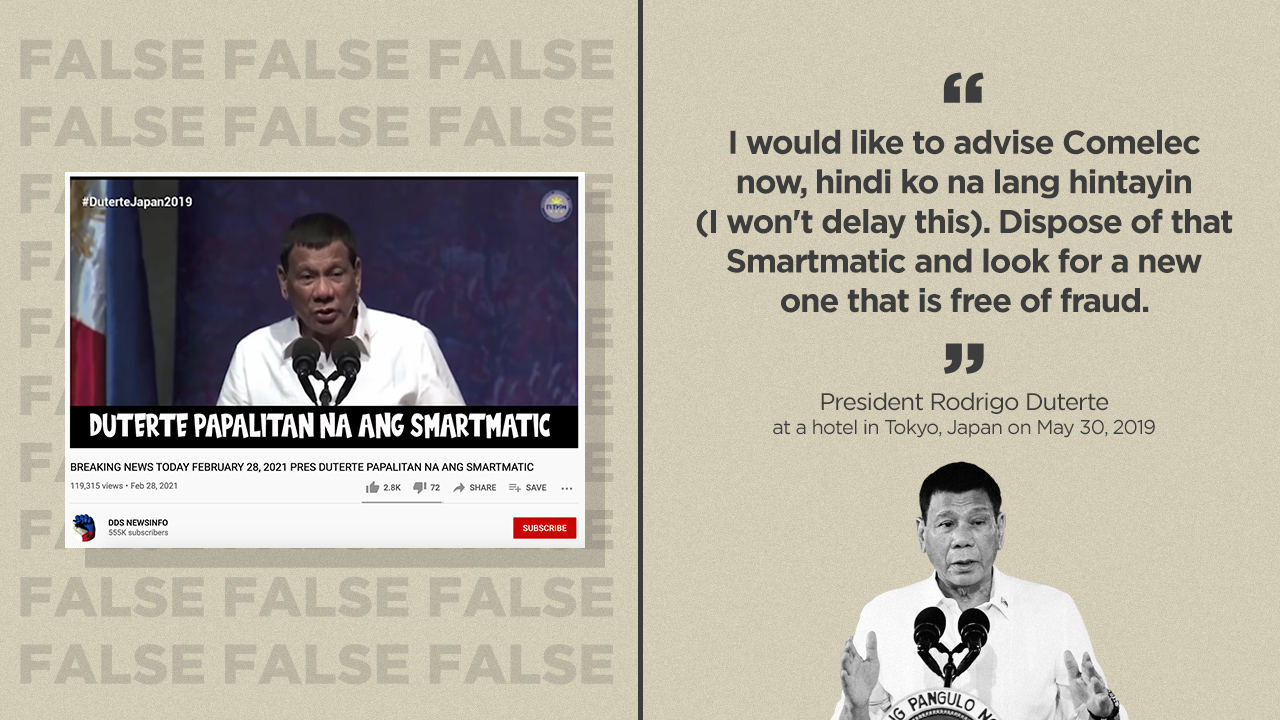 Duterte said in May 2019 that the Commission on Elections (Comelec) should junk Smartmatic's vote-counting machines for the 2022 national elections.
"Kasi ang Liberal [Party], sabi nila nadaya sila. Ako, sabi nila nadaya rin. (Because the Liberal Party says they were cheated. Me, they said I was cheated too.) You know it's creating an environment of hostile attitude against that Smartmatic. You have three years," Duterte said.
Years after the President said this, posts online used a video recording of this speech to falsely claim that he had officially ordered the Comelec to replace Smartmatic.
De Lima is a protector of drug lords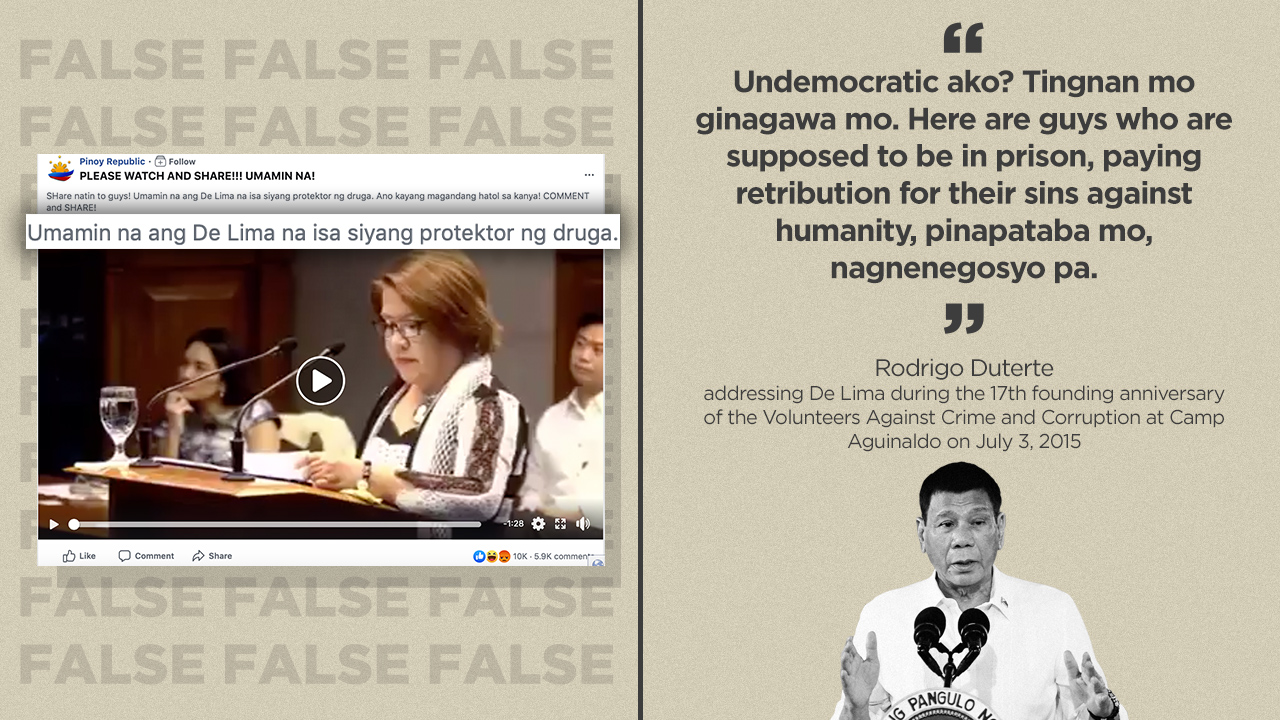 As early as 2015, Duterte had accused De Lima of protecting drug lords in the New Bilibid Prison. This came after De Lima criticized Duterte's leadership style, particularly his alleged violations of human rights, as mayor of Davao City. The narrative continued well into Duterte's term as president, with De Lima ending up arrested on February 24, 2017. She has been detained since but was acquitted in one of the three drug charges against her.
On social media, numerous false claims discrediting De Lima's credentials and ethics have also cropped up, including claims that she held a party inside the New Bilibid Prison while she was a justice secretary, and that she's linked to communists. (READ: Premeditated murder: The character assassination of Leila de Lima)
Build, Build, Build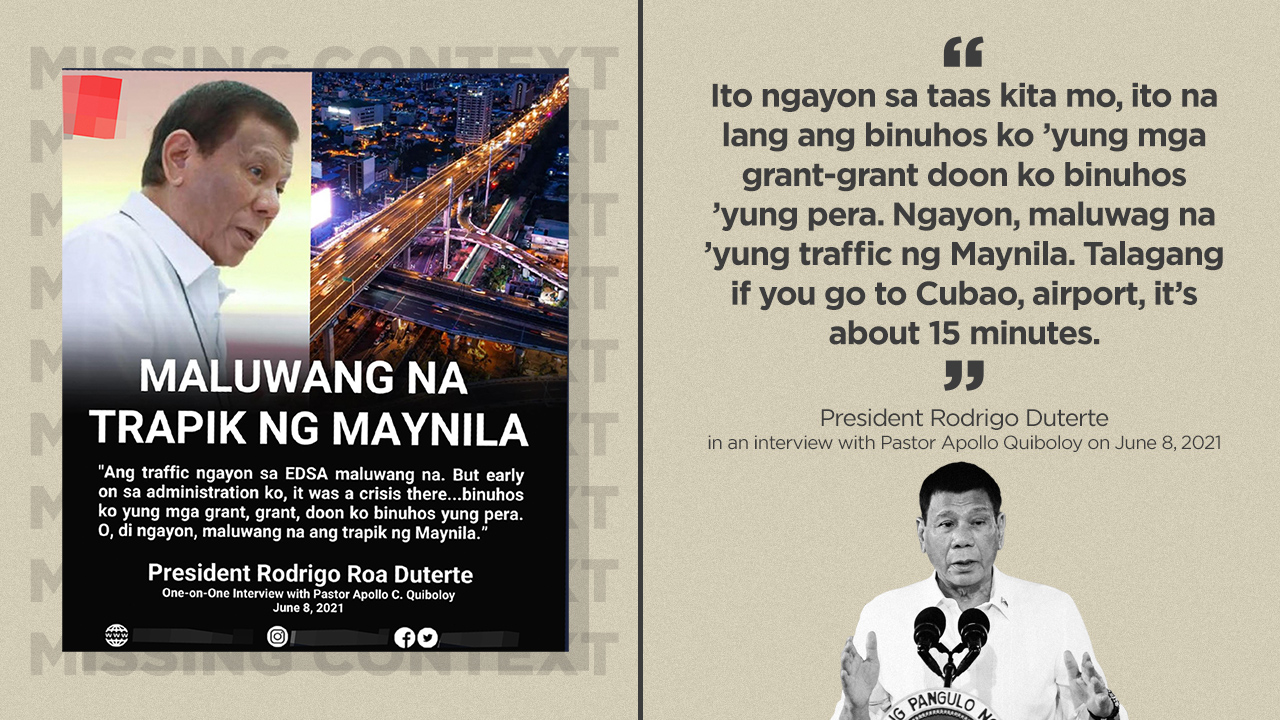 When it comes to the Duterte administration's Build Build Build program, the messaging is clear: it will be his legacy. The progress of what the government calls the "golden age of infrastructure" in the Philippines is often highlighted in speeches, statements, and interviews of Duterte and his officials. The claims range from finishing an unprecedented number of projects within target, to Metro Manila's traffic problem being fixed because of the infrastructure projects.
While Duterte's claim that traffic in Manila has improved in recent months does hold merit, it also became possible because of the various lockdowns enforced due to the COVID-19 pandemic. Often left out of the conversation, too, is that many of the projects under the Build Build Build pipeline already started even before the Duterte administration, so it shouldn't get all the credit for the supposed progress. (READ: [ANALYSIS] 10 Build, Build, Build projects that started before Duterte)
Economic progress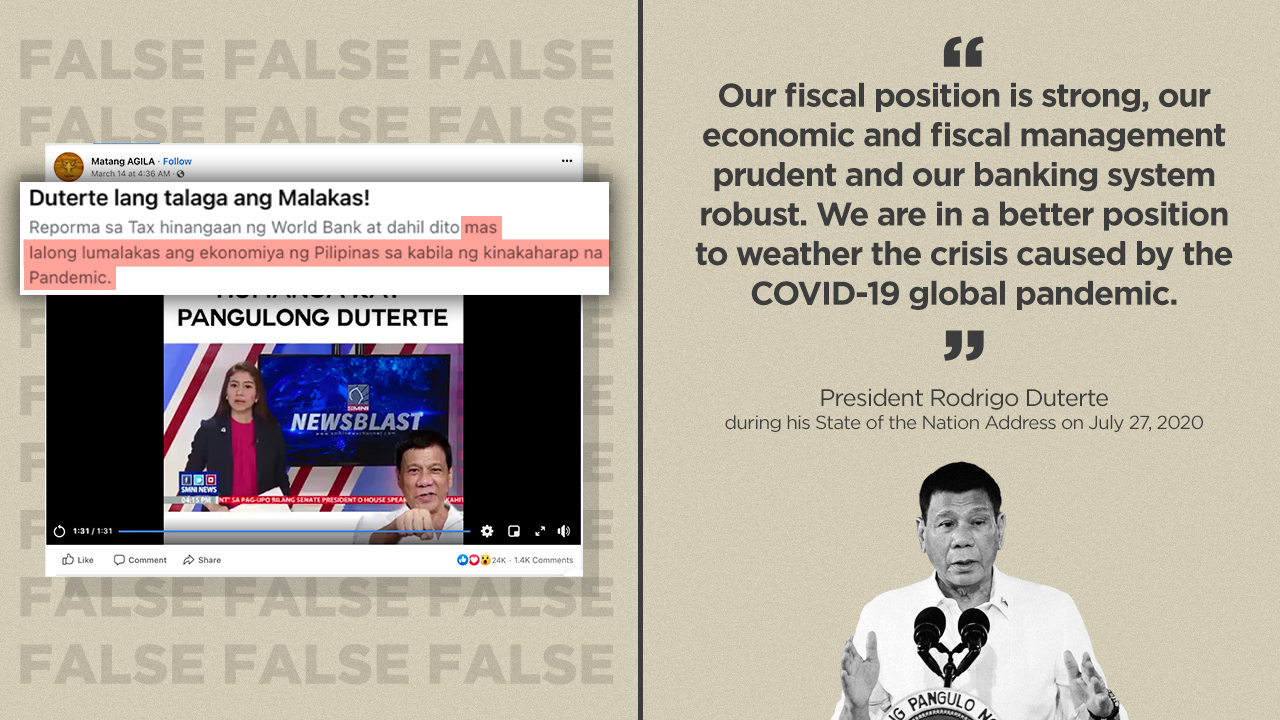 In his fifth State of the Nation Address, Duterte said that the Philippine economy was strong enough to withstand the economic threats brought about by the restrictions imposed to manage the pandemic.
A little over a week after the President's speech, however, the Philippine Statistics Authority released the official gross domestic product numbers for the first two quarters of 2020. It showed that the country's economic growth plunged by 16.5%, its sharpest drop ever on record.
The official numbers did not deter others from spreading disinformation on social media.
China and the West Philippine Sea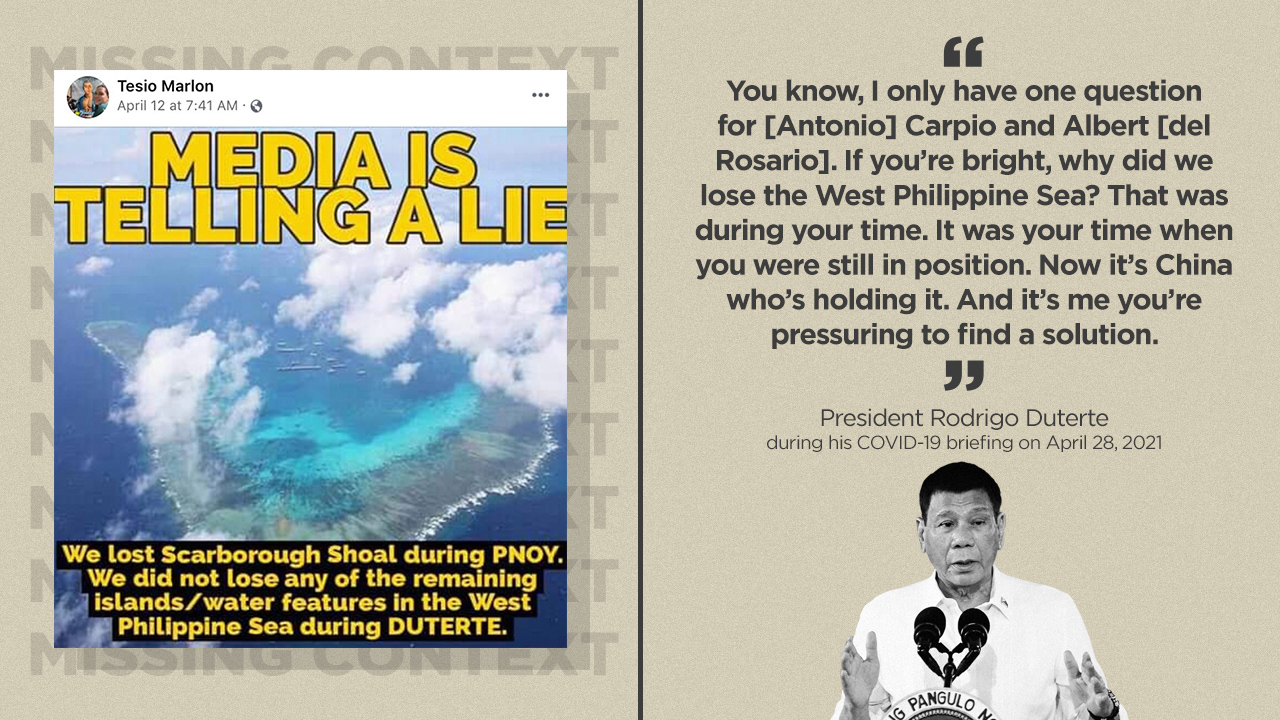 Duterte has blamed officials of the previous administration for supposedly losing the West Philippine Sea to China. He has called out retired Supreme Court senior justice Antonio Carpio and former foreign ambassador Albert del Rosario several times during his public addresses. He even challenged Carpio to a debate about the issue, but later backed down.
Online, misleading posts about Carpio have appeared, and some even falsely claim that the Aquino administration supposedly sold Philippine territories to China.
Trillanes 'will sell you to the devil'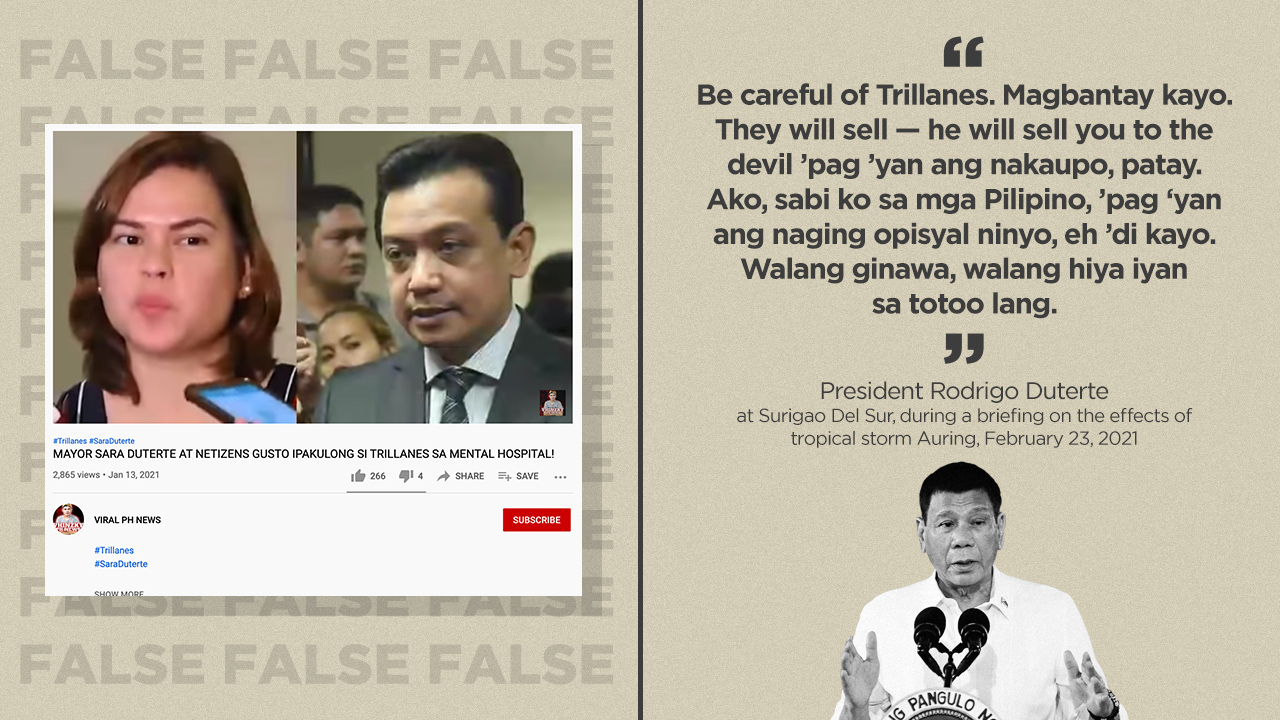 Amid calls for Davao City Mayor Sara Duterte to run for president in the 2022 elections, Duterte maintained that his daughter would not be running, citing the "kababuyan" or the dirty nature of politics. He brought up the fact that former senator Antonio Trillanes IV was a staunch critic of his administration.
On social media, false information about Trillanes spread on more than one occasion, including three separate claims on the supposed confirmation of his imprisonment. Another claim said Sara Duterte wanted to lock up Trillanes in a mental hospital.
Accusations, threats against Robredo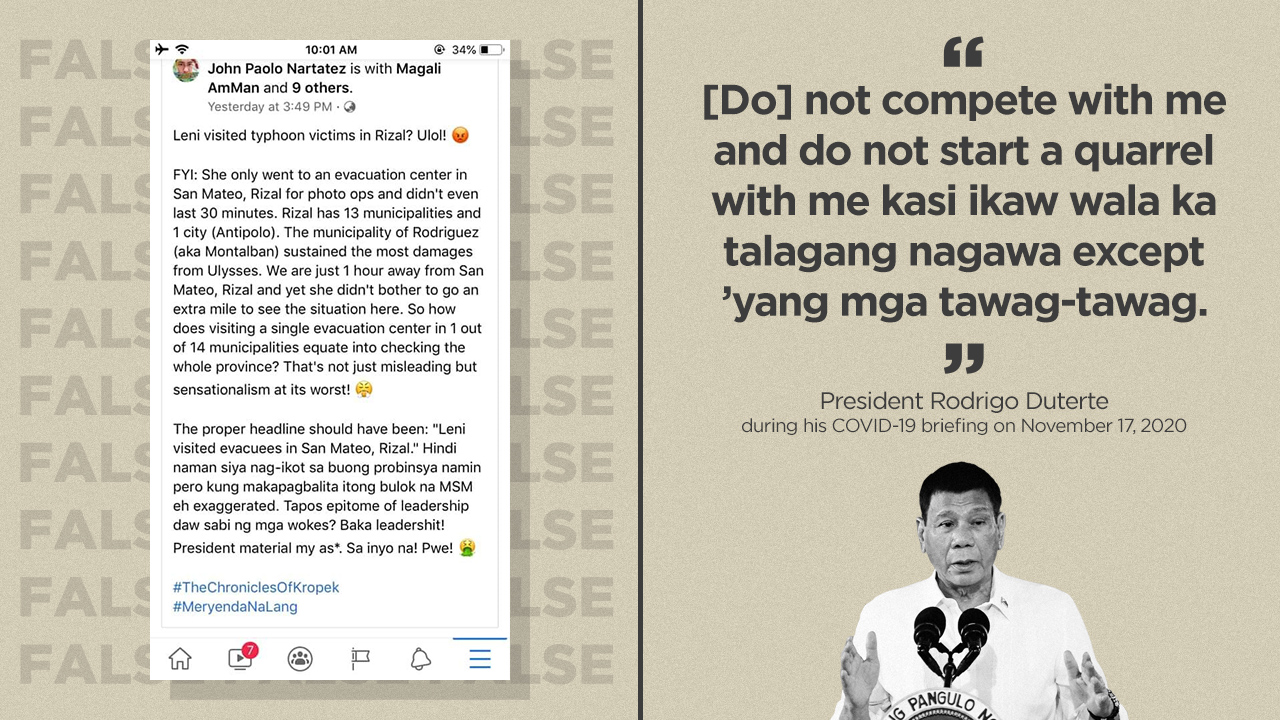 In the aftermath of Typhoon Ulysses, Duterte lashed out against Robredo in a long tirade riddled with false claims, misogynistic remarks, and threats. He claimed she accused him of being absent during the typhoon's onslaught, and accused her of not having done anything to aid typhoon response efforts.
Robredo did not say anything about Duterte's whereabouts during that time. It was also not true that she did not take action in response to the effects of Typhoon Ulysses. (READ: 'Misogynist, pikon': Robredo fact-checks Duterte's lies on typhoon response)
A day before Duterte made these remarks, Facebook users circulated the false claim that Robredo did not bother to visit Rodriguez, Rizal, after the typhoon. Another false claim said she supposedly donated chicharon or deep-fried pork rind to typhoon victims in San Mateo, Rizal.
Red-tagging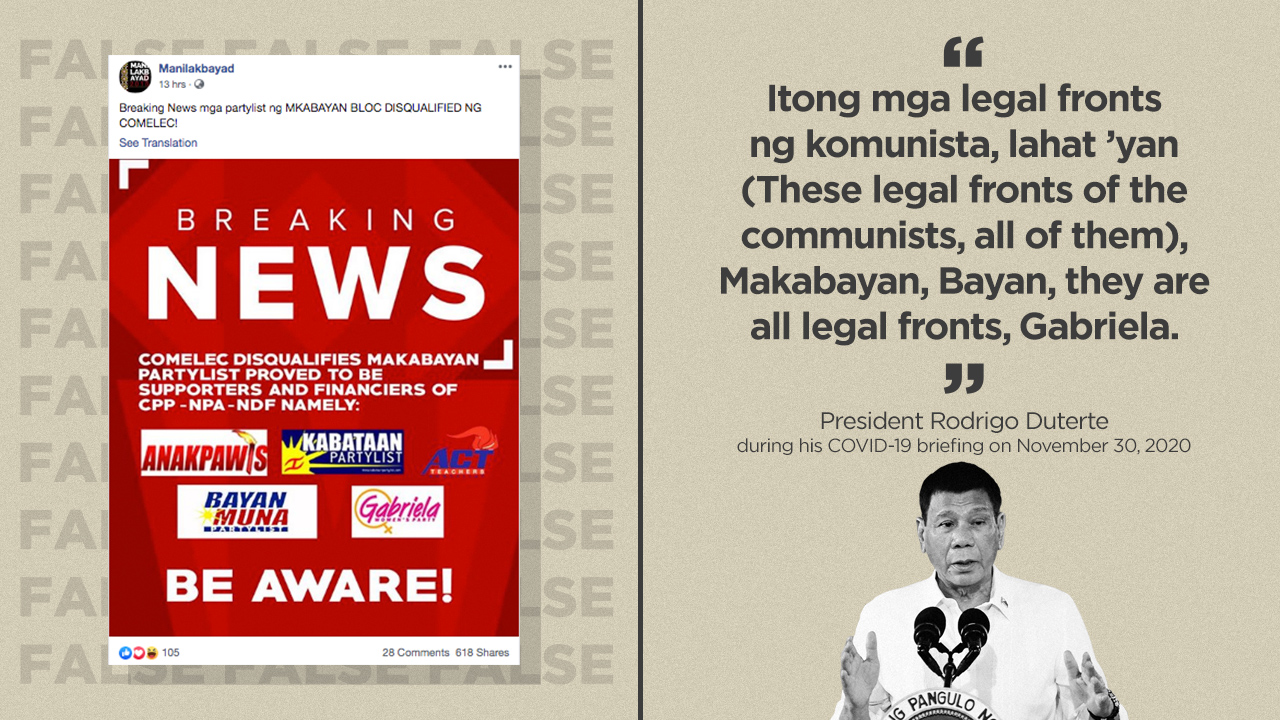 Duterte made claims about a supposed "grand conspiracy" involving progressive groups in Congress, linking them to the Communist Party of the Philippines (CPP), its political wing, the National Democratic Front (NDF), and its armed wing, the New People's Army (NPA).
He even singled out Bayan Muna Representative Carlos Zarate. "[You] are friends with the NPA, you are co-conspirators. Komunista ka, adre, matagal na alam ko (You're a communist, I've known this for a while)," he said.
As early as May 2019, a claim saying progressive party-list groups under the Makabayan bloc were disqualified before election day that year circulated on social media. The false claim named the Bayan Muna, Gabriela, Anakpawis, Kabataan, and Act-Teachers were among those supposedly disqualified and proven to be financiers of the CPP-NPA-NDF.
COVID-19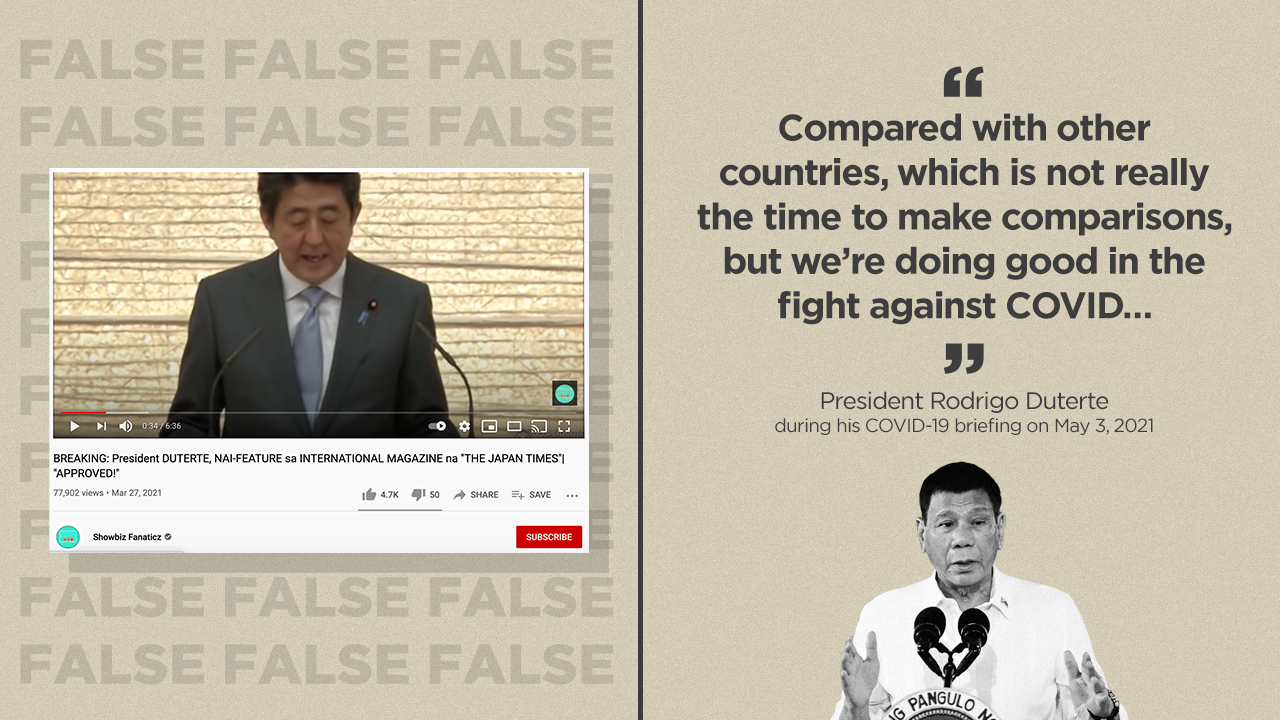 In a bid to defend its pandemic response, the Duterte administration try to push the narrative that the Philippines is faring better than other countries, spinning the data in doing so. Even testing czar Vince Dizon was fact-checked in June 2020 for falsely claiming that the Philippines had one of the lowest COVID-19 cases and fatalities in Asia.
Online, social media users have made fake claims that supposed foreign figures and publications praised or recognized Duterte for his leadership in the COVID-19 response. These quotes were either fabricated or twisted.
The way Duterte's lies mirror those spread on social media and vice versa shows how powerful platforms like Facebook and YouTube are when it comes to getting a message across.
Even with Duterte still in office for another year, rumors about the 2022 electoral race are already spreading on social media. But, so far, there are more questions than answers on how tech companies plan on preventing falsehoods from circulating on their platforms. – Rappler.com