We answer these questions: Who will be allowed to get these additional shots? When will booster and third doses be available? What will the rollout look like?
Following months of debate, the prospect of offering booster doses to select populations in the Philippines is all but certain. Health officials and experts agreed that an additional dose should be made available to health workers and the elderly before the end of 2021.
Health Secretary Francisco Duque III has approved the recommendation of the Health Technology Assessment Council (HTAC), although details are still being finalized. This opens the door for millions of Filipinos to receive a booster dose.
What's left now is to iron out the details on the rollout of booster doses. This includes planning when priority groups will be able to receive the additional shot, securing regulatory approval that would expand the current emergency use authorizations (EUA) of vaccines, and preparing for the administration of doses itself.
This is where the Philippine government's plans stand on boosters and third doses as of October 25, 2021:
(Please check back for updates as we add more information when announced and finalized.)
First, some situational awareness
Once additional doses are offered, the country's vaccine rollout will effectively be operating on two parallel tracks.
The first will consist of rolling out first and second doses – what's known as the primary series of vaccination – to eligible populations that are still unvaccinated. The second will involve giving an additional dose to health workers and senior citizens or those 60 years old and above.
Third doses will also be given to immunocompromised individuals, but this is considered part of their primary series for vaccination since they get little to no protection from the currently authorized two-dose regimen.
Unlike other countries who have started to offer boosters to select groups, the Philippines will be making an additional shot available while a considerably low percent of the population has been fully vaccinated. As of October 24, 2021, just 23% of the country's total population have received both doses of a vaccine while about 27% have received the first of two doses.
To address this, health experts recommended allowing boosters for remaining priority groups – including persons with comorbidites (A3), economic frontliners (A4), and the indigent population (A5) – only when at least 50% of each group has been fully vaccinated and at least 70% of the target population in "hotspot regions" are also covered with two doses.
The HTAC warned that to prematurely rollout of boosters without meeting these conditions would "exacerbate existing inequalities." It added that the targets the group set are attainable and shouldn't cause the delay of the booster program.
Who will be allowed to get a booster?
The HTAC recommended that two groups be made eligible to receive a booster before the end of 2021: health workers and senior citizens vaccinated at least six months ago.
The remaining priority groups A3-A5 may be able to access boosters later in 2022.
Health workers are the first group to be cleared for booster doses because they were the first group to become eligible for COVID-19 vaccines when the Philippines started its immunization campaign in March 2021 or seven months ago.
The elderly population is also among groups that still have the highest risk of hospitalization and death due to COVID-19 and its complications.
I'm part of the general adult population. Can I get a booster?
If you aren't part of priority groups A1 to A5, current evidence shows that there is no need to get an additional shot yet. Two doses of a COVID-19 vaccine are still holding up well where they matter greatly: preventing severe disease, hospitalization, and death.
(READ: Why it's not yet time to get COVID-19 boosters)
What might the booster program look like?
The following preliminary strategies for offering boosters have been proposed: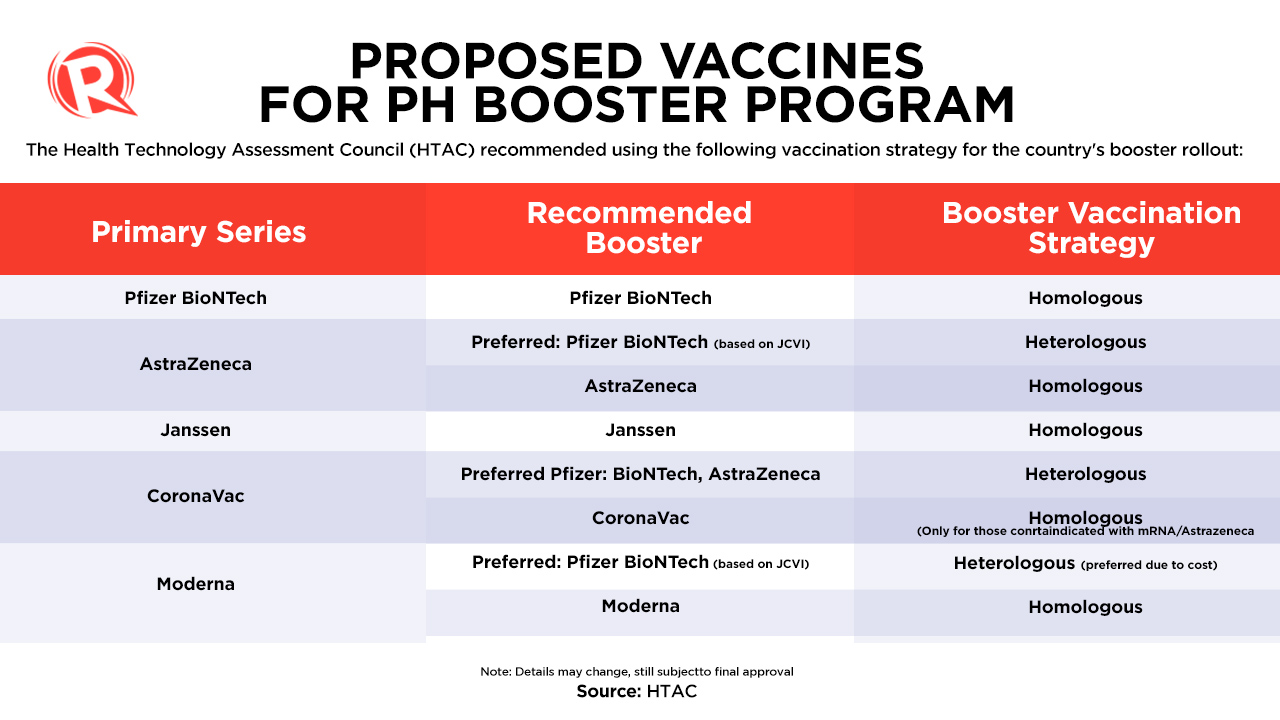 Details on the actual access to boosters will depend on a number of factors like supply and regulatory approvals. The DOH is also waiting for the advice of the World Health Organization's Strategic Advisory Group of Experts on boosters, which is expected to come out by mid-November.
While the HTAC has recommended offering booster dose to these two groups, new details and operational guidelines may emerge once two other expert panels review the need for boosters: the expert panel of the Food and Drug Administration (FDA) and the National Immunization Technical Advisory Group (NITAG).
The FDA expert panel will review available data when applications are filed to amend the current EUAs of vaccines. The NITAG, meanwhile, will be responsible for operational matters, like formulating strategies and guidelines on how to rollout shots.
Expect changes to take place while details have yet to be finalized. In recommending boosters, the HTAC said it had considered the "best available evidence," which they acknowledged was of "low to very low quality" as of the moment. The evidence around the use of boosters likewise continues to evolve.
Aside from these, availability of supply and the development of "next-generation" vaccines that specifically target COVID-19 variants may also affect which shots are eventually offered in the Philippines's booster program.
In making its recommendation, the HTAC said that, aside from the effectiveness of vaccines against COVID-19 variants (particularly Delta), it also considered delivery and logistics, as well the costing for doses and administration of additional shots per individual.
Who will be allowed to get a third dose?
Unlike the debate surrounding booster doses, scientists agree on the necessity of giving third doses to immunocompromised individuals.
In the Philippines, immunocompromised individuals are a subset of the A3 priority group or persons with comorbidities. The DOH is expected to provide a specific list of people who will be eligible to receive a third dose as immunocompromised individuals in the coming weeks.
For now the HTAC has recommended individuals with the following conditions be considered: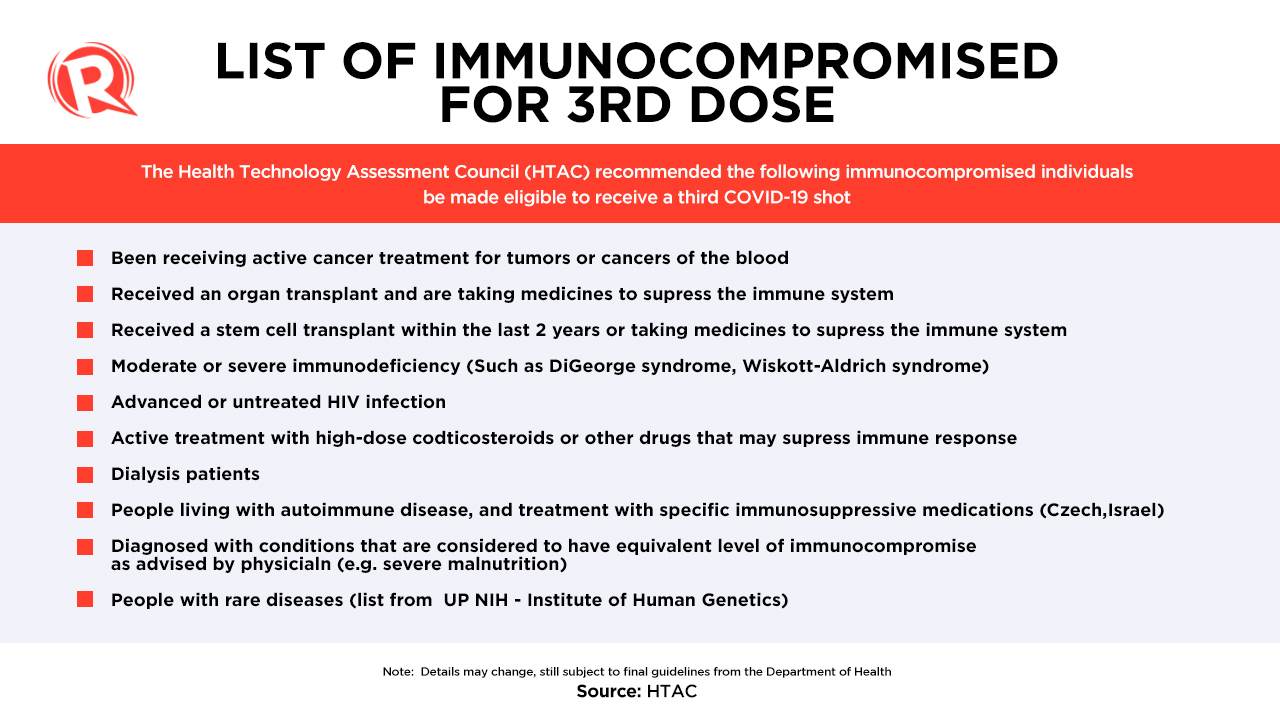 What will the rollout of third doses look like?
The HTAC said that a third dose may be given at least 28 days after an immunocompromised individual has completed the initial two-dose series. It added that the third shot to be used should be the same as the first two shots given.
For individuals in this group who were vaccinated with the one-shot vaccine of Johnson & Johnson (J&J), the HTAC said that there was no available evidence for giving another dose of J&J. Based on available data, HTAC recommended that a dose of Pfizer's shot be given to those in the group who received J&J or Sinovac's CoronaVac.
When will additional shots become available?
The exact timeline for when eligible groups may get a booster before the end of this year is not yet clear.
The FDA has yet to receive any application to amend the current EUAs of vaccines.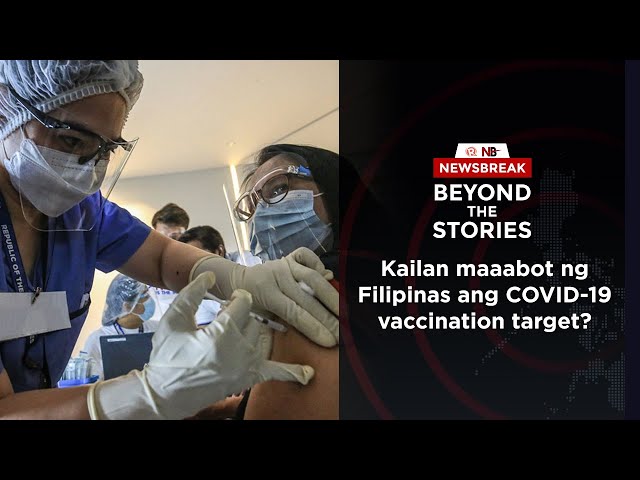 Health Undersecretary Maria Rosario Vergeire said the DOH itself would apply for an amendment to the existing EUAs of vaccines, but declined to give details on the specific shots it would seek changes to. So far, what the DOH has submitted to the FDA is an "intent to apply."
In the meantime, Vergeire said, experts are discussing plans on how to implement the booster program once requirements are ready. – Rappler.com
Read Rappler's series of guides on the Duterte government's vaccine program below:
Read Rappler's series of explainers on the Duterte government's vaccine program below: