'Who are the people you need to chase so that the doses you deploy have the greatest impact possible?' asks a DOH adviser
In the months since coronavirus vaccines have become available in the Philippines, one question has been raised countless of times for health and pandemic officials to answer: When will the Philippines reach herd immunity?
The question – posed by government officials and lawmakers in congressional hearings, press conferences, and late-night presidential speeches – suggests that reaching this target offers a neat end to the health crisis. But what if that's not the case?
For half a year now, when discussing the future course of COVID-19, health and pandemic officials have often cited the estimated 60% to 70% of the population that needs to have immunity from either prior infection or vaccination. But, just recently, experts have raised the estimated herd immunity threshold to 80% to 90%, on account of increased transmissibility of the virus brought about by the Delta variant, among other factors.
It remains a moving target. Whether a range of 80% to 90% will be the threshold needed to achieve herd immunity will be impossible to know with certainty as the virus still evolves and transmission still continues. 
Although having a clear target for vaccination can provide both a sense of hope for the public and accountability for government, experts Rappler spoke to say herd immunity shouldn't be the only goal we strive to achieve to be able to exit the pandemic.
Carving a path out of the present crisis will need a series of responses beyond vaccination, and will need to include long-awaited progress in testing, surveillance, and upgrading of health facilities.
Goalposts
The trouble with treating herd immunity as the only goal the country needs to reach is that it can overlook people most vulnerable to COVID-19. There has been increasing pressure on pandemic officials to meet this goal by the end of 2021, with many groups calling for the immediate expansion of vaccination to cover more Filipinos and the rest of the working population.
Health experts haven't budged on the prioritization of groups to receive the COVID-19 vaccine.
Dr. Anna Ong-Lim, a pediatric infectious disease specialist and member of the Department of Health's Technical Advisory Group, cautioned against focusing on herd immunity as the only goal to reach, saying it can neglect efficiency in favor of speed or scale all to reach a target number – whether that's 70% or 90%.
Speeding up vaccination to achieve targets by the end of the year, but failing to reach high-risk groups like the elderly (A2) and people with comorbidities (A3) across the country will still likely see the Philippines dealing with the same problem of overwhelmed health systems in the future. The two groups are among the most vulnerable to developing severe illness and dying.
Lim said a major target the country should work to achieve alongside reaching herd immunity was ensuring that all people in these two priority groups who are able to get the vaccine are vaccinated.
"We're not just talking about pure numbers here," she told Rappler. "We're after deploying to maximum benefit. Who are the people you need to chase so that the doses you deploy have the greatest impact possible?"
Latest figures from the National Vaccine Operation Center accessed as of Sunday, September 20, showed that out of 8.48 million senior citizens in the A2 category, only about 4.2 million received both doses of a vaccine. Among the 7 million part of the A3 group, 6 million received their second dose.
Dr. Maria Quizon, an epidemiologist and member of the National Immunization Technical Advisory Group (NITAG), asserted "it is really worth the effort to get the highest percentage of vaccination among the subpopulations at [high] risk."
The primary objective of vaccination isn't to achieve herd immunity, but to prevent hospitalizations and deaths due to a disease. Data has shown that all available vaccines in the country continue to do that with effectiveness against severe disease and death holding up.
"The danger of putting in mind that 'It's herd immunity and we have to reach a certain percent' is we tend to say, 'Grab any Tom, Dick, and Harry' that we can add to that percentage, and then you miss on that particular population that really you're supposed to protect," Quizon said in an interview in August.
"Assuming that we do get herd immunity, there may not be many people getting sick, but there would still be many people getting the severe type [of COVID-19], and worse, dying," she added.
Lim said : "So long as your vulnerable populations are protected, then you have very low risk of healthcare capacity being overwhelmed and therefore it's not an issue for an economy to remain second."
Duration of immunity
There are likewise several other factors that complicate the path to herd immunity solely through vaccination.
One question that remains unanswered as of the moment is how well vaccines work against transmission of the virus, which is key to reaching herd immunity.
Aside from this, the duration of immunity from vaccines is not yet known for certain, while doses aren't being rolled out around the world as fast and wide enough as they need to while the virus continues to evolve.
"There is almost a false sense of security if you reach this magical number, magical percentage – and of course we want more people vaccinated – but it has to be shared around the world because you won't be safe if it's just your population," said Maria Van Kerkhove, the COVID-19 technical lead of the World Health Organization (WHO).
Many experts shared this view. While early on in the pandemic scientists were hopeful herd immunity could be achieved, the New York Times reported that experts said the virus is changing too quickly and "vaccinations are happening too slowly for herd immunity to be within reach anytime soon."
Vaccine hesitancy
There's also the issue of vaccine hesitancy, which remains a problem in the Philippines.
Even as the county is crippled by a lack of of adequate doses to cover people who are ready and willing to get vaccinated, thousands of Filipinos still say they are not inclined to get vaccinated against COVID-19, making herd immunity all the more challenging to reach.
Dr. Lulu Bravo, executive director of the Philippine Vaccination for Foundation, argued that in contending with these unknowns, a more concrete goal government should focus on is ensuring "more than 90%" of Filipinos are vaccinated – and then undertaking all efforts needed to achieve this.
Discussions on the timeline to reach herd immunity in the Philippines have often confused vaccination coverage rates with achieving actual herd immunity, which Bravo described as percentage of the population with immunity needed in order to reduce the transmission of the disease.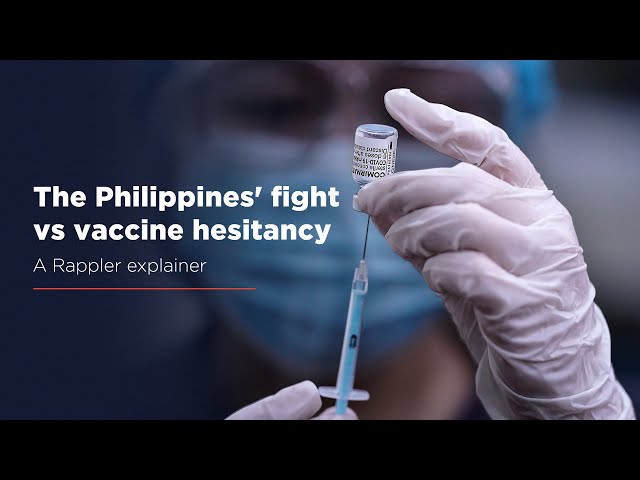 However, Bravo said, "You don't know how much herd immunity you are talking about. With the onslaught of new variants, it will be a moving target. What is more accurate is how many vaccination can you do? That is much more concrete than saying 'We want to achieve herd immunity.'"
"As long as you have a goal of 90% or more vaccination rate, you know you will feel safer," she added.
Along with several medical associations, Bravo is leading a new "solidarity campaign" to reach this goal by 2022 – a number she's optimistic the Philippines could reach.
Dr. Ben Coghlan, senior health specialist at the Asian Development Bank, identified high coverage levels as one of the "best options" for countries to be able to safely open without surges that could cripple its health system.
"Vaccines are important for protecting the people who get the vaccine, protecting others who have yet to be vaccinated, and ensuring health systems can continue to deliver quality healthcare," he said.
'Vaccines and…'
Vaccines are still the most critical tool to end the pandemic, but many experts say they won't be a complete fix for the health crisis.
Mike Ryan, executive director of the WHO Health Emergencies Program, said what the experiences of countries so far have shown lately is that vaccines, coupled with other existing public health measures, make for the best outcomes.
In countries with high levels of vaccination, a "decoupling" has occurred where "transmission [of the virus] isn't automatically leading to pressure on the health system," he said. But in countries with low vaccination rates, this continues to be the case.
"So we see how important vaccination is, but we also see how important other factors are in reducing transmission. It's when you put a strong vaccination program [together] with good personal measures, with support from the government for public health and social measures that are rational, that balance the needs of society's social and economic freedoms against the need to protect again the virus, that you get into that period of good control," Ryan said in a recent forum.
In other words, Kerkhove said, "Vaccines are part of the solution, but they are not the only the solution."
"It is so critical. If we have more voices out there about 'vaccines and –,' not vaccines alone, I think we can make a little bit of progress," she said.
To Lim, it all points back to the same question experts have urged the Duterte government to address and one its successor will inherit: "What would it take for people to be able to balance the demands of life and livelihood?"
Countless solutions to this challenge have been offered by experts from the medical community, academe, and business sector for over a year now. (READ: President Duterte, you can still get COVID-19 under control)
They include suggestions like affordable and subsidized testing, improved ventilation in public spaces, integrated contact tracing systems and health data, and safer mass transport. They also include investments in better disease surveillance systems, funding for health science research and development, as well as financial stimulus for thousands of small and medium business that have been forced to close and millions of Filipinos left jobless by the pandemic.
It also includes finally improving the health system beyond bed capacity and urbanized cities and provinces. It includes ensuring better treatment for our health workers – starting with better pay and benefits they can rely on.
Many of these have yet to be taken up substantially by the government. And the year ahead doesn't look much different, with funding for COVID-19 response taking up just 4% or P240 billion of the proposed P5.04 trillion 2022 budget.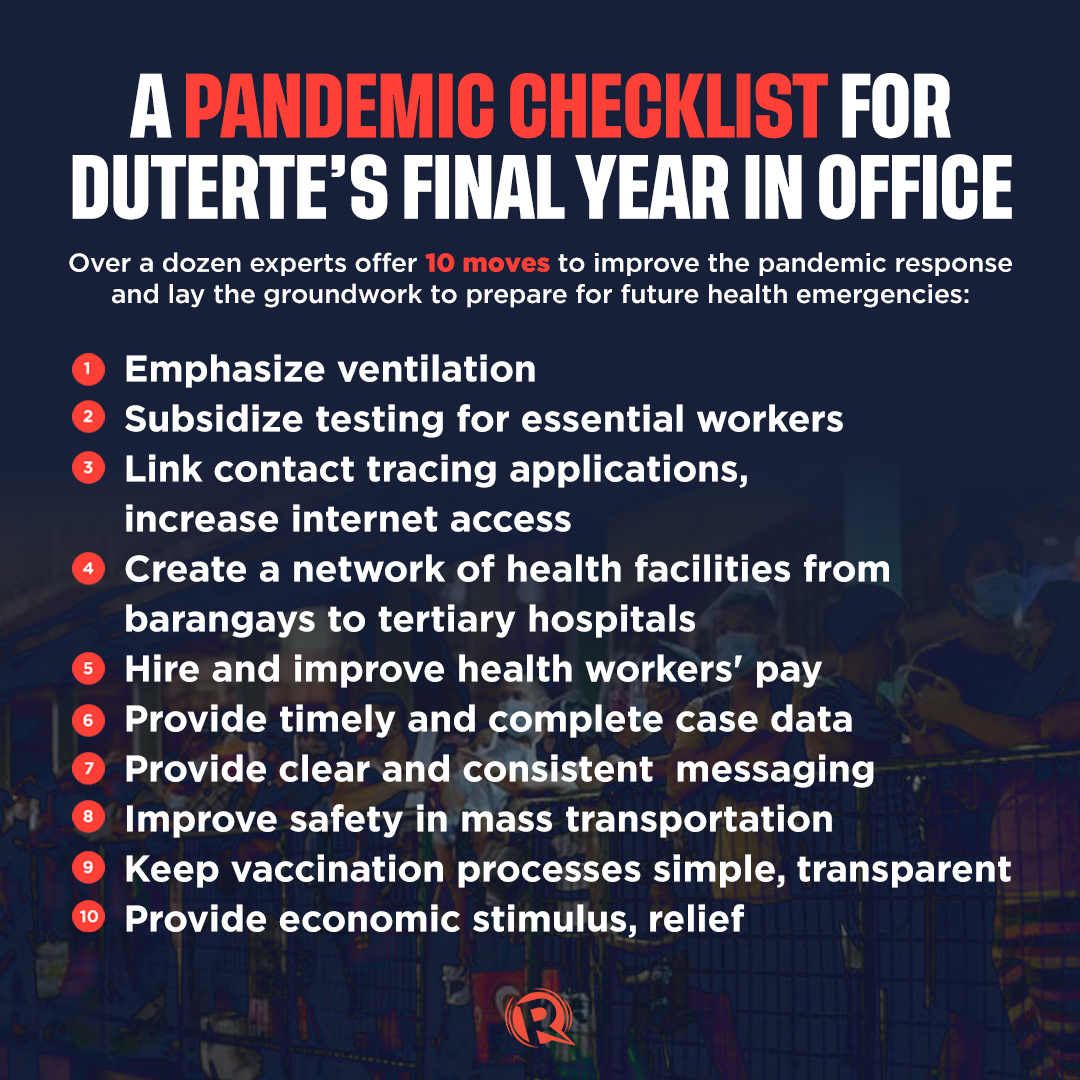 "COVID-19 offers a chance to reform our health systems, including health financing, to more equitably mitigate the direct, indirect, short- and long-term impacts of COVID-19 and future pandemics," said Coghlan.
These and more, aside from herd immunity, are just some of the things that should become part of the "new normal." – with research by Jennifer Rodriguez/Rappler.com