This is AI generated summarization, which may have errors. For context, always refer to the full article.
The boxer once considered hanging up his gloves to focus on his military career, but he is constantly reminded of his talent, which pushes him to strive for more
This story is published in partnership with SoJannelleTV, a magazine show about Filipinos in North America
Eumir Marcial doesn't worry himself with questions about why he didn't leave Tokyo with the gold medal.
Many experts expected the 25-year-old middleweight slugger from Zamboanga City to earn the top honors at the 2020 Games, but he settled for a bronze after losing a close split decision to his Ukrainian opponent in the semifinals. To Marcial, it was all part of a plan greater than his own understanding. And it has only served to make him hungrier to accomplish his goal in Paris.
"God has a reason why I didn't get the gold at this Olympics," Marcial told Filipino-American media pioneer Jannelle So Perkins in an interview for the latter's SoJannelleTV show.
"Personally, I still have a goal. I became even more motivated. This was the life I chose. This is what I wanted for myself, my dream of winning the gold. I'll start as early as now," he said.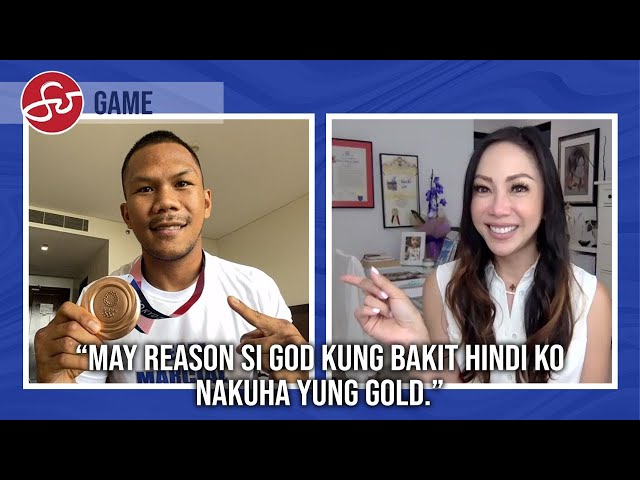 Marcial admitted he hadn't always had the same faith in his future as he does now. He shared that there were many times in the past when he felt discouraged about whether it was worth it to continue to go through the heartache and pain.
"There were many times that happened when I wanted to give up," said Marcial, who added he considered walking away when he missed qualifying for the Rio Olympics in 2016.
Marcial, who was promoted to sergeant in the Philippine Air Force after earning the bronze, had once considered hanging up his gloves and just focusing on his military career. But whenever he thought of that, he said someone would come around and remind him of his immense talent. And he'd fight on. All he had to do was sacrifice a little more.
And sacrifice, Marcial did. It isn't easy to be a boxer. There are people around the fighter to assist them in their preparations, and to offer advice between rounds, but the boxer is all alone in there once the bell rings. While the struggles inside the ring get the most scrutiny, the struggles outside of it can be just as taxing.
For Marcial, training in California, away from his family, was one of the challenges.
"When I was far from my family, there were a lot of celebrations I missed. When you get sick, you're all alone. When you have a problem, you don't have family with you," he said. "As a boxer, what you will go through isn't easy before you achieve what you want to achieve."
The Paris Games aren't until 2024, meaning Marcial has plenty of time to focus on his professional career, which began last December with a hard-fought win over Andrew Whitfield in Los Angeles.
Marcial has already signed with MP Promotions, the promotional company headed by Manny Pacquiao. He is expected to be back at the Wild Card Boxing Club to resume training under Freddie Roach, the Hall of Fame trainer who has guided Pacquiao's boxing career for the last 20 years.
Sean Gibbons, president of MP Promotions, says the plan is to get him back in the ring in October, and hopefully one more time after that before the year ends.
There are some things Marcial would have changed about this past run at the Olympics, however.
"I would improve my stamina, my shape… a shape that's really for the gold," Marcial told So Perkins.
In closing, So Perkins thought of Marcial's determination to finish his unfinished business, and said it would be interesting to look back at this interview in a few years, to see how Marcial spoke his dream into reality.
"Hopefully," said Marcial of winning gold at the Paris Games. "That's my goal and dream, and I will really work and train hard for it." – Jannelle So Productions | Rappler.com
Rappler is partnering with Jannelle So Productions Inc (JSP), founded by Filipino-American pioneer and Los Angeles-based journalist Jannelle So, to publish video and written stories from SoJannelleTV about the journeys, successes, and challenges of Filipinos living in America.
Check out So Jannelle TV daily for stories that make you pause, reflect, and appreciate who we are and what we are as a people.
Fridays, 5 PM on KSCITV-LA18
Saturdays, 7:30 PM PT on ANC
Sundays, 3:55 PM PT / 6:55PM ET on TFC
Or any time on YouTube.com/SoJannelleTV