This is AI generated summarization, which may have errors. For context, always refer to the full article.
'You definitely get better with a game like this rather than a 40-point victory,' says coach Steve Kerr as USA overcomes a surprise challenge from Montenegro
MANILA, Philippines – Despite looking vulnerable for the first time, the all-NBA USA squad didn't mind going through the wringer at the start of second-round action in the FIBA World Cup.
The Americans played catch-up most of the first half against a well-prepared Montenegro side, before pulling away late for an 85-73 triumph on Friday, September 1, at the Mall of Asia Arena.
"You definitely get better with a game like this rather than a 40-point victory," said USA coach Steve Kerr, whose squad posted an average winning margin of 34.3 points in three games in the first round.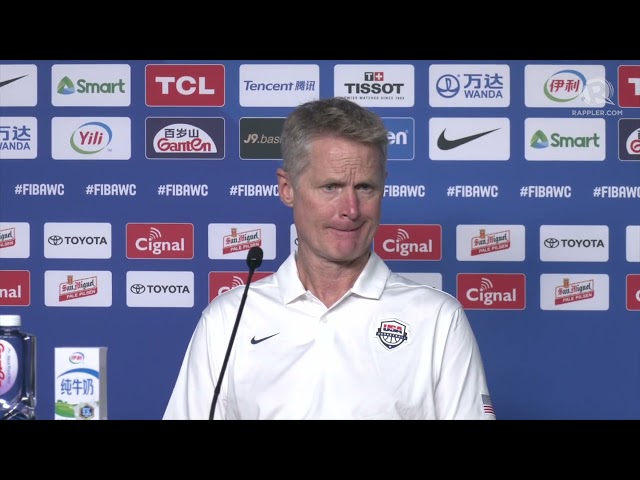 "You have to feel it, you have to go through the experience where it's a tight game and every possession matters, that's where you improve."
"So I love the way our guys finished the game tonight," he added. "That alone makes us better because now we experienced a tight, close game."
Tyrese Haliburton, who helped turn the the game around along with Anthony Edwards, Austin Reaves, and Jaren Jackson Jr., also liked the learnings that came with the scare.
"We didn't start the game the way we wanted to," said the 23-year-old Haliburton. "It wasn't the prettiest game, but that's what FIBA games are. We figured it out, though."
Edwards paced USA with 17 points, taking charge in the final stretch where they finally built a double-digit cushion.
"He's a guy we count on to generate offense. He had a tough first half but hit that first shot of the third quarter," said Kerr of Edwards, the 2020 top draft pick.
"He's one of those guys who stay confident regardless of what's happening for him or the team. So you always know he's gonna keep attacking and stay aggressive. So I thought Anthony did a great job of responding to that tough first half, and he was great in the second half."
After surviving the Montenegrin challenge, Kerr braces for another tough run against unbeaten Lithuania at 8:40 pm on Sunday, September 3, at the Mall of Asia Arena.
But what matters, he said, is his young crew responds to adversity pretty quickly.
"It was not our night offensively. If you look at the tape, I don't think we moved the ball well at all. That's why we got into the trouble that we did," said Kerr.
"But these games are going to happen and you have to be able to fight through them, and I thought our guys did a great job on that." – Rappler.com