'Like basketball is everything for me, basketball is everything back in the Philippines,' says DJ Mitchell
This story is published in partnership with SoJannelleTV, a magazine show about Filipinos in North America
DJ Mitchell had dreamt about playing in the "March Madness" tournament since the day he picked up a basketball. The tournament pits the 64 best American division-one men's college basketball teams against each other, with one team left standing.
It's the tournament that first made household names out of players like Kareem Abdul Jabbar, Bill Walton, and Christian Laettner, propelling them to stardom in their own right.
Mitchell, a Filipino-American shooting guard for the Hartford Hawks, came close to making his dream come true in 2020, when his team got to the championship game of the America East conference. The team had their bags packed, the bus was waiting outside, the team was ready to head north to play against University of Vermont.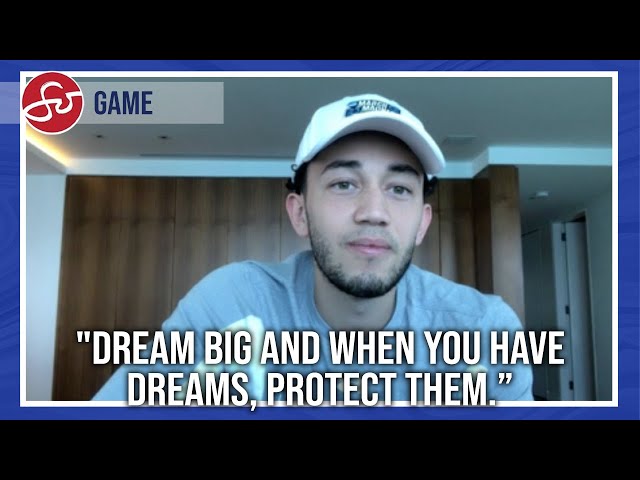 At stake was the first March Madness berth in the school's history. And then world events intervened.
"I just remember Coach [John] Gallagher walking in, our [athletic director] walking in and our coach's wife walking in. I could see it in their face, everything was just getting shut down," remembers Mitchell of the moment the tournament was being canceled due to the COVID-19 pandemic.
Hartford would have to wait an entire year to get to that stage again. When they got their chance, they were ready. After Hartford settled their unfinished business, defeating Vermont in the America East semis, they wiped out UMass Lowell, 64-50, on March 13 to earn their spot in the men's championship tournament.
It was the moment that Mitchell had waited for, and he was ready. The six-foot shooter was having the breakout season of his career, shooting at 41 percent from downtown, and had been among the top 20 long range shooters for most of the season.
He came in to Indianapolis, Indiana pumped up for the tournament, ready to slay the giant, Baylor University, in the opening round on March 19.
It was a dream come true. A dream that unfortunately lasted less than 20 seconds.
"Sixteen seconds after the tipoff, I take the first shot of the game, the first shot of Hartford basketball, I come down, I roll my ankle and I'm out for the rest of the game," Mitchell, who hails from Englewood, NJ, recalled in an interview for So Jannelle TV's "So Game" segment.
"I didn't know what to think. I tried to get up and walk, and I couldn't even shoot the free throws."
From that point on, Mitchell could only watch and root for his teammates. The game remained close in the first half, but Baylor eventually pulled away, 79-55, en route to its eventual championship win.
Mitchell could only wonder what would have happened in their deep threat had remained in the game.
"All the shots that my team was getting were wide open threes, and of course, the shooter is not there to play," said Mitchell.
Mitchell returned home to convalesce with a protective boot on his left ankle. For two weeks he couldn't walk, but was able to recover with extensive physical therapy. Now he's back on the court, getting ready for the summer basketball sessions to begin.
This is far from the first time he has encountered difficulty in his career. Two years earlier, he fractured his wrist and wondered if he'd ever make it to a college basketball team. A year ago, he had knee surgery and came back to play his best season.
"God has a plan. I've been here before," said Mitchell.
Though this was Mitchell's third season at Hartford, he still has two more seasons of eligibility to play. He intends to play again at Hartford next season, though that is contingent on whether a proposed plan to drop the school from NCAA's Division I to Division III moves forward.
Mitchell has been vocal in opposition to the proposal, and has even taken it as far as to write a letter to the school president, Gregory Woodward, asking him to consider the hard work that the student-athletes have put in, on the court and off of it.
"To get your communication that Hartford leadership is considering turning our program into Division 3 – just at the very time that the program is succeeding like it has never done before for 4 years in a row – is beyond disheartening and just so difficult to understand," reads the letter in part.
Mitchell's hoops dream isn't limited to the collegiate level. His ultimate goal is to play in the National Basketball Association, but he's seen how hoops crazy the homeland of his mother's parents is. He's familiar with the Philippine Basketball Association, and has given some thought to pursuing a playing career there.
"Like basketball is everything for me, basketball is everything back in the Philippines," said Mitchell.
Just don't expect him to try playing in tsinelas any time soon.
"I don't think so. Especially after this ankle injury, I have to protect my feet," said Mitchell. – Rappler.com
Check out So Jannelle TV daily for stories that make you pause, reflect, and appreciate who we are and what we are as a people.
Fridays, 5 PM on KSCITV-LA18
Saturdays, 7:30 PM PT on ANC
Sundays, 4:30 PM PT / 7:30 PM ET
on TFC or the IWantTFC App
or any time on YouTube.com/SoJannelleTV