KarlTzy says he learned to be a team player as he leads Echo to the Mobile Legends M4 World Championship, becoming the first player to win multiple world titles
MANILA, Philippines – Karl "KarlTzy" Nepomuceno needed to reinvent himself as he further cemented his status as one of Mobile Legends' all-time greats.
Known for his individual flashy plays, the Echo star took the back seat and allowed his teammates to shine in the Orcas' conquest of the M4 World Championship, becoming the first player to win multiple world titles.
But his evolution went beyond merely adjusting to the meta.
"The biggest lesson for me is being a team player. There is no I in team, only we," KarlTzy said in Filipino after Echo dethroned Blacklist International via a stunning 4-0 sweep in the all-Filipino grand finals.
His performance in M4 proved to be in stark contrast with the way KarlTzy steered his former team Bren Esports to the M2 crown two years prior.
In M2, KarlTzy produced highlight after highlight with his signature assassin and marksman heroes as he topped the tournament with 148 kills, even recording 16 kills in a single game.
The 18-year-old also took home the Finals MVP honors despite being the youngest among all Bren Esports players.
In M4, though, KarlTzy prioritized objectives than kills as he thrived as a utility jungler, mostly picking tank heroes to support damage dealers Benedict "Bennyqt" Gonzales, Alston "Sanji" Pabico, and Sanford "Sanford" Vinuya.
A far cry from his M2 tally, KarlTzy finished with only 52 kills over 25 games in M4 and earned Game MVP honors just once.
"Whoever wins MVP does not matter to Karl," said Echo country manager Mitch Liwanag in Filipino. "He is very matured. He is very generous, and at the same time, he is very understanding now."
"He is very matured in a way that he listens to his teammates and us elders."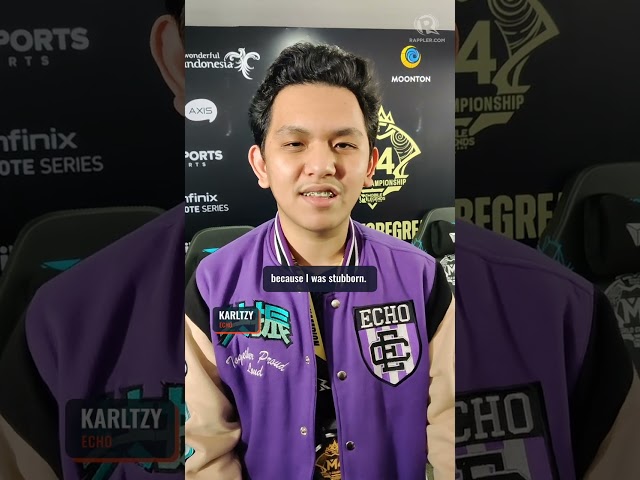 Change of scenery
KarlTzy left Bren Esports over a year ago after the same core that captured the M2 championship failed to reach the Season 8 playoffs of the Mobile Legends Professional League Philippines.
He eventually jumped ship to Echo, but his first stint with the Orcas ended in disappointment as they suffered a first-round exit in the Season 9 playoffs.
That was when KarlTzy realized that it was time for him to adapt.
"When I joined Echo, the meta already shifted to the tank meta. I did not adjust in Season 9 because I was stubborn. Then management, particularly miss Mitch, talked to me and she said it is okay to adjust," KarlTzy said.
Liwanag said she made it clear to KarlTzy that it was necessary for him to unlearn his bad habits as soon as he signed with Echo.
"I knew that the kid is kind, maybe he just needed proper guidance. I saw it myself. During the first to second week, there were little adjustments. But on his own, he was giving the spotlight to his teammates," Liwanag said.
Fast forward to Season 10, although Echo failed to go all the way after bowing to Blacklist International in the grand finals, it still managed to qualify for M4, securing KarlTzy his second world championship appearance.
While he no longer put up crazy numbers, KarlTzy still excelled in his newfound role.
Echo finished M4 as the No. 1 team in objectives and secured the most turtles (48) and lords (37) largely thanks to KarlTzy, more often than not, winning the retribution battle.
"I witnessed how he sacrificed. I witnessed how he matured. He gives what his teammates are due," said Liwanag.
Liwanag added what matters to KarlTzy the most is team success.
"What he wants to be our goal is to win." – Rappler.com