A massive underdog, the Manila Chooks 3x3 team falls to taller opponents even as Mac Tallo puts on a one-man show in Montreal
Manila Chooks 3×3 failed to overcome its steep uphill climb in the 2021 Montreal World Tour Masters as it suffered a two-game sweep in the pool phase to bow out of contention on Saturday, September 4 (Sunday, September 5, Manila time).
Entering the Level 10 tournament as a massive underdog, the team actually gave home team Edmonton a good fight before falling in a 16-21 loss to end its campaign.
Mac Tallo carried the entire Manila offense as he erupted for 11 of the team's 16 points off a 3-of-8 clip from long two range.
However, his one-man show was just not enough to usurp world no. 10 Edmonton's balanced attack, as Adika Peter-McNeilly, Ross Bekkering, and Steve Sir fired off 7, 6, and 5 points, respectively.
Tallo scored Manila's last four points to force a 16-all tie, but that was as far as they would go before Edmonton ran away with a 5-0 blitz, ending with an Alex Johnson dagger from downtown.
Dennis Santos and veteran addition Mark Yee each scored 2 points in the heartbreaking loss, while Zach Huang added a point and 2 rebounds.
That last-gasp effort against Edmonton came off a more decisive loss earlier in the day, as Belgium's Antwerp squad routed the Filipino ballers, 21-11.
Tallo also led the team in scoring in that opening contest with 5 points off two deuces, while Yee and Huang chipped in 3 markers apiece.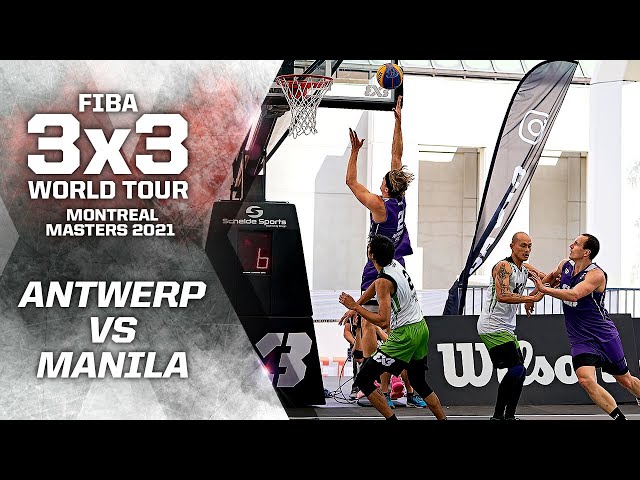 Huang scored the first basket of the game before the Olympians of Antwerp, ranked 8th in the world, responded with a game-sealing 8-0 run for the huge 8-1 lead, and never looked back.
Tallo dropped his two deuces consecutively to cut the lead to 6 midway through, 10-16, but the Belgians sealed the deal with a 5-1 finishing kick for the double-digit lead and finish.
Nick Celis and Thierry Marien proved too lethal of a duo for the Pinoy underdogs, as they outscored Manila with 9 and 8 points, respectively.
Manila finished 10th in the 12-team field, tied with USA's Omaha, while home team Old Montreal bottomed out at 12th.
The final eight teams battle in the men's playoff round on Sunday, while Spain ruled the women's side after downing Austria in the final, 18-15, on Saturday. – Rappler.com