Every single Monday of 2020, our Rappler Editorial came with a corresponding illustrated GIF. Here are the most compelling animated opinions created this year.
Oh, 2020. Despite the world going into hiding for months on end, a lot of things still happened – and Rappler found it crucial to take a stand on many of them.
But our commentary isn't just limited to the written word. Every single Monday of this year, our Rappler Editorial came with a corresponding illustrated GIF, care of our imaginative and sharp-witted artist Nico Villarete.
Below are the most compelling animated opinions created this year: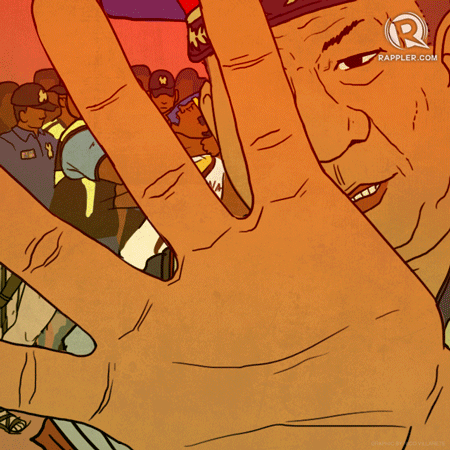 This year started the way it's ending: with an outcry against police brutality and impunity. (READ: Cop in Tarlac shooting charged with 2 counts of murder)
Eleven months ago, on the day of the Traslacion, the police Brigadier General Nolasco Bathan snatched the cellphone of GMA reporter Jun Veneracion as he was recording a tussle between cops and a devotee of the Black Nazarene.
The above GIF shows Bathan literally obstructing our view of the misdeed – but we'll always see our police as cruel centurions until systemic changes finally happen.
"[A]ng mortal na kasalanan ni Bathan ay hindi incompetence o pagsisinungaling – ito ang pagtataksil sa sinumpaang tungkulin at pagyurak sa pangalan ng kapulisan."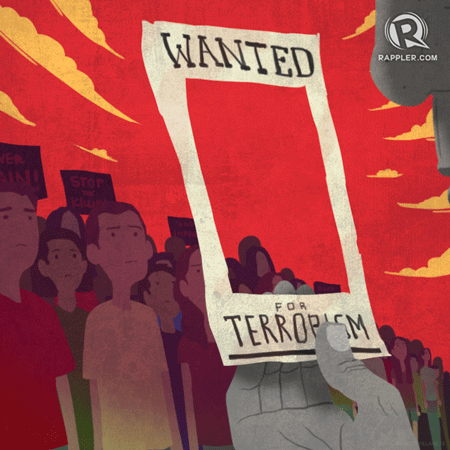 The above GIF was a sign of horrors to come. As early as February, people were already speaking out against the then-anti-terror bill and its ability to tag pretty much anyone as an enemy of the government.
Now a law, this image is exactly what's happening today. Virtually anyone remotely critical of the government can be (and has been) placed under the terrorist template – parameters as flimsy as a piece of paper.
"[The Anti-Terror Law] could be used against anyone who pisses off the powers that be. It could be used against Carlo Katigbak and Maria Ressa. It could be used against smart-mouthed students, outspoken priests, and activist-farmers. It could be used against you."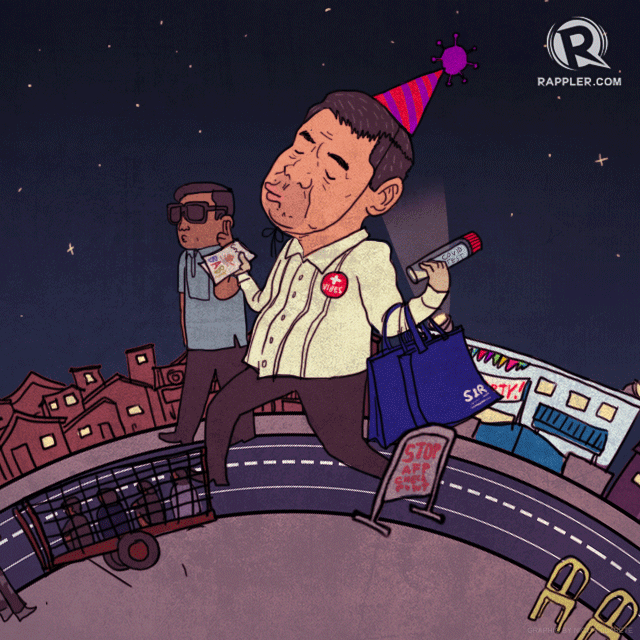 At the height of the lockdown, Senator Koko Pimentel became the poster boy for pasaway, breaking quarantine in a hospital, of all places, when the facility could barely hold itself together from all the COVID cases streaming in.
The conclusion? A call for "compassion," and as seen in this GIF, Koko whistling a merry, virus-laden tune as he struts off to the safety of his senator-dom – while the common Filipino is gravely punished for the lightest slip-ups.
"Nakapanliliit sa harap ng sakripisyo ng mga doktor, nurse, medical personnel, at maging janitor at guwardyang nagtataya ng buhay at kalusugan sa mga ospital na umaapaw na sa kapasidad…. Silang puyat, pagod, at gutom sa ngalan ng serbisyo publiko. Silang nahawahan at namatay."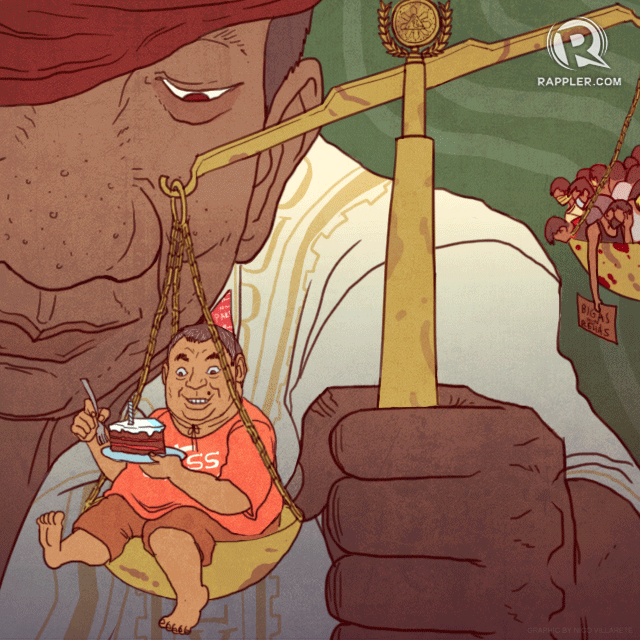 When have the scales ever been tipped in favor of the common Filipino?
In another maddening instance of pasaway people in power, General Debold Sinas and his notorious mañanita proves again that as long as the President's got your back, you can practically do anything you want.
As can be seen in the above GIF, Sinas has his proverbial cake and eats it, too, while the rest of the country dangles in despair.
"Nananawagan kami sa mga Pilipino na huwag ito palampasin. Pagsumikapan nating ibalik ang propesyonalismo, prinsipyo, at dangal sa kapulisan dahil nariyan pa rin sila sino mang presidente ang nakaupo – taglay ang pamana ng madugong giyera laban sa droga."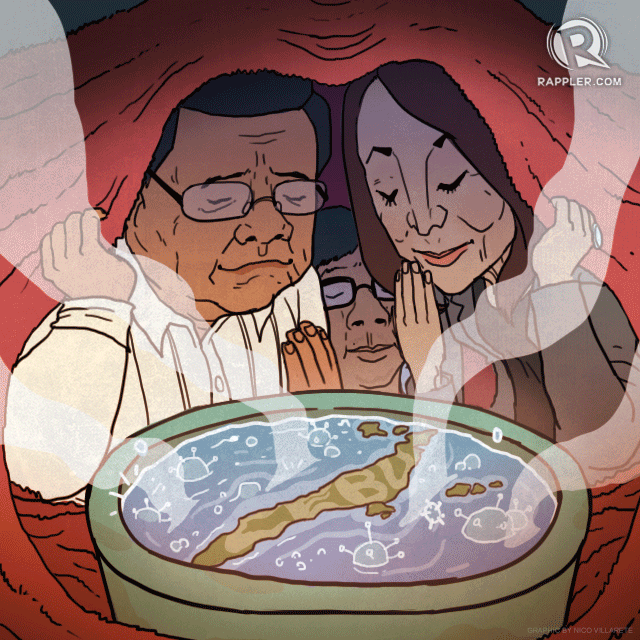 Six months into 2020, and it was clear that local governments had their share of faults in the worsening COVID crisis. Case in point: Cebu, where Governor Gwen Garcia recommended tuob, or steam inhalation, as treatment for the coronavirus despite this being blatantly false.
In the above GIF, Cebu's head honchos not only luxuriate in the thick fog of their stubbornness, but it's poor Cebu itself being boiled for their own peace of mind.
"Hindi kailangan ng Cebu ng mga lokal na opisyal na magmamasahe ng datos, magrerekomenda ng fake cure, at magkukubli ng katotohanan, upang hindi magmukhang malala ang sitwasyon."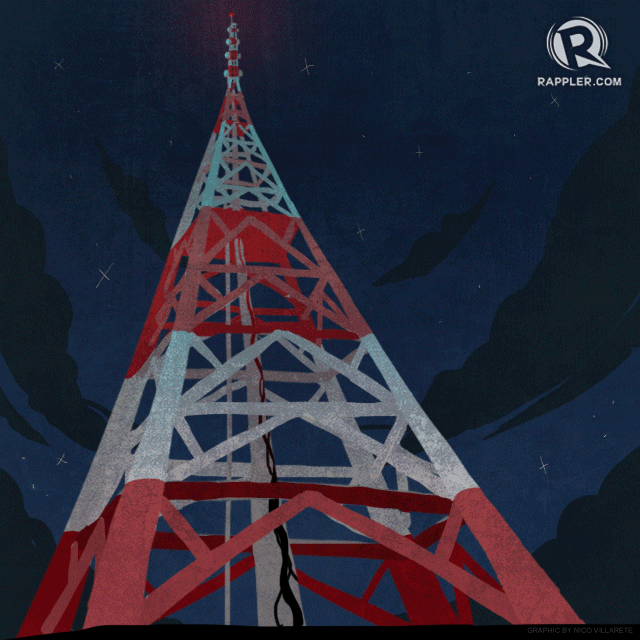 The coronavirus wasn't the only pest ruining things in 2020; sneaky rats were also busy taking down the largest media outfit in the country. It happened slowly, surely, and stealthily – a gradual nibbling away at ABS-CBN until there was officially nothing left.
In the GIF above, we see that it doesn't matter how high the tower is; with the right army of scoundrels, even the greatest of structures can fall into darkness.
"Kamatayan ng demokrasya ang pagkandado sa pinakamalaking media outlet sa free TV sa Pilipinas. Kamatayan ng demokrasya ang mabusalan ang tagapaghatid ng balita sa pinakamalayong sulok ng bansa. Patay na ang demokrasya kapag isang tinig lang ang maririnig sa himpapawid – kapag tinig lamang ng mga spokesman, government station, at mga 'masunuring' istasyon ang magmomonopolya ng ere."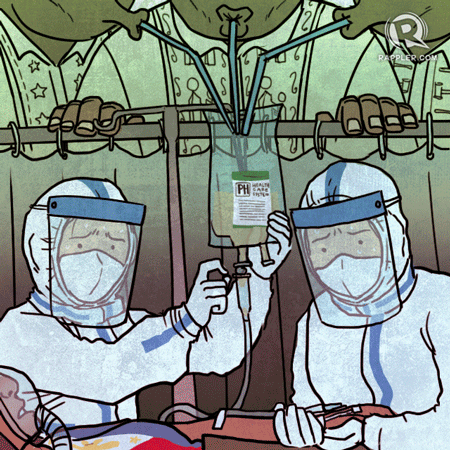 Inang Bayan is in critical condition, and the limited funds she has to help her heal is being sucked dry by greedy lips. It's a heartbreaking GIF, and one that best captures the tragedy of the country's coronavirus response.
When it's your government's very own health insurance provider mired in a corruption scandal, how can you even recover? It seems that whatever dignity certain powerful people have has long been dead on arrival.
"If PhilHealth truly needed to modernize and is run by so-called innovators, as its top-of-the-line IT shopping list shows, this cash cow of an agency should then have been modern enough to early on plug holes in its flawed insurance claims, tweak processes to favor those who needed help the most, and run in panic mode to inject aid to hospitals bursting with patients, old rules be damned."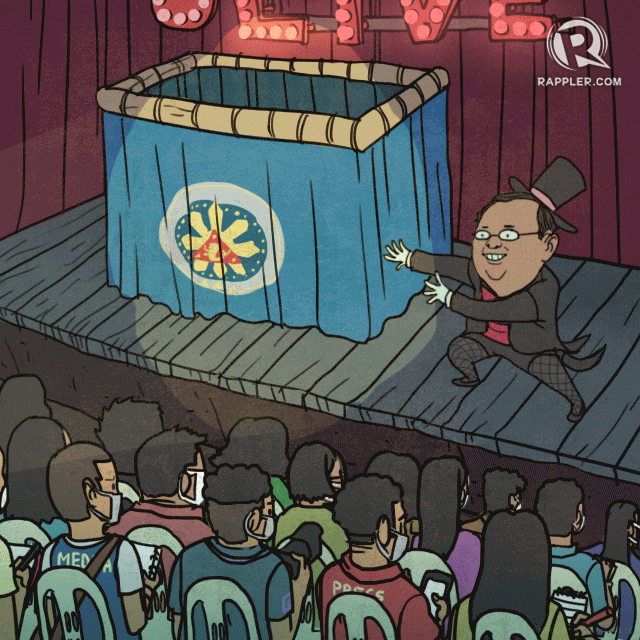 The government is all an illusion, according to this GIF, and the audience is unamused – no matter how often Harry Roque gives us the ol' razzle dazzle.
The President's state of health has been an issue from the beginning, but it has been put in the spotlight during this health crisis, not just because the President is highly susceptible to the disease, but also because governance seems to have all but disappeared – a trick with no explanation in sight.
"Bakit wala nang direktang interaksyon ang mga mamamahayag sa Pangulo? Hindi si Harry Roque ang inihalal na presidente ng bayan at habang si Go naman ay inihalal na senador, hindi naman siya ibinotong dakilang alalay. Hindi sila ang kailangan nating masilayan."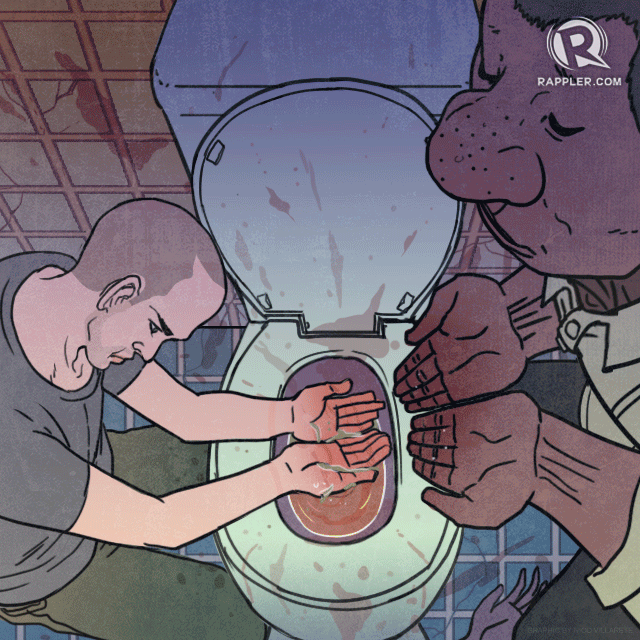 A different kind of hand-washing occurred in September, and it was far from sanitary. In the GIF above, President Duterte washes convicted killer Joseph Pemberton of his sins, using water from the toilet where his victim, Jennifer Laude, was found. It's a disgusting scene in more ways than one.
As with Sinas, we again see Duterte's penchant for absolving unrepentant wrongdoers. And again, any sense of justice Filipinos have goes swirling down the drain.
"Sa pardon ni Pemberton kitang-kita ang bias ni Duterte para sa sundalo – Pinoy man o Kano – laban sa isang transgender. Sa macho politics ba niya, 'sing walang kuwenta lang ng adik ang transgender? Tila tulad din ito ng pagbibigay permiso niya sa mga sundalong mang-rape ng tatlong babae at siya raw ang aamin."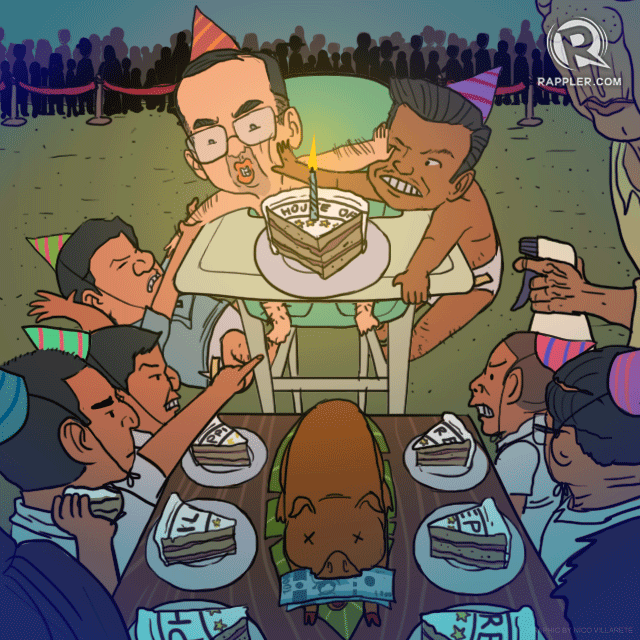 Allan and Alan – the House of Representatives' two biggest babies – fight in this GIF over who gets to blow the birthday candle, while President Duterte, in a futile gesture, tries to spray them into submission. The image could have been hilarious if it wasn't so close to the truth: that our government is rife with the most juvenile in-fighting.
Note the masses meters away in the background, watching the chaos from behind a velvet rope. While Filipinos are sorely in need of mature leaders, we're afraid they'll have to make do with this nursery nightmare.
"Habang naaaliw, napapabalikwas at napapa-ismid tayo ng mga sarsuwela sa Kamara, huwag natin kalilimutang kaluluwa ng bayan ang nilapastangan, at dangal natin ang niyuyurakan. At nagbabadya ito ng mas matinding power play sa 2022."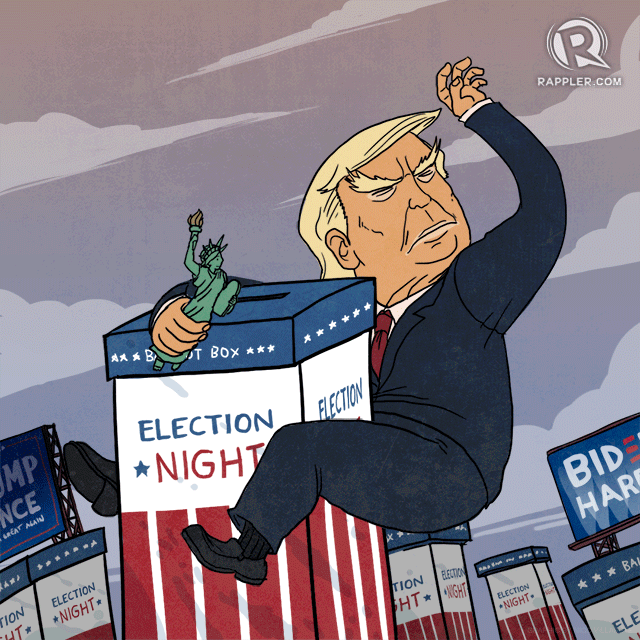 Filipinos do have a lot to learn from November's Biden-Trump battle, the most important of which is that the simple act of voting can take down even the grumpiest of gorillas.
This GIF mimics King Kong's classic climax, and as menacing as Trump may seem here, let's not forget that in the movie, the beast eventually plummets to its death.
Will Filipinos see their own happy ending in 2022?
"At sa ating lahat, may isa pang aral: mahalin natin ang demokrasya. Hindi ito one-time, big-time win – ito'y high-maintenance, at madaling isabotahe. Winaldas natin ang demokrasyang handog ng People Power at ang paglimot na iyon ang nagbigay daan sa pagsikat ng isang Duterte. Sabi nga ni Kamala Harris, ang demokrasya ay magiging sintibay lamang ng kagustuhan nating ipaglaban ito – 'only as strong as our willingness to fight for it.'"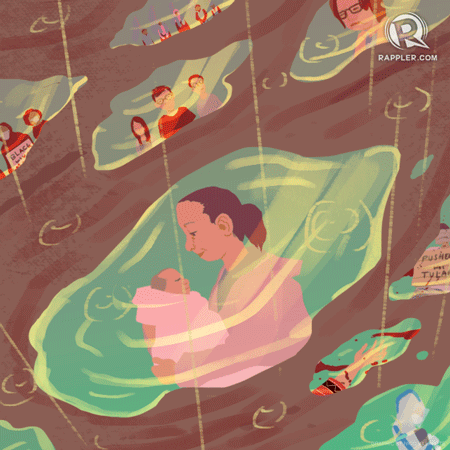 Finally, just as predicted in our chosen February GIF, the Anti-Terror Law has gone into full, and terrifying, effect. One of its latest victims: community organizer Amanda Echanis – daughter of recently slain activist Randall Echanis – who was arrested with her newborn son.
As seen in the above GIF, innocent people like Amanda and her baby are being trampled on by an uncaring military. Where will these big black boots track mud next? We can only guess, but we should be at the ready.
"Nanawagan ang Rappler sa laksa-laksang abogado para alalayan ang umusbong na kilusang kabataan. Sa mga huwes na bulag, pipi, at bingi sa weaponization ng batas, panahon nang tirisin niyo isa-isa ang mga anay na ngumangatngat sa haligi ng hustisya."
– Rappler.com