The first-of-its-kind case study analyzed hundreds of thousands of Twitter and Facebook posts directed at Rappler CEO Maria Ressa from 2016 to 2021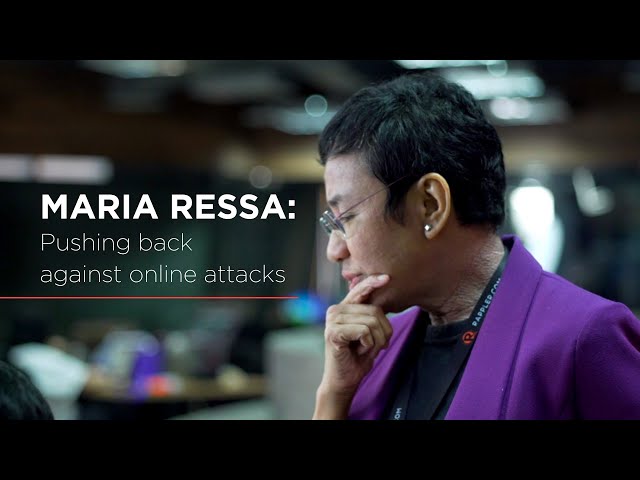 The International Center for Journalists on Monday, March 8, released pivotal research on online violence against journalists, focusing on the case of Rappler CEO Maria Ressa.
The first-of-its-kind case study – done through the collaboration of ICFJ, the University of Sheffield, and Rappler – utilized deep-dive interviews and analyzed hundreds of thousands of Twitter and Facebook posts directed at Ressa from 2016, when President Rodrigo Duterte took power, to 2021.
"We wanted to be able to provide evidence to underscore her lived experience of brutal online trolling, incited by the state, that fuels her persecution and prosecution," co-author Julie Posetti, Global Director of Research at ICFJ, told Rappler.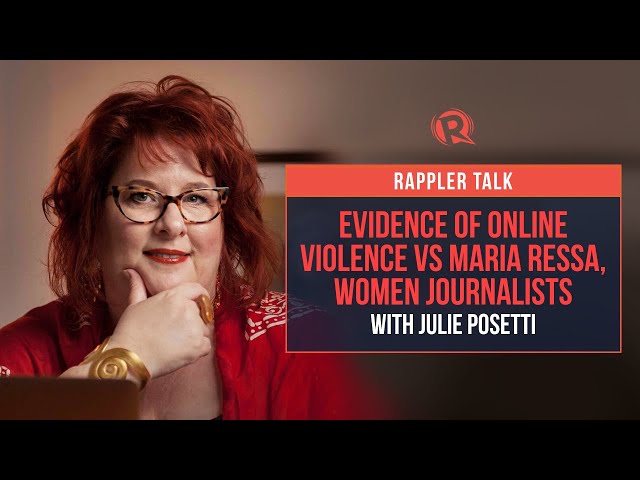 "The data shows us how authoritarian politics, networked misogyny, platform capture, and viral disinformation work together to try to silence journalists and manufacture consensus," she said.
Findings showed that almost 60% of the attacks extracted from Facebook and Twitter were designed to undermine Ressa's professional credibility and public trust in her journalism – mostly done by associating Ressa and her work with "lies" and "fake news."
Over 40% of the attacks collected from both platforms targeted Ressa "at the personal level – often viscerally." These included misogynistic and sexist attacks, which Posetti said were "fueled by the toxic machismo modeled by the President himself."
The study found that the typical methods of attacks used were:
fake and bot accounts
hashtags designed to encourage swarms of attackers
memes and manipulated images meant to increase engagement and avoid automated abuse detection tools
doxxing or the publishing of private or personal information to encourage offline attacks
Data also showed there were noticeable spikes in the attacks against Ressa whenever:
State-led attacks, disinformation
The report found that many of the abuse and threats were fueled by Duterte's public statements demonizing Ressa and Rappler as criminals, which were then amplified in a coordinated manner by pro-administration bloggers and trolls.
"When we sat back and looked at all the data…and mapped them across a timeline of Ressa's investigative journalism and statements from Duterte and his 'troll army,' the patterns of persecution that led to Ressa's legal harassment were so stark. She is brutally attacked online for practicing public interest journalism designed to hold an increasingly dictatorial regime to account," Posetti said.
The study also found "direct evidence that the online violence targeting Ressa has offline consequences."
A 2020 ICFJ- UNESCO survey of nearly 1,000 journalists worldwide found that 20% of women respondents had experienced offline attacks that they believed had originated online.
"It has created the enabling environment for her persecution, prosecution, and conviction. It also subjects her to very real physical danger," the report said, citing the climate of impunity in the Philippines.
In less than two years, 10 arrest warrants were issued against Ressa. She was also detained twice in a span of 6 weeks.
Role of platforms
Results of the study showed that Facebook is the major vector for the online disinformation and attacks against Ressa.
A critic of Facebook's policies and practices, Ressa said she feels "much safer" on Twitter than on Facebook.
"I feel like Twitter is prioritizing human rights activists and journalists under attack – and I've spoken to others who feel the same way. Their reporting tool aggregates similar tweets, takes less time, and is far more effective in takedowns," Ressa said, as quoted in the report.
The report recommended that social media companies "should create specialist teams to respond swiftly to attacks on women journalists" and that "such teams should provide accessible, human contact points in every language in which the company functions."
On top of this, the report said companies should provide "privacy-preserving, equitable access" to data to allow for independent analysis, which could contribute to solutions.
Posetti said while it is imperative that the international community act and condemn these attacks, it is also crucial for tech companies to fix the problems.
"It is also essential that the social media companies that facilitate and enable online violence against journalists on an industrial scale be held to account and that they prioritize responses that focus on fixing the failures at the core of their platforms' design – and their business models – to protect journalists like Maria Ressa and others who are targeted for speaking truth." – Rappler.com