During her book launch at the University of the Cordilleras, Ressa says these times present an opportunity for the youth to stand for the truth and that they 'have as much power as a veteran'
MANILA, Philippines – "The worst of times is the best of times."
Nobel laureate and Rappler CEO Maria Ressa echoed this famous quote on Monday, March 6, at the University of the Cordilleras (UC) in Baguio City during the third Philippine launch of her latest book, How To Stand Up to a Dictator.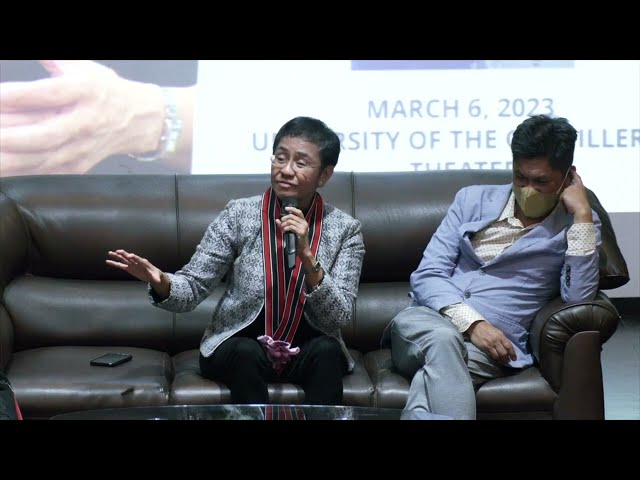 The quote was prompted by a question from the audience asking what the youth's role is in this hostile time against the media and the business of truth-telling.
Ressa said these times present an opportunity for the youth to stand for the truth, assuring them they "have as much power as a veteran."
"The youth have as much to contribute as those who are old and scarred," said Ressa. "Sometimes we fight the battles of the past and we need the energy of the youth to anchor us and to build better forward."
While Ressa looked positively at young people's ability to change the future, she admitted her generation hadn't done very well in building a better world. She conceded that this next generation has to bear the brunt.
Not only was she referring to the worldwide battle against disinformation, but Ressa was also pointing to the horrific effects of climate change for the generations to come.
"My generation…we kind of lost it," Ressa said. "We are where we are today for a whole lot of different reasons, but not enough of us stood up. You are inheriting a world where climate change is set to extinguish us."
Even with this admission of failure, 10-year-old Emma Orendain gave Ressa and other journalists a thank you message.
Orendain said she saw Ressa in the fictional character Harry Potter, the titular protagonist of the popular fantasy series.
"Like you, Harry was singled out and seen as a real threat," Orendain read from her notes while onstage. "Like you, some tried to silence him, and, like you, he didn't give up. Like you, Harry Potter had within himself, a strong power that made Voldemort afraid and want to destroy him."
But, she added, he still kept fighting for the truth.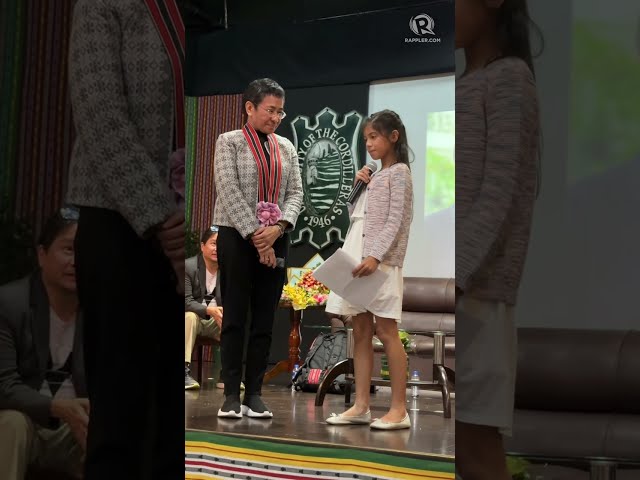 "What you do matters, especially to the young like me," Orendain told Ressa. "Because it teaches us that the truth really does help us make a better and friendlier world."
National artist Kidlat Tahimik, Luchie Marahan of Baguio Chronicle, UC's Ray Dean Salvosa, journalist Albert Gamboa, and writer and comic Gabe Mercado all attended the Baguio book launch.
Ressa first launched her latest book, How to Stand Up to a Dictator, in the Philippines last December 10, 2022. – Rappler.com