PRESS RELEASE: Having seen the situation in Bicol, One Million Lights PH, alongside For the Future and Kids for Kids PH, brought light to 2,000 off-grid families through youth-led crowdfunding
More than 1.6 million Filipino households still do not have access to electricity, according to the Department of Energy's October 2020 report.
This situation has forced forced many families to rely on kerosene lamps that are hazardous, harmful, and costly, among other alternatives.
For many regions, this reality is aggravated by the Philippines' yearly spate of typhoons. This was especially seen in Bicol in 2020, when the disaster downed power lines and affected cell sites. Months have passed since Typhoon Rolly and Typhoon Ulysses struck the region, but Bicol residents continue to feel their effects today. Many also do not have the resources to rebuild their homes and livelihood.
For communities without light, livelihood usually ends by sundown. For the abaca weavers of Bicol, it means either stopping earlier in the day or working with a dim light. For the fisherfolk, it means taking a kerosene lamp out to sea.
Seeing the situation in Bicol, One Million Lights PH and For the Future and Kids for Kids PH brought light, literally, to 2,000 off-grid families who have yet to recover from the damage caused by last year's typhoons, through youth-led crowdfunding.
One Million Lights PH is a nationally-awarded, youth-based, nonprofit organization that brings solar-powered lamps to off-grid households. It aims to replace kerosene lamps with clean and sustainable lighting. By replacement kerosene lamps with solar-powered lamps, families can enjoy brighter and safer nights, breathe cleaner air, and save up to P36,000 in five years.
The organization travels to off-grid communities to deliver these lamps. These are often the same communities that suffer the brunt of the strongest typhoons.  
A ray of light
The Verdejo family is among those affected by the 2020 typhoons. They lost their home in San Jose, Camarines Sur, and relocated to a borrowed plot of land between rice fields.
While a local farmer allowed them to build in an empty space near his land, the Verdejo family had scant resources and was only able to make a house with barely any roofing and flooring. There was also no bedroom, forcing the family to sleep on the muddy floor.
This problem is also experienced by many other communities affected by typhoons. With difficult access to building materials and a lack of income, many Filipinos are left to the elements, as their homes remain unfinished for months.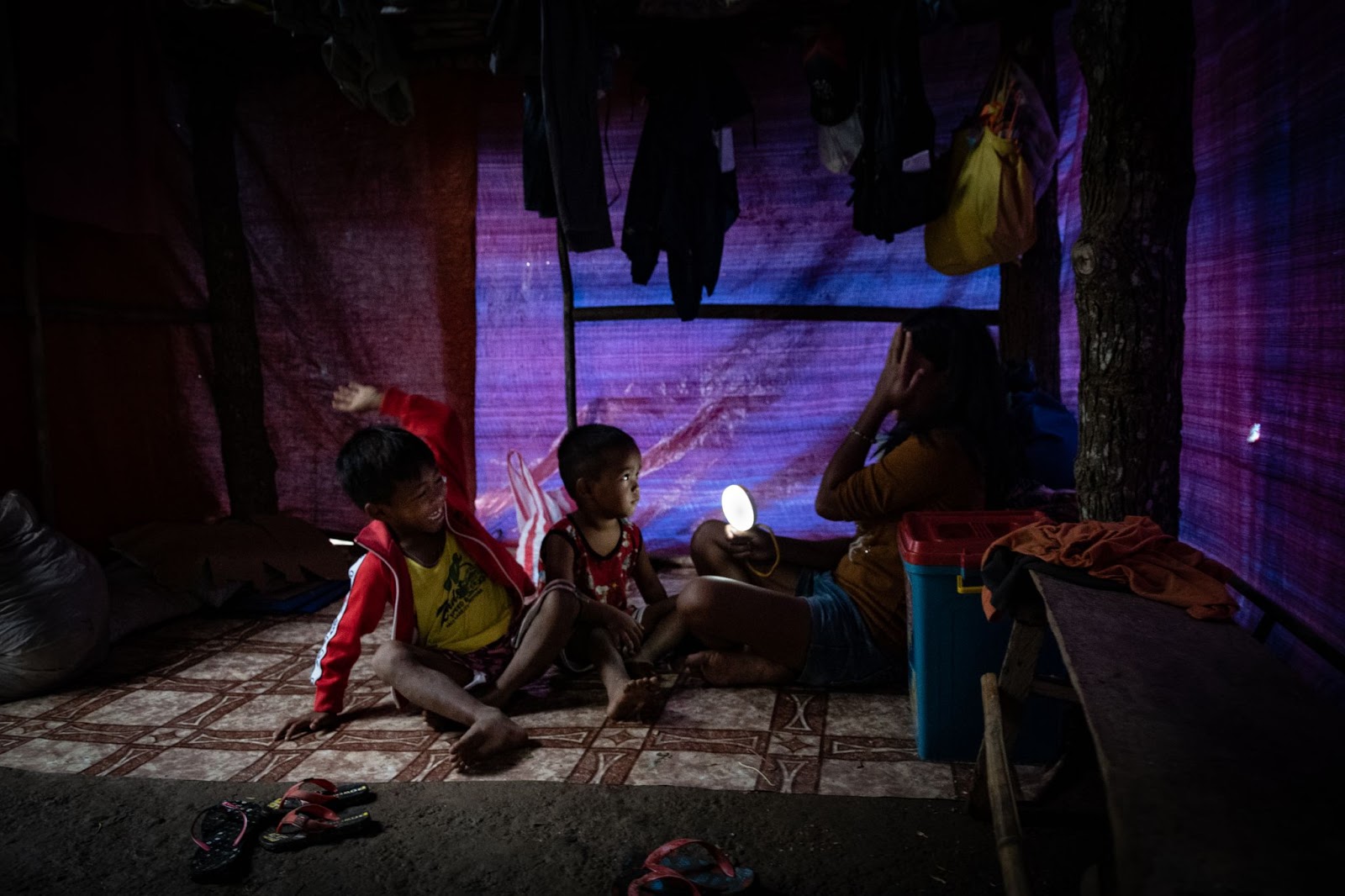 Through the support of a team of IT personnel from Ateneo de Naga helmed by Don Razon, One Million Lights PH was able to distribute lights to the off-grid community in San Jose in February.
Joanne Verdejo, the matriarch of the family, said the light provided solace for them. Without light, Joanne had to stay awake at night, on guard for the sound of snakes that might have entered their home. The solar lamp they received will make not only make their nights safer but will help them save too.
When the group visited the family two weeks later, they found that the Verdejos' shelter had walls, flooring, and furniture. After hearing their story, young volunteers from the next barangay  banded together and spent the entire day helping turn the temporary shelter into a home. Others came with bags of clothes. (READ: Displaced families dream of rebuilt homes, schools in typhoon-hit Albay villages)
More efficient
Several fisherfolk in Baliguan Island, Camarines Sur, also received One Million Lights PH's solar-powered lamps. Fisherfolk in the area typically use kerosene lamps when they are out fishing, but these lamps can easily be extinguished and knocked over in rough seas.
Buddy Alvarez, a leader among the fishermen in the area, shared how solar-powered lamps helped then find the sons of their fellow fisherfolk. Their boat engine broke down and had kerosene lamps that would not light up.
The solar-powered torches helped the fisherfolk light, find, and signal the two. The torches were easier to spot than kerosene lamps from a distance.
"We're so grateful for the solar lights that we've been given," Buddy told the team post-search operation in Bicol. "With it, my boat was bright enough to find the lost boys."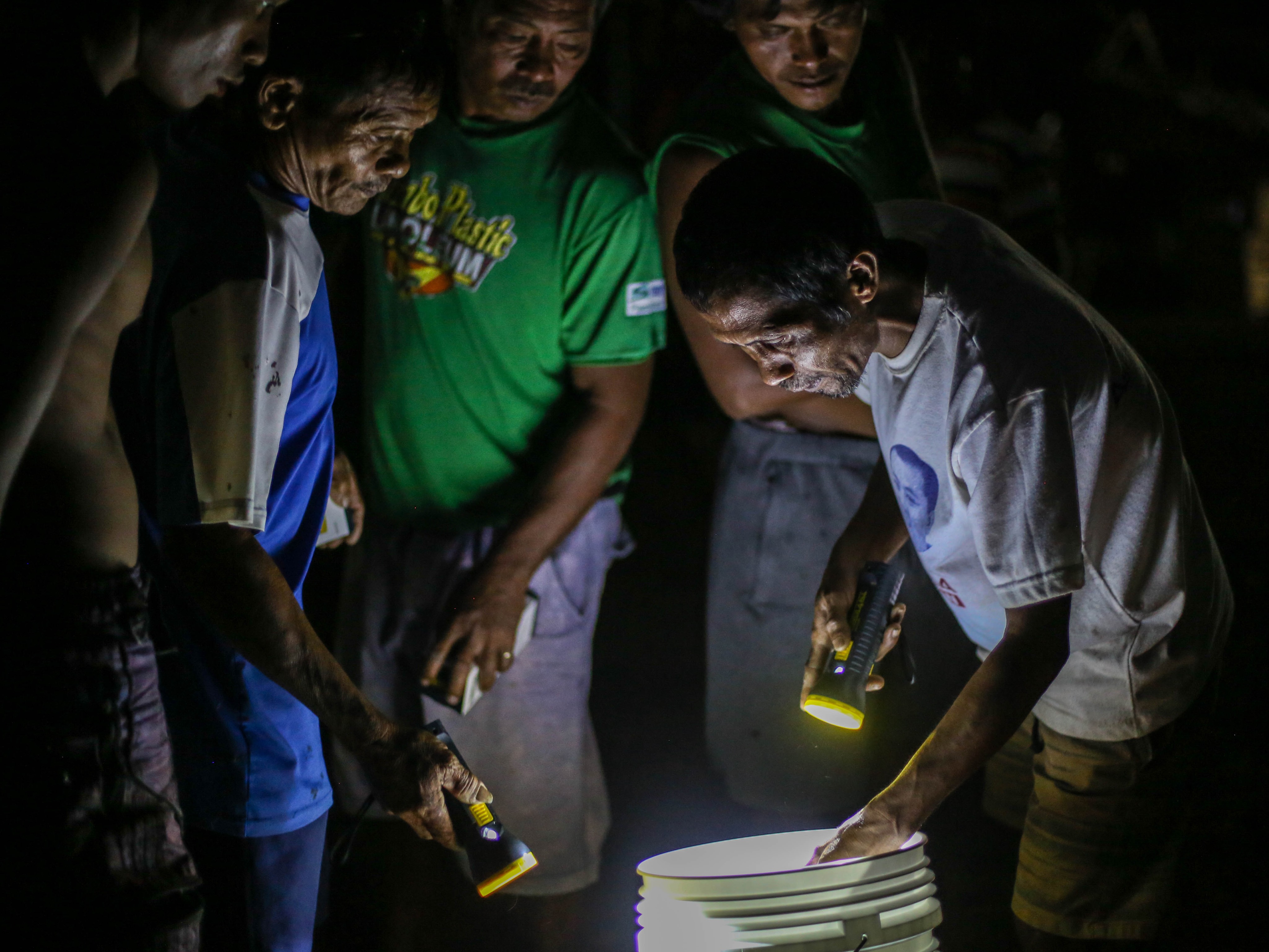 Why is something as simple as light still unavailable to millions of Filipinos in the 21st century? The Department of Energy aims to fully electrify the Philippines by 2030 but faces difficulty in bringing power to remote communities. For now, despite the pandemic's challenges, One Million Lights PH strives to provide light to those who need it. 
One Million Lights PH strives for a brighter future for Filipinos everywhere. The organization has distributions lined up, through the youth-led campaign of Kids for the Future, socially-inclined businesses, and private donors. Lights will be mobilized to off-grid, low-income communities in Camarines Sur, La Union, Rizal, Mindoro, and Palawan for the rest of the year.
You can support the Kids for the Future x One Million Lights PH crowdfunding campaign. This can be done by donating through the Altru here or to the One Million Lights PH bank account. – Rappler.com
Paulina Ocampo graduated from the University of the Philippines with a degree in BA Anthropology. She is the Country Head of One Million Lights PH.