The Lopez-led network also spends P1.1 billion for separation benefits, as it laid off workers following lawmakers' rejection of its franchise bid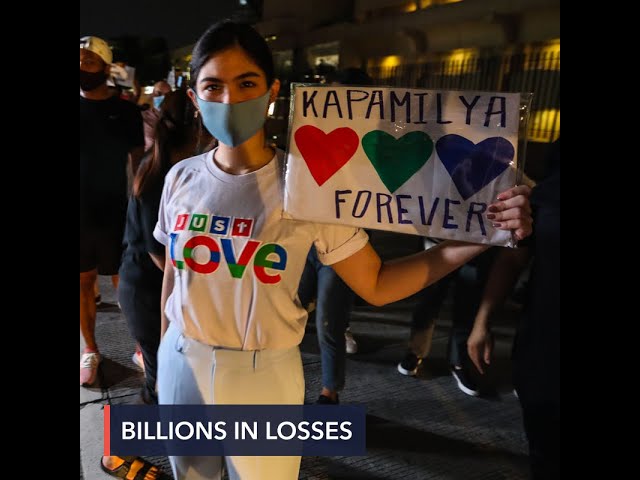 Media giant ABS-CBN suffered a P13.5-billion ($283-million) net loss in 2020, as the network was denied franchise renewal by a House of Representatives packed with President Rodrigo Duterte's allies.
In a stock exchange filing on Tuesday, June 8, ABS-CBN reported a 50% dip in revenues to P21.4 billion in 2020 from P42.8 billion in 2019.
This was mainly due to a sharp decrease in advertising revenues, which fell 69.2% to P7.06 billion.
ABS-CBN lost free-to-air advertising space following the cease and desist order issued by the National Telecommunications Commission on May 5, 2020, which halted its television and radio operations.
Lawmakers in the lower chamber then denied the Kapamilya network's franchise application in July 2020.
These, along with the closure of Kidzania Manila, Heroes Burger, and Studio XP amid the pandemic, led to the 411% dip in net income.
The Lopez-led network also spent P1.1 billion for separation benefits, as it was forced to lay off workers. The exact number of affected personnel was not disclosed, but ABS-CBN had around 11,000 workers in total before the shutdown.
The cost-cutting measures led to a 14.3% decrease in general and administrative expenses.
Despite the non-renewal of its broadcasting franchise, ABS-CBN found ways to air some of its entertainment shows again through a blocktime deal with Zoe Broadcasting. This led to P1 billion in revenues during the fourth quarter of 2020.
Q1 2021 figures
ABS-CBN continued to stay in the red in the first quarter of 2021, posting losses amounting to P1.9 billion, 158.7% higher than the P751 million in losses in the first quarter of 2020.
Consolidated revenues dipped 54.6% to P3.9 billion, as advertising revenues slumped 78.3% to P929 million.
The network also reported lower costs and expenses during the first quarter at P5.8 billion, 36.9% lower year-on-year.
Production costs were reduced 44% to P1.5 billion, while general and administrative expenses were trimmed 39.8% to P1.2 billion.
Its shows that were airing through Zoe Broadcasting generated P673 million in revenues during the first quarter of 2021.
Its distribution of entertainment and news content across the world allowed the network to take in P56 million in revenues.
Sky Cable also helped the network by bringing in P2.5 billion in revenues.
Loans
ABS-CBN and its creditors reached a standstill agreement for its loans amounting to over P18 billion.
Part of the loan covenants had included the network retaining its franchise, and ABS-CBN said the standstill agreement addresses the issue of non-renewal.
The network put up P14.56 billion worth of collateral, effectively protecting the company from a loan default. The effective date of the standstill agreement is May 31.
Based on the latest regulatory filing, ABS-CBN will be paying off the loans starting 2021 on a yearly basis. It will pay over P4 billion yearly from 2021 to 2023, then the remaining P6.4 billion spread out starting 2024.
Some of the creditors include BDO Capital, BPI Capital, Hong Kong and Shanghai Banking Corporation, Security Bank, and Rizal Commercial Banking Corporation.
Meanwhile, ABS-CBN's rival GMA Network saw its profits climb by a whopping 248% to almost P2 billion in the first quarter of 2021 from the P574 million a year ago, as a deluge of advertising placements paired with tax cuts boosted the company's bottom line. – Rappler.com
$1 = P47.65