The 5-star hotel will give way to Ayala Land's new commercial, mixed-use development plan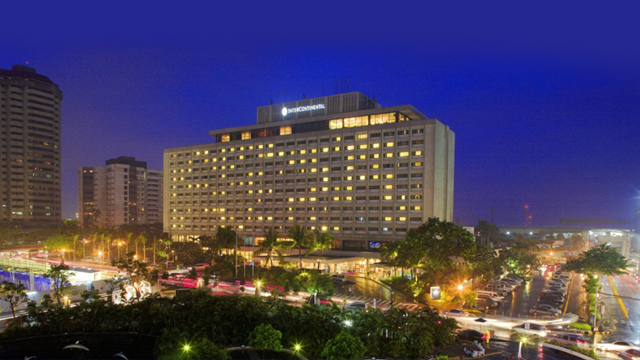 MANILA, Philippines – InterContinental Manila, one of the first 5-star hotels in the country, will be "closing soon" as the hotel management contract between AyalaLand Hotels and Resorts Corporation's (AHRC) subsidiary and InterContinental Hotels Group (IHG) ends on December 31, 2015.
The closure of the 46-year-old hotel, designed by National Artist Leandro Locsin, was announced as Ayala Land Incorporated (ALI) unveiled its plans Friday, October 9, for a new commercial, mixed-use development.
The new commercial development is aimed at transforming the entrance of Ayala Center in Makati City into a modern gateway, "with first-of-its-kind intermodal transport facility designed especially for the commuting public," ALI said in a statement Friday.
InterContinental Manila, with address at no. 1 Ayala Avenue, sits on a portion of the property that ALI plans  to redevelop.
The hotel is regarded as the longest operating international chain hotel in the Philippines, which opened on April 11, 1969, also as part of the overall redevelopment plan for Makati City.
It also holds the distinction of being the first 5-star, deluxe hotel in the city and the second InterContinental hotel to open in the region. In 2006, it updated its 332 guest rooms and suites, incorporating traditional and modern Filipino design.
46-year legacy
Over the years, the InterContinental Manila became a venue of choice and place of comfort among foreign dignitaries and international guests – from business travelers to foreign artists.
It also became part of the Philippines' tumultuous political history when, in December 1989, army troopers took their positions on the sidewalk beside the hotel and in the car park behind it to fend off rebel soldiers involved in a coup attempt.
"We thank InterContinental Hotels Group for the long and fruitful partnership which spans 46 years. It was one of the first developments that helped to establish Makati as a premier central business district, and this legacy will be upheld by the continuous enhancement of Makati," Ayala Land Vice President and Head of Operations for Makati Manny A. Blas said in a statement.
Leanne Harwood, vice president for operations in Southeast Asia of IHG said in a statement: "While we are sad to close the InterContinental Manila, we are thankful for the valued partnership with AHRC. IHG continues to manage AHRC's other property in the city, Holiday Inn & Suites Makati. We remain focused on our growth in the Philippines and look forward to further opportunities with the group."
AHRC Chief Operating Officer Michael Alexis Legaspi said also in a statement that all InterContinental Manila regular employees were first informed of the closure and assured of ample support and assistance.
"We express our deep appreciation to our hotel colleagues and assure them that we are looking after their welfare, and we will assist them in making the transition as smooth as possible," Legaspi added.
This is the second hotel in its league to close in Makati City in a span of a year. 
After almost 40 years of operations, the Mandarin Oriental Manila hotel announced its closure June 2014, but also said it will reopen by 2020.
The group said it signed a long-term management contract to brand and manage the new hotel to be developed and owned also by Ayalaland Hotels & Resorts, a unit of ALI. (READ: Makati's Mandarin Oriental to close this year, reopen in 2020)
Next phase
Blas said the property firm's plan is the next phase of its Makati revitalization plan, which also consists of the redevelopment of McKinley Exchange, Ayala Triangle, City Gate, and Circuit Makati.
"We deliberately planned the Ayala Center redevelopment in such a way that all of its property components are pulled together by an expansive, modern, and comfortable intermodal transport facility, which will ultimately ease traffic and pedestrian flow in the EDSA-Ayala area," Blas added.
He also said that "by constantly striving to change the landscape and optimizing the use of space, we believe that the Makati Central Business District will remain competitive and continue to contribute significantly to the country's economic development in the years to come." – Rappler.com