This is AI generated summarization, which may have errors. For context, always refer to the full article.
The 'Eat Bulaga' hosts, Ramon Bautista, Ryzza Mae Dizon, Kiefer Ravena, and more do the now famous 'Pabebe Wave'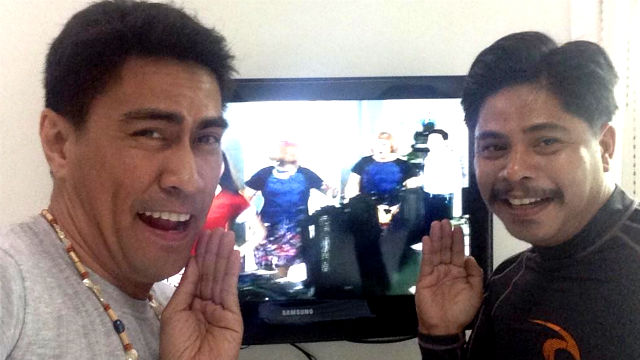 MANILA, Philippines – The famous wave from Eat Bulaga's Kalyeserye has become the subject of a special day for fans and stars alike on social media.
On Saturday, September 26, the hosts of the show, along with fans and other personalities, did the pabebe wave to celebrate not only the fan favorite couple AlDub, but also to spread love, happiness and good vibes.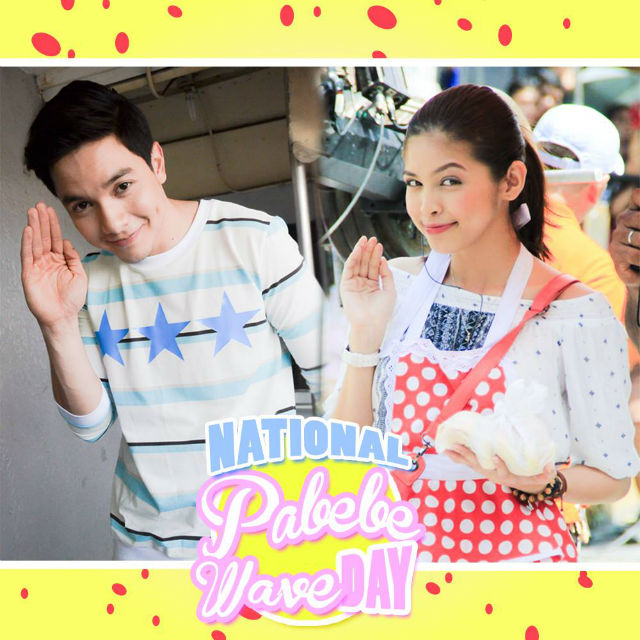 The "pabebe wave" became popular after Maine Mendoza aka Yaya Dub made the gesture last July, as a kind of shy greeting as she met Alden Richards. Since then, their tandem known as AlDub has been a trending phenomenon, with viewers waiting with bated breath for next big development in their relationship. (READ: #AlDub: The fun tandem of Alden Richards and 'Yaya Dub')
After their much anticipated date last September 19, Lola Nidora (played by Wally Bayola) allowed Alden to meet Yaya Dub in Lola's mansion to formally court her. 
Here are some of the photos from the hosts and viewers compiled by Eat Bulaga.
Pabebe wave from our host @meganbata! Who's watching EB? Show some love! #AlDubEBforLOVE pic.twitter.com/2425noX6sJ

— StarStruck (@StarStruckGMA) September 26, 2015
Had no idea i had this photo!! The unconscious pabebe wave! Hahaha #aldubnation what's the hashtag again?? pic.twitter.com/3H5itQphXX

— Mikael Daez (@mikaeldaez) September 26, 2015
Happy National Pabebe Wave Day! #AIDubEBforLOVE #NationalPabebeWaveDay pic.twitter.com/HaAinI2aK5

— Thea Tolentino (@TheaTolentino13) September 26, 2015
Pabebe wave namin ni Bayaw<3 #AIDubEBforLOVE pic.twitter.com/qmJU0ZjAtD

— Ramon Bautista (@ramonbautista) September 26, 2015
Happy National Pabebe Wave Day from @akosiKenChan! Spread the love! #ALDubEBforLOVE pic.twitter.com/MuovJOmd72

— Destiny Rose (@GMADestinyRose) September 26, 2015
QUEEN Of DRAMA Ms. JENNYLYN MERCADO supports the National Pabebe Wave Day. #ALDubEBforLOVE #follow4Updates pic.twitter.com/iKBwtivi1A

— Showbiz Banter (@ShowbizBanter) September 26, 2015
Happy National Pabebe wave from Sandara Park! #ALDubEBforLOVE pic.twitter.com/n59Uy401vR

— jasline (@seungrisenpai) September 26, 2015
Pabebe wave from Alyssa Valdez and Kiefer Ravena!  @mainedcm @aldenrichards02 #ALDubEBforLOVE pic.twitter.com/KnCEJS3ES4

— Chelsea✖️ (@_chei13) September 26, 2015
Happy Pabebe Wave Day!!! From the cast of PRINCESS IN THE PALACE! #ALDubEBforLOVE pic.twitter.com/zbbu2IFCc3

— Ciara Sotto (@ciara_anna) September 26, 2015
Part 2 of The Cast doing the Pabebe Wave! #ALDubEBforLOVE pic.twitter.com/zeBIm8wA3O

— Ciara Sotto (@ciara_anna) September 26, 2015
One with you guys. Here's my pabebe wave! #ALDubEBforLOVE pic.twitter.com/x79aQzV3Qu

— Tim Yap (@officialTIMYAP) September 26, 2015
Ayan na. #ALDubEBforLOVE #pabebewave pic.twitter.com/pkPSgHEw9u

— Daphne Osena Paez (@DaphneOP) September 26, 2015
Happy National Pabebewave from my family & I all the way from Los Angeles!! #AlDubEBforLove pic.twitter.com/RxfBO2yjf4

— Giselle Töngi (@gtongi) September 26, 2015
HAPPY NATIONAL PABEBE WAVE DAY! Sobrang exciting k nakakaloka kayo bebe @mainedcm! #ALDubEBforLOVE pic.twitter.com/0f9p9mDo9D

— Bea Benedicto (@bea_benedicto) September 26, 2015
Juan For All, All For Juan na po mga Dabarkads! *pabebe wave* #ALDUBOurMissionisLove pic.twitter.com/pcJOyzidN8

— Eat Bulaga (@EatBulaga) September 24, 2015
Para Good Vibes tayo, mag-pabebe wave na rin! pic.twitter.com/pzwq29puUN

— Eat Bulaga (@EatBulaga) September 25, 2015
We join in the #NationalPabebeWaveDay pic.twitter.com/i5oLFGWWeX

— kaye laconico (@kayelaconico) September 25, 2015
Im so exciteeeeeeed kilig to the max nanaman ituuuu #ALDubEBforLOVE @mainedcm @aldenrichards02 #NationalPabebeWaveDay pic.twitter.com/dXss2Ionhl

— Gia Maricar (@GIALovess) September 25, 2015
Happy #NationalPabebeWaveDay to @EatBulaga with ma nigguhs #ALDubEBforLOVE pic.twitter.com/3qHZ6jsJnJ

— annabettina (@Bettyyeoboop) September 25, 2015
– Rappler.com