The official Jamich Facebook page posts a 'Prayer of Surrender' and asks fans and friends to pray for Jam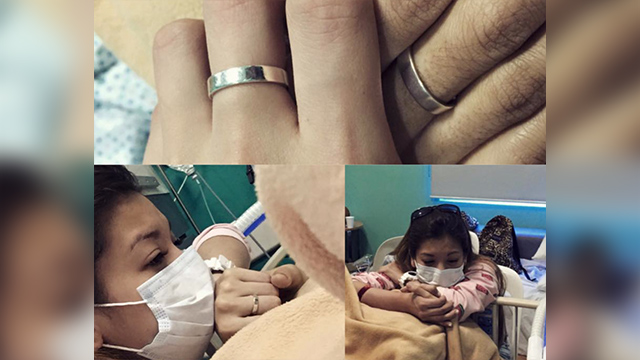 MANILA, Philippines – YouTube star Jam Sebastian, suffering from late stage lung cancer, is currently on life support, according to posts made on their Jamich Facebook page. Family and friends took to social media to ask for prayers 
Here is a summary of the updates since Jam was placed on life support:  
Earlier on Thursday, February 26, Christopher Liggayu, the father of Jam's fiancee Paolinne Michelle "Mich" Liggayu, received an urgent call to go to St. Luke's immediately. With Mich, they rushed back to the hospital. "Ang daming doctors and nurses pag pasok ko at ang dami ng naka kabit kay Jam na mga machines. Ok na yun Lord, he put up a good fight. Hindi na namin kaya makita na nahihirapan siya," he said on Facebook. 

(There were many doctors and nurses when I went in the room, and Jam was hooked up to many machines. Lord, he put up a good fight. We can't bear to see him like this.) 

The next update about his health, posted by an administrator of Jam and Mich's official Facebook page, was about a slight improvement: "Nag rerespond na po si kuya jam. Lalaban siya! Please pray for him! Thank you!" (Brother Jam is responding. He's fighting! Please pray for him! Thank you!)
Later on, Christopher posted another update, saying that Jam continued to be on life support. His medication was being carefully calculated, with Jam closely monitored by a private nurse. "

He was supposed to be brought down to the ICU but the family opted for him to stay in his room," he said in the update posted in the wee hours of the morning Friday, February 27. 

The next update, posted late in the morning Friday, February 27, was a post containing the Prayer of Surrender, and accompanied by a collage of photos showing Mich by Jam's side.
A new update posted by Christopher around 3 pm Friday was about a visit from the oncologist on Jam's condition. It was a accompanied by a prayer to keep the family strong. 

"Doctor Charity Gorospe, Jam's lead cancer doctor is explaining to us the reality of Jam's condition. All vital signs are weak and that it is a fight that we will not win over.

She also added that what we are doing to Jam right now is just prolonging his pain if we keep him under meds and the ventilator.

It is a given fact that we have lost the battle. He is just alive because of the meds and will not recover anymore.

It is so painful for a mother, father, brother and love ones to let go of Jam. But let us just accept the fact that Jam will no longer win this fight."

At around 4pm, Mich posted this on her Facebook: 

(Jam suddenly woke up now. His eyes were clear. I asked him how he felt, like was it the feeling of just waking up, with sudden energy. He nodded yes. He still can't talk so we asked for pen and paper, because he might want to say something. And this is what he wrote for all of us.) 

He woke up again on Saturday, February 28, and this time had a video message for fans, assisted by brother Yexel Sebastian. 

He also enjoyed a couple of days with good health, with brother Yexel reporting on Facebook on Sunday, March 1, that Jam's use of the ventilator has decreased. 

Update: Jam died Wednesday morning, March 4, a few days shy of his 29th birthday. 
"Nakita ng dalawang mata ko nung isang araw na halos wala na si Jam, kahit mga doktor tinapat na kami na hindi na magtatagal. Makina nalang ang nagpa pump sa paghinga nya sa halos 90%.pero dahil sa tulong na dasal nang lahat ng ating mga kababayan.sa kahit anong relihiyon ay muling gumising si Jam, at ngaun po ay 40% nalang ng makina ang ginagamit at konti nalang tatanggalin na ito, at magiging normal na ulit ang pag hinga nya."
(I saw with my own two eyes that a day ago, Jam was not responding at all, and even the doctors told us that he won't last long. A machine was pumping him to breathe at 90%. But  the help all of your prayers have given, whatever your religion may be, Jam woke up again, and now his machine is only using 40%. It won't be long until he will remove the machine, and his breathing will be normal again.)
Mich then reported that the family hasn't been sleeping, as Jam's blood pressure has dropped. Mother Maricar added that despite his drop in blood pressure, a high 40-degree fever, and a rapid heart rate, he wrote a message saying, "Oo, laban." (Yes, I will fight.)

Christopher Liggayu posted on his Facebook that Jam's vital signs are very low. 

"Please pray for Jam. Vital signs are all very low. His blood pressure is way too low. Hindi na po sya nakakausap at nag rerespond (He cannot speak and respond).

All we can do is pray."

On Wednesday, March 4, Jam died past 10:30am according to mother Maricar. 
Fans and celebrity friends took to social media to rally support for Jam. TV host and actress Kris Aquino dropped by the hospital to visit:
"It was a long day & night. I received several texts from @gretchenfullido regarding Jam. Immediately after Malacañang, I went to St. Luke's, I didn't want to waste time changing so I went in my gown because the texts' urgency was evident. Tonight I had the privilege of meeting a mother whose LOVE for her 2 sons mirrors mine. Mommy Maricar was so appreciative of my effort & I realized all of us mothers will be grateful for kindness shown to our children. I should be the 1 thanking her, for reminding me to continue prioritizing & treasuring my sons even more. My prayers are w/ her, their family, close friends and Jam- that God may ease his suffering. And that they will continue to have unwavering faith in our Creator's love," she wrote on Instagram. 
Singer Yeng Constantino, and Jamich's fellow YouTube stars Bogart the Explorer, Mikey Bustos, and Ramon Bautista also took to Twitter to support Jam. 
Let us pray po for Jam of Jamich. http://t.co/obBAu0nAt0

—; Yeng Constantino (@YengPLUGGEDin) February 26, 2015
Everyone please pray for Jam of @ilovejamich who is now on life support. So distraught at the news. May God be with him, Michelle & family.

— Mikey Bustos (@MikeyBustos) February 26, 2015
Ipagpray po natin ang kaibigan nating si Jam of @ilovejamich na nasa icu ngayon, kasama ng pamilya at mga mahal nya sa buhay

— Ramon Bautista (@ramonbautista) February 26, 2015
Just heard about jam's condition. You can do this, mate! Don't give up please! Hoping for the best @ilovejamich

— Bogart the Explorer (@BogartDexplorer) February 26, 2015
Jam was diagnosed with stage 4 lung cancer in March 2014. – Rappler.com