'The real thing is, we're not together anymore, but we're both okay, moving forward,' the beauty queen's boyfriend of 7 years writes on Instagram
Neil Salvacion has confirmed that he and beauty queen Rabiya Mateo have officially split up, amid circulating rumors of their relationship status.
In an Instagram story on Friday, June 4, Salvacion first called out those who were "spreading rumors without knowing the real story."
"We don't deserve all the negativities manifested towards us, especially towards Rab, she worked hard to achieve whatever she has right now, and she deserves it all," he said. He also said that "it's never okay to degrade a person just to prove a point," and that if someone has nothing good to say, it's better to "keep it within yourself."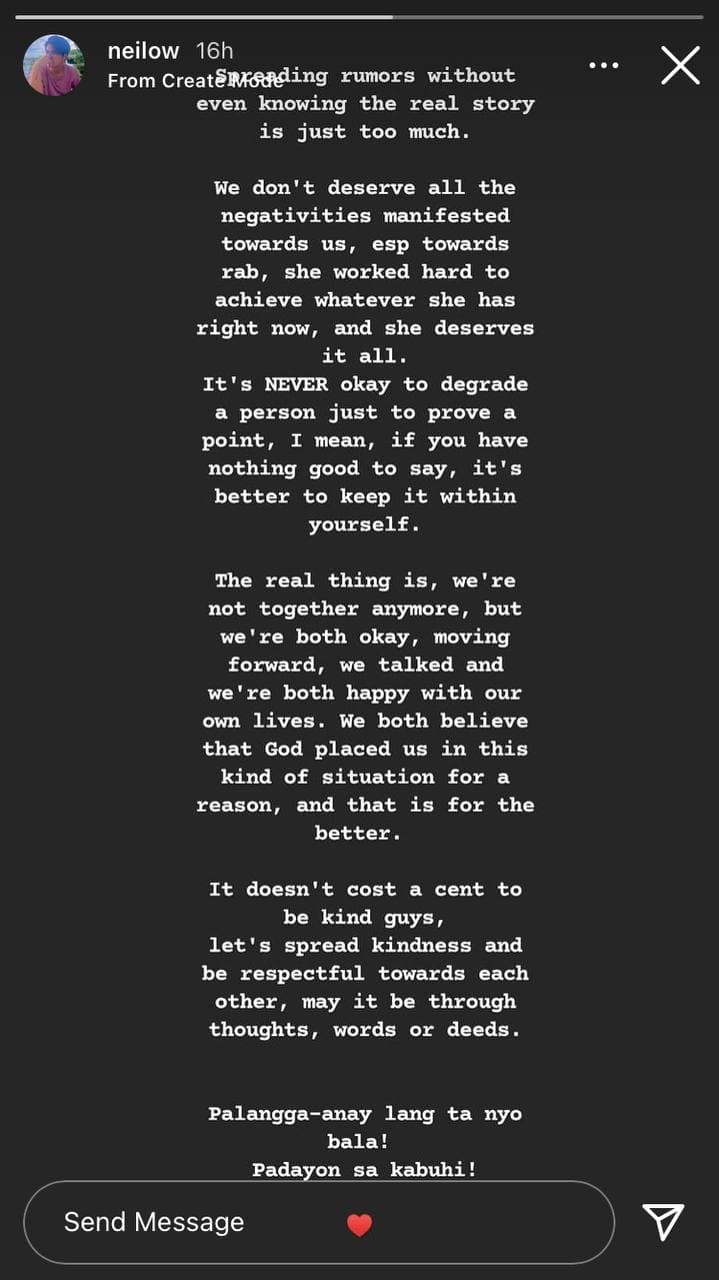 "The real thing is, we're not together anymore, but we're both okay, moving forward, we talked and we're both happy with our own lives," Salvacion said.
"We believe that God placed us in this kind of situation for a reason, and that is for the better," he added.
Salvacion reminded his followers that "it doesn't cost a cent to be kind," urging people to instead spread kindness and to be respectful towards each other.
Salvacion's confirmation comes after Rabiya told Boy Abunda in an interview on Sunday, May 31, that her relationship with Salvacion is "a complicated situation." Salvacion and Rabiya were together for 7 years. Salvacion is her first boyfriend.
Fans began to speculate about the pair's relationship when they noticed that Salvacion had removed all photos of him with the 24-year-old beauty queen on his Instagram page.
The beauty queen, who is still in the United States, was also being linked to Pinoy Big Brother alumnus Andre Brouillette, who is also in the United States. She clarified that she and Andre are both talents of talent manager and pageant mentor Jonas Gaffud, explaining why they're in events together.
Rabiya Mateo finished in the top 21 of the Miss Universe 2020 competition held in Florida on May 17. Mexico's Andrea Meza won the crown. – Rappler.com