In 2020, K-pop fans in the Philippines use their huge following to bring help for those affected by recent disasters
Lightsticks, merchandise, and hashtags – chances are you've seen passionate K-pop fans dominating Twitter trends to promote their idols' works or rally support to boost recognition of their oppas.
This year, however, K-pop fans in the Philippines used their huge following to bring help for those affected by the COVID-19 pandemic and recent disasters.
Although charity projects are not new within the community, Filipino fans have become more active in using their enormous presence on social media and their wide base of fans to provide relief to many Filipinos struck by disasters that hit the country this year. 
These K-pop stans have shown that their like-minded passion and interest can also be channeled to other worthy causes, proving they can both be dedicated fans and socially responsible citizens through providing effective channels for relief efforts.
Inspired by their idols
Many of these fandoms have taken the extra mile after their very own idols took the lead in giving back to those in need.
As many around the world struggled with the effects of the COVID-19 pandemic this year, many celebrities were the first ones to donate to various causes.
One of the notable names was Korean boy group BTS, as they donated $1 million to Black Lives Matter in response to the killing of George Floyd.
Inspired by BTS' donation efforts, some of their Filipino fans banded together to form ARMY Bayanihan in April as a way to provide relief to vulnerable communities in the Philippines affected by the pandemic and recent disasters.
"Their personalities inspire us to give back, to do something, to help, and extend even if it's not a lot. Since we are inspired by BTS that they do this despite them being busy, we can also do this as fans," Kim Calma, one of ARMY Bayanihan's auditors, said in a mix of English and Filipino.
While the group initially strove to support international fans campaign to donate to the Purple Community Fund, ARMY Bayanihan has since made their own fundraisers for fire victims in Tondo, jeepney drivers, and homes for the aged, among others. 
They have also supported local farmers in Nueva Ecija and Nueva Vizcaya by purchasing tons of vegetables, rice, and sweet potatoes from them. These purchased products were distributed as food packs to beneficiaries in disaster-hit areas.
They also donated squash seeds to farmers in flood-hit provinces such as Cotabato and Pampanga.
Similarly, Yedam Star International, an international fan group including Filipinos for Korean boy group Treasure's main vocalist Bang Yedam, was inspired by their idol's lead.
They initially planned to start a Christmas fundraising project to buy an "expensive and memorable" gift for Yedam himself.
But when Yedam told them that "ten people's one step is more important than one person's ten steps," his words moved the group's plans to a different cause.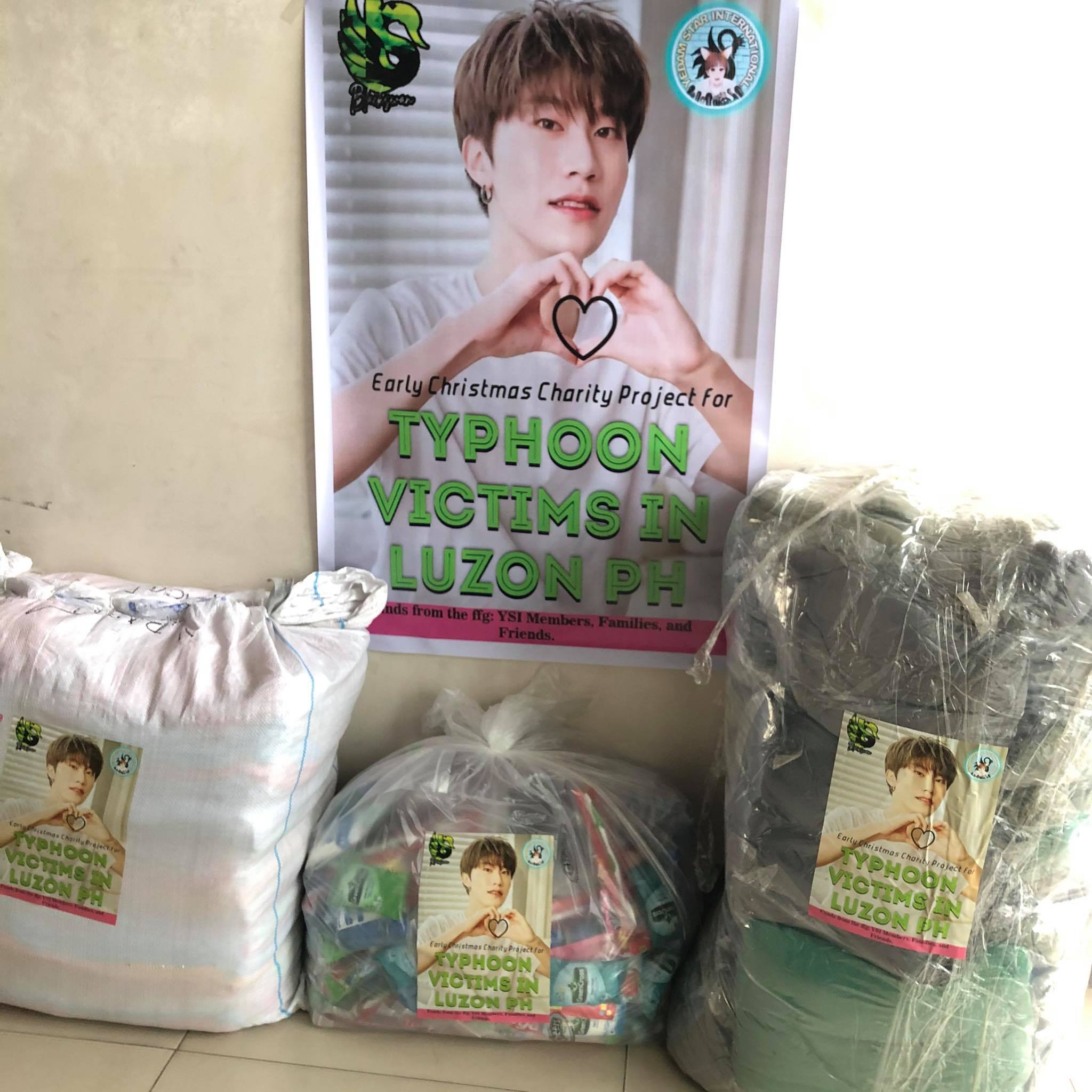 They instead opted to purchase essential supplies after raising P35,200 on November 14, which was then donated a day after to Kaya Natin's Bangon Luzon initiative for the typhoon victims in Bicol and Cagayan.
"We thought that it would be a shameless extravagance to push through with the plan when there were people who almost lost everything," the group said.
Responding to typhoons
Fans were not spared by flooding particularly caused by Typhoon Ulysses (Vamco). Raymond Historillo, head administrator of NCT Philippines, stressed that many fans were based in areas such as Marikina which experienced heavy floods when the typhoon hit.
"Their home and properties were submerged, they couldn't be able to salvage what is left because they don't have enough time, as the majority of us are now working. For the students, their problem is that their modules and study equipment were destroyed by the flood," he said in Filipino.
This prompted Neo Culture Technology (NCT) Philippines to initiate Project Renaissance with fan clubs of groups such as Super Junior and SHINee. The initiative was able to provide prepaid loads to fans affected by the typhoon, as well as medical supplies and cash donations to organizations conducting relief efforts in heavily-hit areas such as Rizal, Marikina, and Cagayan. 
Also disheartened by the aftermath of Typhoon Ulysses, FILO BLINKS PH, a local fan club dedicated to Korean girl group BLACKPINK, gathered its members and conducted an online bidding campaign for their on-hand merchandise, including limited collection items.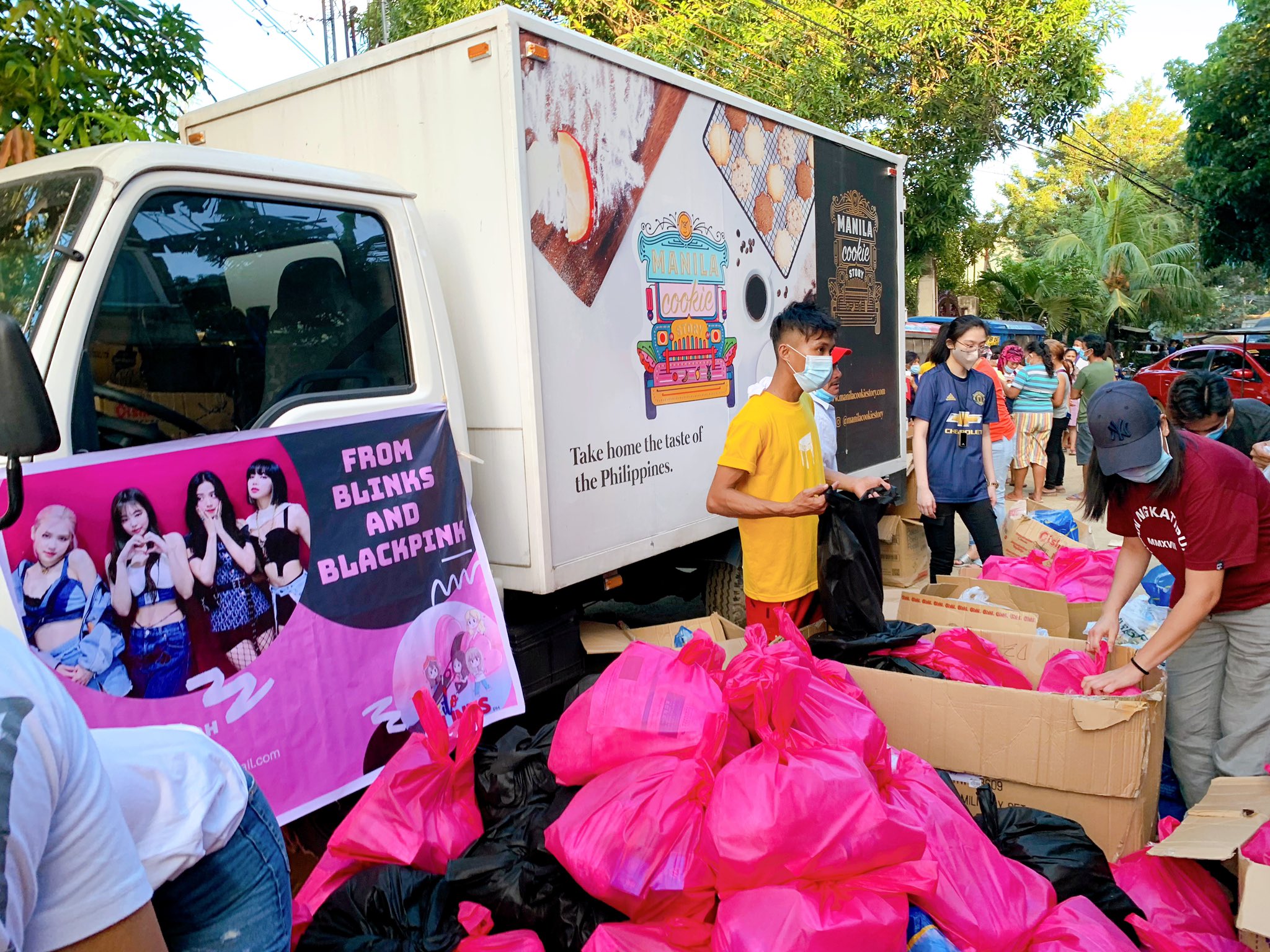 Last November, the initiative raised P316,850 worth of cash donations that were used to purchase essential goods such as ready-to-eat food and vitamins for typhoon victims in Rodriguez, Rizal. They also supported the relief operations of the Office of the Vice President (OVP) to help those affected in Bicol and Cagayan.
This later on garnered the attention of Vice President Leni Robredo who described the group's efforts towards OVP's operations as "super touching."
"We felt very honored but more than anything else, we are very glad that she appreciates our efforts. We started our project not to be praised or noticed but to actually be able to help. As all of our admins would say, her or others' recognition is just a bonus for us," FILO BLINKS PH said.
Power of collaboration
Contrary to usual fan initiatives that are held exclusively by a group, these fan communities broke barriers as they collaborated with different organizations to widen their reach and gather more volunteers on the ground for their relief efforts.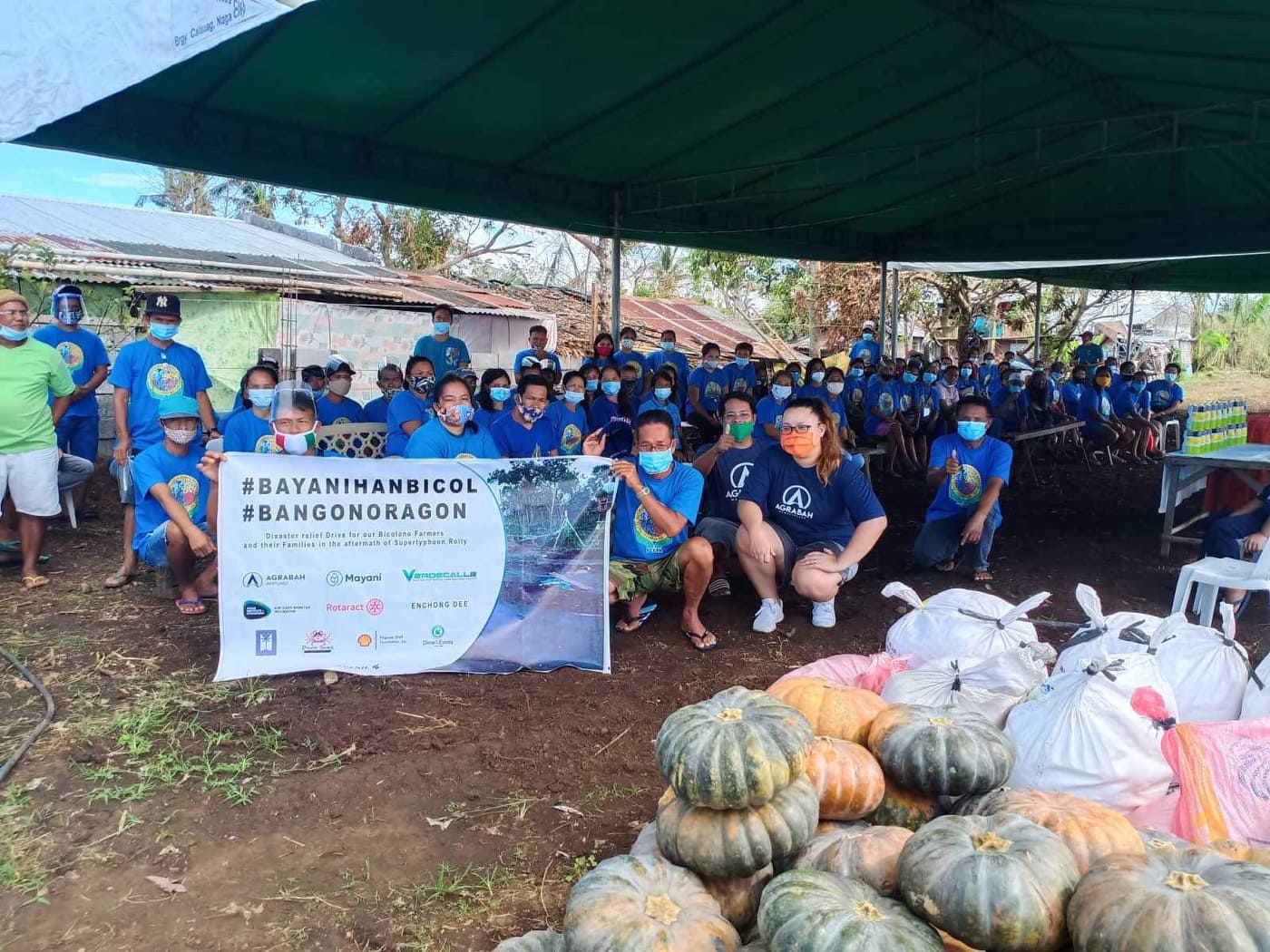 For ARMY Bayanihan, they saw local-based organizations and fan clubs such as ARMY Cavite as a big help in distributing relief to targeted areas.
"They reached out to us through our [direct messages] on Twitter… I opened the [collaboration] with ARMY Cavite because they plan to go to Cagayan which we really needed. And through coordinating with them, we distributed the relief goods and it established a good relationship with our fandom and we even helped our countrymen and our local farmers," Calma said in a mix of English and Filipino.
Similarly, Historillo believes that working together with popular fan communities was instrumental to the success of NCT Philippines' donation drive.
"Aside from having a wider reach, we also have different connections. So, we can save more and we can talk where we can allot the funds, and in terms of decision-making, there is more opinion," Historillo said.
FILO BLINKS PH said, "We have been putting our best efforts in utilizing our platforms to contribute to… society in addressing these problems…. We may only be 'fans' to some people, others may even look down on us, but… in our own little ways, we try to do our part in making this country a better place to live in."
While this year brought light into making bayanihan work among these fandoms, these groups proved that they are more than just fans of iconic artists. They also aspire to empower others by doing what they can to step up in bringing aid to those in need.
"The concept of Bayanihan is teamwork… It is about working with one another without asking for anything in return. Even if we may not even know each other personally [including] our likes and dislikes, we do know that teamwork makes the dream work," ARMY Bayanihan said. – Rappler.com