This is AI generated summarization, which may have errors. For context, always refer to the full article.
The Foundation for Media Alternatives commissioned the comic stripes under the Initiative for Media Freedom
Marianie or "Marian Hukom," a Filipina graphic artist known for her works that depict women empowerment and representation, partnered with the Foundation for Media Alternatives (FMA) to call for action on the prevalence of fake news in the Philippines.
Through this collaboration, Marianie released two comic strips about infodemic and online gender-based violence, which have both become more prevalent during the pandemic.
These comics also magnify key issues that are often overlooked when talking about the pandemic. Some may only regard COVID-19 as a health issue, but it has branched out to many other problems and issues as well.
Both comic strips were commissioned by FMA under the Initiative for Media Freedom, a five-year program implemented by Internews and funded by USAID.
In the first comic strip about fake news, Marian explicitly links the infodemic with the current pandemic, portraying that the rise of COVID-19 cases runs parallel to the proliferation of fake news.
Even if a false claim in a series of posts goes unnoticed by some, it still poses a threat to those who are not as knowledgeable. Marian Hukom calls on everyone to fact-check, be mindful, and to educate others as much as possible.
She highlights the need to speak up when incorrect information is being peddled and to be persistent in the pursuit of truth, hoping to mobilize people to exercise their right to free speech.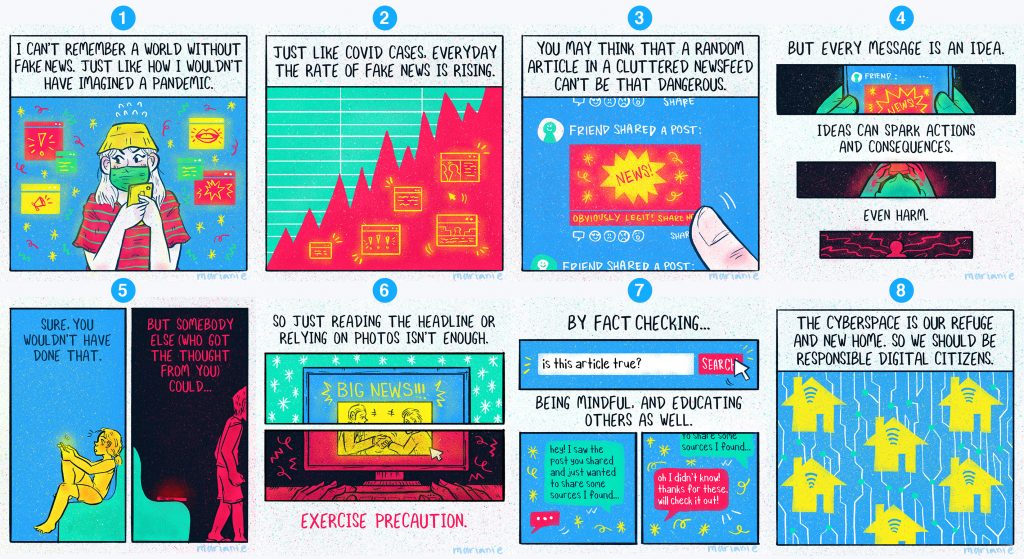 She also made a comics strip on how to fact-check, highlighting key actions such as reading beyond the headline and photos, checking the publication date, and assessing the credibility of the source.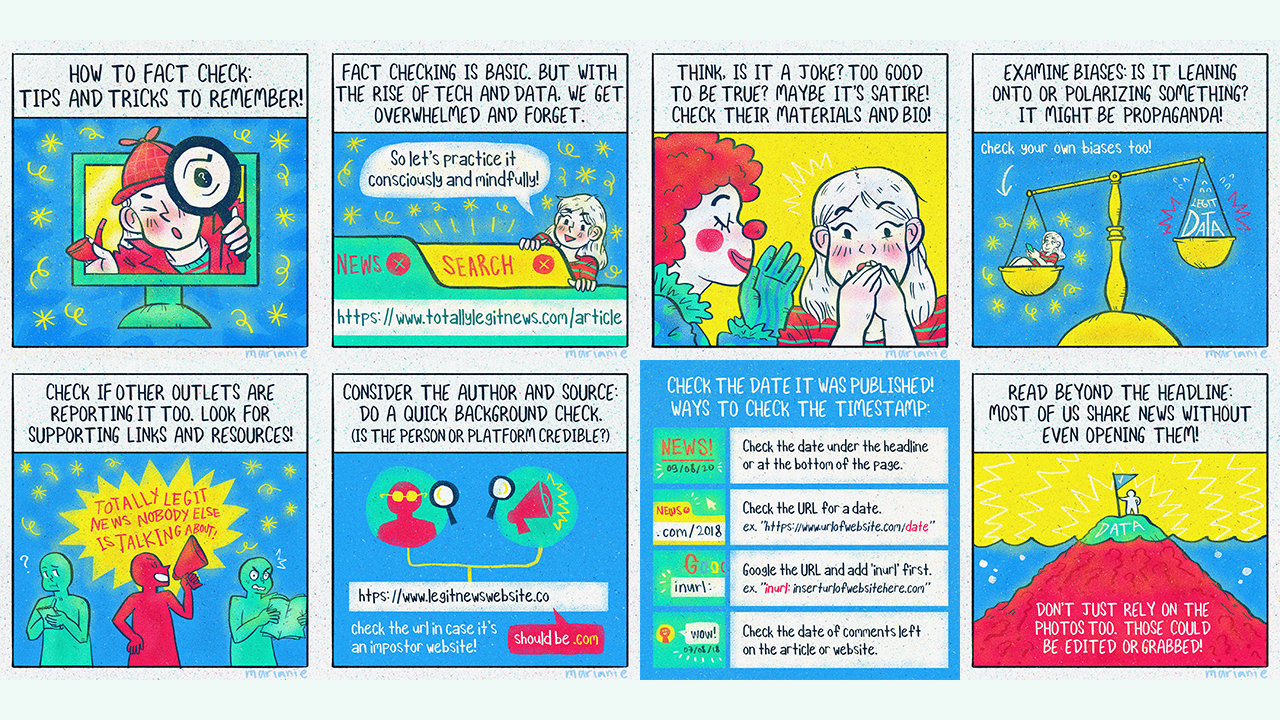 In a separate comics strip, Marian also encouraged everyone to "pop" their own filter bubbles by expanding the information that they take in and to become informed digital citizens.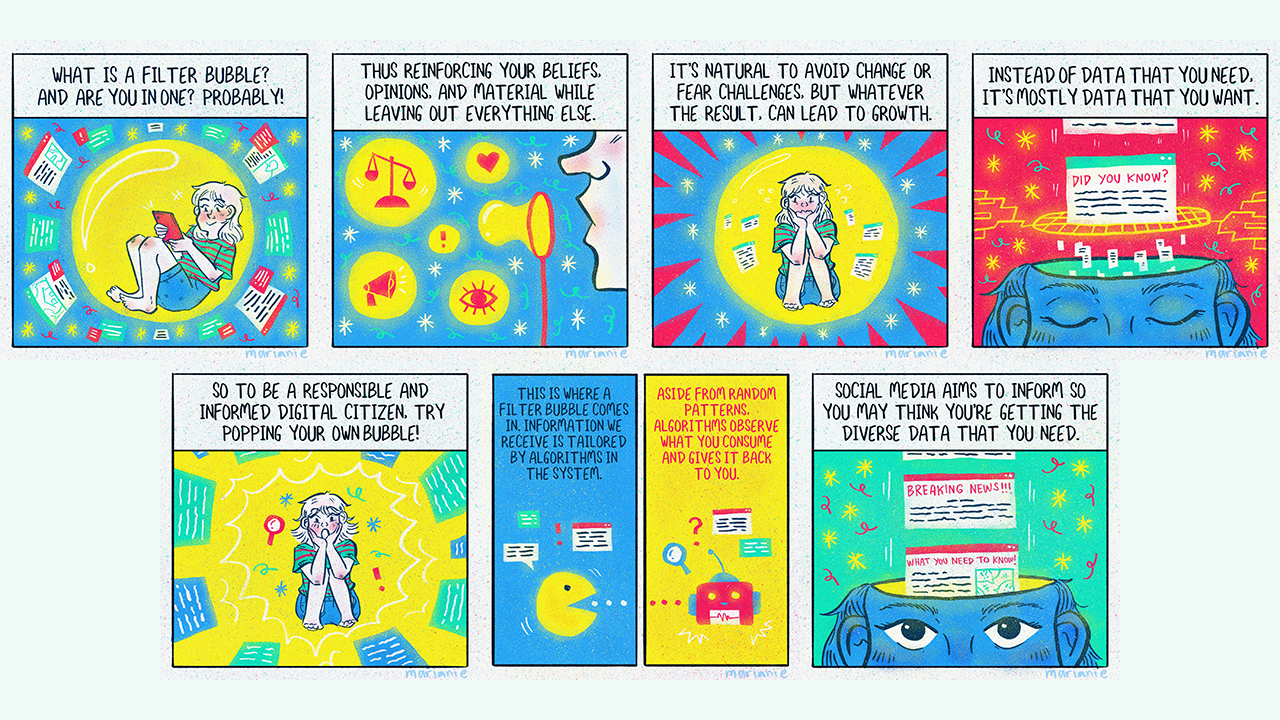 Aside from misinformation and disinformation, Marian also brings up the evident gender-based violence that is prevalent on social media, especially for women.
Because of the pandemic and the rapid progress of technology, everything can be pretty much done virtually. Yet along with the convenience of cyberspace is the perpetuation of gender-based violence, especially so with many people confined in their homes due to COVID-19.
Marian poses examples such as harassment, sextortion, privacy breach, and identity theft, which are all vicious acts that can cause serious and almost irreversible damage to the victim
The topic of gender disinformation was also tackled, which is essentially the propagation of false claims in order to discredit or tint the image of a woman.
While others may regard gender disinformation as shallow, it still causes a significant threat to the security of the victims.
Marian links such acts to the patriarchal society that we live in and encourages everyone to partake in the movement to combat gender-based violence.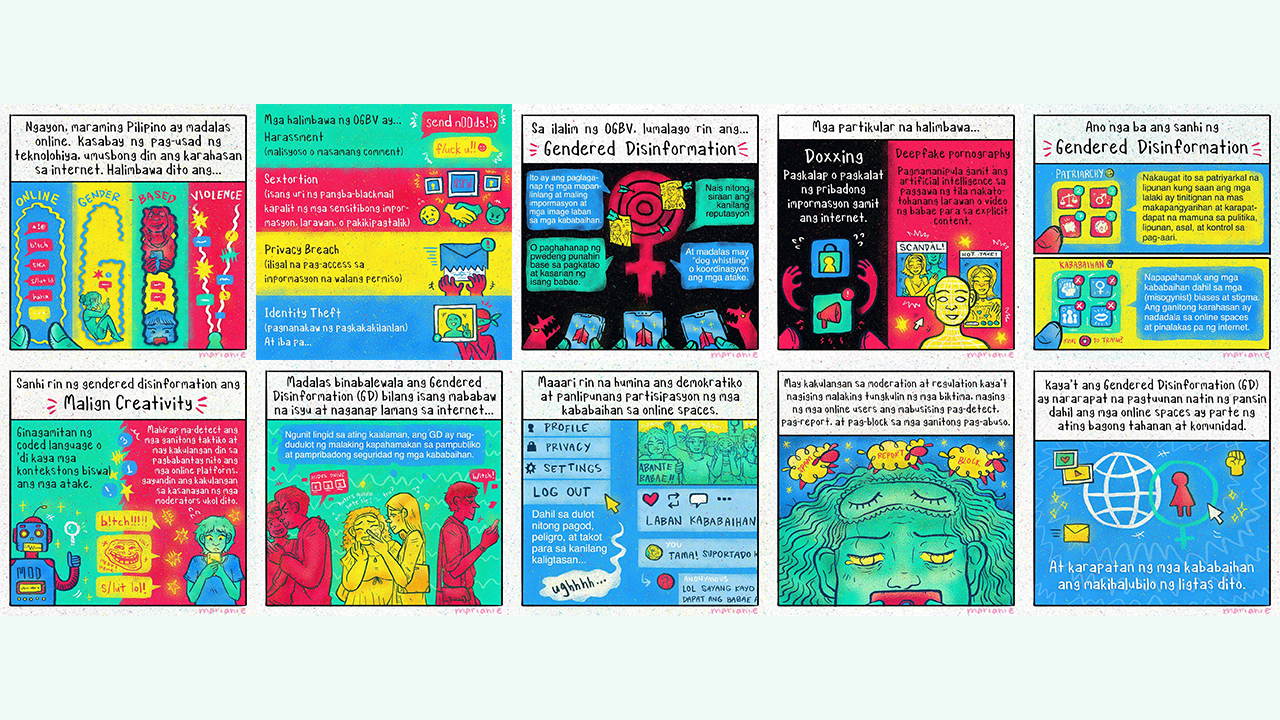 Marian has been gaining traction online due to her use of trendy styles and vibrant colors to make engaging comics and digital art for Filipinos.
Some of her personal projects include Nagmamahal, Maria Clara which is both an online platform and print project that centers on feminism in the Philippines. Nagmamahal, Maria Clara was actually her college thesis, and that's how she got to learn about the Maria Clara archetype in the Philippines. – with reports from Jeff Winxin Collado/Rappler.com