Victims of the Marawi clash call on the public to stop spreading the notion that Muslims are terrorists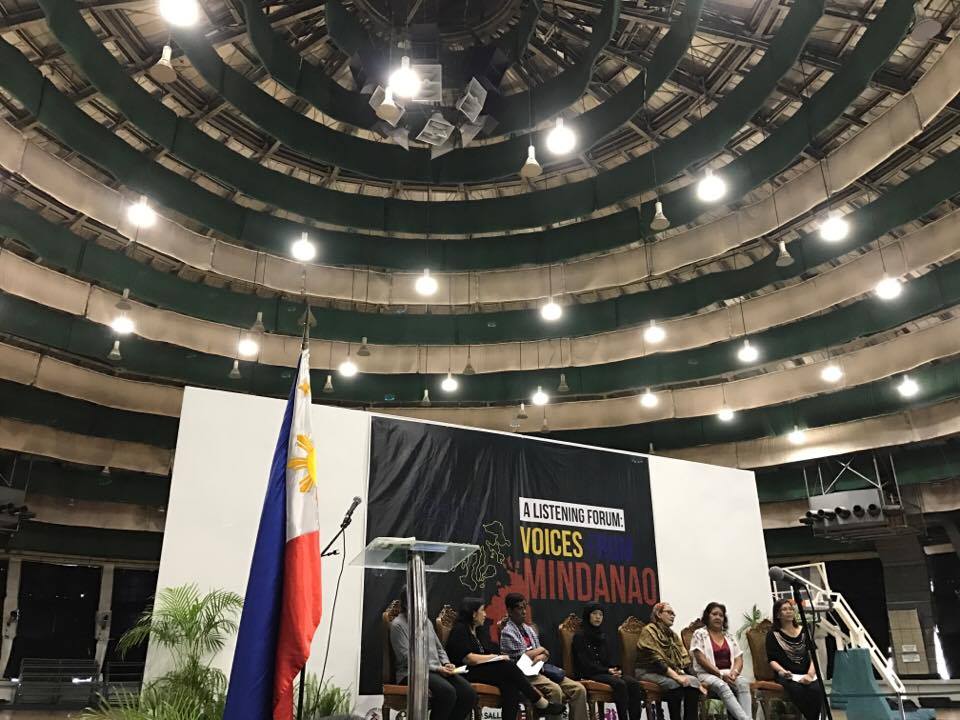 MANILA, Philippines – Student councilor Junaima Sharif, a Maranao, said Christians are among her best friends in the Mindanao State University in Marawi City. 
"Usually mas close ako sa mga kaibigan kong Kristiyano, thinking sila iyong bago doon, hindi sila taga-doon. Sabi sa akin ng magulang ko kapag may kaibigan akong Kristiyano, alagaan ko sila at ipakita na mali ang naririnig nila sa iba. Para sila ang maging daan para ipahiwatig sa iba na ang mga Muslim ay hindi terrorista,"  the public administration student of Mindanao State University said.  
(I am usually closer to my Christian friends, thinking they are the new ones there. They were not originally from there. My parents told me that I should protect my Christian friends and show them that what they hear about us is wrong. So that they would be a way to show others that Muslims are not terrorists.) 
Sharif was among the displaced residents of Marawi City who spoke in a forum on Friday, June 2, about the ongoing crisis in their area where the military has been engaged in battle with the terrorist Maute Group for over a week now. The city and the whole Mindanao is currently under martial law. (TIMELINE: Marawi clashes prompt martial law in all of Mindanao) 
The young lady wept when she said she may never be able to see her friends again after the siege that they never expected to last this long. 
"Ang sakit, thinking na after ng nangyari babalik pa kaya iyong mga kaibigan kong Kristiyano? Babalik pa kaya iyong kaibigan kong Tausug, iyong mga hindi taga-Marawi? Pero feeling ko hindi na kasi kahit gusto nila iyong mga magulang nila, ayaw na," she said. 
(It's painful thinking that after what happened, my Christian friends won't come back anymore. Will my Tausug friends and those who are not from Marawi ever come back? I feel they won't even if they do want to, because their parents no longer want to.)  
Non-Muslims were among those targetted by the terrorist group. (READ: Propaganda shows Marawi priest echoing kidnappers' demand) 
Another resident, who also shared his experience on Friday, said that masked men wearing black tried to separate Muslims from non-Muslims by speaking to them in Maranao.
The speakers from Mindanao called on the public to stop spreading the notion that the clash is a fight between Christians and Muslims. 
Cora Mangilen of the Christian Movement in Dialogue for Peace said that religion is not the issue in Marawi City as members of both religions are living together in peace. 
It's also unfair to put the blame on the Muslims, she said. "Hindi po masama ang loob namin sa Muslim brothers. Lahat po kami ay nawalan." (We don't have hard feelings toward our Muslim brothers. All of us are victims.) 
"Tulungan niyo kami. Ang pangyayaring ito ay hindi laban ng ating relihiyon (Help us. What happened is not a clash between our religions)," said another speaker, Norkaya Mohamad of the Al Mujadila Development Foundation as she called for help for the displaced victims.  
Stop the airstrikes 
The speakers also called on the government to stop the airstrikes in the area. The military has launched airstirkes to flush out the terrorists but one strike killed at least 10 soldiers and wounded 7. (READ: 19 civilians killed in Marawi siege – military) 
It also ruined properties, like the home of Andie Arobinto's family. 
"When the President declared martial law, I was so happy because I thought it is the right way for the shooting to stop," said the migrant worker who came home to Marawi City during the conflict.
"[But during] the first [launch] of an airstrike, dun na namin na-feel na di pala nakatulong sa amin ang martial law. Marami po, which is one of the houses of my uncle, wala na… masakit po iyon, sabi ko nga ayoko na umiyak kasi nakakapagod," he added. 
(But during the first launch of an airstrike that was when we felt that martial law did not help us. Many properties, including my uncle's house, are now gone. It's painful but I told myself I don't want to cry anymore because it's tiring.) 
"I hope they stop the airstrikes because only a handful of the ISIS-Mauter remains. They could take them down one by one," said Mohamad. 
Having lived through Marcos' Martial Law, she also denounced another form of it under President Rodrigo Duterte. (READ: Mindanao a laboratory again?) 
"Kung ako ang tatanungin, marami sa amin doon ayaw sa martial law. 'Di iyan ang solusyon. Sa amin pagod na kami sa ganyang paraan, maraming namamatay na di iyon ang dapat papatayin," she said. 
(If you ask me, many of us there do not want martial law. That is not the solution. We are so tired of that method where many innocent people die.) 
Sammy Maulana of the Consortium of Bangsamoro Civil Society said that the "culture of fear" has returned to the people in Central Mindnao, consisting of the provinces near Marawi City. 
"In the areas totally ravaged by the past martial law, the culture of fear and insecurity that we will always evacuate was revived," he said in Filipino. – Rappler.com