Senators say the PS-DBM's preference to import PPE items cost Filipinos jobs, while the mismanagement of huge funds could have cost taxpayers double expenses
Filipinos were "betrayed," senators said at the continuation of their investigation into the government's pandemic purchases on Tuesday, September 7.
The senators accused the embattled Procurement Service of the Department of Budget and Management (PS-DBM) of sidelining Philippine producers of personal protective equipment (PPE) in favor of companies that brought in pricier supplies.
That move by PS-DBM not only caused Filipino workers to lose jobs, but also resulted in the mismanagement of billions in public funds, the senators said.
Reconvening for the fourth time at the Senate blue ribbon committee hearing on Tuesday, senators resumed grilling former PS-DBM chief Lloyd Christopher Lao.
The senators hammered on the agency's decision to keep securing PPE supplies from importers, instead of seeking out local producers who were capable of meeting the government's needs.
The PS-DBM is an attached agency of the DBM, which functions as a buying-agent for government agencies for common-use supplies. It also functions as a shop for common-use supplies like ballpens, so agencies can buy such supplied from the PS-DBM at a low price.
Senate panel chairman Richard Gordon and Senator Joel Villanueva likened the PS-DBM's preference for imported PPEs to a "betrayal" of Philippine firms.
At the start of the lockdown in March 2020, the Department of Trade and Industry (DTI) had asked these Filipino companies to repurpose their factories to manufacture PPEs.
"I think it's important to picture, Mr. Chairman, how big of an impact this had on our labor sector. How many jobs could have been created here if only our PS-DBM and government had the heart to help our local manufacturers," Villanueva said in a mix of English and Filipino.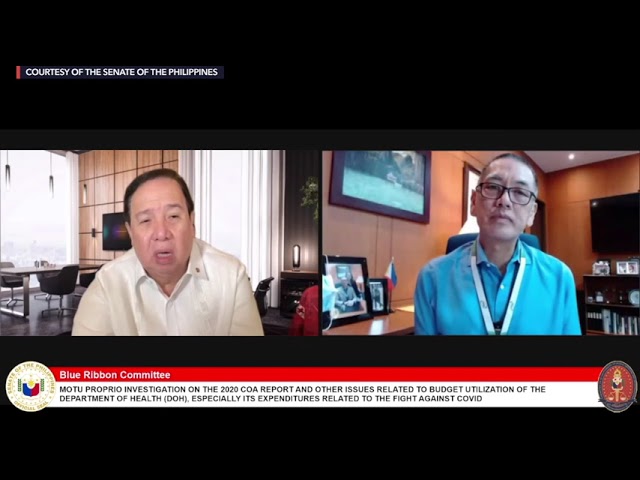 During the hearing, senators invited Perry Ferrer, chairman and chief executive officer (CEO) of local manufacturer EMS, an electronics assembly firm which heeded the DTI's challenge to repurpose its factory and augment local PPE supplies.
EMS won just one contract in April 2020, to supply the PS-DBM with 100 million medical grade face masks at P13.50 – the cheapest price offered to the agency at the time and one that was 50% lower than the P27 price for masks in the early months of the pandemic. The cost for EMS' masks were also reduced further, after PS-DBM kept delaying deliveries and later renegotiated that 75 million pieces be sold at P2.35 each.
"I feel for our employees, the ones who worked last year, the ones who despite the lockdowns and the quarantine slept in our factory to produce the medical grade face masks. We have over 300 who slept in the factory to produce it," Ferrer said.
Gordon hit the PS-DBM for its treatment of local firms, saying EMS seemed to have been shortchanged by the government after they were forced to deliver the bulk of their contract at P2.35 per mask. This caused the company to earn about P523.5 million, instead of an initial P1.35 billion.
The senator highlighted that only days earlier, the PS-DBM had bought face masks from Pharmally Pharmaceutical Corporation at prices of P22 and P27 before asking EMS to sell masks at half the price. He also slammed the agency for holding deliveries from EMS, saying the government should be reliable in fulfilling its contracts.
Pharmally, a foreign-led company and a preferred PS-DBM firm, has been at the center of lawmakers' scrutiny as it won about P10 billion worth of government contracts in 2020 and 2021 despite its questionable track record and lack of qualifications.
"As a Filipino, I'm ashamed…. It's like you're robbing the dead. Some people here have really betrayed us. But they also betrayed the country because for what should have gone to the people, there were huge funds that these people who facilitated the bidding gave out to those they favored, their friends. That should not have happened," Gordon said in Filipino.
Ignorning local companies?
During the hearing, Commission on Audit (COA) Chairman Michael Aguinaldo said that one reason why EMS suffered losses was because the PS-DBM could not properly manage its inventory of face masks.
This was part of the COA's audit findings into the agency in 2020, which also cited costly face shields sitting idle in PS-DBM depots.
As supplies poured in, PPE items like face masks piled up in warehouses long enough that the PS-DBM had a hard time selling these to client agencies when prices dropped later in 2020.
Lao said that items were purchased from Pharmally since local firms were not able to produce PPE items in the early months of the pandemic. But he added that once a deal was signed with EMS, they did not procure additional face masks.
National Task Force vice chair Carlito Galvez Jr. likewise defended the government's decision to import, saying that what it needed at the start of the pandemic were PPE sets, not individual items.
"We never favored anybody, but we asked [which] company could produce that nine-item set immediately," Galvez said.
Senator Risa Hontiveros refuted Lao's claim that only Pharmally could supply certain PPE items, saying Medtecs, a company based in Bataan, said it could produce 2 million face masks monthly as early as February 2020. It also had a sister company that could make PPEs.
"Why didn't we engage our local companies when they said they could step up to the government's call so that we could have survived the pandemic supporting Filipino companies and workers?" Hontiveros asked in Filipino.
Senator Francis Pangilinan said that the decision to favor Pharmally was not limited to the first few months of the pandemic. The company was still able to win contracts well into 2021. Local firms previously said they experienced difficulty in securing orders from the government.
Pangilinan said discussions with the DTI also showed that the Department of Health and PS-DBM were "not responding for several months to the issue of PPEs."
"What's coming out here is that it looks like local companies were being dribbled because there is a favored supplier," he said. Pangilinan added that reasons like "quick delivery" needed in a matter of just days was also an old scheme done to favor certain suppliers who would be tipped off about necessary requirements.
"I'm not saying this is what happened here because we're trying to establish it, but we know that this practice has been done in the past," he said.
Mismanagement, losses
During the hearing, senators focused on how the mishandling of funds may have cost the government to spend more than was necessary.
Senate President Pro Tempore Ralph Recto said that the common practice of agencies of transferring funds to PS-DBM was problematic because it allowed them to bypass accountability in the handling of public funds.
The DOH said it wanted to support local firms. However the PS-DBM has its own purchase process of which DOH was not part of.
"It is worrisome to learn that our local suppliers could supply for P13.50 and yet contracts were given to foreigners…at those prices; double the prices," Recto said.
Meanwhile, lawmakers questioned whether expenses could have been doubled if the PS-DBM sold to DOH face shields, which it supposedly already paid for. In 2020, the DOH had transferred P42 billion to the PS-DBM to purchase medical supplies on its behalf.
Senator Panfilo Lacson had also hit the government's willingness to accommodate foreign firms in picking up PPE supplies from China, without extending the same assistance to local firms. Upon Lacson's questioning, Ferrer said they shouldered the full cost of importing raw materials.
Imports 'preferred'
The government's own numbers will bear local firms out, Villanueva said.
Citing figures from the Philippine Statistics Authority, the senator said an increase in the total amount value for PPEs and medical supplies was seen at $71.96 million or P3.5B as of June 2021.
"It is clear, regardless of context, whether onset of the pandemic or at present, there is a bigger dependence, or dare I say preference, for importers. The numbers are there – our local manufactures are not being supported," he said in a mix of English and Filipino.
After it was unable to secure enough local orders in 2020, the Coalition of Philippine Manufacturers of PPE told Rappler that member companies retrenched some 3,000 workers by the end of 2020, instead of reaching its target to add about 3,000 to 4,000 new jobs.
"It seems clear that the the PS-DBM itself is against Filipino workers and the creation of more jobs for people," Villanueva said in Filipino.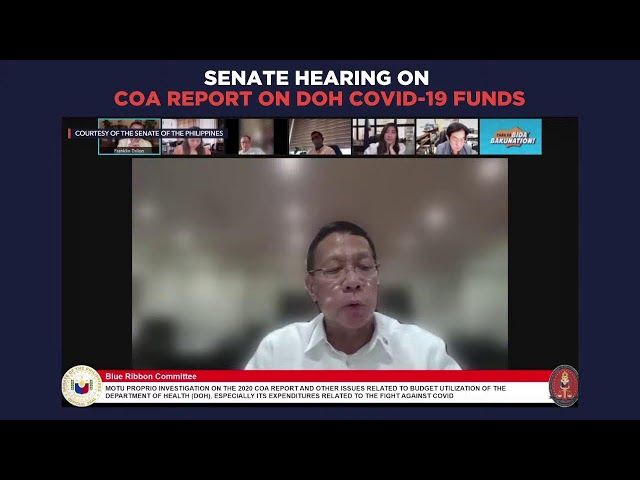 – Rappler.com
Read the other stories from the September 7, 2021, Senate blue ribbon committee hearing: