Bongbong Marcos accuses Justices Caguioa and Leonen of pushing aside their request to annul elections in 3 Mindanao provinces to delay the vice presidential electoral protest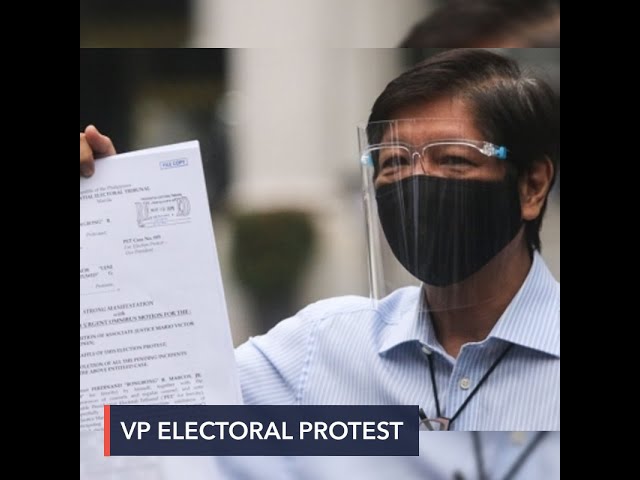 Bongbong Marcos filed a motion on Monday, November 9, seeking the inhibition of Associate Justice Marvic Leonen from the vice presidential electoral protest, and urging the Supreme Court (SC) to re-raffle the case to a new member-in-charge.
Marcos and his lawyer Vic Rodriguez filed the motion physically before the SC on Monday, November 9, citing the following:
Leonen's dissenting opinion in the Marcos burial case where the justice wrote about abuses during Martial Law

Leonen's supposed "reflections" – leaked to the Manila Times – in the early stages of the protest where he was not yet the member-in-charge, showing a leaning toward dismissing the case

Leonen's stint as former chief peace negotiator to former president Benigno Aquino III
"Given his past pronouncements and previous employment history, one might surmise that the electoral protest would be the perfect venue for Associate Justice Leonen to exact vengeance," said the 21-page motion.
Marcos, however, denied involvement in the moves to oust Leonen via quo warranto. The Office of the Solicitor General (OSG) and notorious lawyer Larry Gadon had asked the Supreme Court, but was denied, for the copies of Leonen's Statements of Assets, Liabilities and Net Worth (SALN) for the purposes of quo warranto.
Marcos distanced himself from any act of the OSG, but admitted he talks occasionally with Gadon, and added, "inaawat ko nga siya eh (I tried to stop him)."
"I'm not interested in these legal maneuvers. All I want is for this case to be finished, before it becomes moot and academic," said Marcos.
The case will become moot if it is overtaken by the 2022 national elections.
Marcos had sought the inhibition of the former case lead, Associate Justice Benjamin Caguioa, on the same grounds of partisanship because of the justice's previous job in Aquino's Malacañang, but the SC denied the motion.
The SC had "sternly warned" Marcos from making "any unfounded and inappropriate accusation."
"The advice that is given to the justices when they are asked to inhibit is proper self examination of their actuations and I hope he (Leonen) does that, because if he does, and if anyone else does it as well, you will see very clearly that he is biased, he's partisan, and he's prejudiced," Marcos said in a virtual press conference on Monday.
Failure vs annulment of elections
The PET, with Leonen in charge, had asked Comelec to report whether there were failures of elections in Lanao del Sur, Basilan, and Maguindanao, to which the poll body responded there were none as all petitions for failure of elections there had been dismissed.
Marcos wants to annul elections in Lanao del Sur, Basilan, and Maguindanao, where he alleges fraud.
Marcos said that the Presidential Electoral Tribunal (PET's) action of seeking comments both from OSG and the Commission on Elections (Comelec) on failure of elections and annulment of elections was a delaying tactic because the difference between the two has been long established.
As reiterated by both OSG and Comelec, failure of elections is a Comelec power while annulment of elections is a PET power.
The Comelec said in its comment that annulment of elections apply only to the election contest – in this case, the vice presidential race – and does not require special elections.
Marcos said both Caguioa and Leonen purposefully pushed their request for an annulment of elections in those 3 provinces, and started with the recount of pilot provinces first, "kasi takot sila diyan eh (they're scared of that.)"
"Takot sila dyan so ginawa nilang 3rd cause of action (they're scared of that so they made it 3rd cause of action)…it's what we've been talking about, but Justice Caguioa and now Justice Leonen keep pushing it to the side and trying to do other things to distract I suppose from the issue at hand," said Marcos.
The OSG said that if elections in those 3 provinces were to be annulled, the PET only has to determine the winner from the remaining valid votes cast. It would result in a Marcos victory, because Vice President Leni Robredo's national lead would be wiped out.
Robredo garnered a total of 477,985 votes in Lanao del Sur, Basilan, and Maguindanao against Marcos' 169,160 votes. Robredo defeated Marcos by just 263,473 votes in the 2016 vice presidential elections.
"Alam ho namin na dapat unahin ang annulment of election results sapagkat alam namin na mas mabilis ang proseso doon kaysa sa manual recount at judicial revision, at marahil alam din ho ng nagbaliktad ng order na 'yan na mas matagal ang manual recount at judicial revision kaya inuna at ginawang huli ang aming 3rd cause of action," said Rodriguez.
(We knew that annulment of election results had to come first because we knew the process there would be faster than the manual recount and judicial revision, and perhaps the one who reversed the order of our causes of actions knew that manual recount and judicial revision would take longer, so they started with those and made annulment our 3rd cause of action.)
Caguioa was relegated from member-in-charge by virtue of a losing vote in October 2019. It was re-raffled to Leonen.
Caguio and retired senior associate justice Antonio Carpio voted to dismiss the protest after a recount of pilot provinces Negros Oriental, Iloilo, and Camarines Sur widened Robredo's lead by 15,093 additional votes.
Rule 65 of PET rules says if there is no substantial recovery from the chosen pilot provinces, "the protest may forthwith be dismissed, without further consideration of the other provinces mentioned in the protest." – Rappler.com