(1st UPDATE) The Supreme Court had previously allowed travel for convicted persons but the Solicitor General argues that those people did not express 'a total lack of respect for the judicial system'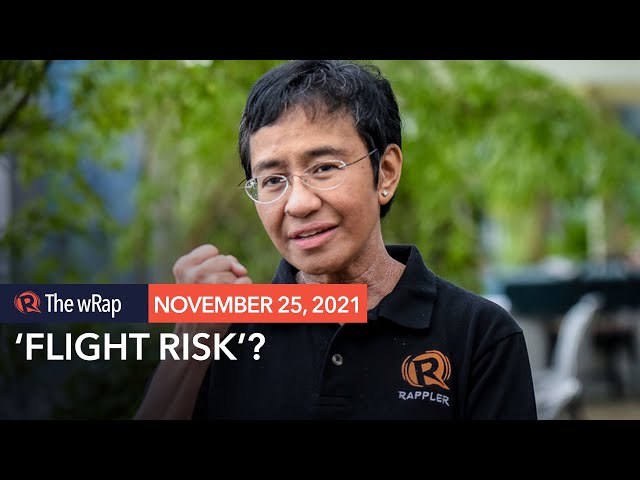 Calling the Rappler CEO a "flight risk," Solicitor General Jose Calida has filed an opposition with the Court of Appeals (CA) seeking to bar Maria Ressa from traveling to Oslo, Norway, in December to personally receive her Nobel Peace Prize.
"Her recurring criticisms of the Philippine legal processes in the international community reveal her lack of respect for the judicial system which consequently makes her a flight risk," said Calida in an opposition dated November 8, co-signed by 12 other assistant solicitors general and state solicitors.
The CA would have to resolve the motion and the opposition, ideally before December 10, the Nobel ceremony in Oslo.
Ressa is in Harvard in Boston, USA, for a series of lectures, the first time she was authorized by the CA to travel after her 2020 lower court conviction for cyber libel. She is due to return to the Philippines next week.
In her motion, Ressa requested to amend her itinerary so that she could go from the US to Oslo.
In his opposition, Calida maintained that personally receiving a Nobel Prize is not basis for urgent and necessary travel.
Ressa's current travel grant was for a Harvard lecture, as well as an appeal to be with her family for Thanksgiving. Previous travel requests based on journalism awards and documentary screenings, and to see her ailing mother, were previously denied up until the Harvard lecture which happened after she won the Nobel Prize.
"[We are] aware that the Nobel Peace Prize is a prestigious award given to individuals who have conferred the greatest benefit on mankind. However, it is respectfully submitted that accused-appellant Ressa has failed to present any compelling argument and/or evidence proving the necessity and urgency of her travel to Oslo, Norway," said Calida.
'Others are not flight risk'
People on trial have hold departure orders but their travel requests are usually granted. It's a different matter for those who have been convicted like Ressa, which is why all the other courts handling her five tax charges easily grant her motions, but not the CA which is handling the appeal of her cyber libel conviction.
Ressa's motion cited instances where the Supreme Court allowed travel for a convicted person.
Referring to such cases, Calida said, "These cases did not involve movants who have expressed a total lack of respect for the judicial system, or who are considered and shown to be flight risk."
Prior to her cyber libel conviction, Ressa was arrested upon landing at the Ninoy Aquino International Airport (NAIA) for charges of violation of the anti-dummy law. This charge had since been consolidated with another case – alleged violation of the Securities Regulation Code – and had been remanded to prosecutors for reinvestigation.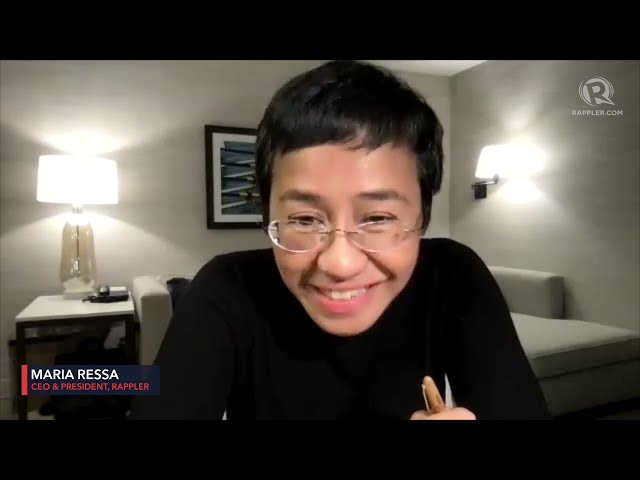 Ted Te, one of Ressa's lawyers, said that since she was put on trial, Ressa had been granted travel 36 times and returned each time.
The Office of the Solicitor General (OSG) had also opposed Ressa's travel to Harvard on the same argument that she was a flight risk but the CA said "her undisputed compliance with the conditions imposed by the court a quo on her previous travels shows that she is not a flight risk."
'Exile not an option'
Ressa said in an earlier press conference that "exile is not an option."
Her international lawyer, renowned human rights counsel Amal Clooney, said in that press conference that they remain hopeful that she would be able to travel to Oslo because of the Harvard precedent.
"We have every hope that she will be permitted to go to Oslo. And if that doesn't happen, then of course, we have to just consider that at the time but we hope that won't be the case," Clooney said.
The only two times that a Nobel laureate didn't get to receive their prizes in person were in 2010 when China barred dissident Liu Xiaobo, and in 1935 when the Nazis barred journalist Carl von Ossietzky. Ressa had cited the Liu incident in her motion.
Calida said that mentioning this in her motion"is outright baseless and malicious" because it supposedly insinuated that if the CA rejects her travel request, the Philippines would be similar "with an authoritarian government and a symbol of an oppressive regime."
"In view of her being a flight risk, and her failure to satisfactorily prove the necessity and urgency of her intended travel to Oslo, Norway, there is more reason that such greater caution be exercised by the Honorable Court in this case," said Calida.
In her reply to Calida's opposition, Ressa urged the CA to consider the 1935 and 2010 incidents.
"Were Ms. Ressa be refused permission to travel, it is plain that this decision would attract international opprobrium and would severely damage the Philippines' interests internationally. This is an additional relevant factor for the Court to consider, in the exercise of its discretion," said Ressa's reply.
This, Ressa said, should also be of consideration to Calida if he were to look after the Philippines' interest.
Ressa's international lawyers have been ramping up their moves in the global scene, and said it would use available "international tools" if necessary to make sure that the journalist would be able to go to Oslo, among other issues.
"We would like to see the Philippines doing the right thing without having to resort to those international tools. But those international tools are available and we may have to resort to them if the right thing is not done by Philippine authorities," Clooney's co-lead British barrister Caoilfhionn Gallagher QC said in an earlier press briefing. – Rappler.com